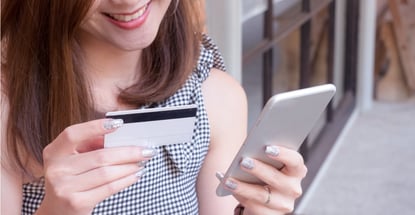 PayPal is one of the most-used online payment platforms in the world. From the acquisition of Braintree and Venmo in 2014 to becoming the first foreign online payment provider in China, PayPal has made tremendous strides over the last few years.
PayPal processes a variety of payment methods, including credit cards, debit cards, bank accounts, PayPal Cash, and more. The platform also accepts prepaid cards, but only under specific terms.
Yes, Prepaid Cards Work For PayPal – But Not For Recurring Payments
PayPal accepts any prepaid card that has a Visa, Mastercard, American Express, or Discover logo. They do not accept store-specific gift cards, even if the purchase is being made with that store.
According to PayPal's prepaid card terms, prepaid cards cannot be used for payments automatically pulled from PayPal accounts. For instance, if a subscription service is linked to a PayPal account, PayPal would not accept a prepaid card for monthly subscription payments.
Note that the prepaid card you use must be able to cover the entire transaction. If your transaction is $25 and your prepaid card has $20 on it, the payment will not process. You cannot split charges between multiple payment sources.
What is the Best Prepaid Card to Use with PayPal?
In our opinion, the best prepaid card to use with PayPal is PayPal's own prepaid Mastercard. But Since PayPal accepts prepaid cards from American Express, Discover, Visa, and Mastercard, you can use just about any reloadable prepaid card with your PayPal account. The goal is to find the best prepaid card for your personal needs.
Do you want a card with free direct deposits? Do you need a card with free ATM options? How about a prepaid card with rewards or cashback? And what are the fees associated with each card?
Compare prepaid cards available for you to find the right option for your lifestyle. Here are our favorite prepaid cards for your consideration:
at Republic Bank & Trust Company'ssecure website
Brink's gives you the peace of mind you deserve. Securing cash and valuables since 1859.
With Brink's Direct Deposit, you can get paid faster* than a paper check.
No late fees or interest charges because this is not a credit card.
Use the Brink's Money Prepaid Mobile App to manage your account on the go and get text message or email alerts (Message & data rates may apply.)
*Card issued by Republic Bank & Trust Company, Member FDIC. Card may be used everywhere Mastercard Debit cards are accepted. "Apply Now" for full details.
See additional Brink's Prepaid Mastercard® Details.
at The Bancorp Bank'ssecure website
Move money from your PayPal account to fund your prepaid card account.
Earn cash back and personalized offers, just for using your card.
With Direct Deposit, you can get paid faster than a paper check.
Card issued by The Bancorp Bank, Member FDIC. Card may be used everywhere Debit Mastercard is accepted.
Click PayPal Prepaid Mastercard® for additional features & program details, and to request a Card.
at NetSpend'ssecure website
With Direct Deposit, you can get paid faster than a paper check.
No late fees or interest charges because this is not a credit card.
Use the Netspend Mobile App to manage your Card Account on the go and enroll to get text messages or email alerts (Message & data rates may apply).
Card use is subject to activation and ID verification. Terms and Costs apply.
Card issued by Pathward N.A., Member FDIC. Card may be used everywhere Visa debit card is accepted.
See additional NetSpend® Prepaid Visa® details.
Note that the PayPal Prepaid Mastercard® is free if you
order it online
. But if you purchase it through a retailer, you will pay a fee assigned by that retailer.
How to Add a Prepaid Card to Your PayPal Account
It only takes a few seconds to add a prepaid card to PayPal. Here are the instructions for adding a prepaid card online:
Go to the Wallet within your PayPal account.
Select Link a Card under Credit and debit cards.
Fill out the requested information and then save the card data.
Here are the instructions for adding a prepaid card to the PayPal app:
Log in to the PayPal app on your mobile device.
Select the gear in the upper-righthand corner to open your account settings. Then select Banks and Cards.
Click on the plus sign to add a payment method.
Select Debit or credit card. This will prompt you to add the card details and save the info to your PayPal Wallet.
Once you have your prepaid card saved in your PayPal Wallet, you can select it for an upcoming transaction. Just make sure that the card you select has enough funds available to cover the entire transaction. If the card only has enough funds for part of the transaction, it will be declined.
Do I Need a PayPal Account to Use a Prepaid Card With PayPal?
You do not need a PayPal account to process transactions through PayPal. If the merchant offers PayPal during checkout, select that payment option and proceed as a guest.
Enter the prepaid card number in place of a credit or debit card number. Then use your home address or shipping address for the billing address. As long as the card balance is enough to cover the total purchase price, the transaction should process.
Can I Add Cash Directly to My PayPal Account?
Yes, PayPal now has the option to deposit cash into your PayPal account, just as you would with a bank account. The funds will be available within 15 minutes, and you can use them anywhere PayPal is accepted.
Here are the step-by-step instructions for adding cash to PayPal:
Open the PayPal app on your phone. If you do not have the app, you can download it for free and login as normal. You can also connect the app to your fingerprint to quickly open the app without entering your password.
In the bottom right corner of the app's home screen, select the More option. Then select Add Cash at a store. The app will ask you to re-verify your identity with your fingerprint, PIN, or other login information.
Select the store you would like to use. Each store has a different service fee, so you can compare prices for retailers in your area. Most charge $3.95 to add cash to a PayPal account, but Walmart charges a $3 fee.
Once you select a store, you will see instructions for where to go with your deposit. For instance, the instructions for Walmart say to take your barcode to the MoneyCenter or Customer Service Desk, not a cashier. Select Generate Barcode at the bottom to get your code. The barcode will expire in 1 hour.
Deposit $20 to $500 at the retailer of your choice. If you need to add more funds, you will pay an additional service fee for subsequent transactions. You may deposit up to $1,500 per day and $5,000 per month.
In addition to adding cash to PayPal at a retailer, you can withdraw cash from your PayPal account. This service is only available at Walmart.
In the More section of the PayPal app, select Get cash at a store. Then enter the amount you want to withdraw, starting at $20. The app displays your available balance at the top for reference.
There is a daily withdrawal limit of $500 and a monthly limit of $3,500. Walmart charges a $3 fee per transaction. You'll receive a barcode to use at the MoneyCenter or Customer Service desk, and the associate will give you cash corresponding to the request.
Learn about the PayPal Prepaid Mastercard®
The PayPal Prepaid Mastercard® is available for free online or for purchase at select retailers. If you get a PayPal prepaid card online, it should arrive within seven to 10 business days. You can then use it anywhere Mastercard is accepted.
How to Load Funds onto the Card
There are several ways to add funds to a PayPal Prepaid Mastercard®. Most options are free, except for cash reloads at a store.
Direct Deposit: Free deposits for paychecks. PayPal claims to process payments "up to 2 days faster" than a standard bank account.
PayPal Instant Transfers: Instantly transfer funds from your PayPal account to your prepaid card to use at a physical register.
Tax Refunds: Set up your PayPal Prepaid Mastercard as the deposit method for your state and federal tax refunds.
NetSpend Reload Locations: Load money in person at over 130,000 reload locations. This service comes with a reload fee, see the cardholder agreement for details.
The minimum initial load amount is $10-$20, depending on where you get the card. The maximum initial load amount is $500. All retail location reloads have a maximum amount of $500, but direct deposits and instant transfers are not subject to that.
In total, you may have up to $15,000 in funds on your PayPal Prepaid Mastercard®.
Card Fees
For a full breakdown of the fees associated with the PayPal Prepaid Mastercard®, you will want to review the cardholder agreement. A few different fees are associated with the card, including a monthly fee, ATM fees, mobile check deposit fee, and a replacement card fee.
Make sure these fees align with how you intend to use the card, as heavy ATM usage could be costly.
How to Withdraw Funds
If you want to withdraw cash from your PayPal Prepaid Mastercard®, you can use an ATM, there is a small fee associated with an ATM withdrawal. You can also withdraw funds for free when you make a purchase at a store that offers cashback services.
For instance, if you were already making a purchase at Walmart, you could select Debit for the transaction type, enter your PIN, and choose how much cash back you would like to receive.
Maximum Spending and Withdrawal Limits
PayPal limits over-the-counter cash withdrawals and purchase values to $4,999.99 every 24 hours. In other words, you cannot spend more than $5,000 on the PayPal Prepaid Mastercard® per day.
ATM withdrawal limits are $325 per transaction and $940 per day. PayPal allows up to six ATM withdrawals in 24 hours.
Be mindful of the ATM's withdrawal limits as well — if the ATM only allows $200 per withdrawal, you will need two transactions to withdraw $300, leading to twice the ATM fees.
Consider the PayPal Prepaid Mastercard® For PayPal Transactions
In summation, yes, PayPal accepts prepaid cards. Which makes sense, considering it offers its own prepaid card.
We like the PayPal Prepaid Mastercard® because you can move money from your PayPal account onto this prepaid card in real-time. You can also add money to your account with the no-cost Direct Deposit service, and you will receive special offers and Payback Rewards when you shop at qualifying stores.
Advertiser Disclosure
CardRates.com is a free online resource that offers valuable content and comparison services to users. To keep this resource 100% free, we receive compensation for referrals for many of the offers listed on the site. Along with key review factors, this compensation may impact how and where products appear across CardRates.com (including, for example, the order in which they appear). CardRates.com does not include the entire universe of available offers. Editorial opinions expressed on the site are strictly our own and are not provided, endorsed, or approved by advertisers.