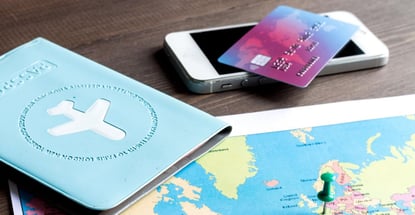 It's fair to say many of Bank of America's 67 million customers have upcoming travel plans. They are the natural audience for the bank's travel credit cards. This article explores whether you should get a Bank of America travel card even if you bank elsewhere. 
To that end, we review the credit cards Bank of America designed for travelers and compare them to several leading competitors. All these cards require good to excellent credit but are a tier below the most expensive premium cards, such as the American Express Platinum Card.
In other words, they offer practical value at a low to moderate cost, perhaps making one or more perfect additions to your wallet.
Top Bank of America Travel Cards
These credit cards offer travel-related perks that differentiate them from other Bank of America offerings. They are obvious choices for those bank customers who want the benefits of a travel card.
The Bank of America® Travel Rewards credit card offers a signup bonus and the same unlimited flat rewards rate on all eligible purchases. This travel card will especially appeal to customers who want a long introductory period of 0% APR on purchases and balance transfers. It doesn't charge an annual or foreign transaction fee, and your points never expire.
You can redeem your points as a statement credit to pay for flights, baggage fees, hotel stays, vacation rentals, and dining purchases without blackout dates or booking restrictions. 
The card offers the security and convenience features you'd expect, including $0 liability protection, fraud detection, optional overdraft protection, account alerts, and free FICO score updates.
Despite its grand-sounding name, the Bank of America® Premium Rewards® credit card charges only a moderate annual fee. It offers a few travel-related benefits, including bonus points for travel and dining purchases, a yearly credit for incidental airline costs, reimbursement for TSA Precheck/Global Entry fees, and no foreign transaction fees.
The Bank of America® Premium Rewards® credit card offers a good signup bonus but lacks the 0% intro APR promotions of the bank's Travel Rewards Card. You can cash out your points as a deposit to a Bank of America® checking or savings account, for credit to eligible Merrill® accounts (including 529 accounts), as a statement credit to your credit card, or for gift cards and purchases at the Bank of America Travel Center.
The Bank of America® Travel Rewards credit card for Students offers many of the same benefits as its non-student version. Students can earn points redeemable for statement credits to pay for flights, rental cars, hotel stays, cruises, restaurant dining, and other goodies.
Unlike most other student cards, this one requires good to excellent credit. It offers new cardmembers a great intro 0% APR promotion for eligible purchases and balance transfers. Be sure to pay the minimum amount due each month or the card will charge a late fee and assign you a penalty APR indefinitely. The card never charges annual or foreign transaction fees.
Best Competing Travel Cards
These travel cards provide stiff competition to the Bank of America's entrants. You'd do well to consider each of these before deciding which travel card to get. 
The Chase Sapphire Preferred® Card is a great travel and shopping rewards card that costs less than $100 a year. You earn Chase Ultimate Rewards points worth 25% more when you redeem them for travel on the Chase Ultimate Rewards website. The card offers a generous signup bonus, anniversary credits, free insurance, and cardmember security features.
The card pays a 10% point boost each year on your card membership anniversary. You can redeem your points for flights on any carrier or transfer them one-for-one to a participating card membership rewards program. 
The Capital One Venture Rewards Credit Card charges a $95 annual fee in exchange for double miles on every purchase and flexible redemptions. You earn bonus miles when you book hotels and rental cars through Capital One Travel. You can book a trip through the issuer's travel portal using your miles or apply them as a statement credit to pay for past travel purchases.
Moreover, you can transfer your miles to 15+ travel loyalty programs or pay for Amazon.com and PayPal purchases. The card provides two visits per year to Capital One Lounges or 100+ partner lounges. Other benefits include car rental insurance, reimbursement of up to $100 on TSA Precheck/Global Entry fees, and exclusive access to entertainment events and dining reservations.
The Capital One VentureOne Rewards Credit Card charges no annual fee yet offers a signup bonus and a good 0% intro APR promotion on balance transfers and purchases. There are no reward tiers to worry about — all eligible purchases earn the same rewards rate, plus bonus miles when you book hotel stays or car rentals through Capital One Travel.
You can redeem your miles for a statement credit within 90 days of the travel date. In addition, you can use your rewards to get tickets to thousands of events through Capital One Entertainment. Other ways to redeem miles include converting them to cash rewards (as a check or statement credit) or gift cards. 
Discover it® Miles is one of our favorite travel credit cards. It pays reward miles on every $1 you spend and provides new cardmembers a Miles-for-Miles Match on miles posted during the first year of ownership. The card doesn't charge annual or foreign transaction fees.
The card gives you an intro 0% APR on purchases and balance transfers for more than a year, after which the regular APR will apply. You can redeem your miles, which never expire, to reimburse your travel purchases. These purchases include airline tickets, hotel rooms, car rentals, commuter transportation, restaurant dining, and gas. You can cash out your miles to your bank account if you prefer.
The Citi Premier® Card lets you redeem your ThankYou Points for flights, hotels, cruises, car rentals, and more. Or you can transfer your ThankYou Points (1,000 points minimum) to your favorite airline loyalty program. The card also provides an annual hotel savings benefit. 
You can Shop with Points at participating online merchants, including Amazon.com and BestBuy.com. Your points never expire, and there's no limit to the amount you can earn.
The American Express® Green Card has the highest annual fee in this group but has no preset spending limits. Benefits include a nice signup bonus, increased travel, transit, and dining reward rates, and yearly airport lounge credits for LoungeBuddy and CLEAR.
Travel perks include insurance covering trip delays, car rental loss and damage, and lost, damaged, or stolen checked baggage. The Green Card lets you finance purchases through Pay Over Time or Plan It. It does not charge foreign transaction fees.
How Do I Apply For a Bank of America Credit Card?
You can submit an online application for a Bank of America credit card and receive a response within 60 seconds. You do not need an account with the bank to get one of its credit cards.
To apply, you'll need to provide information regarding the following:
Name and address
Primary phone number
Email address
Date of birth (you must be 18 or older)
Citizenship and country of residence (you must be a US resident)
Social Security number
Employment status and occupation
Total annual income and source, optionally including alimony, child support, or separate maintenance income
Monthly housing payment
The bank will display the card's terms and conditions and have you indicate that you reviewed the information. You can ask for a balance transfer of additional cardholders when applying.
When you submit your application, the bank will check your credit by conducting a hard credit pull. If approved, you'll receive your card within 10 business days. Before you use the new card, you can activate it by logging in to the mobile banking app, visiting the credit card activation page, or calling the number on the back.
Is it Hard to Get a Bank of America Travel Credit Card?
Consumers, including students, need good to excellent credit to get a Bank of America travel credit card. You must meet the primary age, citizenship, and income requirements but do not need a Bank of America checking or savings account to qualify.
Bank of America checks your credit at one or more major credit bureaus. It promises a response in 60 seconds that may include the following:
Application approval 
An offer for a different Bank of America credit card
A request for more time
Application denial
According to the law, Bank of America must send you an Adverse Action Notice when it denies your application. The notice contains important information, including:
Why Bank of America denied your application
The credit bureau that provided the credit scores and reports upon which the bank relied
How to obtain free copies of your credit reports
How to dispute items on your credit report you believe to be unverifiable, incorrect, or obsolete
It's best to consider an Adverse Action Notice as a tool that tells you what you must do to improve your future approval prospects.
What Is the Credit Limit On a Bank of America Travel Card?
The online forums indicate a maximum Bank of America travel card credit limit of just under $100,000 (excluding the student card). The minimum credit limit on the bank's Travel Rewards and Premium Rewards cards appears to be $1,000 and $5,000, respectively.
When determining your credit limit, Bank of America considers your income, employment status, creditworthiness, and monthly housing payments. It may periodically review your account and offer you a higher credit limit, but you can request a boost by contacting the bank. 

You can do so on the bank's website using the link for requesting a credit limit increase. Alternatively, you can phone the bank's customer service desk at 1-800-732-9194.
The process requires you to submit information about your residences, housing costs, and income. When speaking (politely) with a service rep, compelling arguments usually include your excellent credit score and/or recent income boost. Tell the representative why you deserve the increase rather than need it. Banks may equate neediness to financial distress and decline your request on the spot. 
You usually get an immediate decision, but sometimes it can take a week or more. Generally, it's best to wait at least six months between requests and pay your entire balance on time each billing cycle. 
Your credit score may rise when you receive a credit line increase because it immediately reduces your credit utilization ratio (i.e., credit used divided by total credit available). 
But this only works if you don't go on a shopping spree and use up your additional credit. The FICO Score System sets 1% as the ideal CUR target, but below 30% suffices for VantageScore.
How Do I Get the Most From a Bank of America Travel Card?
You can extract maximum value from your Bank of America travel card by using it for purchases in the bonus categories (such as travel and dining), qualifying for the signup bonus, and taking advantage of the intro 0% APR promotions. Moreover, you can get a 25%-75% rewards bonus with the Bank of America Preferred Rewards Program.
Enrolling in the program earns you benefits based on your Bank of America and Merrill Lynch account balances. The program specifies four reward tiers according to your three-month combined average daily balance:
Gold Tier ($20K to <$50K): 25% rewards bonus
Platinum Tier ($50K to <$100K): 50% rewards bonus
Platinum Honors Tier ($100K to <$1M): 75% rewards bonus
Diamond Tier ($1M and up): 75% rewards bonus and no international transaction/ATM fees
Credit card reward bonuses are just one of the program's benefits. You also get a better deal on mortgages, banking/brokerage fees, savings rates, home equity and auto loans, among other perks.
Bank of America travel cards offer signup bonuses when you spend the required amount on purchases during the first 90 days of account opening. You can cash in these bonuses immediately or save the points for later use.
The Bank of America® Premium Rewards® credit card (and the student version) may offer introductory 0% APR promotions for purchases and balance transfers for multiple billing cycles, during which you won't rack up interest on unpaid balances. 
Bear in mind that you must complete your promotional balance transfers within 60 days of account opening. Any unpaid balances remaining when the promotional period ends will incur interest at your standard APR. A fee applies to each balance transfer.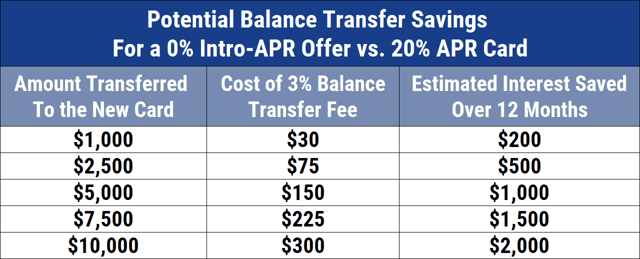 It's best to pay your balances in full each billing cycle when not taking advantage of a 0% APR. Doing so eliminates interest charges and strengthens your credit score by minimizing your credit utilization ratio.
Bank of America travel cards charge steep APRs for cash advances. If you want an advance, keep in mind that it costs less in interest and fees to receive it as a direct deposit or check rather than through ATM, over-the-counter, and cash-equivalent cash advances.
You have a 25-day grace period following the latest statement date to submit a payment of at least the minimum amount due. In all cases, be sure to pay your credit card bill on time. Failing to do so will trigger the card's penalty APR.
How Many Bank of America Credit Cards Can I Own?
Bank of America differs from several other banks in that it doesn't limit the number of its cards you can own. The bank recommends determining the correct number of cards for your finances, goals, and lifestyle by considering several factors.
The following scenarios illustrate why you may want two or more Bank of America credit cards:
You have a Bank of America points or cash back credit card and want to benefit from the reward type that you currently do not have
You want to take advantage of a new signup bonus offer or 0% APR promotion from Bank of America
You recently enrolled in the Bank of America Preferred Rewards Program and want to maximize your point and cash rewards 
You want to boost your available credit, thereby improving your credit utilization ratio and credit score
An extra credit card serves as backup against your primary card's loss or theft, especially when traveling internationally
Owning multiple credit cards may raise a few concerns, including:
Use all your cards occasionally lest they go dormant and impact your credit score. When a card becomes inactive, it drops out of your credit utilization ratio. Since it removes credit available without affecting credit used, your CUR will rise and may hurt your credit. In addition, it may shorten your credit history, further damaging your score.
You may have to pay multiple annual fees.
Multiple cards may tempt you to overspend and lead to financial problems.
You should wait six months before requesting another card. Multiple hard credit inquiries within a short period can hurt your score.
Ensure you pay all your cards on time each month. Late payments trigger fees and can harm your credit when overdue by 30+ days.
We think the benefits of a second card outweigh the disadvantages as long as you take reasonable care.
What Makes a Good Travel Credit Card?
A good travel card offers rewards and benefits that save you money after you pay any annual fee. It should reward you with bonus points or miles for travel-related spending and allow you to redeem your rewards to pay for travel expenses. 
The benefits you receive should relate to the card's annual fee. Several excellent travel cards charge less than $100 per year but will not give you the perks you'd expect from a card charging several hundred dollars.
The following items may help you determine which travel credit card to get:
The card's reward structure and rates
Fees and interest rates
The size of the signup bonus
Availability of an introductory 0% APR for purchases and balance transfers
The card's credit limit
Travel credits and reimbursements
Redemption options, including point/mile transfers to other loyalty programs
Access to airport lounges
Travel-related insurance
No foreign transaction fees
International emergency and support services
Extra reward value when you use your points or miles to book travel at a specified travel agency
Non-travel benefits such as phone insurance, extended warranties, and purchase protection
Credit cards must provide information on all these factors before you sign a cardholder agreement. It is well worth taking the time to consider your alternatives.
Are Travel Cards Worth It?
Travel cards make sense if you travel enough to benefit from their perks. You need to consider a card's rewards and fees — your lifestyle should determine whether a travel card suits you better than, say, a cash rewards credit card.
Travel cards without annual fees are free but seldom provide the best rewards and benefits. A yearly cost of around $95 seems to be a sweet spot for middle-tier travel cards. They should offer the essential perks most travelers want, such as savings on flights, hotels, and rental cars.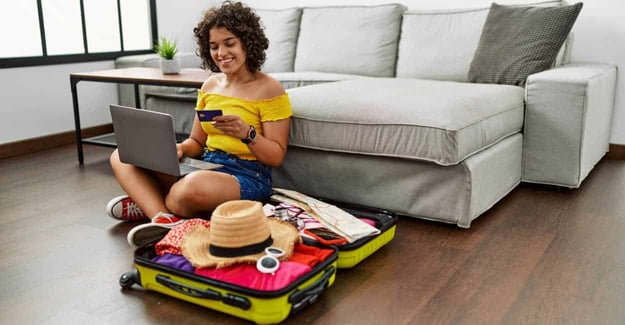 The upper echelon of travel cards can easily cost you $400 or more each year. These cards should provide excellent benefits, including airport lounge access, travel insurance and discounts, free baggage check, and purchase protection, among other benefits. Many offer travel credits that help pay part or all of their annual fees. 
Ultimately, you must be the judge. What seems like a good travel card deal to one person may cause someone else to recoil. 
Bank of America Travel Credit Cards Can Save You Money on Your Next Trip
The best Bank of America credit cards for travel offer a lot to like. We think the bank's customers will be comfortable with these cards, especially members of the Preferred Rewards Program. But others may find these cards lackluster and prefer one of the top-rated travel cards from Chase, Discover, American Express, Citi, or Capital One. We bid you safe journeys, whichever card you choose.
Advertiser Disclosure
CardRates.com is a free online resource that offers valuable content and comparison services to users. To keep this resource 100% free, we receive compensation for referrals for many of the offers listed on the site. Along with key review factors, this compensation may impact how and where products appear across CardRates.com (including, for example, the order in which they appear). CardRates.com does not include the entire universe of available offers. Editorial opinions expressed on the site are strictly our own and are not provided, endorsed, or approved by advertisers.