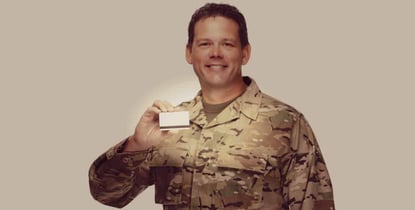 There are plenty of options if you're looking for the best credit cards for military personnel. Serving in the military is an honor that requires a lot of sacrifices and deserves the utmost respect. Many companies offer military discounts and benefits to show respect for those who dedicate their lives to serving. 
When it comes to credit cards, there are many benefits you can receive. In 2006, the Military Lending Act (MLA) was established to protect members of the Armed Forces and their dependents. This credit applies to active duty military and caps the annual percentage rate for your credit card to lower your interest costs on balances.  
Meanwhile, the Servicemembers Civil Relief Act (SCRA) was established in 2003 and provides some lending and card protections to Servicemembers and their spouses. These military benefits can be used with some of the best credit cards to maximize rewards and spend flexibility.
Best Overall Card For Active-Duty Military
The Platinum Card® from American Express offers several benefits, including cash for Uber rides, hotel credits, and travel perks. Though this card has an annual fee, Amex waives the annual fee for active-duty military personnel, so you'll save hundreds per year without forgoing any benefits.
To receive MLA benefits, you don't need to do anything; The bank will apply them to your account as soon as it's opened. American Express automatically verifies your status with the Department of Defense during the application process.
Best Cash Back Card For Active-Duty Military
The Chase Freedom Unlimited® offers generous cash back rewards, particularly in the first year, and a low introductory APR. Spending in specific categories will provide a higher cash back rate, but you'll earn a flat rate of cash back for all other purchases. 
The great thing about using this card and receiving SCRA benefits is that the interest is capped at 6%. A 0% or low introductory APR is great, but the benefit is short-lived, especially if you wish to use the card for more than a year. 
Rewards don't expire, so you may want to use them to earn and redeem cash back long term. This lower capped interest rate also extends to your spouse and will help you spend less money when paying off balances each month.  
Best Low-APR Card For Active-Duty Military
The USAA Rate Advantage Visa® Platinum Credit Card is the best military credit card with a low APR. This card provides cash back, 0% APR balance transfer offers, and travel and retail benefits. There's also no annual fee, and it has one of the lowest credit card interest rates around. For military personnel, your interest rate is capped at 4% while active, and you'll still receive a low ongoing rate afterward.
This USAA Visa Signature card also has zero liability for unauthorized transactions to your card. You'll need to be a USAA member to apply for the card. Anyone currently or formerly serving in the military can apply along with spouses or children of USAA members. 
Best Dining Rewards Card For Active-Duty Military
The American Express® Gold Card is another of the best credit cards for military personnel thanks to its SCRA benefits. You'll need a good credit score to qualify, but this card rewards purchases at restaurants, supermarkets, and travel, among other purchase categories. 
Amex's SCRA benefits cap interest at 6%, and under these terms, interest includes fees like annual membership fees, late fees, and returned payment fees. 
This card could be a great addition if you like to frequent certain restaurants or use rideshare services from time to time. Cardholders get a fixed amount of cash to use for Uber rides and an annual dining credit that you'll receive a portion of each month (as a credit to your account). 
Even with the annual fee, the American Express Gold Card provides more benefits that justify the cost, but Amex waives the fee for active duty military. 
Best Card For Military Base Purchases
The Cashback Rewards Plus American Express® Credit Card is a USAA credit card with a low promotional APR and cash back benefits. You will earn unlimited cash back at a fixed rate that includes 5% back on base purchases as part of your USAA card membership benefits.
You can use this card for everyday military base purchases and everywhere else American Express cards are accepted to earn rewards that will stack up over time. Since USAA honors SCRA benefits, you'll also get a capped interest rate of 6% to help you save on paying back your purchases.
Best Card For Military Personnel With Damaged Credit
The Capital One Quicksilver Secured Cash Rewards Credit Card is a great option to help you build credit and earn cash back for any purchase in the meantime. This card has a low minimum refundable deposit, no annual fee, no hidden fees, and qualifies for benefits from the Servicemembers Civil Relief Act.
You'll pay no more than 4% interest on credit card balances and pay no fees for your Quicksilver Secured Cash Rewards Credit Card. As you continue to use your card wisely and make on-time payments, Capital One will automatically review you for a higher credit line in as little as six months. 
Best Card For Veterans
The More Rewards American Express® Credit Card allows you to earn points for everyday spending like grocery shopping and gas purchases. There is no annual fee or foreign exchange fee. 
SCRA benefits expire 12 to 15 months after discharge, so you'll have an additional year to take advantage of the benefits afforded to you.
Servicemembers Civil Relief Act Benefits By Issuer
The Servicemembers Civil Relief Act (SCRA) is a law that provides additional protections for servicemembers to aid against any legal or financial burdens. The idea behind this act is to provide enough aid to service members so they can give more of their undivided attention to the needs of the nation. 
SCRA laws apply to active duty members of:
The Army
Marine Corps
Navy Air Force
Coast Guard
National Guard
Commissioned officers of the Public Health Service 
National Oceanic and Atmospheric Administration
Regarding loans and credit, the SCRA helps keep interest rates low for service members. While you're still responsible for repaying your debts, an interest rate reduction can help ease the financial burden of that debt. 
Many credit card companies offer SCRA benefits for cardholders who qualify. Here's how these benefits break down per credit card issuer. 
American Express
American Express provides SCRA benefits for active-duty service members and caps credit card interest rates at 6%. It also waives its annual fee, even on its Platinum Card. American Express cards generally require a good credit history to qualify.
In some cases, a service member's spouse may also qualify for benefits with American Express to reduce the burden of some civil obligations during active duty. Eligible cardholders can also request SCRA relief up to 180 days after they leave active duty. 
Bank of America
Bank of America provides SCRA relief to full-time active duty service members and their spouses, domestic partners, or dependents. Bank of America can reduce your payments to reflect the lower interest rate if you're eligible for these benefits and your current interest rate is above 6%.
Military veterans whose service completion date is past 180 days aren't eligible to request the 6% interest rate cap. 
Capital One
Capital One's SCRA benefits for active duty service members include an interest rate of no more than 4% on credit cards, lines of credit, auto loans, and home equity loans. Spouses or dependents may also be eligible, and the interest rate cap can be applied to existing cards opened before the service member was on active duty. 
Capital One checks with the Defense Manpower Data Center to verify eligibility. If the bank is unable to verify your status using this public database, it will write requesting you send in proof of acceptable military documents. 
You can also request benefits within one year of leaving or completing activity duty service. 
Chase
Chase Bank's SCRA benefits include a reduced interest rate for credit cards and loans, protection from foreclosure, repossession, and early termination of an auto lease. 
Active-duty service members or members of the National Guard or Reserve may qualify. You'll need to submit supporting documents to Chase via the secure messages feature to determine eligibility. Chase prefers you don't upload documents of photos taken from mobile devices as digital copies of your documents will be clearer. 
Or, you can mail documents to:
Chase
Attn: SCRA Request
PO Box 183240
Columbus, OH 43218-3240
Citi
Citibank is known for its balance transfer credit cards, but it also provides SCRA benefits to active duty service members, including waiving all your credit card fees (annual and late fees), an APR as low as 0%, and travel benefits. 
Citibank offers these benefits to current service members and their spouses. But the benefits are only applicable if you open your accounts before entering active-duty service. This means if you open a new card while on active duty, you probably won't receive any special military benefits. 
Discover
Discover provides SCRA benefits to active-duty service members and in some cases, their spouses. If eligible, your interest rate won't exceed 6% and you'll see a reduction in most fees, but this only applies to debt incurred before active duty. 
You can request these benefits online, by phone, or via mail by contacting:
​​Discover
Attn: SCRA Department
PO Box 30907
Salt Lake City, UT 84130-0907
Discover will request supporting documents to verify your active-duty status, which can include things like your: 
Military Enlistment/Reenlistment contract
Leave and Earnings Statement (LES)
Letter from your commanding officer
Deployment or active duty orders
Permanent Change of Station (PCS) documentation
Navy Federal Credit Union
As with many others on this list, Navy Federal Credit Union offers SCRA benefits to active duty service members. It recently lowered its interest rate cap to 4%. All military branches are eligible, including the ARMY, Marine Corps, Navy, Air Force, Space Force, and Coast Guard.
To confirm your eligibility, you'll need to submit additional information and supporting documents such as:
Initial active duty start date
Date active duty orders were issued
Branch of service
Statement of Service (signed by Commanding Officer)
USAA
Being a USAA member already comes with plenty of perks, but military service members additionally receive a 4% interest rate cap on credit cards and have certain account fees waived. This applies to debt incurred before qualifying for military service. 
Request benefits by becoming a member and verifying your military status to prove eligibility. 
What Is a Military Credit Card?
A military credit card is a credit card that provides special benefits for service members. Some credit cards are only available to service members. Other cards are traditional credit cards offered by card issuers with specific benefits for military members.
For example, Chase doesn't issue any cards that are only available to service members, but it does provide SCRA benefits on all its credit cards that only service members can receive. Anyone with good credit can qualify for a card with Chase Ultimate Rewards points, but only active military members and their immediate families will benefit from capped interest rates and fees. 
Most military credit cards offer benefits such as:
A reduced APR on balances
Low or no fees
No foreign transaction fees for overseas purchases
Travel insurance
Point rewards or cash back you can redeem for a statement credit, among other things
The bank or credit union will consider your credit score and history if you wish to obtain a credit card account. If you have bad credit, you can consider a secured credit card, but you'll be required to pay an initial deposit to secure your credit limit. 
How Do I Qualify to Receive SCRA Benefits?
To be eligible for SCRA benefits, you need to be an active duty service member. In some cases, spouses, domestic partners, and dependents of an active duty service member may be eligible for SCRA benefits.
Service in one of the following branches is required:
ARMY
Navy
Air Force
Marine Corps
Coast Guard
Commissioned officers of the National Oceanic and Atmospheric Administration
Commissioned officers of the Public Health Service
SCRA benefits include reduced interest rates for loans, credit cards, mortgages, vehicle loans, and home equity loans. It also helps protect against default judgments and allows you to easily terminate an auto lease early if you've been deployed.
You can receive SCRA benefits in a few ways. If you're looking for loan benefits, you may need to write or notify your lender to let them know you are an active duty service member and provide the date you started service.
With your credit card, you can reach out to the credit card issuer and request to opt-in to benefits. You'll need to provide verifying documents that show your active duty status. This request can often be made within 180 days of leaving or completing active duty.
What Happens to My Benefits After Discharge?
You can still qualify for some military benefits after an honorable discharge. The Veterans Benefits Administration can help you understand which veteran benefits you may qualify for. This includes:
Educational benefits
Home loan benefits
Compensation and pension benefits
And more
When it comes to the credit and lending benefits provided through the SCRA, these benefits usually expire within 90 days of being discharged. But some card issuers extend benefits and allow you up to 180 days after discharge to use them. 
Which Bank Provides the Best Military Benefits? 
American Express provides the best credit card with SCRA benefits given it waives your annual fee and caps your APR at just 6%. American Express has some great rewards cards and other perks that are even more valuable with the annual fee waived. So long as you remain eligible for SCRA benefits, you could save hundreds per year in fees.
Some of our favorite Amex cards include The Platinum Card®, American Express® Gold Card, and Blue Cash Preferred® Card.
A solid runner-up is Capital One since you'll be charged no more than 4% interest on credit card balances. Requests for SCRA benefits on Capital one cards can also be made within one year of leaving or completing active duty. 
How Can I Maximize Military Card Benefits?
Military credit and lending relief combined with a quality rewards credit card can help put more money back into your pocket even after everyday necessary spending. 
Rewards programs including Chase Ultimate Rewards and American Express Membership Rewards help you use your card to earn valuable reward points that don't expire. These rewards can be used for:
Travel 
Shopping
A statement credit
E-vouchers 
And more
Just use your card as a primary spending card to maximize your rewards. As with any credit card, you'll want to manage your purchases so as not to exceed your budget and accumulate an overwhelming balance. 
But, if you switch to using your card for everyday expenses, such as supplies on base, food, haircuts, hygiene items, and out-of-pocket travel expenses, you can rack up rewards easily and effortlessly.
Let Your Card Serve You
The average credit card interest rate is much higher than the 4% to 6% interest rate you receive with SCRA benefits. If you're in the military or are planning to join the military, you can really benefit from low or no credit card fees and a low interest rate. 
Even if you don't have credit card balances to pay off, these cards can be useful to help you earn rewards and cash back while on active duty. You really can't go wrong with any of the best credit cards for military personnel and their families. Just make sure these cards are obtained before you begin active duty to ensure you'll be eligible for SCRA benefits.
Advertiser Disclosure
CardRates.com is a free online resource that offers valuable content and comparison services to users. To keep this resource 100% free, we receive compensation for referrals for many of the offers listed on the site. Along with key review factors, this compensation may impact how and where products appear across CardRates.com (including, for example, the order in which they appear). CardRates.com does not include the entire universe of available offers. Editorial opinions expressed on the site are strictly our own and are not provided, endorsed, or approved by advertisers.