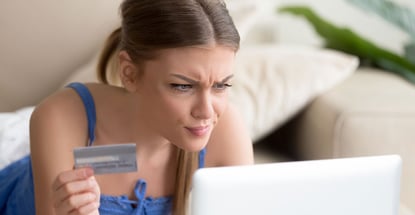 Misconceptions can be maddening. You think you know something, but it turns out that what you thought you knew wasn't true. In the case of credit card rates, misconceptions can not only be maddening, but they can also be costly.
What you think you know isn't just wrong — it's also potentially expensive.
With that in mind, here are four misconceptions about credit card rates and the facts you should know instead.
Misconception #1: The Federal Reserve Sets Card Rates
The Federal Reserve is an independent arm of the U.S. government. Among the Fed's responsibilities is setting a rate known as the Federal Funds Rate. This is the interest rate banks and credit unions use to lend their reserve balances to one another overnight.
When the Fed lowers the Federal Funds Rate, banks can borrow from one another at a lower cost, which helps them offer lower rates for consumer and business loans, such as mortgages, car loans, and credit cards.
There is a clear relationship — a sort of dotted line — between the Federal Funds Rate and consumer and business lending rates. But the Fed doesn't set consumer rates directly and banks aren't required to lower their consumer or business lending rates whenever the Fed lowers the Federal Funds Rate.
That means the interest rate your credit card charges you may change when the Fed lowers rates, i.e., reduces the Federal Funds Rate. Rather than wait for the Fed, however, you can use other strategies to try to get a lower rate on your credit card.
For example, you could apply for a lower-rate card, request a lower rate from your card company, or take steps to raise your credit score. A higher score generally gives you access to credit on better terms, including a lower rate.
Misconception #2: Each Card Has Only One Rate
Credit card rates are often discussed as if each card has only one rate, but many cards have more than one rate. Some have as many as four.
Card rates are referred to as annual percentage rates or APRs, even though they usually don't include any of the fees that may be wrapped into other types of APRs.
All cards have a regular purchase APR, which is applied to new purchases that you make with that card. If you pay your balance in full every month, you'll never have to pay that rate for your purchases. Nonetheless, the rate still exists for your card.
If you get a new card, you may receive an introductory or promotional rate that's lower than the card's purchase APR. The introductory APR may apply only to new purchases, balance transfers, or to new purchases and balance transfers. Introductory APRs usually last at least six months and may continue as long as 18 months or longer.
Another rate is a penalty APR, which you may be charged on your balance and new purchases if you make a late payment or miss a payment. Penalty APRs are typically higher than the card's purchase APR.
One more rate is a cash advance APR, which applies if you use a cash-advance check tied to your card or you use your card to get cash from an ARM. Similar to late payment APRs, cash advance APRs are typically higher than the card's purchase APR.
Misconception #3: Your Card Rate Can't Change
Most card APRs are variable, which means they can change over time due to changes in market rates, changes in your credit scores, or for other reasons.
On average, credit card rates are relatively high compared with rates for other types of debt, such as home mortgages, auto loans, and personal loans.
If you're unhappy with your card's rate, you can call your card company and ask for a lower rate. You may get it. Or you may not. Your chances of getting a rate reduction may be better if you:
have an established credit history.
use your card regularly.
make your payment on time.
stay within your credit limit.
take steps to raise your credit scores.
Another way to get a lower card rate is to apply for a card that comes with a lower range of possible rates or a 0% introductory rate offer.
If you normally pay your card balance in full every month, your card's rate may not matter that much to you. If you often or always carry a balance, your rate should matter to you because it determines how much interest you'll pay.
If your credit card balance is substantial, a significantly lower rate could save you a lot of money. Here's an example:
| | | | | |
| --- | --- | --- | --- | --- |
| Balance | APR | Minimum Due | Payoff Period | Total Interest |
| $5,000 | 25% | $150 | 58 months | $3,626 |
| $5,000 | 20% | $150 | 50 months | $2,360 |
| $5,000 | 15% | $150 | 44 months | $1,509 |
Making a higher payment can help pay off your balance faster and lower your total interest expense for the same amount of debt.
Misconception #4: You Have to Pay High Rates to Earn Credit Card Rewards
Cards that offer premium rewards and other perks tend to come with higher annual fees. But great rewards cards don't always have higher rates.
In fact, if you shop around, you can find good cards that offer low APRs and attractive rewards. When you apply for a new card, you'll typically see a range of possible rates you may be offered. The rate you get depends primarily on your credit profile.
You can obtain a lower rate by applying for a card that has a lower APR range. You'll normally need good or excellent credit to qualify for the best low-interest rate cards.
A few ways to improve your credit are to pay your bills on time, and lower your credit utilization ratio — or the amount you owe divided by your total available credit. You should also keep your oldest credit accounts open, and limit the number of hard credit inquiries on your credit history, unless you're shopping for a new card or loan within a limited period.
All else being equal, the more you know about credit card rates, the more you can save and the better rewards and perks you can get.
Advertiser Disclosure
CardRates.com is a free online resource that offers valuable content and comparison services to users. To keep this resource 100% free, we receive compensation for referrals for many of the offers listed on the site. Along with key review factors, this compensation may impact how and where products appear across CardRates.com (including, for example, the order in which they appear). CardRates.com does not include the entire universe of available offers. Editorial opinions expressed on the site are strictly our own and are not provided, endorsed, or approved by advertisers.