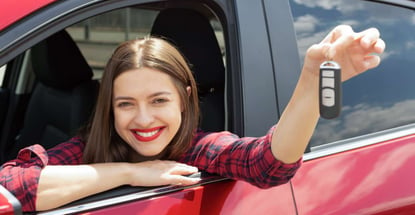 If you are a student, you face unique challenges in getting a car loan. You may have never owned a car and have no credit history at all. In addition, you probably have a limited income. These factors mean that auto loans for students tend to have high interest rates and low borrowing caps.
The good news is that several online lending networks cater to consumers with no, limited, or bad credit. We review five of the best, all willing to help students finance a vehicle despite scanty credit experience.
1. Auto Credit Express: Best Overall
Our favorite lender for student auto financing is Auto Credit Express. The company works with hundreds of car dealers throughout the US. It can help you locate a local dealer that will welcome your loan application even if you have a limited credit history.
Dealer partner network has closed over $1 billion in auto loans
Can help those with bad credit, no credit, bankruptcy, and repossession
Established in 1999
Easy, 30-second pre-qualification form
Bad-credit applicants must have $1500/month income to qualify
Students can get approved by showing an income of $1,500 per month before taxes.
2. Car.Loan.Com: Best For Limited Credit
Car.Loan.com focuses on arranging subprime auto loans for people who have been through bankruptcy, have limited or bad credit, or are first-time car buyers. This makes Car.Loan.com an excellent loan option for college students without prior credit experience. 
Free, no-obligation application
Specializes in auto loans for bankruptcy, bad credit, first-time buyer, and subprime applicants
Affordable payments and no application fees
Same-day approval available
Connects thousands of car buyers with auto financing a day
This network can get you the financing to buy or lease a vehicle as quickly as the same day you apply.
3. LendingTree.com: Best For Multiple Offers
LendingTree is renowned for its ability to find you multiple loan offers within minutes once you successfully navigate the instant credit approval process. Private loan terms range from one to seven years, and a down payment as low as $200 can help you get a lower interest rate and monthly car payment amount. 
Purchase or refinance a new or used car.
Their lenders have solutions for most credit situations.
Get up to 5 offers from competing lenders!
Complete a simple and secure online form in minutes.
Save on your current or new monthly car payment.
LendingTree's direct lenders can give you a loan approval decision in minutes.
4. RefiJet: Best For Refinancing
For college students who already have a car loan, the RefiJet national lending network delivers competitive auto refinancing quotes quickly without impacting your credit score. You can rapidly prequalify and review each loan option with a RefiJet financial expert. 
Potentially reduce your payments by hundreds of dollars
Skip your next car payment
Quick and easy 2-minute preapproval process
Prequalifying does not affect your credit score
Completely free
No additional costs or fees
RefiJet lenders may waive your first monthly car payment for 60 days after loan approval.
5. MyAutoloan.Com: Best For Website Tools
The MyAutoLoan.com lending network can arrange any kind of auto loan, whether you're looking at new inventory or used vehicles. It takes only a few minutes to receive up to four loan offers from direct lenders that are more than happy to work with students. 
Loans for new, used, and refinancing
Queries a national network of lenders
Bad credit OK
Get up to 4 offers in minutes
Receive an online loan certificate or check within 24 hours
Its website provides helpful tools, including an interest rate chart, payment calculator, and auto loan rate estimator.
How Do Auto Loans Work?
You probably know you can apply for an auto loan at your local car dealership, bank, or credit union. The reviewed loan-finding services offer an alternative way to obtain a vehicle loan online.
You start the process by filling out a short form on a private loan network website — it takes only a minute or two to complete. The request form typically collects your:
Name and address
Monthly income
Housing costs
Employment information
Bankruptcy status
Social Security number
Date of birth
Email address
Phone number
The request form may also ask you about any car you want to trade in. The service will prequalify your loan request by checking whether you:
Are at least 18 years old
Are a US citizen or permanent resident
Have a bank account (including online banking) in your own name
Can provide suitable identification, including your Social Security number, email address, and phone number
Can show sufficient income to repay the loan, including help from a cosigner, scholarships, or grants.
The lending networks often work with international students with green cards or TN, L-1, F-1, H-1B, or OPT visas. 
If you successfully prequalify, one or more local dealers may contact you shortly afterward. The dealer will explain your financing options, including the kinds of loans available to you, the terms of these loans, and which vehicles are within your budget.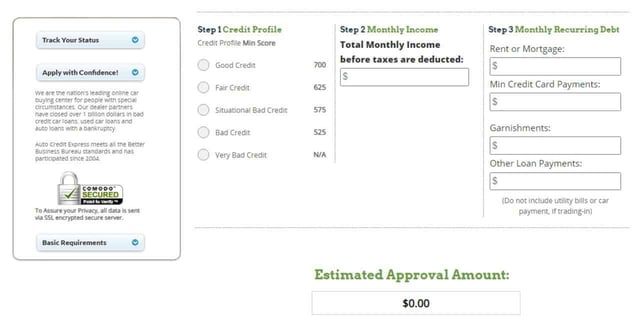 The auto lender may send you a certificate acknowledging the loan offer. It may even schedule an appointment with the car dealership, where you can choose your vehicle and sign the loan papers. 
The whole process moves rapidly, and sometimes it's possible to complete the online application and pick up your automobile later the same day.
What Challenges Do Students Face Getting a Car Loan?
As mentioned earlier, students face challenges that stem from their lack of credit history and income. Here is a list of those challenges:
Credit: The lack of credit history means lenders have no evidence that you will be a trusty borrower. A federal or private student loan won't help because it doesn't impact your credit until you begin repaying student loan debt. 
Income: The chances are that you won't earn the minimum required income through wages. Don't forget to include any college student aid you are receiving and information from your FAFSA. A good work record can favorably impress lenders even if you work only part time.
Interest Rates: Loans to students can be risky. Lenders realize this and charge higher interest rates to protect themselves against loan defaults. Car loans are less sensitive to default risk because the dealer will repo your vehicle if you fail to repay. A home equity loan is similar: Failure to repay a home equity loan will result in foreclosure. An auto loan differs significantly from a personal loan or personal line of credit, which typically have no collateral requirements.
Loan Amounts: Another way providers of student auto loans guard against defaults is to limit the amount they will lend. You can work around this by offering a relatively large down payment and choosing a less expensive vehicle.
We next discuss how you can overcome these challenges and obtain financing for a vehicle.
How Can Students Improve Their Chances of Getting an Auto Loan?
Millions of undergraduates drive financed cars, so we can assume they have adopted strategies to obtain auto loans. Timely payments and low debt levels will help you build a good credit score, facilitating a more competitive rate and a higher loan amount when you want to finance a vehicle.
Here are some options for improving your odds of getting an auto loan as a student with limited credit history:
Build Credit
The idea behind building credit is to pay your loans and credit balances on time. Two products can help:
A credit card: Student credit cards are relatively easy to obtain. You must be 18 or older and attend college (or a trade school) at least half-time. If you acquire a student credit card, use it regularly and pay at least the minimum amount due each month. If you don't qualify for a student credit card, consider getting a secured card. You will have to put down a refundable deposit to get a secured credit card, but it is easy to get and likely offers a lower interest rate than similar unsecured cards.
Credit-builder loans: These are loans in reverse — you repay the loan before you receive the proceeds. Credit unions and online lenders offer these loans to help consumers establish a credit history. The auto lender places the loan money in a locked savings account, where it remains while you repay the loan in monthly installments. The lender reports your payments to all three credit bureaus to help you build credit (as long as you pay on time). You'll receive the money in the savings account once you've paid off the debt.
Earn Good Grades
Some student auto loan lenders offer a more competitive rate if you maintain a good grade point average. The idea is that students who take their responsibilities seriously will do the same when using credit.
Interest rates tie directly to the risk a lender takes when loaning money to a borrower, so proving you are conscientious can pay off in lower financing costs and easier access to credit.
Enlist a Cosigner
Nothing delights a college student lender more than a cosigner with good credit. Many parents step into this role when sending their children to college. Cosigners are equally responsible for loan payments, which significantly reduces the lender's risk of late payments and defaults. 
Students who can produce a cosigner may qualify for larger loan amounts and lower interest rates, so it's a very effective tactic. But be careful not to miss payments and put your cosigner in a bind.
Become an Authorized User
One way a student can overcome a lack of credit is to become an authorized user of a parent's credit card. As an authorized user, you get a credit card in your name, but the account number belongs to the primary cardowner.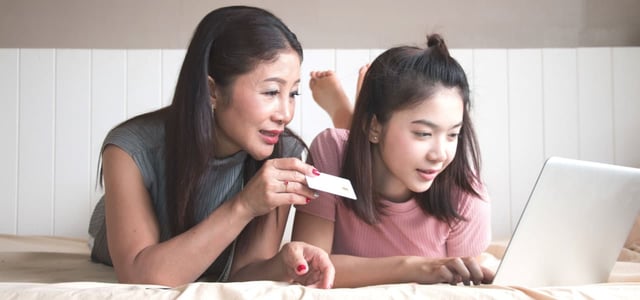 The credit bureaus will establish a file for you when a cardholder makes you an authorized user. All reported card activity appears in the credit files of the cardowner and authorized users. You'll build credit as long as the monthly credit card payments are made on time and the card has a low balance relative to its limit.
What Costs Are Involved In Owning a Car?
Purchasing a car is just the first financial liability arising from owning and using a vehicle. If you are about to buy your first car, make sure your budget can accommodate all the related costs.
Purchase 
Few students purchase their vehicles outright, although you can buy a used one for a few thousand dollars (or less). You will likely need to make a down payment and take out a car loan to pay off the purchase price over time. 
Remember to include dealer fees in your budget. These are one-time fees for items such as dealer's preparation, state sales tax, title, and tags.
Sometimes, the lender will allow you to roll your closing costs into the loan. That's good if you are short of funds, but it also means you'll pay interest on these fees for the life of the loan.
Financing
The best annual percentage rate is 0% and may be available on special promotions for select vehicles. You typically must have good credit and agree to a three-year loan term to get this kind of promotion.
Most regular car loan interest rates range from 3% to 20%, which compares favorably to the APRs on a personal loan or personal line of credit. Expect your auto loan rate to be at the higher end of the range unless you already have good credit or you've enlisted a cosigner. 
Here's what the average auto loan rates look like based on Q3 data from Experian:
| Credit Score | New Cars | Used Cars |
| --- | --- | --- |
| 781 – 850 (Super Prime) | 3.84% | 3.69% |
| 661 – 780 (Prime) | 4.9% | 5.47% |
| 601 – 660 (Nonprime) | 7.25% | 9.81% |
| 501 – 600 (Subprime) | 10.11% | 15.86% |
| 300 – 500 (Deep Subprime | 12.93% | 19.81% |
Most lending network websites have calculators to tell you how much an annual percentage rate will cost you each month. Naturally, you'll pay less interest when you buy a cheaper car and make a larger down payment.
Insurance
Your state sets the minimum insurance requirements for drivers. These usually include specific dollar coverages on bodily injury liability per person and accident. Additionally, you'll need coverage for property damage liability. 
Some states also require coverage for medical payments, personal injury protection, and uninsured/underinsured motorists and their property damaged in a car accident. Your annual insurance premium depends on how much coverage you specify, your age, your vehicle, and your driving record.
In 2022, the average cost of minimum-coverage car insurance was slightly above $700/year.
You may also want to consider guaranteed asset protection coverage to insure the investment in your car. Guaranteed asset protection covers the shortfall if your vehicle is a total loss and your auto insurance settlement does not cover the cost of paying off your loan. The typical annual cost of a GAP policy is $400 to $700.
Fuel
Depending on fuel prices, the miles you drive, and your vehicle's efficiency, you should expect to pay between $150 and $300 a month to keep your car rolling down the road. Electric vehicles will require less, especially if your campus provides free charging facilities.
Maintenance and Repairs
Oil changes, tire rotations, inspections, car washes, and the like could cost you a few hundred dollars per year. It's a false economy to defer maintenance on your car, as you may miss minor problems that become big ones.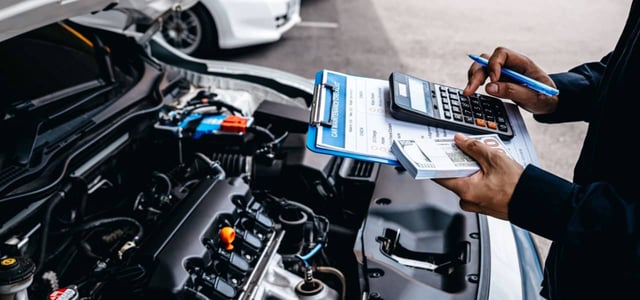 If you have minimal car insurance, you may face hefty out-of-pocket costs if your car is involved in an accident or vandalism. In some cases, the repair costs may exceed the vehicle's value. Consider this risk when buying auto insurance.
Depreciation
Typically, a house gains value over time, but cars experience a value drop, or depreciation, as soon as you drive one off the dealer's lot. At least, that's usually the case.
But during the Covid years, new cars have become scarce, and used ones have gained value. This behavior is atypical, and as automobile manufacturing returns to normal, expect used car values to drop. 
Eventually, depreciation will reduce the trade-in value of your vehicle, and your loan balance may exceed the car's value (i.e., the value is "underwater"). If you were to sell the vehicle in these circumstances, you would not only have to pay the lender all the proceeds from the sale, but you also have to come up with more money to cover the negative equity amount.
Students Can Obtain Auto Loans, Even With Limited Income
We've discussed the sources and strategies surrounding auto loans for students. Attending college, living away from home, taking on student loan debt, getting your first credit card, and owning your first car are just some rites of passage many 18-year-olds experience. 
A multitude of opportunities and responsibilities await. If that includes buying a car, the information we've presented will help you overcome the obstacles stemming from limited credit and income. The rest is up to you.
Advertiser Disclosure
CardRates.com is a free online resource that offers valuable content and comparison services to users. To keep this resource 100% free, we receive compensation for referrals for many of the offers listed on the site. Along with key review factors, this compensation may impact how and where products appear across CardRates.com (including, for example, the order in which they appear). CardRates.com does not include the entire universe of available offers. Editorial opinions expressed on the site are strictly our own and are not provided, endorsed, or approved by advertisers.