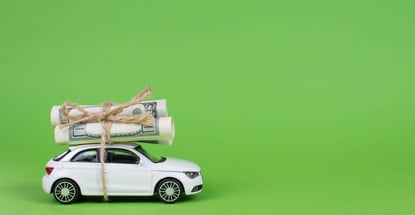 The two primary purposes for refinancing your vehicle are to modify the car payment arrangements and to cash out your equity. As it turns out, bad credit is not a significant impediment to refinancing because your car is collateral for the loan. But poor credit may require you to pay a higher interest rate, one of many compelling reasons to strive for a good credit score.
This review of the best auto refinance loans for bad credit includes direct lenders and loan-finding networks. They all regularly work with subprime borrowers but vary in ease and speed. At least one, and probably several, should be a good fit for your needs.
Best Online Car Refinancing Options
These companies facilitate refinancing loans online. These are lending networks that can find you one or more refinancing sources, usually online lenders or local dealerships that welcome customers with bad or good credit. These bad credit car loans are fast and convenient to obtain.
Dealer partner network has closed over $1 billion in auto loans
Can help those with bad credit, no credit, bankruptcy, and repossession
Established in 1999
Easy, 30-second pre-qualification form
Bad-credit applicants must have $1500/month income to qualify
Auto Credit Express connects you to a nationwide network of dealers willing to refinance your vehicle, even if your credit is poor. Completing the loan request form takes only a minute or so. 
Auto Credit Express uses the request to prequalify you for bad credit car loans. If ACE preapproves your request, a nearby dealership will contact you to complete the refinancing as soon as the same day.
Purchase or refinance a new or used car.
Their lenders have solutions for most credit situations.
Get up to 5 offers from competing lenders!
Complete a simple and secure online form in minutes.
Save on your current or new monthly car payment.
LendingTree can find multiple loan offers within minutes once you complete the instant preapproval process. You can apply for a refinancing loan, including a cash-out or lease buyout. 
Submitting its loan request form lets you see the types of loans available. Doing so is obligation-free and doesn't affect your credit score. Refinance terms range from one to seven years, and you may be able to lower your APR, monthly payments, or repayment period.
Potentially reduce your payments by hundreds of dollars
Skip your next car payment
Quick and easy 2-minute preapproval process
Prequalifying does not affect your credit score
Completely free
No additional costs or fees
RefiJet offers auto loan refinancing to reduce your monthly payments and possibly secure a lower APR. You can cash out some or all the equity in your vehicle if you need extra cash. RefiJet welcomes borrowers with bad credit, and customers get to skip their first two payments.
Loans for new, used, and refinancing
Queries a national network of lenders
Bad credit OK
Get up to 4 offers in minutes
Receive an online loan certificate or check within 24 hours
The MyAutoLoan.com lending network can refinance your car loan and offer a cash-out deal if you qualify. It takes just a few minutes to receive up to four loan offers from direct lenders comfortable working with all types of credit.
You can review the details of each offer before selecting the best fit. Once the lender approves and closes your loan, it pays off your current loan and optionally provides you with the cash-out proceeds.
Best Banks and Credit Unions For Auto Refinancing
These financial institutions are direct lenders willing to work with subprime consumers. They are a little less convenient than lending networks because you must fill out a separate loan application for each one. 
Pre-qualify online in minutes without impacting your credit score
Members save with PenFed's low auto loan rates
Loan amounts of up to $150,000
Average refi savings of $191 per month
Terms of up to 84 months
Auto loan calculator to help estimate payments
Anyone can join PenFed Credit Union. You can apply online for an auto refinance loan once you become a member. In addition to offering low rates, PenFed can provide you with GAP protection (explained below) to cover the difference if your loan balance exceeds your vehicle's value. 
The credit union offers extended warranties to pick up where the manufacturer's warranty leaves off. It can also provide debt protection for times when you cannot make timely payments. PenFed's website displays its latest interest rates and includes a handy calculator to see the effects of a refinancing loan.
6. Navy Federal Credit Union

The Navy Federal Credit Union will pay you a $200 bonus if you use it to refinance your current auto loan from another lender. You or one of your family or household members must have ties to the armed forces, Department of Defense, or National Guard to join Navy Federal.
The credit union boasts an easy application process online. You can use the website's online calculator to find your best monthly payment. Navy Federal makes no mention of cash-out refinancing.
7. Alliant Credit Union

You could save money by auto loan refinancing at Alliant Credit Union. To join, you must work at Alliant or one of its partners, live or work near its Chicago corporate headquarters, or belong to Foster Care to Success.
You can refinance by submitting an online loan application or applying by phone. Alliant will process your application and notify you when your approval is complete, usually on the same day.
8. Consumers Credit Union

Anyone can join Consumers Credit Union by paying the one-time $5 membership fee. Once you become a member, you can submit a refinance loan application online or by phone.
A credit union representative will contact you to discuss how much you can save on your monthly car payment and total interest charges by refinancing. You can receive a 0.25% rate reduction by arranging automatic electronic payments.
9. Truist Bank

You can apply online at Truist Bank for an auto refinancing loan or by phone if you have a Truist account. You work with one of the bank's loan specialists to craft a refinancing agreement with favorable terms.
The minimum loan amount is $3,500 with terms of up to 84 months. You may lock in a low interest rate, increase your loan term to reduce your monthly payment, or pay off faster by shortening your repayment period.
What Are the Different Types of Auto Refinancing?
The different types of auto refinancing include new terms, cash-out, re-title, and lease buyout. A lender may provide some or all of these loan types.
New Terms
Typically, you refinance an automobile to restructure the payments through a lower interest rate or a change to the repayment period. Your loan terms may reflect the following:
A lower interest rate: You may be able to reduce your interest rate through refinancing. It depends on your recent credit history and prevailing interest rates. Under the best circumstances, a lower interest rate will shorten the loan term and reduce the monthly payment.
Lower monthly payments: You can reduce monthly payments by extending the repayment period, even without a rate decrease. Increasing the term can increase the total cost over the life of the loan.
All the reviewed lenders offer new-term refinancing.
Cash-Out Refinancing
Many auto lenders offer cash-out refinancing to car owners with vehicle equity. Equity is the excess of the car's value over the current loan balance. This type of refinancing lets you convert equity into cold hard cash that you can use any way you want.
A cash-out creates a larger loan balance. Expect your monthly payments and/or loan term to increase unless you also get a rate reduction. Cash-out refinancing is usually cheaper than a personal loan or credit card cash advance, especially if you have bad credit.
Some lenders let you cash out more than your equity, up to 125% of the vehicle's current value. Your loan is "underwater," meaning you owe more than the car is worth. You're then liable for any deficiency balance if you sell or total the vehicle.
To protect against underwater loans, lenders offer guaranteed asset protection (GAP) insurance, described below.
Re-title Refinancing
A car's title indicates its legal owner(s). You may want to refinance a joint auto loan to remove the cosigner from the title. Retitle refinancing may also include changing the loan's terms, especially if interest rates have declined since the original loan. 
Your local Department of Motor Vehicles oversees title changes. The lender handles all aspects of the process, including the new title search and lien perfection (i.e., giving the lender a legal claim to seize the car if you default on the loan). Depending on state procedures, you or the lender receive the updated title.
Lease Buyouts
A car lease is a type of financing in which you pay for only the vehicle's depreciation over the lease period. Normally, you turn in the car when the lease expires. A lease buyout is new financing for the vehicle's remaining value (i.e., its residual value, predetermined at lease signing) should you decide to keep the car.
The decision to buy out the lease or purchase a different vehicle usually hinges on a few factors, including:
Any money you owe for exceeding the lease mileage terms: You must pay the penalty for exceeding the mileage cap, sometimes as much as $2,500. Buying out the lease avoids this charge.
The car's condition: A leased car with excessive wear and tear may require you to pay a penalty upon its return. You may be on the hook for thousands of dollars, depending on the damage. A lease buyout takes you off that hook.
Maintenance costs: You may not want to buy the auto if independent research indicates it will have high maintenance costs in the future. The opposite prediction makes a lease buyout more attractive.
Equity: The dealer may share the benefit from any equity in the car. This occurs when the car's current value exceeds the residual. For example, if the vehicle is worth $6,000 more than the residual, the dealer may offer you a $4,000 credit on the lease buyout.
In most other regards, you should treat a lease buyout as a new loan for a used car. 
How Do I Apply for Auto Refinancing?
Lending networks provide the easiest auto refinancing because they can find you multiple competing offers with one online request. If you prequalify, you simply submit the short request form to receive one to four offers quickly.
The information required for auto refinancing may include the following:
The car's make, model, and year
The terms and remaining balance on the current loan
The current lender and your account number
Your goals (i.e., a lower interest rate, smaller monthly payments, faster repayment, cash-out refinancing, etc.)
Amount of cash-out, if any
Information about yourself and your income and financial obligations
Direct lenders usually make a hard credit inquiry when you apply for refinancing. This remains on your credit report for two years but usually has little impact on your credit history or score.
What Is the Lowest Credit Score I Can Have to Refinance A Car?
No minimum credit score is required to refinance a vehicle, although your score may influence the loan's terms. Instead of concentrating on scores, lenders tend to rely on other factors, including:
The borrower's annual income: You should list all income sources, including government benefits, retirement distributions, alimony, etc.
Debt-to-income (DTI) ratio: Lenders may set a cut-off, such as 38%, for loan approval
Loan-to-value (LTV) ratio: Lenders may limit the loan size to some percentage of the vehicle's value. Some cash-out loan providers may offer LTV ratios exceeding 100%, which results in an underwater loan.
The current value of the vehicle: The lender considers the vehicle's condition, age, mileage, maintenance history as compared with that of similar cars
Prevailing interest rates: The loan's interest will reflect the prevailing rates and the borrower's credit score
You'd get a better deal if your credit score increased after taking the original loan. This translates into a lower APR and possibly a larger cash-out.
How Much Can I Save By Refinancing My Vehicle?
Interest rates determine how much you'll save by refinancing your vehicle. You'd save perhaps hundreds or thousands of dollars if rates decline since the original loan. Rising rates have the opposite effect and discourage auto refinancing. 
Current auto refinancing interest rates by credit score:
Loan Term
Excellent Credit
750-850
Good Credit
700-749
Fair Credit
640-699
Poor Credit
639 or Less
36 Months
4.67%
6.48%
8.03%
11.84%
48 Months
5.55%
7.15%
10.11%
13.27%
60 Months
5.68%
7.05%
9.81%
13.43%
72 Months
6.15%
7.16%
9.84%
13.35%
Rates provided by RateGenius as of Mar. 2023
You can also save money if your credit score has improved since the original loan. A higher score may let you access a lower APR, all other things being equal.
How Does Refinancing Impact My Credit?
Auto lenders usually pull your credit when you apply for auto refinancing. This may have a slight impact on your credit score. In addition, your DTI ratio may increase if you get a cash-out loan. A higher percentage may hurt your access to future loans and increase the interest rates you'll pay for credit.
In most cases, refinancing an auto loan should have a negligible effect on your credit. You may be able to improve your credit score if refinancing allows you to repay the loan faster. You'll receive a more significant benefit if you use the monthly loan amount you no longer owe to reduce your other debts, especially your credit card balances.
Can I Refinance an Underwater Auto Loan?
Yes, you can refinance an underwater auto loan (i.e., one in which you owe more than the vehicle's value) if you purchase a guaranteed asset protection policy. 
A guaranteed asset protection policy pays the shortfall if your vehicle is a total loss due to damage or theft, and your auto insurance settlement does not cover the cost of paying off your loan. Typically, a GAP policy costs $400 to $700 annually.
When Is the Best Time to Refinance My Vehicle?
It makes sense to refinance your vehicle when interest rates drop enough to net you savings after paying any loan fees. A lower interest rate can save you money in the short and long terms.
You also may want to refinance your loan when you need cash and have built up equity in your car. A cash-out refinance loan can be a cheaper alternative to other types of borrowing.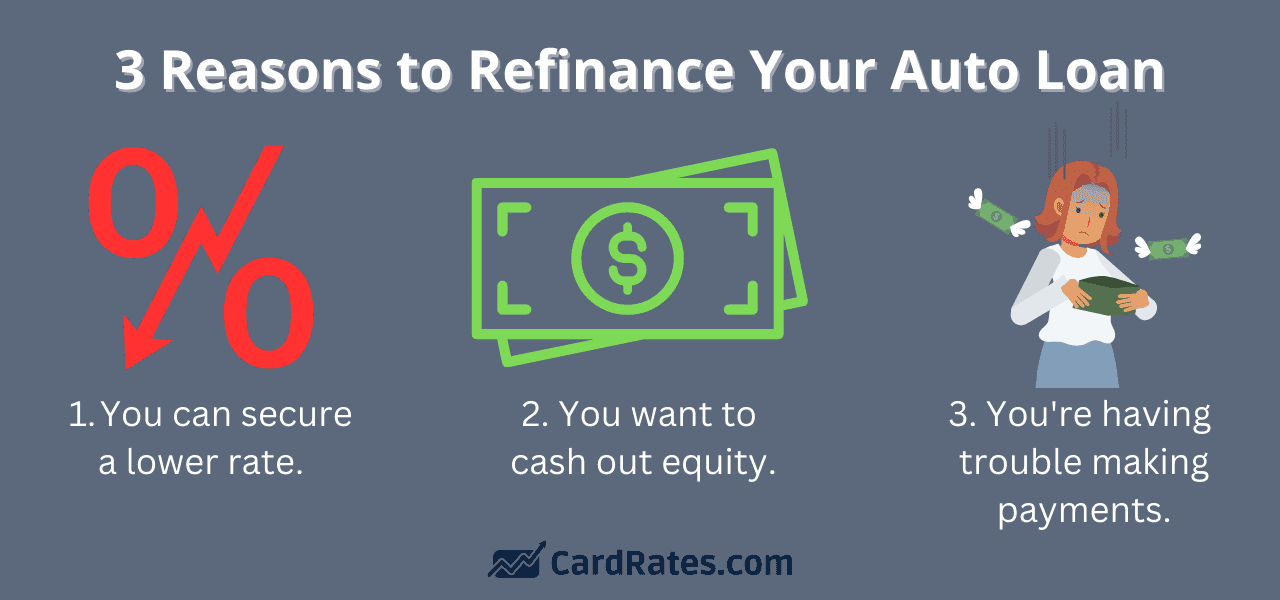 Another good time to refinance your car is when you have chronic problems paying your monthly bills. By extending the auto loan's term, refinancing can reduce your monthly payments, although you'll pay more interest in the long run.
What Are the Pitfalls of Auto Refinancing?
The pitfalls of auto refinancing may include additional interest charges, lender fees, and owing more than the car's value.
Additional interest charges can occur if you extend the loan term even if interest rates do not rise since you'll incur interest over a longer period. Another cost can arise from fees the lender tacks on when refinancing your loan.
As described earlier, cash-out refinancing can create an underwater loan. You'll have to pay several hundred dollars annually for GAP insurance should you undertake an underwater loan.
Compare the Best Auto Refinance Loans For Bad Credit
Our review of the best auto refinance loans for bad credit should convince you that you have many options for restructuring your car loan. We recommend you first try the online lending networks, as they can find multiple competing offers without cost or obligation. Some of you may prefer applying to banks and credit unions despite the extra work involved. 
Whichever route you choose, make sure you understand the economics of the new deal — you want to avoid surprises when you refinance an existing auto loan.
Advertiser Disclosure
CardRates.com is a free online resource that offers valuable content and comparison services to users. To keep this resource 100% free, we receive compensation for referrals for many of the offers listed on the site. Along with key review factors, this compensation may impact how and where products appear across CardRates.com (including, for example, the order in which they appear). CardRates.com does not include the entire universe of available offers. Editorial opinions expressed on the site are strictly our own and are not provided, endorsed, or approved by advertisers.