Store Credit Card
Opinions expressed here are ours alone, and are not provided, endorsed, or approved by any issuer. Site may be compensated through the issuer affiliate programs.
Predating the Model T by nearly a decade, the Goodyear Tire & Rubber Company began in 1898 as a manufacturer of bicycle and carriage tires years after its namesake, Charles Goodyear, accidentally discovered a method for creating vulcanized rubber. Quickly embracing the growing consumer automobile market, the company adopted its recognizable winged foot trademark in 1900 and launched the first of its iconic Goodyear advertising blimps in 1912.
The modern Goodyear is one of the largest tire companies in the US, with over 6,100 Goodyear service centers across the country. In addition to taking advantage of Goodyear's experience and quality products to handle their tire and auto maintenance needs, many consumers are turning to the Goodyear Credit Card to finance those purchases — but that may not be a great idea.
Better Cards to Use at Goodyear
Beyond its modest discount offers and asterisk-heavy financing deal, the Goodyear Credit Card doesn't really have a ton going for it, especially when compared to the other credit card options out there. For most consumers, even the most basic rewards card will offer more value than the Goodyear card's sporadic rebates, and the average 0% APR card offer extends twice as long as that offered by Goodyear.
Cash Back
Unless you're making a major purchase that requires financing, the only Goodyear Credit Card benefit you'll likely regularly use is the oil change discount, which provides $5 off your oil change service. While this can be a nice savings, the average driver may only use it once or twice a year. A general cash back card can provide significant savings on every purchase, including oil changes.
at Chase'ssecure website
New Offer! Double Cash Back: Earn 3% cash back on all purchases in your first year up to $20,000 spent. After that earn unlimited 1.5% cash back on all purchases.
0% Intro APR for 15 months from account opening on purchases and balance transfers, then a variable APR of 17.24-25.99%. Balance transfer fee is 3% of the amount transferred, $5 minimum
No minimum to redeem for cash back
Cash Back rewards do not expire as long as your account is open
Free credit score, updated weekly with Credit Journey℠
No annual fee
| | | | | |
| --- | --- | --- | --- | --- |
| 0% Intro APR on Purchases 15 months | 0% Intro APR on Balance Transfers 15 months | | | |
0% APR
If financing is what you want and your credit score is good or better, the Goodyear Credit Card has no place in your credit card garage. Instead, look for an open-loop card with an introductory 0% APR offer that will apply to all of your purchases, not just tires. Even better, a quality intro APR offer can extend for 12 months or more — without sticking you with deferred interest.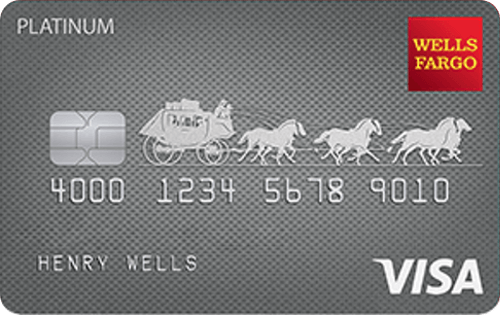 at Wells Fargo'ssecure website
0% Intro APR for 18 months on purchases and balance transfers (fees apply), then a 13.74%-27.24% variable APR; balance transfers made within 120 days qualify for the intro rate and fee
Get up to $600 protection on your cell phone (subject to $25 deductible) against covered damage or theft when you pay your monthly cellular telephone bill with your Wells Fargo Platinum Visa card
Easy access to your FICO® Credit Score with Wells Fargo Online®
Zero Liability protection for promptly reported unauthorized transactions
Convenient tools to help create a budget and manage your spending with My Money Map
$0 Annual Fee
| | | | | |
| --- | --- | --- | --- | --- |
| | 0% for 18 months on qualifying balance transfers | | | |
Travel Rewards
Between the daily commute and life's necessary errands, your vehicle's tires get a lot of wear and tear — and so do you. With a great travel rewards credit card, however, purchasing new tires can not only rejuvenate your vehicle, but also help you pay for a little rejuvenation of your own. You can use the points or miles earned with your travel rewards card to pay for a variety of travel-related expenses, including hotel stays and airline tickets, so you can get off the street and on the road to relaxation.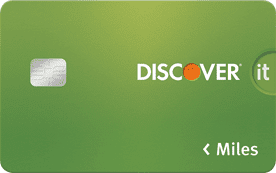 at Discover Card'ssecure website
INTRO OFFER: Discover will match ALL the Miles you've earned at the end of your first year, automatically. For example, if you earn 35,000 Miles, you get 70,000 Miles. That's $700 towards travel!
Earn unlimited 1.5x Miles for every dollar spent on all purchases all with no annual fee.
No Blackout Dates - fly any airline, stay at any hotel.
Redeem your Miles as a statement credit towards travel purchases.
Freeze your account in seconds with an on/off switch either on the mobile app or website to prevent new purchases, cash advances, and balance transfers.
Get your free Credit Scorecard with your FICO® Credit Score, number of recent inquiries and more.
Overall, the limited benefits — and limited usability — of the Goodyear Credit Card make it a poor choice for most consumers, especially those with the good credit required to obtain a better-quality open-loop rewards or 0% APR credit card. The Goodyear card's discounts are no match against a quality rewards card, and its financing deal is only a deal for those who can pay it off within the six months.
What Others Say About the Goodyear Credit Card
If you own a vehicle, sooner or later you're probably going to need new tires, so it's no surprise there's no shortage of opinions on the Goodyear Credit Card. Overall, reviewers aren't blown away by the Goodyear card, citing its limited perks and super-high interest rate as top reasons to put the skids to the card in favor of something with better benefits — or, at least, lower interest rates.

A review from WalletHub.com says:
"
The Goodyear Credit Card doesn't offer points, miles or cash back based on the amount you spend. All it gives you is free tire rotations and $5 off any oil change. That package simply isn't enough to make applying for the Goodyear Card a good idea, especially considering all of the excellent rewards credit cards that are currently available. People are often drawn to the Goodyear Credit Card because it offers 0% interest for six months on purchases of at least $250. But that's actually a bad deal. For starters, it includes a feature called deferred interest, which means the card's regular APR will retroactively apply to your original purchase amount if you pay your monthly bill a day late or don't repay your full balance by the end of the intro period. So it would be like the 0% rate never existed. What's more, the average 0% credit card gives you nearly 10 months before interest takes effect, according to WalletHub's latest Credit Card Landscape Report. So there are better options for big-ticket purchases. — WalletHub.com
"

A review from CreditCardMenu.com says:
"
The Goodyear Credit Card, which is provided by Citigroup Inc. (US) offers users with a lot of benefits which includes double rebates for select tires up to the tune of $120 as well as services throughout select promotional periods. As a user, you will also have access to special financing plans, access to exclusive money-saving offers as well as oil change discounts when you make use of the Goodyear Credit Card. With over six thousand locations where you can take advantage of the Goodyear Credit Card nationwide, it will be no problem for users to make use of the card to have access to quick cash at available Automated Teller Machines (ATMs). The only drawback or limitations that are noticeable regarding the Goodyear Credit Card is the interest rate of about 29.99%, which is considerably higher than many other credit cards that are currently available. Another not-so-obvious drawback of using the Goodyear Credit Card is the penalties you may incur due to delayed payments or nonpayment. — CreditCardMenu.com
"

A review from CreditKarma.com says:
"
It is set up to take advantage of people... They will not work with you. Make sure you very carefully read the fine print and then re-read it — and then one more time. And then find another way to pay for the work you need done so that you are not royally screwed! Stay away from this card. Maybe Goodyear altogether. — CreditKarma.com
"
Is the Goodyear Card Right for You?
With cash back and travel rewards cards easily matching or exceeding the 1% savings of Goodyear's typical discount, and the financing deal lasting only half as long as your average 0% APR card, the Goodyear Credit Card simply doesn't have the horsepower to compete with the other cards on the market. Save yourself the headaches faced by the typical reviewer and look elsewhere to finance your next tire purchase.