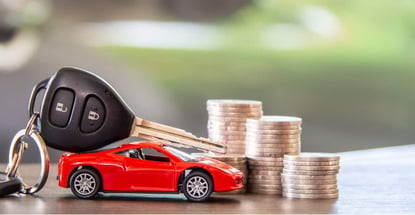 Leasing is a flexible alternative to a car loan because it offers several options at expiration. You can simply return the car, lease or buy a different one, or purchase it through a lease buyout loan.
This article explains how a buyout loan works and reviews several of the best sources. One of these options may suit your requirements perfectly.
Best Sources For Lease Buyout Loans
Not all car lenders offer lease buyout auto loans. We recommend the following providers. All can refinance your vehicle quickly, often on the same day.
Potentially reduce your payments by hundreds of dollars
Skip your next car payment
Quick and easy 2-minute preapproval process
Prequalifying does not affect your credit score
Completely free
No additional costs or fees
RefiJet specializes in automobile refinancing, including lease buyouts. It offers buyout loans anytime within the lease period — you don't have to wait until the car lease expires. Customers rate its service highly, and the company has an A+ rating from the Better Business Bureau.
RefiJet can provide multiple buyout offers from competing direct lenders in minutes. It saves you time by managing all the preliminary paperwork.
Purchase or refinance a new or used car.
Their lenders have solutions for most credit situations.
Get up to 5 offers from competing lenders!
Complete a simple and secure online form in minutes.
Save on your current or new monthly car payment.
LendingTree can find multiple lease buyout offers within minutes through its streamlined online request process. You can review proposals online for the best interest rates and terms. Its helpful online calculator lets you estimate your monthly payments for any loan rates, terms, and amounts.
LendingTree prefers online lending options to car dealerships and local lenders, but all types are available.
Loans for new, used, and refinancing
Queries a national network of lenders
Bad credit OK
Get up to 4 offers in minutes
Receive an online loan certificate or check within 24 hours
myAutoloan.com will quickly find up to four lease buyout loan offers when you submit an online request. You'll need to provide information about your lease, vehicle, income, monthly housing costs, employment, and debts. 
Upon approval, you'll receive an online certificate or check on the same or next business day. Getting competing offers will likely save you time and money, but there is never an obligation to use the direct lenders on the myAutoLoan.com network.
Additional Sources of Lease Buyout Loans
Here are more providers of lease buyout offers. They are a mix of direct and network lenders.
4. Tresl

You can use Tresl to prequalify for a lease buyout loan from a network of lenders in minutes without affecting your credit. You work with a Tresl auto financing advisor who explains the process and manages all the details, including retitling and vehicle payoff. Tresl's lease buyout management service relieves you of the need to return the leased vehicle to the dealership. 
5. LightStream (Truist)

LightStream from Truist Bank can fund a lease buyout loan to qualified drivers as quickly as the same day. Buyout loan amounts range from $5,000 to $100,000. LightStream determines your interest rate based on your desired loan amount, loan term, and credit rating. Agreeing to automatic payments will reduce your auto loan rate by half a percentage point.
6. PNC Bank

You can apply for a PNC Bank lease buyout loan online, by phone, or at a branch. You can get a 0.25% discount by setting up automatic payments from a PNC checking account. Upon approval, the bank will send a check to the creditor to pay for the buyout.
You must be the registered owner of the vehicle's title and specify PNC Bank as the lienholder.
7. Gravity Lending

Gravity Lending can help you buy out your car lease by refinancing your vehicle, skipping the large balloon payment, and letting you repay over a comfortable period at an interest rate that works for you. The lender offers guaranteed asset protection (GAP), depreciation protection, vehicle debt insurance, and vehicle service contracts.
What Is a Lease Buyout Loan?
Returning your leased vehicle to the dealership can be daunting. That's when lease buyout loans prove their worth. Buyouts enable lessees to finance the outright purchase of their cars from dealerships.
Lease buyouts provide drivers with a way to purchase their cars. Instead of returning your vehicle at lease expiration, you can obtain a loan to continue driving the automobile.
Leases are similar to traditional auto loans. But instead of taking a loan for the car's current selling price, you finance only the portion equal to its selling price minus its residual value (i.e., the predetermined value at lease-end). At the end of the lease, you must either return or purchase the car.
A lease assigns the vehicle's residual value — the price you must pay if you want to buy the car at lease-end. Essentially, the residual value is what the vehicle is worth after accounting for depreciation during the lease period. A buyout loan finances the car's purchase should you decide to keep it.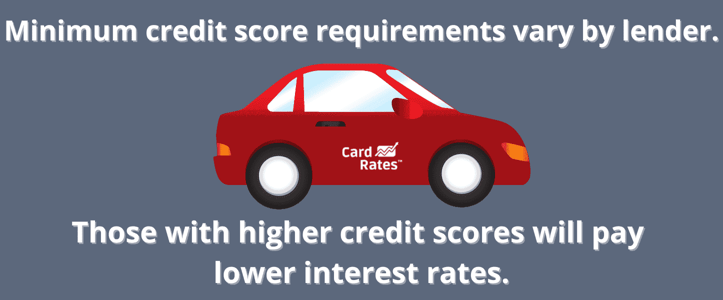 Buyout loan interest rates and other vital details vary based on your credit score, credit history, income level, and other factors. 
What Are the Requirements For Getting a Lease Buyout Loan?
The following chart summarizes lease buyout requirements, which apply to the borrower and the vehicle:
CATEGORY
BORROWER REQUIREMENT
DESCRIPTION
Credit Score
Usually good to excellent
Typically, lenders prefer a credit score of 650 or higher. Some lenders offer subprime loans at higher interest rates to consumers with credit scores as low as 550.
Debt-to-Income Ratio
Below 60%
Lenders look for a lower debt-to-income ratio to ensure you can make payments.
Employment Status
Stable employment
Lenders require you to have a steady income source to cover loan payments.
Proof of Income
Required
Lenders may require pay stubs, bank statements, or tax returns.
Cosigner
Optional but helpful
They can help you obtain a loan if you don't meet all the financial requirements.
Loan-to-Value Ratio
Varies by lender, usually no greater than 150%
Some lenders restrict financing to less than 100% of the vehicle's value.
Bankruptcy Restrictions
You may be ineligible if you have open or discharged bankruptcies in the past 12 months.
Restrictions vary by lender.
VEHICLE REQUIREMENTS
Age of Vehicle
Typically, less than 10 years
Older vehicles may not qualify.
Mileage
Usually less than 100,000 miles
Higher mileage can make it more challenging to get a loan.
Vehicle Condition
Good to excellent
The car should be well-maintained, possibly requiring an inspection.
Residual Value
Determined by lease contract
The original lease agreement sets the buyout price.
Make and Model
No exotic or uncommon vehicles
Mainstream vehicles are usually easier to finance.
These are general guidelines. Your actual requirements can vary significantly among different lenders and financial institutions. Check the specific policies of the lender that interests you.
How Do I Apply For a Lease Buyout Loan?
You can apply online for a lease buyout loan from any of the reviewed lenders. You may receive multiple competing offers if you deal with a loan network. Start by checking the lease-specified residual value and purchase option fee to see the price you must pay to buy the car.
Look for lenders that offer auto lease buyout loans and compare their terms, interest rates, and fees. Lenders may preapprove your loan if you submit some basic information (e.g., contact information, income, employment, debts, and housing costs). Preapproval helps you determine how much you can afford to borrow.
Usually, you'll need proof of income, evidence of insurance, and official identification, among other things. Ensure you have all the necessary documents. 
If approved, you'll receive a loan offer. Review all terms, including the interest rate, monthly payments, and loan duration. Once you agree to the terms, you can e-sign the loan documents. The lender will then pay the residual value directly to the leasing company.
Either you or the lender must transfer the vehicle title to your name. You can then start making monthly loan payments per your new loan terms.
How Does Lease Buyout Math Work?
Here is a simplified example of a lease buyout transaction. Assume the following situation in which the lessee does not pay taxes, a down payment, or miscellaneous fees:
Lessee (Driver): Sarah
Lessor (Finance Company): XYZ Corp
Vehicle: 2021 Sedan
Vehicle Original Price: $20,000
Lease Term: 36 months
Monthly Payment: $300 
Lease Finance Charge: 3%, equal to $684 (included in the monthly payments)
Total Lease Payments:$10,800
Predetermined Residual Value: $12,000
Notice that Sarah made lease payments of $10,800, which includes $684 in finance fees. She decides to purchase the car at lease-end for the $12,000 residual value. The contract calls for a $300 purchase option fee, so her total cost is $12,300 (assuming no state taxes or other fees).
The lessor offers Sarah a 3%, 60-month lease buyout loan of $12,300 with monthly payments of $226.09. The total charges on the loan are $13,565.40. Sarah's all-in costs for the lease plus the loan are ($10,800 + $13,565.40 + $684), or $25,049.40. Her total financing charges after eight years are ($25,049.40 – $20,000), or $5,049.40.
Had Sarah skipped the lease and simply bought the new vehicle with a 60-month, 3% loan, she would have paid $410.29 monthly for a total cost of $24,617.40, $432 less than the all-in cost for leasing and purchasing. This difference stems from the shorter financing period.
In this simplified example, her APR during the eight years (i.e., three years for the lease plus five for the loan) is approximately 3.4%.
Can I Buy Out My Lease Before It's Over?
The lease contract specifies your rights regarding early buyout. Review the agreement for any related clauses or penalties. Some contracts may have restrictions or additional fees.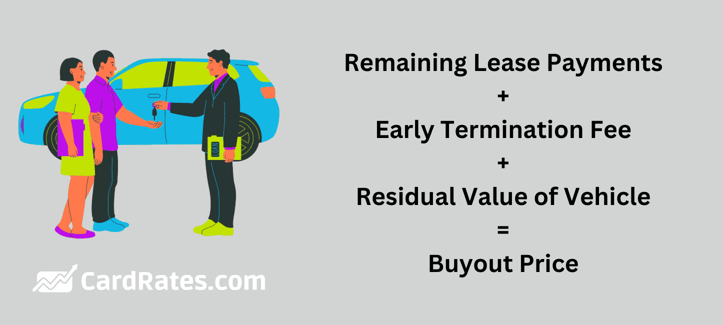 You can contact your leasing company for details about an early buyout. The buyout price is the sum of the remaining lease payments, an early termination fee, and the vehicle's residual value. The price is usually not negotiable.
What Should I Look For in a Lease Buyout Loan?
Comparing lease buyout loans is crucial if you want the best deal. The following chart should help:
| CRITERIA | WHAT TO LOOK FOR | WHY IT'S IMPORTANT |
| --- | --- | --- |
| Interest Rate | Competitive rates | Lower rates mean less cost over the life of the loan. Your rate will vary with your credit profile and other factors. |
| Loan Term | Flexible terms | Choose a term that fits your budget; shorter periods often allow lower rates. |
| Monthly Payment | Affordable payments | Make sure the monthly payments comfortably fit your budget. |
| Prepayment Penalties | No or low penalties | You want the flexibility to pay off the loan early without facing extra costs. |
| Fees | Minimal or no fees | Origination fees, application fees, purchase options, and other expenses add to the loan's cost. |
| Lender Reputation | Strong customer reviews | A reputable lender is more likely to offer good service and fair terms. Start with the lenders reviewed above. |
| Approval Time | Quick approval process | Faster approval means faster funding. |
| Loan-to-Value Ratio | High LTV, if necessary | A higher loan-to-value ratio means you can finance more of the buyout cost. |
| Online Tools | Payment calculators, online application | Look for tools that help you price the loan and streamline the application process. |
| Customer Support | Multiple support channels (phone, email, chat) | Good customer service can be a lifeline if issues or questions arise. |
A lease buyout loan resembles a traditional auto loan, but not all lenders offer loans specifically designed for lease buyouts. Always double-check that the loan you're considering meets your requirements.
What Are the Pros and Cons of Lease Buyouts?
Lease buyouts have various advantages and disadvantages, depending on factors such as your financial situation, vehicle's condition, and long-term plans. Below is a breakdown of the pros and cons to help you decide whether a lease buyout makes sense.
Pros of Lease Buyouts
These are the major reasons to proceed with a lease buyout:
Familiarity with your vehicle: You know the vehicle's history, including how well you've maintained it and any defects it may have.
No return fees: You will avoid potential end-of-lease costs such as wear-and-tear charges and extra mileage fees.
Negotiable price: Sometimes, you can negotiate the buyout price or purchase-option fee, especially for early buyouts.
No shopping hassles: Buying out your lease can be easier than shopping for a new or used car because you'll avoid dealing with dealerships and private sellers.
Financing Options: You may be able to obtain a favorable interest rate for your lease buyout loan if you have good credit.
Ownership: You gain the benefits of ownership, such as the freedom to modify the vehicle, sell it whenever you want, and drive it without mileage restrictions.
These advantages may persuade you to buy out your lease. But it's wise to look at the whole picture before deciding.
Cons of Lease Buyouts
Lease buyouts have their cons as well:
Cost: Lease buyouts may be more expensive in the long run than purchasing a vehicle outright or choosing a new lease.
Depreciation: You'll buy a used car that has already experienced significant depreciation, which may affect its resale value.
Out-of-warranty risks: You may encounter higher maintenance and repair costs when the manufacturer's warranty expires, although you may be able to purchase an extended warranty from the dealer.
Financing challenges: Depending on your credit score and the vehicle's age or condition, you may face higher interest rates or reduced access to loans.
No new-car experience: Unlike getting a new model, you won't experience the latest styles and technologies if you opt for a lease buyout.
Opportunity cost: You could potentially use the money you spend on a lease buyout for other investment opportunities or to purchase a new vehicle with better features.
Weigh these pros and cons to decide whether a lease buyout is right for you. You may want to consult a financial advisor to help you understand your options.
Get a Good Deal on a Lease Buyout
Lease buyouts, including those before the expiration date, often make good sense for one or more reasons. With so many new models and technologies to choose from, you may decide to get a new lease every two or three years.
On the other hand, holding onto a good-quality car for most of its service lifetime can maximize its overall value. Moreover, leasing a vehicle and getting a good buyout deal need not cost much more than a simple purchase, yet it gives you added flexibility when the lease expires.
Advertiser Disclosure
CardRates.com is a free online resource that offers valuable content and comparison services to users. To keep this resource 100% free, we receive compensation for referrals for many of the offers listed on the site. Along with key review factors, this compensation may impact how and where products appear across CardRates.com (including, for example, the order in which they appear). CardRates.com does not include the entire universe of available offers. Editorial opinions expressed on the site are strictly our own and are not provided, endorsed, or approved by advertisers.