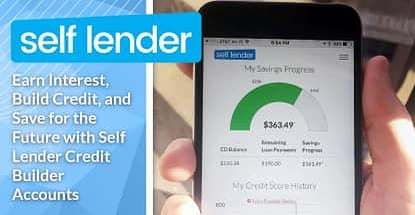 In a Nutshell: Traditionally, consumers with bad or no credit histories were relegated to high-fee loans or credit cards that provided minimal help to their credit-building journey. Those substandard options are changing as Fintech companies leverage advances in technology to create consumer products with lower fees and greater impact on credit scores. A Credit Builder account through Self Lender includes an installment loan for between $500 and $1,700. The money from the loan is placed in a certificate of deposit (CD) in the customer's name, and monthly loan payments are reported to three credit bureaus. Once the loan is paid off, in 12 to 24 months, the CD is closed and a check for the full amount, including interest earned, is sent to the customer. Average credit score gains from the service have ranged between 40 and 100+ points. //
Having bad credit, or no credit at all, can feel like being lost in a jungle with no way out.
Most prime lenders won't consider an applicant with a sub-600 credit score, and many subprime lenders offer terms and rates that are scarier than any predator in that jungle.
The lack of options creates a cycle for these consumers — without credit, they can't build a score. And the credit available to them keeps them stuck with loan interest rates that can take years to pay off.
But technology is creating new ways for startup businesses to offer financial products that break from those offered by traditional banks and credit unions. This new age of entrepreneurship focuses on ways to help people while creating a profit, instead of the other way around.
An early entry into this field, Self Lender has helped more than 80,000 customers build credit and save a combined $65 million along the way.
The company's Credit Builder account offers a secured installment loan to consumers with credit scores below 600. The loan money is used to open a Certificate of Deposit (CD) in the borrower's name, which he or she pays down over 12-to-24 months. Once the loan is paid off, Self Lenders cashes in the CD and sends the customer the proceeds, including interest.

Along the way, Self Lender reports the payment history of the loan to all three credit bureaus, allowing the customer to benefit from a credit boost while creating a savings nest egg.
Self Lender CEO James Garvey says the company has a 95% applicant approval rate. To be approved, customers must have no fraud on their accounts, nor should they have had a forced shutdown of a checking or savings account within the last six months. Just as Self Lender will share information of timely payments with the credit bureaus, missed payments or accounts that go into default are subject to negative credit reporting.
"Self Lender is the true definition of meritocracy," Garvey said. "We give everybody the ability to establish credit, but it's up to you to determine if that's good or bad. It can go both ways, which is something we love about the product because it's fair."
Garvey also said customers who come to Self Lender with no credit score at all could earn a score between 650 and 670 within six to nine months of using the Credit Builder account. Customers who need credit repair and have scores that fall below 600 can see, on average, a gain of 40 points in that same period — but the amount of gain each customer experiences varies based on their credit and payment history.
"It's very satisfying to see the impact the product has on customers," Garvey said. "We work very hard to help our customers to get to where they need to be."
Credit Builder account holders also receive free credit monitoring for as long as their account is active.
"This includes their Vantage credit score, provided by Experian every month," Garvey said. "We also include basic monitoring that alerts customers if there's a new trade line added or if there's a new address or a new credit card."
Clients Can See a Bump of 100+ Points to Their Credit Scores
Victor Wynn is one of the thousands of Self Lender clients who benefited from the fresh start a Credit Builder account provides.
After being discharged from a bankruptcy in 2015, Wynn struggled to find adequate solutions to rebuild his credit score — which at the time lagged between 510 and 520.
After extensive web searches, he found several secured installment loans offered through credit unions located nowhere near him. He started his financial mission with two credit-building credit cards around the same time he found Self Lender.
"Collectively, with the cards and Self Lender, my score was around 640 after nine months," he said. "Today, my score is hovering around 700."
Self Lender's transparent pricing structure shows consumers exactly what they can expect when signing up for an account. Startup fees range between $9 and $15 depending on the account.
The company's most popular account, which funds a $545 CD, charges $15 at signup and $48 per month. After 12 months, a total of $576 in payments yields the customer a check for $545 plus earned interest — for a total of $46 in fees through the life of the account.
"The signup process was very simple and straightforward," Wynn said. "The website explained the service and said exactly how much everything would be. I set up an account and an automatic payment in just a few minutes."
12- to 24- Month Loans with Payments as Low as $25
Loans can be established in amounts of $525, $545, $1,000, or $1,700. Accounts typically have 12-month terms, with a 24-month option available for the $525 account, which requires a low $25 monthly payment.
Monthly payments can be made on the company's website from a linked bank account or debit card. Automatic payments can be arranged, or customers can manually make payments through their online account portal.
A smartphone application for iOS and Android devices is scheduled for release by the end of March 2018. The addition of the app will make signing up and maintaining a Self Lender account easier, as Garvey says that 80% of the company's customers already use their phones to apply for accounts.
Build or Repair Credit While Creating a Savings Nest Egg
More than 80,000 customers are already experiencing the impact of an improved credit score thanks to the Credit Builder account at Self Lender. Garvey said plans are in place to roll out future products so the company can continue with consumers along their financial journey.
Those products include a secured credit card and savings account set to launch later in 2018.
"At the end of the day, the American middle class is being underserved by banking institutions," Garvey said. "At Self Lender, we're going to continue offering exceptional financial products for the middle class."
Self Lender's secured installment loans help consumers with a sub-600 credit score achieve gains with monthly on-time loan payments that are reported to the three credit bureaus. After a 12- or 24-month loan is paid off, the customer is sent a check with the proceeds from the CD plus any applicable interest earned.
For Victor Wynn, Self Lender's services helped him at a time when he had great motivation to improve his financial situation, but few options to make it happen. In a way, the company cleared the jungle he was caught in and helped him once again see the sunshine.
"Self Lender was the simplest, most straightforward installment loan I was able to find," said Wynn. "All of the other loans required you to be a member of a bank — and none of them were in my area. Self Lender was, by far, the best option available to me."
Advertiser Disclosure
CardRates.com is a free online resource that offers valuable content and comparison services to users. To keep this resource 100% free, we receive compensation for referrals for many of the offers listed on the site. Along with key review factors, this compensation may impact how and where products appear across CardRates.com (including, for example, the order in which they appear). CardRates.com does not include the entire universe of available offers. Editorial opinions expressed on the site are strictly our own and are not provided, endorsed, or approved by advertisers.