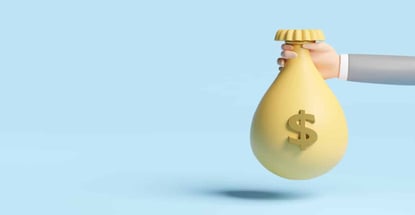 The life of a gig economy worker isn't all glamor. Sure, the gig economy often provides a degree of autonomy that is hard to achieve through regular employment. And you can decide to take time off according to your schedule, not a company's. 
But being a gig employee or owning a small business means that you don't have an incoming cash flow if you don't work. Moreover, the Small Business Administration has described the difficulties of getting freelancers and small businesses together. You must provide your own benefits, and a gig employee cannot tell when the next job will arrive. Because your income may be uneven, it's often challenging to qualify for a small business loan. 
This article reviews seven loan options for gig workers designed for consumers of every credit type, including bad credit. Whether you need a short-term cash loan or a small business loan you can repay over an extended period, these lending networks are an excellent way for self-employed workers to borrow money without a lot of hassles.
Long-Term Personal Installment Loans
These loan networks arrange personal loans you repay over a set number of months, from three to 60. The loan amount, interest rate, monthly payment, and loan term are set when you sign for the loan. 
Using a lending network makes the loan search faster and easier. By filling out a short loan request form, you can access several direct lenders offering loan options to gig workers and sole proprietors.
Loans from $500 to $10,000
All credit types accepted
Receive a loan decision in minutes
Get funds directly to your bank account
Use the loan for any purpose
Loan amounts range from $500 to $10,000
Compare quotes from a network of lenders
Flexible credit requirements
Easy online application & 5-minute approval
Funding in as few as 24 hours
Loan amounts range from $1,000 to $35,000
All credit types welcome to apply
Lending partners in all 50 states
Loans can be used for any purpose
Fast online approval
Funding in as few as 24 hours
It costs nothing to use these lending networks, and you can prequalify for an installment loan without damaging your credit history or score. If you agree to a loan offer from a direct lender, the money will be available in your bank account as soon as the next business day.
Short-Term Cash Advance Loans
Gig workers can use these loan networks to arrange short-term cash advance loans. If you can meet a lender's requirements, there's a good chance your independent work status will not prevent you from getting a short-term cash loan.
As with personal loan networks, these lender-matching companies can prequalify you for a payday loan without cost or obligation. And the service is just as quick, with funding as fast as one business day. They offer viable assistance with your personal finance when you need a loan.
Short-term loans up to $5,000
Online marketplace of lenders
Funds available in as few as 24 hours
Simple online form takes less than 5 minutes
Trusted by more than 2 million customers
Not available in NY or CT
Loans from $250 to $5,000 available
Cash deposited directly into your account
Get money as soon as tomorrow
Bad Credit OK
More than 750,000 customers since 1998
Personal loans from $100 to $20,000
Receive an approval decision in as little as 2 minutes
Funds can be deposited into your account in one business day and used for any purpose
No hidden fees
As you probably know, payday loans are expensive. But their short-term nature caps the overall cost of the loan. A payday loan can be one of your financing options if you are reasonably sure you can repay the loan in one to four weeks.
What Is Considered "Gig" Work?
A gig economy worker is an independent freelancer, contractor, or small business owner who takes on projects from multiple employers. The jobs most closely associated with the gig economy include freelance writing and content creation, graphic design, programming, construction, ride-share and delivery driving, and renting overnight space in your home.
Gig workers are self-employed and usually get paid by the hour or the project. For the IRS to accept you as an independent contractor rather than an employee, you can submit IRS Form SS-8, which asks whether you:
Have unreimbursed business expenses
Have invested in the required facilities or tools
Decide the services you will make available to the relevant market
Get paid as a contractor (i.e., no withholding) or an employee (with withholding)
Take on the risk of realizing a profit or loss
Use oral agreements or written contracts
Provide your own benefits (i.e., insurance, retirement plan, vacation and sick pay, etc.)
Maintain a temporary relationship with your customers
Fill key positions within the client's small business
As a gig worker, you must make quarterly estimated income tax payments in place of paycheck withholding. You can take certain tax deductions, such as those for business expenses and long-term care insurance, not available to employees. A personal finance app or financial service can help self-employed workers stay on top of their tax payments. 
In addition, the Small Business Administration offers webinars on how gig workers can keep better records.
How Can Gig Workers Prove Their Income?
As a gig worker, you probably don't have any W-2 forms to prove your income. But you can use tax returns, pay stubs, and bank statements, among other documents, to prove your income.
The following are all acceptable forms of POI:
Tax returns
Pay stubs
A bank statement (you can usually download a bank statement from the website of a financial institution)
Proof of income letters from clients or your accountant
Form 1099
Documentation of unemployment or disability benefits
A lender may also accept computer screenshots that display your earnings on a dashboard. Online payday lenders may ask for scans of relevant documents before approving a loan. 
What Are the Differences Between Cash and Installment Loans?
The following chart summarizes the differences between the two types of financing options.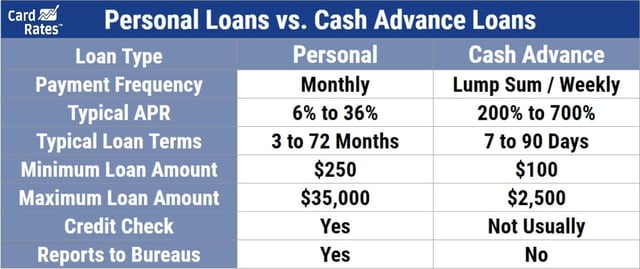 In addition to the differences between the interest rates, loan repayment periods, and loan sizes, notice how payday lenders do not perform a credit check or report loan payments to the three major credit bureaus. The lack of a credit check means you don't need good credit to get a short-term payday loan, but you also can't use this type of loan to build or rebuild a bad credit history.
What Other Lending Options Do Gig Workers Have?
Gig workers have several other borrowing options, including:
Credit Union Payday Alternative Loans: The two types (PAL I and PAL II) help credit union members borrow up to $2,000 with a year to repay. These loans charge far less interest than do payday loans and are a good deal for the typical self-employed borrower. You can use this tool to locate a National Credit Union Association credit union near you.
Cash Advance Apps: These mobile financial service apps give gig workers a low-cost alternative to payday loans. They can provide a small loan to tide you over until your next payday. Cash advance apps charge low interest rates and fixed fees; some are free to use.
Pawnshop loans: These are loans you secure with personal property. The pawnbroker will lend you about 30% to 60% of an item's value and charge you triple-digit interest rates. If you don't redeem your pawn ticket by paying the loan back in full, the broker will put the item up for sale.
Title Loans: Your vehicle's free-and-clear title collateralizes this type of loan, which charges triple-digit rates. If you fail to repay on time, the lender can repo your car. That happens to one in five title loan borrowers.
Credit card cash advance: Most credit cards allow you to borrow small amounts by visiting an ATM or your financial institution. Your card's credit line establishes the maximum advance you can take. The annual percentage rate is typically around 30%, and the card charges interest daily until you repay the loan. Cash advances provide a fast way to access money without paperwork.
Home loan: If you have equity in your home, you can get a home loan at a relatively low interest rate. You can submit a loan application for a home equity loan or home equity line of credit online or at a local bank or credit union.
You may also consider taking a loan from a friend or family member. It's fast, and you can skip the loan application. But beware: Failure to repay could sour your relationship with the lender.
Compare Loans for Gig Workers
There are a wide variety of loans for gig workers, including personal and payday loans. Know the important facts before taking any loan. Lenders must spell out the loan terms in a loan agreement, so read it before signing and do your best to avoid high interest rates and fees.
Advertiser Disclosure
CardRates.com is a free online resource that offers valuable content and comparison services to users. To keep this resource 100% free, we receive compensation for referrals for many of the offers listed on the site. Along with key review factors, this compensation may impact how and where products appear across CardRates.com (including, for example, the order in which they appear). CardRates.com does not include the entire universe of available offers. Editorial opinions expressed on the site are strictly our own and are not provided, endorsed, or approved by advertisers.