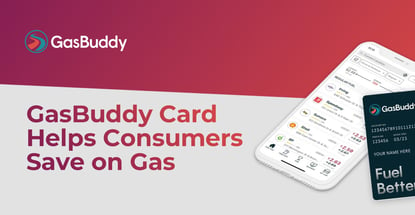 In a Nutshell: Gas is a necessity that not many people enjoy buying. The free GasBuddy app and the Pay with GasBuddy card change that dynamic by helping consumers find the best gas prices and earn discounts and rewards. Users can connect the app to their phone's location services to find — and add — the best prices. When consumers connect the GasBuddy card to their checking account, they earn additional discounts at the pump and rewards to shop with GasBuddy partners.
The GasBuddy app has been helping people save money on gas since 2010, but its website has been around much longer. It launched in 2000 when the internet was starting to come into its own.
GasBuddy has enjoyed such a long history because it's services are a natural fit for the connected marketplace — and a perfect use case for mobile technology, according to CEO Sarah McCrary.

"You've got a computer in your pocket, so why not put it to work," McCrary said. "It's pretty cool to be one of the few companies that have been doing mobile development for 10 years the way we have."
What's even more impressive is that the original value proposition behind GasBuddy still powers the company.
"We gained momentum on the internet as a place for people to update each other about gas prices and price changes," McCrary said. "And then, with the advent of mobile devices, we really took off."
That's not to say that there's been no innovation at GasBuddy. Indeed, by building on its original crowdsourcing platform, GasBuddy has grown to become an essential tool for deal-hunting consumers.
Today's GasBuddy app leverages mobile location services to lead users to the best gas prices in their area or along a travel route. Consumers can keep tabs on their favorite stations and brands, filter for regular or premium fuel, and even secure cheaper cash-only pricing.
"I love the idea of working for a company that has such a useful product and a recognizable brand that does something great for people," McCrary said.
Find the Best Gas Prices and Earn Discounts
GasBuddy is so recognizable that when McCrary wears her GasBuddy shirt or jacket when pumping gas, it frequently starts a conversation.
"People often say, 'Oh, my goodness, I use that all the time,' or, 'I know that brand, or, 'My husband uses it, and so it's fun,'" she said.
Those GasBuddy users can also take advantage of the company's most recent innovation to unlock additional discounts — the Pay with GasBuddy card.
"GasBuddy's value to users has always been savings at the pump," McCrary said. "And the idea of Pay with GasBuddy is to build on that value."
Drivers can quickly sign up for the free card, which connects to their checking account, through the app. After their card arrives in the mail, users can activate it and create a PIN to start saving up to 25 cents per gallon.
Watch on
Users can search in the app for the stations that accept Pay with GasBuddy, but given that most retail stations are signed up, it isn't hard to find one.
"Nobody gets excited about spending their money on gas," McCrary said. "But people feel excited about using the product."
The savings don't end with swiping the card. Users quickly learn how to stack rewards benefits by signing up for loyalty accounts with specific fuel retailers.
"You can sometimes triple dip," McCrary said. "First, find the cheapest price in the app, then get the Pay with GasBuddy discount, and then get a loyalty club discount by entering a loyalty number or phone number at the pump. It's a pretty savvy way to save."
Partner Incentives and Other Features Boost Rewards
The app strives to continue adding innovation and value for users. GasBack allows users to earn rewards on purchases made through the app from dozens of GasBuddy partner retailers. Those include well-known names, including Old Navy, Home Depot, and Dick's Sporting Goods, among many others.
GasBack is automatically applied at the pump when you use the GasBuddy card.
"Just pump your gas, pay with GasBuddy, and immediately save," McCrary said. "Last year, I did a lot of Christmas shopping through our marketplace and ended up with close to $50 in free gas."
A special partnership with Root Insurance can translate into even more savings through a feature called Drives Powered by Root. Drive allows Pay with GasBuddy users who opt in to save an additional two cents per gallon based on their safe-driving habits.
Users who share that driving data with Root through the app may also be eligible to purchase discounted auto insurance from Root based on their record.
"You don't have to be a Root Insurance customer to save the two cents per gallon. You just have to enroll in GasBuddy Drives," McCrary said. "But if you qualify for their insurance, they offer a really competitive rate. We love that we can extend value to our users through those partnerships."
Users who travel frequently may consider a GasBuddy Premium membership. Premium members pay a subscription fee to receive even deeper gas discounts — including a guaranteed savings of 20 cents per gallon — along with free roadside assistance.
"We see that as yet another opportunity to keep building value for our users," McCrary said.
GasBuddy: Users Help Each Other Save on Gas
After two decades of saving drivers money, the heart of GasBuddy remains users informing each other about the best gas prices in their neighborhoods. There's something about finding a good deal that makes people want to tell each other about it.
"Users are our number one source of price data," McCrary said.
GasBuddy offers reward points for reporting price information, and those points go toward a daily drawing for $100 in free gas. But there's more to it than the chance at freebies.
"People don't do it for the rewards," McCrary said. "They report prices because it's good information, and they want to be helpful to their community."
Users can also earn rewards points for completing other challenges. For example, reporting 20 regular gas prices in a month can earn users 1,500 points, while rating a gas station earns them 500 points.
"With ratings and reviews, we find that users like to offer that information, and they like to have access to it, too," McCrary said.
Along with crowdsourced price data generated by millions of app users, GasBuddy also draws on price and operating data from large fuel retailers. That information often includes hours of operation and store amenities.
GasBuddy users can continue to expect more features to make such a natural fit for the mobile internet even more indispensable. So far, Pay with GasBuddy card users have conducted more than 21 million transactions and saved nearly $5 million.
"The partnership incentives we're rolling out are an area that longtime users of GasBuddy may not be aware of," McCrary said. "I think we're going to see more and more of that on our platform."
Advertiser Disclosure
CardRates.com is a free online resource that offers valuable content and comparison services to users. To keep this resource 100% free, we receive compensation for referrals for many of the offers listed on the site. Along with key review factors, this compensation may impact how and where products appear across CardRates.com (including, for example, the order in which they appear). CardRates.com does not include the entire universe of available offers. Editorial opinions expressed on the site are strictly our own and are not provided, endorsed, or approved by advertisers.