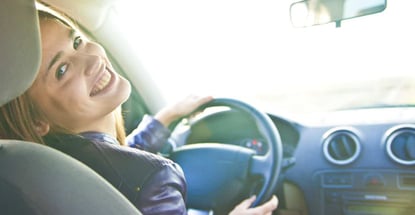 Getting a car loan can seem tedious when you think about all the information and requirements you need to apply. Even then, there's no guarantee you'll be approved for a loan. While guaranteed approval auto loans don't really exist, many lenders have lenient approval conditions and no minimum credit score requirements, making it easier for most people to get approved. 
If you have bad credit, you will need to rely on certain lenders to approve you for an auto loan. In this article, we'll discuss lenders that are more likely to approve someone with a poor credit score or limited credit history.
Bad Credit Auto Loans With Preapproval
Guaranteed approval auto loans are rare. This is because each lender sets its own requirements and will need to cover the risk of lending money. While you will at least need a source of income, good credit is not required.
These lenders allow you to get prequalified online so you can find out if you can move forward with getting an auto loan in just a few minutes. 
Dealer partner network has closed over $1 billion in auto loans
Can help those with bad credit, no credit, bankruptcy, and repossession
Established in 1999
Easy, 30-second pre-qualification form
Bad-credit applicants must have $1500/month income to qualify
Auto Credit Express specializes in helping borrowers with bad credit get approved for an auto loan. They partner with more than 4,000 dealers and have processed over 2.7 million loan requests in the past year. Auto Credit Express allows you to submit a loan request form online to get preapproved. 
You're then connected with loan offers from lenders in your area. You can apply directly with the lender and shop for your car from there. Auto Credit Express has partner dealers that accept borrowers who've filed for bankruptcy in the past as well. You may also be able to make a low $500 down payment on your loan or have no down payment requirement at all. 
Pre-qualify online in minutes without impacting your credit score
Members save with PenFed's low auto loan rates
Loan amounts of up to $150,000
Average refi savings of $191 per month
Terms of up to 84 months
Auto loan calculator to help estimate payments
PenFed Credit Union offers auto loans with flexible terms and financing of up to 125%, which means you could borrow a little extra for other purposes. You can get preapproved in minutes by filling out a form online that won't hurt your credit score. While PenFed Credit Union typically offers lower rates, your individual interest rate will depend on your credit score and the loan terms. 
For loan terms with a longer repayment term, such as 84 months, you will likely get a higher interest rate on your loan, and it will cost more overall. PenFed Credit Union also provides a free calculator to help you estimate your monthly payment based on the desired loan amount and terms upfront.
Potentially reduce your payments by hundreds of dollars
Skip your next car payment
Quick and easy 2-minute preapproval process
Prequalifying does not affect your credit score
Completely free
No additional costs or fees
Refinancing your existing auto loan can help you lock in a lower interest rate or even reduce your monthly payment. RefiJet is one of the best options to get approved for a new car loan, even with a low credit score. RefiJet helps car owners save an average of $150 per month, and you can get prequalified online without impacting your credit score.
Once you get prequalified, RefiJet will show you lender options that fit your credit situation. At this stage, you can compare loan options and choose which lender works best for you. RefiJet then helps handle the paperwork and submits it to the lender so you can save time. RefiJet also helps borrowers remove a cosigner from their existing loan, extend their auto loan terms, buy out a lease, or cash out equity in their vehicle. 
Free, no-obligation application
Specializes in auto loans for bankruptcy, bad credit, first-time buyer, and subprime applicants
Affordable payments and no application fees
Same-day approval available
Connects thousands of car buyers with auto financing a day
Car.Loan.com is another popular option for a bad credit car loan that is easy to get approved for. It only takes three minutes to fill out a loan request form online. Then, you'll get connected with a car dealer in your area that will give you the best chance at qualifying for a car loan. A representative should contact you by phone within 24 hours of submitting your loan request form online to assist you and answer any questions you may have.
If credit acceptance is a concern, Car.Loan.com has one of the nation's largest dealer networks. Once you choose the best dealer option for you, Car.Loan.com will help set up an appointment with the finance manager and assist you with completing an application so you can quickly get financing. 
Purchase or refinance a new or used car.
Their lenders have solutions for most credit situations.
Get up to 5 offers from competing lenders!
Complete a simple and secure online form in minutes.
Save on your current or new monthly car payment.
LendingTree is an online lending platform that helps borrowers compare options for several types of loans, including mortgages, personal loans, and auto loans. You can see personalized loan rates when you enter details, including your desired loan term, interest rate, and loan amount. LendingTree also provides eligibility requirement information for various lenders, so even if you don't have good credit, you can see which lender options may be best for you. 
LendingTree seems to partner more with online lending options as opposed to a car dealership or local lenders. However, this could still be a helpful way to shop around and compare your options. 
Loans for new, used, and refinancing
Queries a national network of lenders
Bad credit OK
Get up to 4 offers in minutes
Receive an online loan certificate or check within 24 hours
myAutoloan.com streamlines the process of getting approved for an auto loan by helping you get preapproved in minutes. You can start by filling out a loan request form online to match you with relevant lender options to compare rates and terms. You'll receive up to four competitive loan offers once you're preapproved. After you select your loan offer and complete a finance application, you'll receive a certificate or check within 24 hours that you can take to the car dealer. 
MyAutoLoan.com specializes in helping borrowers get approved for pre-owned vehicles, a new vehicle, or a refinance. You can also use this company for private car purchases or a lease buyout. There is never an obligation to use any partners of MyAutoLoan.com but getting preapproved online will likely save you time and money. 
Get pre-qualified for an auto loan in 2 minutes — see real terms and actual monthly payments for each vehicle
Pre-qualifying has no impact on your credit score
All our cars are inspected and reconditioned by quality technicians
Pick up your car at one of Carvana's 33 Vending Machines nationwide or have the car delivered to you within 3 days
Reduce your payments by trading in your vehicle
Carvana is an online car dealer that sells new inventory, used car models, and also offers in-house auto financing. You can shop online for various makes and models on Carvana's website. Once you find a car you like, you can estimate your loan terms and interest rate via Carvana's financing. 
Or, you can start by getting prequalified for an auto loan. Your credit score won't be impacted when you choose to prequalify online. But if you decide to continue and submit your application for a loan, this will result in a hard credit inquiry. Carvana has no dealer fees and also allows trade-ins if you want to trade in your current car to strengthen your application and lower your total loan costs. 
What is a Guaranteed Approval Auto Loan?
A guaranteed auto loan, as the name suggests, is a type of auto loan where the lender approves the application 100% of the time. This may sound too good to be true, and that's because it is. 
Most lenders don't offer guaranteed auto loan approval even if they approve most of the people who apply for funding. This is because there's always a chance that someone may not meet the qualification standard. 
While each lender sets its eligibility requirements, most lenders require that you have a certain credit score and a steady income.
Typical auto loan requirements:
A steady income
No active bankruptcies
18 or 19 years or older, depending on where you live
The word 'guaranteed' also implies that a lender will approve you for an auto loan without considering your credit score or other factors. This is likely impossible since the lender will want to look at your credit history even if you have a bad credit score. In a rare situation where a lender doesn't look at your credit, they will still have income requirements you'll need to meet. 
While guaranteed auto loans don't really exist, several lenders allow you to get prequalified for free. You can do this quickly online by submitting a short form. 
At first, your credit score won't be impacted since preapproval typically only requires a soft credit inquiry. However, you must agree to a hard credit pull if you choose to move forward with an application. 
Also, getting preapproved for an auto loan doesn't always mean you'll be approved to finance a car. Preapproval does increase your chances of getting approved, though, and can speed up the process of getting an auto loan.
What Credit Score Do I Need to Take Out an Auto Loan?
Credit scores play a crucial role in determining your ability to qualify for an auto loan. Most credit scoring models range from 300 to 850, and the higher your credit score, the better your chances of getting approved for an auto loan with better loan terms. 
Many lenders use the FICO credit score system to check your credit, but minimum credit score requirements can vary. The lenders on this list cater to borrowers with bad credit and work with lenders with more lenient credit score requirements. Even then, guaranteed credit approval may not be possible since lenders have other income requirements.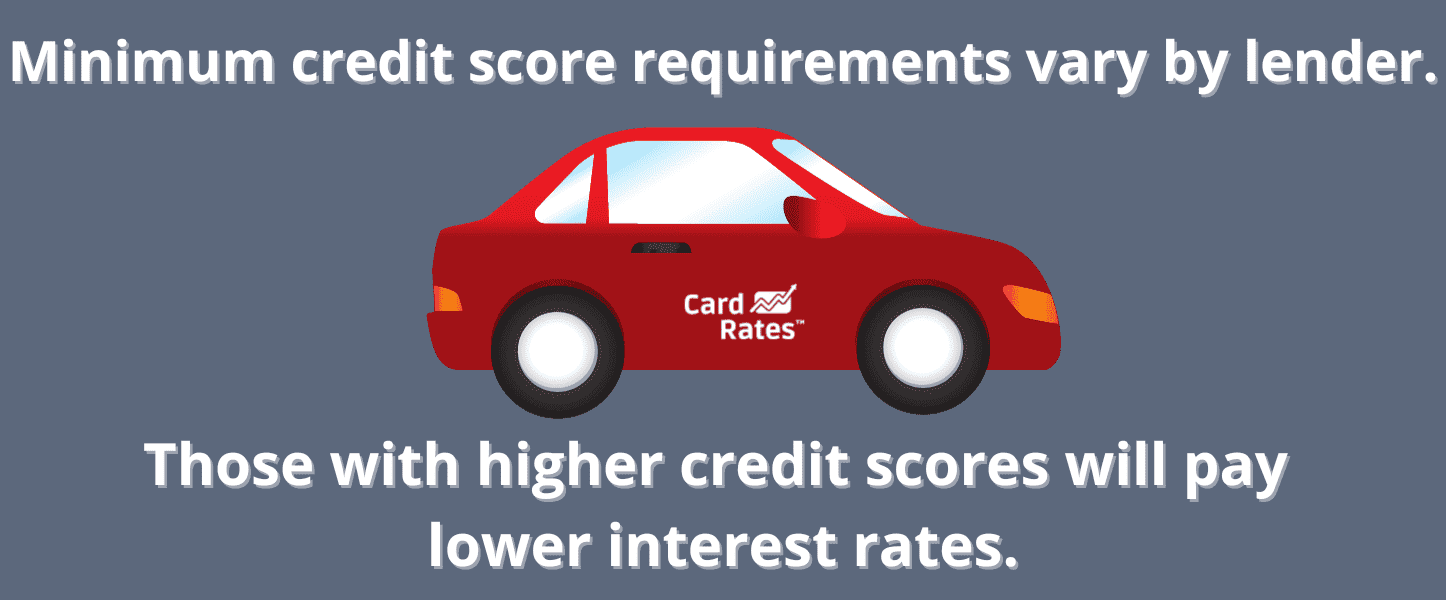 That said, if you have a 500 credit score, for example, you may not qualify for an auto loan through a traditional lender such as a bank or credit union. Instead, you may be able to find an auto loan with an online lender, lending marketplace, or a local buy-here pay-here car dealership that offers in-house financing. 
What Documents Do I Need to Apply For an Auto Loan?
When applying for an auto loan, you must provide specific documents to the lender to validate your identity, income, and credit history. Some common documents you may need include:
Valid state ID or driver's license
Proof of income (pay stubs or tax returns)
Bank statements
Proof of address (utility bills)
Checking account (to receive loan funds)
References
Proof of auto insurance for the new car
Be sure to check with your lender to confirm which documents you'll need to apply for your loan, as this can delay the process if you're unable to turn in what's needed. If your loan includes a cosigner, you may need to provide some of this information on behalf of the cosigner as well. 
Should I Get an Auto Loan Through a Dealership or a Private Lender?
When applying for an auto loan, you can get it through a dealership or a private lender such as a bank or credit union. Dealership financing is convenient because you can choose and finance a new vehicle in the same place. 
But dealership financing can be more expensive because the dealer adds a markup fee, and the interest rates may be higher. While dealers do accept trade-ins, their offers are usually lower than what you'd make if you sold your car privately. 
Private lenders, on the other hand, offer competitive interest rates and more flexible terms. The only downside is that most people don't know which private lenders to start with, so they can add more time and frustration as you shop around for loans. Instead, consider using an online lender marketplace to compare loan rates and terms quickly online.
Credit Score
Average APR
New Cars
Average APR
Used Cars
Superprime: 781-850
5.07%
7.09%
Prime: 661-780
6.44%
9.06%
Nonprime: 601-660
8.99%
13.49%
Subprime: 501-600
11.72%
18.49%
Deep subprime: 300-500
14.18%
21.38%
Source: Experian Information Solutions, Q2 2023
If you're looking for a bad credit auto loan, options like Auto Credit Express and Car.Loan.com can help you quickly connect with dealers and lender options you may qualify for. 
What is the Smartest Way to Finance a Car?
When it comes to financing a car, the smartest way is to do your research. This includes checking your credit score first to see where you stand. Then, carefully weigh your loan options and preferences.
Are you okay with shopping online and using a platform like Carvana? Or do you prefer to go to a dealership or local car lot and test drive several car options?
While dealerships are popular, you may not get the best deal if you start there first. In most cases, it's best to start by getting approved for an auto loan online. This is especially true if you have a fair or poor credit score. That way, you can compare loan rates and offers without negatively impacting your credit score. 
If you choose to go to a dealership after getting preapproved with a private lender online, you'll be able to compare the dealership's offer to another loan offer you received.
You Don't Need a Guarantee to Get a Bad Credit Auto Loan
The idea of a guaranteed car loan approval may sound nice, but it's not realistic or practical. Even if guaranteed auto loans aren't an option, there is still a solid second-place option when you use some of the recommendations from this list. 
If you want to improve your chances of getting an auto loan with bad credit, start by getting preapproved with an online lender or a website that allows you to compare loan options and rates based on your situation. This is a safe, quick way to secure financing for your next auto loan.
Advertiser Disclosure
CardRates.com is a free online resource that offers valuable content and comparison services to users. To keep this resource 100% free, we receive compensation for referrals for many of the offers listed on the site. Along with key review factors, this compensation may impact how and where products appear across CardRates.com (including, for example, the order in which they appear). CardRates.com does not include the entire universe of available offers. Editorial opinions expressed on the site are strictly our own and are not provided, endorsed, or approved by advertisers.