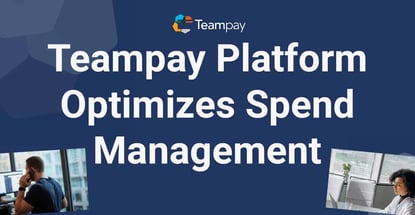 Our experts and industry insiders blog the latest news, studies and current events from inside the credit card industry. Our articles follow strict editorial guidelines.
In a Nutshell: Corporate purchasing workflows don't have to look like random scribbles. With Teampay, firms in growth mode can quickly get up and running with scalable spend management that puts everybody on the same page. Teampay helps companies control what goes out and why as work patterns hybridize, competition intensifies, and capital backing tightens. It automates purchase approvals, reconciliations, and invoices and integrates with popular accounting, HR, and communications platforms. And it enables the bottom-up thinking modern teams want and need by increasing spend visibility.
There are few scenarios where companies feel they have all the money they need. But they don't give themselves a chance if they don't control what goes out.
The need for control is especially acute as shadow spending — when employees bypass procurement policies and make corporate credit card purchases without prior authorization — takes on more significance. C-suite financial planning goes out of whack when well-meaning employees break or ignore the rules to purchase what they think they need, when they think they need it.
Shadow spending is more likely to happen these days because offices have become more democratized and purchasing more decentralized. Hybridized workplaces seem to work great, but it's a recipe for change when businesses must simultaneously deal with more cautious capital deployment and heightened competition along with new work and spend patterns.

Teampay is a spend management platform that cost-efficiently accomplishes change in a way that maintains team engagement and commitment to the common goal.
The lean Teampay platform sits between purchasing at the employee or corporate level and the controller or office of the CFO. It integrates with the communications, management, and HR platforms companies already use.
Intelligent virtual and physical cards empower employees to spend securely from anywhere. And Teampay surfaces and automates the environment so all employees can spend more productively.
Chief Revenue Officer Andrea Kayal said Teampay is the right product at the right time for firms looking to do more with less. It helps teams do big things in practical ways.
"Proactive categorization helps the finance team because transactions automatically map to their G/Ls, so we reduce month-end close," Kayal said. "The controller sees the employee purchased according to policy, and it's already categorized for the ERP."
Tools and Integrations Minimize Manual Work
That's one example of Teampay's power to automate. The biggest enterprises may have dedicated tools to do these jobs, but mid-market and small enterprise-level organizations need Teampay to plug in and start working.
Businesses will have some upfront work to verify business identity and establish rules, but most onboardings only take a few weeks.
Teampay enforces policy automatically when team members request funds so everyone can use it without any training. Everyone makes better decisions based on current information because the platform centralizes all data in real time. And it's easy to change the rules of the game.
A Purchase Assistant guides users through the purchasing process and collects approvals proactively.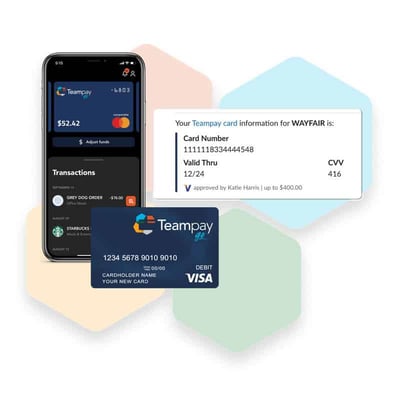 And accounts payable teams gain automated invoice processing and purchase order matching using optical character recognition technology and bill pay via ACH, virtual card, check, or wire.
Teampay virtual and physical cards facilitate spending in hybridized and decentralized environments. Rules route card purchases through the policy engine for approval. Anything that doesn't follow the path gets flagged.
Unique virtual card numbers can be generated for one-time or recurring purchases, or can be pre-loaded with a set amount and kept on file with frequently used vendors. Unique virtual cards add transaction security when needed.
"Our cards make it super easy — you simply make the transaction on the card," Kayal said. "You receive a notification to upload your receipt, it's all categorized, and you just hit send."
And because Teampay is built to integrate with the tools companies already use, everything is faster. Slack and Microsoft Teams integrations streamline purchase approvals by making communication easier. ERP integrations with NetSuite, QuickBooks Online, Sage Intacct, Xero, Microsoft Dynamics 365, and Workday ensure plug-and-play reconciliations. And Teampay cards integrate with Slack and Teams or through the Teampay platform.
"It's business spend management — we control every dollar that leaves the business," Kayal said.
Smoother Experiences Across the Value Chain
Synergy is a trite word, but encouraging smoother interplay between the organization's functional units is automation's secret sauce.
Teampay customers obtain a combination of enhanced control and efficiency gains. The platform helps ensure employees and managers at all levels of the organization maintain the same workflow, and every purchase is preapproved and adheres to policy.
Employees who need to spend or reimburse an expenditure are on one level. They're on the front lines, facing internal or external customers and charged with the most basic revenue-generating tasks. Perhaps they're making sales. Or maybe they're building or buying tools to make sales happen.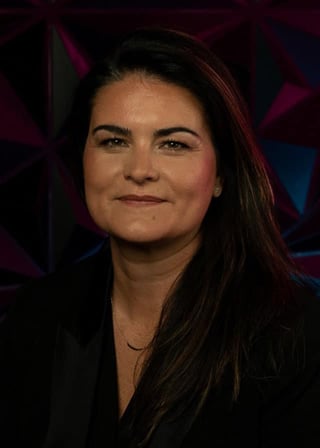 "From an employee perspective, we've made it very easy to get expense reports done — you're not in there typing things and having to do all this work," Kayal said.
Functional managers are on the next level. They're folks like Kayal, who was a Teampay customer before she joined the team. As Chief Revenue Officer, she manages Teamplay's commercial functions, including sales, marketing, revenue operations, and partnerships.
And she uses Teamplay to do it. A lot of spend happens inside those teams. She wants to control it and stay within budget.
"I don't have rifts with finance because my teams are out of control," she said.
She especially appreciates how Teamplay helps minimize contention around these issues. There's no hunting around for receipts, no controversy over who used which card, and no extraneous discussion around expenses and purchasing.
The executive level of a business seeks the highest-level view of where the company is and where it wants to go. C-level executives  see and hear teams and individuals. Teamplay's real-time reporting dashboard helps financial officers transform reactive decision-making into informed planning and forecasting.
"It just smooths out all the friction between purchasing and control," Kayal said.
Making Spend Accessible and Efficient for Everyone
In a way, shadow spending is the tip of the iceberg. The reality facing firms in the modern marketplace is employees feel increasingly empowered to act first and apologize later.
That's a good thing — an organization's procurement, accounting, and finance functions are only as good as its employees. Planners must replace the old person-to-person ways of doing things when they have an imperative to put every dollar to best use.
"The way modern businesses spend money has changed," Kayal said.
Companies are buying more than ever before. Even in mid-market firms, software alone can account for a much higher portion of spend than in the past.
But all of that doesn't happen at the instigation of procurement teams. It's happening from the bottom up from employees. A drastic expansion of software buyers within enterprises suggests similar transformations in all departments, according to research.
Working relationships are also increasingly decentralized. The old days of big corporations transacting solely with each other are increasingly outmoded.
Teampay's success is a response to that. Teampay manages all purchasing types and all forms of payment, including online, offline, catalog, committed, and invoice. It can handle inputs and outputs from anyone, even non-employees and multiple stakeholders across systems.
Many systems and technologies can identify shadow spend, but few control it. After all, companies only succeed if the money stops leaving the business.
"When you put your spend on Teampay, you have visibility into it because it's hitting a card every time, and we can show you in reporting that you assigned the card to XYZ Company," Kayal said. "Maybe you don't want to ruin a relationship with a vendor, but you can shut off the card — you can mitigate the issue."