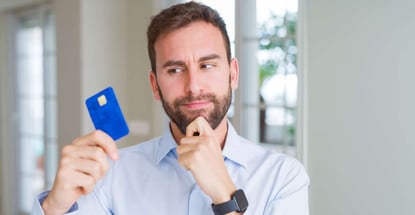 Netspend Corporation is a subsidiary of Global Payments Corp, a large payment solutions provider. Founded in 1999 by the Sosa Brothers, the company serves millions of unbanked consumers by providing alternative financial products and services, including prepaid debit cards. Total System Services acquired Netspend in 2013.
Netspend also provides fintech solutions to businesses of all sizes. It partners with several well-known companies, including Walmart, PayPal, Western Union, and 7-Eleven. 
Netspend caters to an underserved segment of consumers who don't want to mess with banks, credit scores, or bounced checks. If that sounds good, keep reading to learn about Netspend prepaid cards and how they may fit your lifestyle. 
Netspend Is a Prepaid Card Issuer
Netspend is a provider of prepaid reloadable debit cards. The Netspend cards reviewed below are available to all consumers, including those who don't have a bank account or a credit card. You can use these prepaid cards to make purchases, pay bills, transfer funds using your FlashPay ID, and access ATMs. 
The Brink's Armored™ Account offers a fixed monthly plan or pay-as-you-go pricing. You'll pay only half-price for the monthly plan if you receive at least $500 per month in direct deposits. This debit Mastercard from Republic Bank (member FDIC) features a purchase cushion, cash rewards, and access to a high-interest savings account.
The PayPal Prepaid Mastercard® lets you access direct deposits up to two days faster than you would with a check. This debit Mastercard integrates seamlessly with your regular PayPal account and offers an optional cash back rewards program. You can protect your security by requesting virtual card account numbers.
This version of the NetSpend® Visa® Prepaid Card charges a monthly fee. You can cut this price in half by receiving at least $500 in direct deposits within one calendar month. This card features Netspend Payback Rewards, mobile check deposits to your Netspend account via Ingo Money, and access to more than 130,000 Netspend Reload centers. Pathward N.A. (member FDIC) issues the card in different colors, but you can order a custom card design for an extra fee.
The second version of the NetSpend® Visa® Prepaid Card charges a pay-as-you-go fee per transaction. In all other respects, it's identical to the fixed-price NetSpend Prepaid Card, providing virtual Netspend account numbers, a purchase cushion, and payback rewards. 
How a Netspend Prepaid Card Works
A Netspend prepaid debit card accepts cash deposits, which you can then spend on purchases and bills. Although it resembles a bank debit card or credit card, a Netspend card differs in several ways. 
The Netspend card is also similar to a gift card, but a prepaid debit card is reloadable, whereas a gift card is not. You can use a Netspend card to purchase goods and services in-person, online, and by phone wherever merchants accept debit cards. 
To make an in-store purchase, you can insert or swipe your Netspend card at the reader on the checkout line. You then choose between a "credit" and a "debit" transaction. But don't be misled — all reloadable prepaid card transactions are debit, even the credit ones. 
The distinction affects only the way the merchant will process the transaction. If you want to input a PIN, choose "credit"; otherwise, select "debit."

You can generally only spend the amount deposited onto the card. But Netspend offers an interest-free purchase cushion (usually $10) to cover small overdrafts. Netspend requires you to promptly repay the cushion to avoid an overdraft fee.
How to Get a Netspend Prepaid Card
Netspend will not check your credit, and you do not need a bank account to open an account. You will never pay interest or late fees, and bad credit won't interfere with obtaining a Netspend card.
– Apply Online For Free
There is no initial purchase fee when you get a Netspend reloadable prepaid card online. You can apply for a card by submitting your personal information, including your name, address, and Social Security number. 
You can also deposit funds at this time or wait until you receive the card. Netspend will ship the card to you, and you should receive it in seven to 10 business days.
– Buy One In-Store
You can also visit participating retailers that sell Netspend prepaid cards to purchase one for a small fee. This is the preferred method when you need a card on short notice.
You can find your nearest participating retailer by entering your ZIP code on the Netspend website. Participating retailers include office suppliers, retail chains, grocery stores, and travel agencies, among other sources.
To fight fraud, the USA Patriot Act requires you to register your prepaid debit card to activate it. You must provide credentials, such as a driver's license, for ID verification.
Netspend Prepaid Cards Fees
It's free to sign up online for a Netspend prepaid card. Otherwise, a new cardholder will pay up to $9.95 to buy the card at a retail location.
You can choose between monthly and pay-as-you-go plans. The monthly plan will generally range from $5 to $9.95, depending on the type of Netspend card. Some cards offer cardholders a lower monthly fee when they meet the direct deposit requirements. 
The following chart summarizes the most significant costs: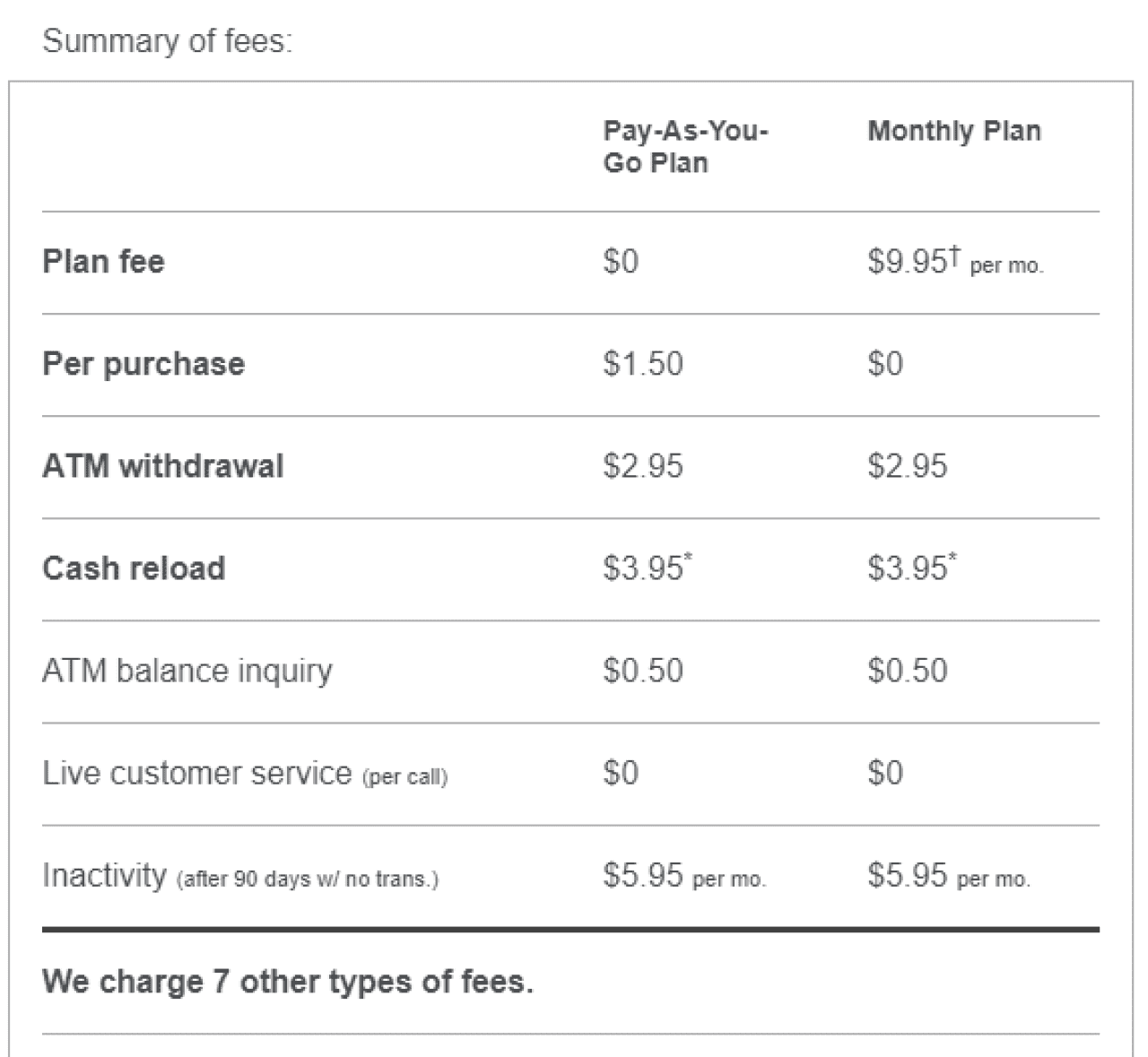 You may also face fees to expedite mobile check deposits, transfer money to and from your card account, declined transactions, check requests, and replaced cards.
You'll pay a fee for every transaction you make if you choose the card's pay-as-you-go plan. This may save you money if you only use the card sporadically.
FAQs About Netspend Prepaid Cards
Here are some frequently asked questions about Netspend prepaid debit cards. When considering a debit card, always read the cardholder agreement before signing.
Do Netspend Prepaid Cards Pay Rewards?
Some do. For example, the PayPal Prepaid Mastercard® pays points you can redeem for cash back on select purchases. 
It's an optional program based on your shopping habits. The card credits cash back to your account balance. You can also accumulate points to redeem merchandise from the Netspend online catalog.
The Brink's Armored™ Account lets you earn one point per dollar on signature purchase transactions. You can use your points for cash back or redeem them for personalized rewards offers.
Are Netspend Cards Visa or Mastercard?
Netspend cards use Visa and Mastercard for payment processing. From the consumer viewpoint, there is little functional difference between Mastercard International Incorporated and Visa International.

Mastercard ID Theft Protection® is a free security monitoring service you can activate minutes after verifying your identity that comes on all Mastercard debit cards. And Mastercard's Zero Liability Policy protects you from fraud when making a purchase.
Visa's Zero Liability Policy defends you against unauthorized charges if your card is lost or stolen. You also get continuous fraud monitoring around the clock to help detect suspicious activity.
Both types of cards issue three-digit security codes, known as the CVV, to verify your identity for card-not-present transactions.
The fees merchants pay to process Visa cards may differ from Mastercards. Both brands have virtually universal acceptance, as are debit cards with the American Express logo.
Do I Need a Bank Account to Get a Netspend Card?
The beauty of prepaid debit cards, including those from Netspend, is that they provide an alternative to owning a bank account. Many unbanked consumers use these cards to make payments and purchases without a checking account. 
Of course, you can own a bank account and use these cards, but it's totally optional.
Prepaid debit cards serve the interests of consumers who can't or won't open a bank account. The money you deposit to your prepaid debit card account is akin to a bank debit card's checking account balance. The advantage of prepaid debit cards is the freedom from checking account fees and minimum balance requirements.
In addition, many consumers use prepaid debit cards instead of credit cards, and for several good reasons:
You do not need a good credit score to obtain a prepaid debit card.
Prepaid debit cards help you avoid debt and interest charges since you fund them with cash you already have rather than credit.
Prepaid cards do not charge annual fees.
The downside of prepaid cards is that they won't help you build credit. But that's only a shortcoming if you are concerned about your credit rating and want to improve it. If you never use credit, you may not have a credit score. Or if you do, you may not care about it.
How Do I Reload a Netspend Card?
Netspend provides several ways for you to load money onto your card:
Direct deposit: You can accept direct deposits at no charge. A card may limit direct deposits to those from government sources and employers. Setting up direct deposit will also likely reduce your monthly card fee if it charges one.
In person: Netspend maintains a cash reload network with more than 130,000 locations nationwide. You can visit any of these locations and load cash onto your card for a small fee.
Mobile check deposit: You can scan and upload checks to your prepaid card account through the Netspend Mobile App. Prices for mobile check deposits range from 0% to 5% of the check's value, depending on the processing speed and the check source.
Account-to-account transfer: You can transfer money online to and from another Netspend account at no cost using your FlashPay ID. You will pay a small transaction fee if you use a customer service agent.
Western Union Money Transfer: You can wire transfer money to your card at a Western Union location for a fee.
PayPal: You can also use PayPal to transfer money to your Netspend card. Fees apply and vary depending on your transfer options.
Netspend cardholders can deposit up to $7,500 per day on their prepaid cards, but that limit is slashed if you deposit cash. According to Netspend: 
"Standard Value Load dollar limits: (a) the standard maximum cumulative amount of in-store cash Value Loads is currently $2,500.00 in any day; (b) the standard maximum amount for an ACH Deposit is $7,500.00; and (c) the standard maximum amount for a bank transfer using the ACH system is $7,500.00 per such transfer… Any Value Loads you attempt to make that exceed the standard limits are subject to review and may be declined."
The maximum card balance you can have is $15,000.
Is Netspend a Legit Card?
Netspend is a large and utterly legitimate company that has been around for more than 20 years. It is part of Global Payments Inc., headquartered in Atlanta, Georgia. 
The parent company earned a net income of $605 million in 2020. Netspend has an A- rating from the Better Business Bureau and a "Great" rating (4.1 out of 5) from Trustpilot.
Netspend's Prepaid Cards Are Worth Knowing About
This article addressed the question, "What is Netspend?" with facts about the card in its several incarnations. These cards allow you to carry on your daily life without a bank account or credit card. They give you complete command of your spending because you control how much money you deposit to the card. 
And think, owning a Netspend card means you may never again have to enter a bank lobby or write a check, nor worry about your credit rating. If that's music to your ears, click on one of the links above for more information or to apply for a Netspend debit card. Remember to read the cardmember agreement before signing up for any financial product.
Final Notes on "What Is Netspend? The Company & Its Products (Sep. 2023)"
We hope this guide "What Is Netspend? The Company & Its Products (Sep. 2023)" has been a helpful resource for you in learning more about your financial options. In this guide, we've covered:
Netspend Is a Prepaid Card Issuer
How a Netspend Prepaid Card Works
How to Get a Netspend Prepaid Card
Netspend Prepaid Cards Fees
FAQs About Netspend Prepaid Cards
Netspend's Prepaid Cards Are Worth Knowing About
To learn more about options not mentioned here, be sure to check out other popular reviews from our team of experts:
We also encourage you to check back at this URL regularly, as we update the offers listed in "What Is Netspend? The Company & Its Products (Sep. 2023)" and other guides on a daily basis.
Advertiser Disclosure
CardRates.com is a free online resource that offers valuable content and comparison services to users. To keep this resource 100% free, we receive compensation for referrals for many of the offers listed on the site. Along with key review factors, this compensation may impact how and where products appear across CardRates.com (including, for example, the order in which they appear). CardRates.com does not include the entire universe of available offers. Editorial opinions expressed on the site are strictly our own and are not provided, endorsed, or approved by advertisers.