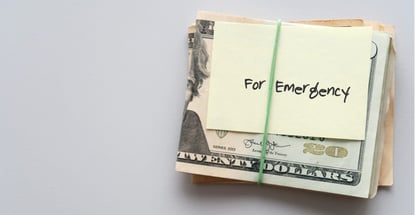 Finding emergency loans for bad credit shouldn't make a stressful situation even more difficult. After all, an emergency requires your full attention — and you can't give that if you have to divert your focus toward finding a lender that will work with you.
Thankfully, the best online lending networks partner with lenders that specialize in extending bad credit loan offers to consumers in need of cash.
The loan application takes only a few minutes to complete, and you could receive multiple unsecured personal loan offers to choose from. After your loan has been approved, you can have cash in your bank account by the next business day.
Best Emergency Loans For Bad Credit Borrowers
Regardless of your credit history, you may qualify for a short term loan or an installment loan through the lending networks below. Each loan offer you receive will have a different interest rate, loan term, and monthly payment, so be sure to study each offer carefully before choosing the one for you.
Each reputable lender on the network will consider your application, even if a traditional bank or credit union has declined your request because of your poor credit score. You can use your unsecured loan proceeds in any way you choose — including to cover the costs of your emergency.
Short-term loans up to $5,000
Online marketplace of lenders
Funds available in as few as 24 hours
Simple online form takes less than 5 minutes
Trusted by more than 2 million customers
Not available in NY or CT
MoneyMutual is our top choice for a short term loan to cover an emergency because the network will only submit your loan application to lenders willing to work with you. This results in a quick loan process that culminates in an online lender offering you a manageable repayment term and generous loan amounts.
You must be at least 18 years old, have a checking account in your name, and be able to provide proof of employment to qualify for a loan from MoneyMutual.
Quick loans of up to $5,000
Submit one form to receive multiple options without harming your credit score
All credit ratings welcome to apply
Requires a driver's license, bank account, and SSN
Get your funds as soon as tomorrow
BillsHappen is a short term loan network that has no minimum credit score requirement and can quickly connect you with a direct lender that will consider your loan request. You may qualify for a loan even if a credit check shows a history of late or missed payments.
You must be at least 18 years and a U.S. citizen or permanent resident to qualify. During the application process, BillsHappen will require you to provide a valid state driver's license number, home or cell phone number, Social Security number, bank account number, and your employment or benefits income information.
Loans from $500 to $10,000
All credit types accepted
Receive a loan decision in minutes
Get funds directly to your bank account
Use the loan for any purpose
CashUSA.com maintains a large online lender network that offers secured loan and unsecured personal loan options with no minimum credit score requirement. Your loan payment and repayment term will depend on your credit score, loan amounts, and the loan option you choose.
You must be at least 18 years old and a U.S. citizen or permanent resident to apply. You must also show that you make $1,000 in monthly after-tax income and have a checking account in your name.
Loans from $250 to $5,000 available
Cash deposited directly into your account
Get money as soon as tomorrow
Bad Credit OK
More than 750,000 customers since 1998
CreditLoan.com has a long history of helping consumers find a quick loan that's more affordable than a payday loan, and charges fewer fees than a traditional payday lender. Your loan request will take less than five minutes to complete, and you can complete your entire loan process in less than two hours.
CreditLoan.com has very flexible standards for approval. The network claims that it will consider your application even if you have a recently dismissed bankruptcy case on your credit history.
Loan amounts range from $500 to $10,000
Compare quotes from a network of lenders
Flexible credit requirements
Easy online application & 5-minute approval
Funding in as few as 24 hours
BadCreditLoans.com understands that your bad credit score shouldn't keep you from getting the emergency loan you need. That's why this network claims that it can often find a loan option for a borrower who can't find approval elsewhere.
When you work with BadCreditLoans.com, you'll deal solely with lenders that specialize in bad credit finance and are prepared and eager to work with you to earn your business and find a loan option that fits into your budget.
Loan amounts range from $1,000 to $35,000
All credit types welcome to apply
Lending partners in all 50 states
Loans can be used for any purpose
Fast online approval
Funding in as few as 24 hours
You may qualify for an installment loan from PersonalLoans.com that will offer a loan term with an affordable monthly payment. These loans are a convenient way to pay for an emergency without having to quickly repay your debt.
And since PersonalLoans.com maintains a dedicated network of lenders that solely deal with consumers who have bad credit, you can be assured that you're not going to waste your time with lenders that aren't willing to work with you.
Loan amounts range from $100 to $1,000
Short-term loans with flexible credit requirements
Compare quotes from a network of lenders
5-minute approvals and 24-hour funding
Minimum monthly income of $1,000 required
Current employment with 90 days on the job required
You can turn to CashAdvance.com to get an emergency payday loan for access to quick cash. But this type of emergency cash loan charges finance fees that make them the most expensive loan option on this list.
That's why cash advance loans — also known as payday loans — are seen only as a last resort option for consumers who need money and have nowhere else to turn. Just be sure that you can repay the debt on time to avoid future financial troubles.
How Can I Get an Emergency Loan With Bad Credit?
Emergencies are stressful, but finding bad credit loans to pay for your emergency doesn't have to be.
Thanks to the online lending networks listed above, you may qualify for a loan in less than an hour and have cash in your bank account by the next business day. This easy process doesn't require excellent credit. In fact, a borrower who has a poor credit score may find a loan option with rates that beat those you'd be offered by a title loan, a credit card cash advance, or another subprime loan product.
To get started, you can choose a network from the list above and click the link to visit its website. Once there, you'll be prompted to fill out a short loan request form that will require some basic identifying information, including:
Your name
Your address (physical and email)
Your phone number
Your Social Security number
Your income information
The reason for your loan
The network will then forward your request to every direct lender it partners with. You'll then receive an email with a credit decision, and it may contain multiple loan offers for you to choose from.
If you find an offer that you like, the network will forward you to the lender's website where you'll complete the formal loan application. Once you complete the paperwork, the lender will initiate a funds transfer to your linked bank account. The money should arrive in your account by the next business day.
And since each lender uses automated underwriting to make loan decisions, you can submit a loan request at any time of the day or night — and from anywhere in the U.S.
Can I Get an Emergency Loan If I'm Unemployed?
Most consumers think they must have income from traditional employment to qualify for a personal loan, a business loan, a student loan, or a credit card — but that isn't always the case.
An online lender only wants to see that you have sufficient income to repay your debt through a monthly payment. The source of your income doesn't have to necessarily come from a traditional job. In fact, most lenders will consider income from several sources, including:
government benefits
retirement accounts
investments
rental properties
alimony
child support
student aid
a structured settlement
an annuity
This means that you may qualify for a loan as long as you have regularly occurring income that comes from a source other than traditional employment.
What's the Difference Between a Personal Loan and a Cash Advance?
A personal loan is often referred to as an installment loan because it allows you to repay your debt through a series of installments (monthly payments). These loans often have a lower interest rate than that charged by a cash advance loan and fewer fees tacked onto the loan.
A cash advance is a quick loan that's designed to act as a bridge between paydays. These loans require complete repayment — including interest — within seven to 31 days and are designed for borrowers who have bad credit. That's why a cash advance loan charges a very high interest rate, origination fee, and other charges.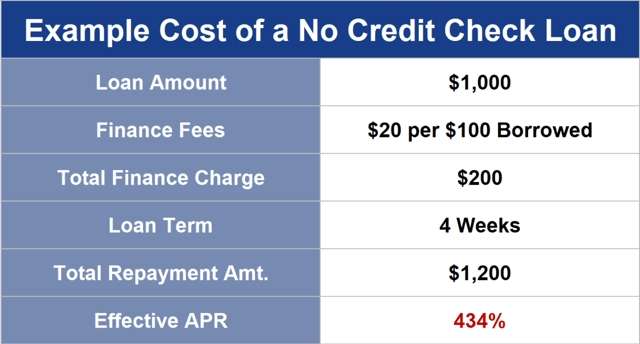 You can often qualify for a more affordable personal loan — even if you have a poor credit score — through an online lending network that specializes in bad credit loan options.
How Can I Get a Same-Day Cash Loan?
Most people who take out a loan want their money fast. But the convenience of speed often comes at a cost.
If you can't qualify for a same-day cash loan from a bank or credit union, you can visit your local pawnshop and place something valuable you own as collateral for a cash loan.
You can expect to receive up to 60% of the item's worth in cash. If you don't repay the pawnbroker, you lose your item.
Another option is to apply for a cash advance loan at a local payday lender. These loan centers can often complete the loan process in less than an hour and put cash in your hand when you leave. But these loans also require full repayment within two weeks to a month and add hefty finance charges that make them a very expensive way to get a same-day cash loan.
You may not need to undergo a credit check to qualify for a payday loan. Instead, the lender will require proof of income that shows you can repay the debt with your next paycheck.
Keep in mind that a payday loan will require automatic withdrawals from your bank account. This means when your paycheck arrives, you can expect to see the amount you owe deducted from your bank account, and you'll have less money to get you through to your next paycheck.
If you're unable to repay the debt because, for example, your account is overdrawn, you can expect overdraft fees from your bank, and loan rollover fees from the lender. Payday loans have led to disastrous consequences for borrowers.
Can I Get a Loan With No Credit Check?
If you want to skip your credit check when applying for a loan, you should anticipate a high interest rate and other fees to offset the risk involved for the lender.
You may also only qualify for a secured loan that requires collateral for approval. This is a risky and expensive loan option. Examples of secured loans you can get without a credit check include:
A pawnshop loan: You'll need to pawn a valuable item to get a loan that will average between 25% and 60% of the item's value. If you don't repay the loan on time, you'll lose your pawned item.
An auto title loan: This lender requires you to sign over your vehicle's title for loan approval. If you stop making payments, the lender will repossess the vehicle.
A payday loan: These loans often skip the credit check as long as you can show proof of enough income to repay the debt within a month. Just be prepared to pay some hefty interest charges and expensive penalties if you don't repay the debt on time.
Secured loans aren't all bad. After all, an auto loan and a home loan are both forms of secured debt. But some secured loans prey on consumers who have bad credit and contribute to a debt cycle that's hard to escape.
Be sure you understand the terms of any loan you accept before you sign any legally binding paperwork.
What Fees Do Loans Charge?
Lenders can choose which fees they charge, and how much they charge for specific products and services. That means that some loans may feature certain fees that others don't.
While it's impossible to predict exactly which fees your loan offer may include, here is a list of common fees you should look for.
Interest fees: Interest charges act as the profit that lenders make when they loan money. There's really no way to avoid these fees. If you could, then most lenders would go out of business quickly.
Late payment fee: Your loan payment will have a defined due date each month. If you submit your payment after this date, the lender will likely add a late payment fee to your next month's statement.
Origination fee: Origination fees cover the cost of drafting your loan paperwork and completing the loan process. You may see this charged as a flat fee or as a percentage of your overall loan total. Not all lenders charge this fee.
Loan application fee: Some lenders may charge you a fee for submitting an application. You may have to pay this fee even if the lender rejects your loan request.
Prepayment penalties: You may have to pay a prepayment penalty if you pay your loan off early. That's because you're eliminating future interest profits for the lender.
Be sure to ask as many questions as possible before you sign any loan paperwork so you fully understand and are comfortable with the terms.
And remember that some fees require full payment at the time you apply for your loan, whereas others are added to your loan total and allow you to pay them over the life of your loan. While the latter method is convenient, it can also increase your monthly payment.
What Credit Score Do I Need to Get a Loan?
Lenders don't always tell borrowers their minimum credit score requirements. But sometimes, a lender will offer a credit score range that it considers acceptable.
For example, a lender may say that it considers credit scores of 500 or better. But having a credit score above 500 still doesn't guarantee approval. Even people who have excellent credit can fail to qualify for a loan if they have too much debt or too little income to cover the cost of a new loan.
You may also fail to qualify if you have recent late payments or a pending bankruptcy case. These are specific standards that a lender sets and can negate the importance of your credit score when making a lending decision.
Find the Best Emergency Loans For Bad Credit Online
If your credit history causes a bank or credit union to frown at your loan application, consider turning to an online lending network. The reputable lenders above all consider applications for emergency loans for bad credit and can help you get the cash you need with a loan term that allows you to repay your debt over time.
Whether you're looking for a secured loan, an unsecured loan, or a business loan to fund your future, you can uncover options you never knew you had by working with a lending network. Lending networks increase your chances of approval by allowing their partner lenders to compete for your business.
That competition means you'll find more affordable loans than you would if you applied to only one direct lender.
Advertiser Disclosure
CardRates.com is a free online resource that offers valuable content and comparison services to users. To keep this resource 100% free, we receive compensation for referrals for many of the offers listed on the site. Along with key review factors, this compensation may impact how and where products appear across CardRates.com (including, for example, the order in which they appear). CardRates.com does not include the entire universe of available offers. Editorial opinions expressed on the site are strictly our own and are not provided, endorsed, or approved by advertisers.