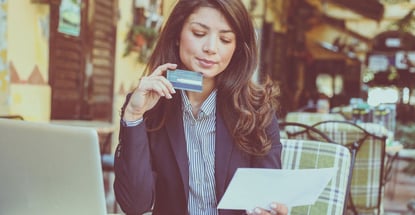 If you've ever redeemed cash back rewards and felt the contentment of a penny well saved, then you may owe a bit of gratitude to Discover. You see, the credit card giant was the first global issuer to discover the power of credit card rewards — pioneering the cash back rewards program in the process.
Today, Discover is one of the world's largest credit card issuers, and over 38 million people carry Discover cards worldwide. The issuer's popular Discover it® line of credit cards has an option for just about any occasion, providing accessible credit to a wide range of consumers. So, no matter what type of card or rewards you may be the most interested in, keep reading for our rundown of Discover card credit limits, benefits, and how to pre-qualify online.
Credit Limit | Benefits | Pre-Qualify
Typical Credit Limits Reportedly Start Around $3,000
Some of the credit cards available in the market these days have credit limits so high you can hardly see them from the ground — and some have no limits at all. On the other end of the spectrum, some cards have average credit limits that make you think, "What's the point?"
Well, the Discover it® cards are somewhere in the middle of the extremes.
Discover's series of cards might not match the endless limits of the exclusive Black Card, but it seems reviewers are getting what they need out of Discover it® cards — so long as they're not in the market for a yacht.
In general, the average Discover it® cardholder received an initial limit of around $3,000, with higher limits going to those with exceptional credit and/or particularly high incomes. The minimum credit limit a Discover it® cardholder will receive is $300, and no cardholders reported a Discover it® credit limit above $20,000 (though we've personally heard otherwise, with one cardholder reporting a credit limit of $25,500).
On the plus side, a number of reviewers have said they've received unsolicited credit limit increases from Discover, with some reporting several raises within the same year. Longtime Discover cardholders — those with the issuer for 10 years or more — were more likely to reach the highest credit limits.
Earn Unlimited Rewards No Matter Which Card You Choose
No matter which Discover credit card you choose, you can expect a few general benefits. This includes the cash back and balance transfer cards, as well as the secured card option designed for credit-building consumers and the student cards for first-time cardholders.
Every Discover cardholder also receives a free Credit Scorecard and monthly updated FICO credit score. In fact, Discover will not only show you your updated credit score, but will also show you what's impacting it. Your Scorecard will show which credit score factors are influencing your score, such as recent credit inquiries or a high utilization rate, as well as tracking your score from month to month so you can see your progress.
Additionally, every Discover it® card offers you the ability to earn cash back rewards on every purchase — plus bonus cash back rewards for purchases in special categories. With a card for nearly every consumer category, nearly anyone can find a way to have a rewarding Discover card experience.
Cash Back | Balance Transfer | Miles | Student | Secured
Discover it® "Cash Back" Cards
Discover offers two cash back systems, and choosing between the two will require a bit of understanding of where you tend to make purchases. Both systems will provide an unlimited cash back rate on every purchase, but the bonus category structure will vary. For instance, the Discover it® Chrome card provides a higher cash back rate on purchases made at gas stations and restaurants, up to a set limit in combined purchases each quarter.
On the other hand, the Discover it® Cash Back card uses the second system, which provides a bonus cash back rate in a particular category when you activate — but the category changes every quarter. So, for 2017, the first quarter category included gas stations, meaning all gas station purchases made in the first quarter (January through the end of March) earned bonus cash back on up to the purchase limit per quarter.
Discover it® "Balance Transfer" Card
The biggest pain of credit card usage for many cardholders is the interest fees associated with carrying a balance on your card. Well, another perk common to the entire line of Discover it® cards is an awesome intro APR deal — and the Discover it® Balance Transfer card is, without a doubt, the best of the bunch.
Balance transfers are ideal for consumers who carry a balance on another card (or cards), as you can transfer that balance to your new Discover card and save a bundle on interest fees. Remember to pay off your entire transferred balance before the end of your introductory period to avoid paying interest fees on your remaining balance.
+See More Balance Transfer Cards
Discover it® "Air Miles" Card
Although Discover may be the inventor of the cash back rewards card, cash back isn't the issuer's only rewards trick. Designed for frequent travelers, the Discover it® Miles card allows you to earn miles on every purchase, which can be redeemed for a statement credit good toward eligible travel purchases, including airline tickets and hotel stays.
Discover it® "Student" Cards
When it comes to establishing your credit history, earlier is definitely better. With a good student card, you can start building credit in college — and, with responsible use, look forward to a seasoned credit profile by the time you graduate.
Discover offers two separate credit card options for students, offering either static or rotating bonus category rewards. The student cards from Discover also provide a few additional perks, including rewards in the form of statement credit to students whose referred friends submit applications and are approved.
Discover it® "Secured" Card
Secured credit cards are ideal for consumers who need to establish their credit or rebuild credit after making a few mistakes. While they require an initial security deposit to open, secured credit cards otherwise act exactly like regular unsecured credit cards, and you can use your secured Discover card to make in-store and online purchases wherever Discover is accepted.
Unlike most secured credit cards, the Discover it® Secured Credit Card offers all of the same benefits as the rest of the Discover it® credit card line, including a competitive intro APR offer and cash back rewards.
You Can Pre-Qualify for the Discover it® Online
Given that Discover pioneered the cash back credit card rewards program, it's little wonder the issuer's rewards cards are some of the most popular out there. What's more surprising is that, despite their popularity, the Discover it® cards are some of the most accessible prime cards on the market.
Of course, if you're interested in applying for a Discover it® card but aren't sure if you'll qualify, you don't have to go in blind. You can check to see if you pre-qualify for a Discover card through the Discover website without risking a hard credit inquiry, as pre-qualification uses a soft inquiry to get a general idea of your creditworthiness.
While pre-qualification isn't a guarantee that you'll be approved when you apply, not pre-qualifying can be a strong indicator that you may be rejected. If you don't pre-qualify for one of the unsecured Discover it® credit card options, you may want to consider the Discover it® Secured Credit Card as a way to improve your credit — and your credit card choices.
Of course, know that you'll likely start receiving more credit card pre-qualification offers in the mail if you opt-in by checking for offers online. If you want to stop receiving pre-qualification offers in the mail, you can Opt Out online.
Advertiser Disclosure
CardRates.com is a free online resource that offers valuable content and comparison services to users. To keep this resource 100% free, we receive compensation for referrals for many of the offers listed on the site. Along with key review factors, this compensation may impact how and where products appear across CardRates.com (including, for example, the order in which they appear). CardRates.com does not include the entire universe of available offers. Editorial opinions expressed on the site are strictly our own and are not provided, endorsed, or approved by advertisers.