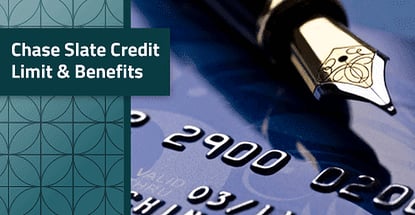 With a credit card lineup that includes over 20 different options, it's safe to say Chase likely has a credit card right for just about any situation. Looking for awesome travel rewards? Earn Ultimate Rewards points with your Chase Sapphire Preferred card. Want cash back? The Chase Freedom Flex℠ and Chase Freedom Unlimited® cards give you two different cash back options.
And if you need a solid balance transfer credit card with no costly fees, then the Chase Slate credit card is a great solution. Between the Slate's introductory 0% APR offer, no-fee balance transfers, and free FICO credit score tracking, qualified applicants can eliminate interest fees and take control of their credit card debt.
Average Credit Limit | Benefits | Pre-Qualify
Average Cardholders Report Credit Limits Around $3,000
Given all the pluses offered by the Chase Slate credit card, it can seem a little too good to be true to many consumers — and, to an extent, they may be right. The Achilles' heel of the Chase Slate card is its credit limit, which many reviewers found a bit low for their balance transfer needs. In particular, the average Credit Karma reviewer reported receiving an initial credit limit around $3,000.
Considering that you can't transfer more than your credit limit can handle (in fact, most issuers, including Chase, tend to limit you to 90% your credit limit) the initial limit you're given can make or break your balance transfer. Unfortunately, $3,000 can represent only the tip of the iceberg for some consumers. That said, you may fare better; 16% of Credit Karma reviewers reported receiving a credit limit of $5,000 or above.
Overall, it seems that if you're looking for a balance transfer card for your five-digit credit card balance, reviews indicate you may need to look at other balance transfer card options. Only 3% of reviewers received initial limits above $10,000, and no one reported a limit over $20,000.
That said, Chase does allow cardholders who have multiple Chase cards to occasionally reallocate their credit lines. In other words, you may be able to transfer some or all of your credit line from another Chase credit card to your Chase Slate card, boosting your Slate limit. This may (or may not) affect your balance transfer offer, so check with a representative to verify before requesting reallocation.
At the same time, there's only so much good you'll do by increasing your Chase Slate credit limit. That's because, regardless of your limit, the Chase Slate card caps balance transfers at $15,000, including fees and interest charges. So, even if you get an unheard-of $20,000 credit limit, you'll only be allowed to transfer up to $15,000.
Additionally, if you're intending to transfer a balance from a Chase credit card, you're out of luck. You can't transfer a balance from one Chase credit card to another Chase credit card, even the Chase Slate card. In this case, you'll need to explore options from other banks. Popular Chase Slate balance transfer alternatives include the Discover it® Balance Transfer card and the BankAmericard® credit card.
Slate is One of the Few No-Fee Balance Transfer Cards
If ever there were a credit card not to judge by its cover, it is likely the Chase Slate. Admittedly, the Slate isn't the most fetching at first glance. For instance, you won't find any fancy rewards; no cash back, points, or air miles to pad your purchases. And you won't receive a big ole signup bonus for your spending, either. But, in the end, none of that truly matters when it comes to the Chase Slate.
Why? Because it's true super powers lie in being a no-fee balance transfer credit card. In addition to a competitive intro APR promotional period that allows you to enjoy a 0% APR for more than a year, and the lack of a pricey annual fee, the Chase Slate has a feature that few other cards on the market can match: no balance transfer fees.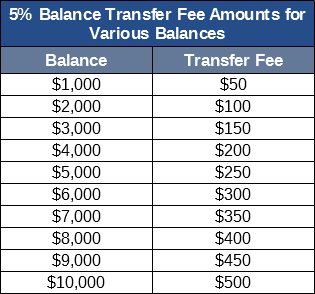 In many ways, the balance transfer fee is the bane of the balance transfer credit card world, often the one major flaw in an otherwise wonderful system. For one thing, balance transfer fees can be costly. Ranging anywhere from 3% to 5% of your total transferred balance, balance transfer fees can easily cost hundreds of dollars, depending on the size of your balance.
Furthermore, not only does a balance transfer fee add more expenses to the pile, but it can also reduce the amount you can transfer. This is because most credit card companies include fees in the total transfer amount. So, if your balance plus fees exceeds your credit limit's capacity (or the $15,000 cap) you won't be able to transfer the full balance.
For example, consider an imaginary cardholder, Marc, who has $5,000 in credit card debt he wants to transfer to his new balance transfer card. Marc's new card charges a 5% balance transfer fee, which means $250 out of his pocket — and $250 less his card can receive in transferred balances. With the Chase Slate card, Marc could use that $250 to put toward his debt, instead.
You Can Pre-Qualify for the Chase Slate Credit Card Online
Pairing a solid intro-APR deal with the rare-but-wonderful fee-free balance transfer, the Chase Slate card can be an excellent tool for anyone looking to reduce their interest rates to pay down credit card debt. Well — almost anyone. While Chase is well-known for its perks and benefits, what it's not known for is credit leniency.
In fact, it's often quite the opposite; most Chase credit cards, the Slate included, tend to require at least "good" credit to qualify (credit scores 680+), with the best credit limits offered to those with the best credit scores. On the plus side, you don't have to head into your application blind.
If you're concerned about your chances of being approved for a Chase Slate card, you can check to see if you're pre-qualified before applying. Instead of the hard credit inquiry used by the full application, which can impact your credit score, pre-qualification uses a soft credit inquiry to get a general idea of your creditworthiness.
Although being pre-qualified for a Chase Slate card doesn't necessarily guarantee you'll be approved if you do apply, not being pre-approved may indicate that your credit profile doesn't meet Chase's requirements. Remember that filling out a pre-qualification form acts as consent to receive future offers from Chase, and you may receive pre-qualified card offers in the mail.
Advertiser Disclosure
CardRates.com is a free online resource that offers valuable content and comparison services to users. To keep this resource 100% free, we receive compensation for referrals for many of the offers listed on the site. Along with key review factors, this compensation may impact how and where products appear across CardRates.com (including, for example, the order in which they appear). CardRates.com does not include the entire universe of available offers. Editorial opinions expressed on the site are strictly our own and are not provided, endorsed, or approved by advertisers.