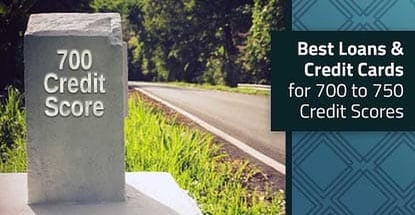 Although the little white mile markers on the side of the highway have lost some significance in our digital, GPS-enabled lives, anyone who slogs through a long commute can appreciate the value in knowing you're that much closer to home.
For credit-building consumers, the journey to excellent credit is also studded with valuable signposts that let you know you're closer to your goal. And one of the most important mile markers along your path will be reaching — and then exceeding — a 700 credit score.
For one thing, with a score of 700 or above, you're on par with — or doing better than — the average American's 700 score. You're also eligible for many of the best (and most affordable) credit cards and loan offers.
Credit Cards | Personal Loans | Auto Loan | Home Loan
Credit Cards: 700-750 Credit Score
With a credit score of 700 or higher, you will have a wide range of credit cards from which to choose, including many great rewards cards. You'll also find a number of quality cards with no annual fee, some extended 0% intro-APR offers, and very valuable signup bonuses.
Your good credit score will also help you qualify for APRs at the low end of a credit card's possible range, as well as higher credit limits than applicants with lower credit scores would receive.
1. Discover it® Cash Back
One of the most popular cash back cards on the market, it regularly tops our list of the best cash back cards. Cardholders can maximize their cash back earnings in popular categories that change every three months. Spending limits apply.
Discover is also recognized for having the top-rated customer service team in the credit card biz, so you can rest assured you'll be in good hands if there's ever an issue with your account.
at Discover Card'ssecure website
INTRO OFFER: Unlimited Cashback Match – only from Discover. Discover will automatically match all the cash back you've earned at the end of your first year! There's no minimum spending or maximum rewards. You could turn $150 cash back into $300.
Earn 5% cash back on everyday purchases at different places you shop each quarter like grocery stores, restaurants, gas stations, and more, up to the quarterly maximum when you activate. Plus, earn unlimited 1% cash back on all other purchases—automatically.
Discover could help you reduce exposure of your personal information online by helping you remove it from select people-search sites that could sell your data. It's free, activate with the mobile app.
Every $1 you earn in cash back is $1 you can redeem
Get a 0% intro APR for 15 months on purchases. Then 17.24% to 28.24% Standard Variable Purchase APR applies, based on credit worthiness.
No annual fee.
Terms and conditions apply.
| | | | | |
| --- | --- | --- | --- | --- |
| 0% Intro APR for 15 months | 0% Intro APR for 15 months | 17.24% - 28.24% Variable APR | | |
New cardholders can also enjoy attractive promotional APRs for both purchases and balance transfers upon account opening, after which they'll pay the regular 17.24% - 28.24% Variable APR.
2. Chase Freedom Unlimited®
While cash back cards with bonus categories can definitely be valuable, not every purchase will fall neatly into a common category. That's where an unlimited cash back card like this one can be very handy.
With this card, cardholders will receive the cash back rewards on every new purchase, regardless of where or what time of year they buy. There are no rotating categories to track or activate, and zero limits on how much you earn. There's also no annual fee.
at Chase'ssecure website
SPECIAL OFFER: Unlimited Matched Cash Back. Use your card for all your purchases and at the end of your first year, Chase will automatically match all the cash back you earned! There is no limit to how much you can earn. Every dollar in cash back rewards you earn is a dollar Chase will match.
Unlimited 1.5% cash back is just the beginning of what you can earn. You'll enjoy 3% cash back on drugstore purchases and dining at restaurants, including takeout and eligible delivery services, 5% cash back on travel purchased through Chase Ultimate Rewards®, our premier rewards program that lets you redeem rewards for cash back, travel, gift cards and more; and 1.5% cash back on all other purchases.
Enjoy 0% Intro APR for 15 months from account opening on purchases and balance transfers, then a variable APR of 20.49% - 29.24%.
No minimum to redeem for cash back. You can choose to receive a statement credit or direct deposit into most U.S. checking and savings accounts. Cash Back rewards do not expire as long as your account is open!
No annual fee - You won't have to pay an annual fee for all the great features that come with your Freedom Unlimited® card
Keep tabs on your credit health, Chase Credit Journey helps you monitor your credit with free access to your latest score, real-time alerts, and more.
| | | | | |
| --- | --- | --- | --- | --- |
| 0% Intro APR on Purchases 15 months | 0% Intro APR on Balance Transfers 15 months | | | |
In addition to its unlimited purchase rewards, this card offers a few extra perks for new cardholders, including a competitive signup bonus with a really manageable spending requirement. It also comes with a long 0% intro-APR offer good on new purchases.
One thing to note about this card is that it is issued solely by Chase bank, which means it falls under the limitations of Chase's 5/24 Rule. So, if you've opened five or more credit accounts in the last 24 months, you'll be automatically rejected for this card.
3. Capital One Venture Rewards Credit Card
Travel is a multibillion-dollar industry in the US, with Americans logging 1.8 billion person-trips in 2017 for leisure alone. With that in mind, it's little wonder that travel rewards credit cards are a popular way to save on all that to-ing and fro-ing.
This card is near the top of many travel rewards lists thanks mostly to its extreme flexibility, as it not only offers the same unlimited 2X miles per dollar on every purchase, but it also allows cardholders to redeem their rewards free from blackout-date or brand restrictions.
Enjoy a one-time bonus of 75,000 miles once you spend $4,000 on purchases within 3 months from account opening, equal to $750 in travel
Earn unlimited 2X miles on every purchase, every day
Earn 5X miles on hotels and rental cars booked through Capital One Travel, where you'll get Capital One's best prices on thousands of trip options
Miles won't expire for the life of the account and there's no limit to how many you can earn
Receive up to a $100 credit for Global Entry or TSA PreCheck®
Enjoy two complimentary visits per year to Capital One Lounges or to 100+ Plaza Premium Lounges through the Partner Lounge Network
| | | | | |
| --- | --- | --- | --- | --- |
| | | 19.99% - 29.99% (Variable) | | |
But the savings don't stop there with this card. Redeem for a statement credit toward travel purchases or by transferring miles to a participating partner travel loyalty program.
This card also provides some extra incentives for new cardholders, like a competitive signup bonus. Reach the minimum spending requirement in the set time frame to earn a huge miles bonus, enough to redeem for a free flight or hotel stay.
4. Wells Fargo Cash Wise Visa® Card
If the idea of having to track and activate new bonus rewards categories each quarter sounds like a lot of hassle, then an unlimited cash back rewards card may be the solution. This card offers the same 1.5% cash back on every new purchase, regardless of when or where you buy.
There are no limits to how much cash back you can earn, either. And, just in case you wanted a little extra, you'll earn 1.8% cash back on qualified mobile wallet purchases for the first 12 months after you open your account. And it's all without an annual fee.
Wells Fargo Cash Wise Visa® Card
This card is currently not available.
New cardholders also get a few more extras, including a decent 0% intro-APR offer that can be used for both new purchase and balance transfers. You'll also get a competitive signup bonus after meeting the reasonable spending requirement in your first three months.
Plus, this card offers something few cards provide: cellphone protection. Cardholders can receive up to $600 in cellphone protection — minus the $25 deductible — when they pay their phone bill with their card each month.
Personal Loans: 700-750 Credit Score
Although the consumer credit world is home to a wide variety of products, personal loans are among the most flexible, as they can be used as a means to finance nearly any type of purchase.
At the same time, personal loans tend to have higher interest rates than other types of loans, so they're not ideal for every situation.
For example, you shouldn't use a personal loan to purchase a vehicle, especially if you have a good credit score of 700 or higher, as an auto loan will offer a much lower interest rate.
That said, a credit score between 700 and 750 will almost certainly qualify you for a decent personal loan interest rate. Not all offers are made equally, however, so be sure to take the time to compare rates and fees, perhaps by using an online lending network like those below.
5. PersonalLoans.com
As its name implies, PersonalLoans.com is an online lending network that specializes in personal loans, and its large network of lending partners serves customers with a variety of credit types in all 50 states.
PersonalLoans.com users can generally find three types of personal loans: peer-to-peer loans, direct-lender personal installment loans, and bank personal loans. Borrowers can receive a response in just minutes by filling out the simple online application.
Loan amounts range from $1,000 to $35,000
All credit types welcome to apply
Lending partners in all 50 states
Loans can be used for any purpose
Fast online approval
Funding in as few as 24 hours
Loans from the network can be obtained in amounts ranging from $500 up to $35,000 for the most qualified borrowers. Interest rates are typically between 5.99% and 35.99%, though, with a credit score above 700, you can likely anticipate an APR in the lower end of the range.
Loans from a PersonalLoans.com lender can be obtained with term lengths as short as 90 days and as long as 72 months (six years). Keep in mind that the longer your loan term, the more interest fees you'll pay over the life of the loan.
6. SignatureLoan.com
SignatureLoan.com is true to its name, offering unsecured personal loans to qualified applicants with just a signature. As an online lending network, SignatureLoan.com connects applicants with lenders from across the country to help them find the right fit.
Although the network has no set minimum credit score requirements, you'll still need to meet a few conditions to qualify, including having an active bank account and regular income. You can apply for a loan via the online application and receive a decision in minutes.
Loan amounts range from $1,000 to $35,000
Flexible credit requirements
Loans can be used for anything
Five minute application
Funding possible in as few as 24 hours
Large lending network with multiple partners
Loans from SignatureLoan.com partners can be obtained in amounts of $1,000 up to $35,000, though the exact amount you're offered will vary based on your credit score and other qualifications. Most APRs will range from 5.99% up to 35.99%, with the lowest APRs reserved for applicants with the best credit.
As with most personal loans, you can choose your term length, with loan terms as long as 72 months available from SignatureLoan.com lending partners. The minimum loan term length is 90 days.
Auto Loan: 700-750 Credit Score
In the vast majority of cases, an auto loan is the most affordable way to finance a new vehicle. Auto loans have relatively low interest rates — especially for consumers with good credit — with single-digit APRs not uncommon for qualified applicants.
Auto loans can be obtained from a wide variety of lenders, from banks and credit unions to the car dealers themselves. No matter where you get your auto loan, however, a credit score above 700 should qualify you for competitive interest rates, so shop around to find your best rate.
7. Auto Credit Express
Although your local dealer won't always offer the best interest rate, they won't always have the highest one, either, especially when you have good credit, and dealers can sometimes be easier to deal with if it's your first auto loan. Some dealers may also offer incentives for financing your vehicle purchase through their banks.
Whatever your reason for considering dealer financing, Auto Credit Express can likely help; by working with a large network of dealer partners, Auto Credit Express can help connect you with dealers that match your credit and financial needs, all with an easy online application.
Dealer partner network has closed over $1 billion in auto loans
Can help those with bad credit, no credit, bankruptcy, and repossession
Established in 1999
Easy, 30-second pre-qualification form
Bad-credit applicants must have $1500/month income to qualify
As an online dealer network, Auto Credit Express can connect you with local dealers to find both a vehicle and the financing to purchase it. However, it's important to note that the network itself is not a dealer or lender.
Once you select a dealer partner from Auto Credit Express, the network's role is complete. You'll contact (or be contacted by) the dealership to set up a time to browse the dealer's selection of vehicles and go over the loan agreement from the dealer's in-house or third-party lender.
Home Loan: 700-750 Credit Score
With the average home valued at over $200,000, it's fair to say very few of us are waltzing in and purchasing a home with cash, No, most of us are going to need a mortgage loan to cover that six-figure purchase.
But while most other credit products, including credit cards and car loans, can be obtained with a range of credit scores, mortgage loans are generally in a league of their own. Thankfully, a credit score above 700 is just what you need to make it to the mortgage majors.
Indeed, with the base FICO credit score for a conventional mortgage typically considered to be 680, a credit score above 700 puts you well into the range of acceptable scores to qualify, though your specific credit history and down payment will be significant factors, as well.
8. LendingTree.com
Comparing loan offers is important no matter what type of loan you're after, but it can be especially vital with mortgage loans thanks to the large principals and long term lengths. Over 30 years, even half of a percentage point in your APR can mean thousands of dollars in interest.
As with other loan types, one of the easiest ways to compare mortgage offers is with an online lending network like LendingTree.com. With hundreds of lending partners, LendingTree.com can help borrowers compare up to five mortgage loan offers from a single online application.
Find lenders for new home purchases, refinancing, home equity loans, and reverse mortgages
Lenders compete for your business
Offers in minutes
Receive up to 5 loan offers and select the right one for you
Founded in 1996
Over $250 billion in closed loan transactions
Consumers with credit scores over 700 will likely qualify for both conventional and FHA-backed loans, making the choice of loan type more about the down payment than credit qualifications.
Specifically, most conventional mortgages require a down payment of at least 20% of the purchase price of the property (though borrowers with strong credit histories may qualify for a lower down payment amount). FHA-insured loans, on the other hand, require only 3.5% down when you have a credit score above 580.
Good Credit Can Unlock a World of Possibilities
In the digital era, most of us are more inclined to check our GPS for the proper turnoff than to consult a map and mile marker as was once the case. But while highway markers may be on their way to obsolescence, their allegorical value remains intact, serving as a vivid illustration of the important events along life's journey.
Next to most major events, such as graduating from college or starting a business, reaching a 700 credit score can seem to be a small milestone, perhaps one barely worthy of a marker at all. But, in the grand scheme of your personal finances, your credit score will likely play a pivotal role.
Not only does having a good credit score open up a variety of credit products, from top rewards cards to affordable mortgages, but more and more non-financial parties, like landlords and employers, are using credit scores to get a feel for potential applicants.
Range of credit scores covered in this article: 700, 701, 702, 703, 704, 705, 706, 707, 708, 709, 710, 711, 712, 713, 714, 715, 716, 717, 718, 719, 720, 721, 722, 723, 724, 725, 726, 727, 728, 729, 730, 731, 732, 733, 734, 735, 736, 737, 738, 739, 740, 741, 742, 743, 744, 745, 746, 747, 748, 749, 750
Advertiser Disclosure
CardRates.com is a free online resource that offers valuable content and comparison services to users. To keep this resource 100% free, we receive compensation for referrals for many of the offers listed on the site. Along with key review factors, this compensation may impact how and where products appear across CardRates.com (including, for example, the order in which they appear). CardRates.com does not include the entire universe of available offers. Editorial opinions expressed on the site are strictly our own and are not provided, endorsed, or approved by advertisers.