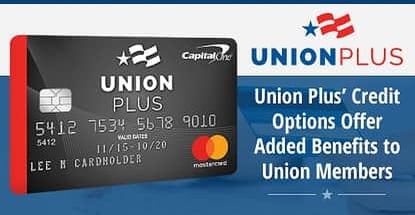 In a Nutshell: Millions of card-carrying union members go to work each day in America. Not only is membership a source of pride, but it's also a strong layer of protection for your ongoing employment. Union Privilege is a nonprofit formed by the AFL-CIO in 1986 to provide Union Plus benefits to union members beyond those offered through their jobs. Membership is free to union members and, in many cases, their families, and includes a tremendous hardship grant (at no extra cost) that provides one-time cash payments in case of injury, disability, strike, or job loss. Union Plus also offers a trio of Mastercard-branded credit cards through issuing bank Capital One®, which give members the ability to build credit through responsible use and get cash back on purchases. //
During my youth in Chicago, it seemed as though everyone knew someone in a union, whether it was a family member, friend, or neighbor. Membership was — and still is — a great source of pride in my family, and for countless others across America.
When my uncle's union went on strike in the early 1980s, members of other organizations rallied around him and his co-workers until they went back to work. Christmas still happened. No meals were missed. The union kept all of the electricians comfortable during a very uncomfortable time.
It's that sort of protection and camaraderie that draws people to employee unions in the first place. In fact, 14.6 million Americans were part of a union in 2016. After all, you can never have too much insurance in case of injury, disability, strike, or loss of employment.
That's the thinking that has made Union Plus benefits a mainstay in the lives of more than 12 million members nationwide. Created by the AFL-CIO in 1986, the nonprofit Union Privilege supports the labor movement with financial and lifestyle products (called Union Plus benefits) designed for union members and their families. Among the original, and most popular, offerings are a trio of Mastercard-branded credit cards issued by Capital One that meet a host of needs.

Whether you're looking to rebuild credit or earn cash back on purchases, there are ways to get even more from a Union Plus Credit Card. And since Union Plus has been involved with the labor movement so long, it has learned the needs of union members change over time.
That same knowledge was used when developing a package of hardship benefits that offer grants to meet many needs, all at no extra cost.
"The goal was to create non-employment-based benefits that enhance the experience of being a union member," said Roger Pollack, Head of the Union Plus Credit Program. "The credit card program was one of the first products established. Most of our employees have worked with the labor movement in some capacity before moving over to Union Plus. We're proud of our work every day, to be able to work with and serve the millions of people who are lucky enough to have the union on their side."
Current and retired union members are automatically eligible to apply for and use their union's Union Plus benefits — no membership in Union Plus is required. Benefits range from discounts on entertainment options, like theme parks and movie tickets, all the way up to price breaks on monthly bills, like insurances and cell phone plans through AT&T, the country's only unionized mobile carrier.
Hardship Grants Provide Relief During Strikes or Disability
Strikes happen — as do medical issues, job loss, and other types of financial hardship. While nobody wants these things to happen, they are a part of life and a key reason why millions of Americans join unions. To help keep your life intact when things get tough, Union Plus curated a package of benefits that includes single-use grants for financial assistance when you need it most.
"We have a special cardholder assistance program that offers the opportunity to apply for small- to medium-sized grants," Roger said. "These help if you were to lose your job, become disabled, or if you were to incur a hospital or medical bill that you don't have any coverage for. That's just one of the special benefits designed for union members."
The grants for eligible credit cardholders include a $300 strike grant, a similar job loss grant, or as much as $1,200 in hospital grant money.
"Those grants are paid directly to the cardholder," Roger said. "They come from a trust that we established as a reserve to cover the grant program. If one of our cardholders is in trouble, we help out in a very direct way."
Get the Credit You Deserve with the Benefits You Require
Union Plus has more than one million credit cardholders spread throughout all 50 states. The three cards offered are similar to regular consumer offerings through Capital One, but with the added layer of union benefits not seen through other issuers.
Those benefits are part of the reason why 90% of surveyed cardholders said they'd recommend the cards to others.

"We have a lot of folks who have been in the program for a really long time," Roger said. "They're people who support their union and are proud to be union members. They're proud to be able to show their union card. Plus, our service is strong. What tends to yield a high satisfaction score is when people call up, they get their problems resolved quickly. We work hard to do that every day and for all of our cardholders."
The Union Plus credit cards come in three options, each serving very particular needs.
Build Your Credit Profile Via Responsible Use with the Primary Access Card
The first tier of Union Plus' credit card offerings is the Primary Access Card. This card has credit limits between $300 and $3,500, and a 24.24% variable APR. Credit limits may increase after making your first five payments on time, and the card does not come with an annual fee.
This card, along with the benefits and hardship grants that all of the cards carry, is a great starter for building — or rebuilding — credit over time.
Eliminate Balances with the Help of the Rate Advantage Card
If you have a balance on another credit card with a higher-than-average APR, Rate Advantage might be the card you need to eliminate that debt without overpaying on interest. Starting with a 0% APR for the first 15 months on all purchases and transfers, this card is ideal for anyone that wants to carry, or will likely build, a balance that can't be paid off immediately.
Based on creditworthiness, a variable 11.9%-to-21.9% APR follows the introductory period. Credit limits range between $500 and $7,500, and the card comes with no annual fee.
"This card is definitely for people who are likely to be revolvers," Roger said. "The idea is to have a competitively priced card, in terms of retail APR, that allows our cardholders to save on interest by transferring higher-rate balances and to use their money on things that are important to them."
Earn 1.5% Cashback on Every Purchase with No Annual Fee
With a 0% intro APR for 12 months on all purchases and transfers, and rates of either 13.9%, 19.9%, or 23.74% afterward, depending on creditworthiness, the Union Plus Cash Rewards Card is packed with the perks most people look for in a go-to rewards card. The Cash Rewards Card earns an unlimited 1.5% in cash back on every purchase with no annual fee, and credit limits that extend as high as $10,000.
If you're a regular credit user who doesn't often keep a revolving balance, this card allows you to accrue rewards for purchases you'd already be making. You can let that money accumulate over time to put toward a larger purchase, use it toward lowering your balance, or as a bonus to treat yourself on a rainy day. The possibilities are whatever you want them to be.
Make Your Union Plus Credit Card Work for You
No one ever wants to think about the worst-case scenario, but smart workers always make sure they're protected — just in case. Be it through a union membership or as part of the Union Plus benefits program, you can never have too much protection.
With the trio of credit card offerings from Union Plus, you may have access to the credit you need while adding the hardship benefits and discount packages at no extra cost.
If you or a loved one are a member or retired member of a union, the advantages of Union Plus extend beyond credit cards into all sectors of your financial well-being.
"We have a wide array of products," Roger said. "Credit cards are one of our oldest and strongest, but we've always had a really good mortgage program and a strong discount benefits program with AT&T. We also have a new program where we're partnering with eHealth to help members figure out what the best Medicare products are. We're continuing to innovate in areas like that to meet the needs of union members."
Advertiser Disclosure
CardRates.com is a free online resource that offers valuable content and comparison services to users. To keep this resource 100% free, we receive compensation for referrals for many of the offers listed on the site. Along with key review factors, this compensation may impact how and where products appear across CardRates.com (including, for example, the order in which they appear). CardRates.com does not include the entire universe of available offers. Editorial opinions expressed on the site are strictly our own and are not provided, endorsed, or approved by advertisers.