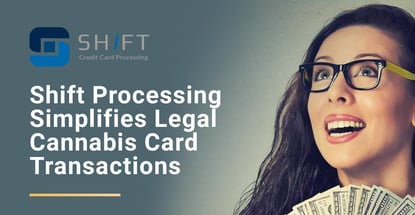 In a Nutshell: As more states legalize cannabis for medical and recreational use, major card networks continue to ban marijuana businesses and force consumers to pay with cash. But dealing with cash in cannabis and other locked-out businesses is inconvenient and a possible security risk for proprietors. Shift Processing aims to solve that problem with its closed-loop P2P payment platform, which charges consumers a small fee for access to its processing services. With Shift, businesses can reduce their reliance on cash while consumers gain the convenience and security of card payments.
Many states have now legalized cannabis for medical and recreational use. But because it remains illegal on the federal level, major card networks continue to block marijuana businesses from accessing merchant processing services. That means cannabis businesses can't accept card payments from customers or use merchant accounts to pay suppliers.
Cannabis growers, labs, and dispensaries have had to operate as predominantly cash businesses. Although the legalities are different, businesses in other categories deemed high-risk by card companies also face exclusion from merchant processing services.
Dealing in cash presents a variety of problems compared to running a business that accepts card payments. Proprietors often have to go to great lengths to protect extensive cash holdings. And the risk of employee theft is an even bigger issue than the threat of external theft.

Shift Processing aims to eliminate those hassles with its closed P2P network that assumes card processing duties on behalf of cannabis and other high-risk businesses. It also grants their customers the convenience of card transactions.
"The fact that we can now enable cannabis companies to move money instantly and for free has been a game-changer from a financial and security perspective," Shift Processing Founder and CEO David Toney said. "Growers and delivery businesses, for example, are now saying to their dispensaries, 'This is the way we want you to do things because we don't want to touch cash.'"
Cash businesses may also have difficulty keeping books balanced and paying taxes because no municipality wants to accept a wheelbarrow full of cash as a tax payment. That's another reason many of those businesses turn to Shift to simplify and bring their operations further into the mainstream.
Enabling Card Acceptance Without a Merchant Account
Customers of cannabis and high-risk businesses lose out as well when they can't use their cards. Even though legal cannabis consumers tend to be younger people who favor digital payment methods, they're forced to withdraw cash from ATMs to purchase legal marijuana in many states.
Thanks to Shift Processing, these merchants can offer their customers the option to use their cards as they would at any other retailer. The Zero Fee Processing mechanism allows merchants to pay nothing in return for making their products accessible on the Shift network. Shift grants consumers access to processing services on the platform in return for a small per-transaction fee.
"To be clear, we do not provide merchant services or credit card processing to the cannabis or high-risk space," Toney said. "What we do is utilize P2P technology that's very much like a Venmo, PayPal, or Zelle."
When consumers fund their accounts or send money on those services, the money exchanges entirely inside those platforms. On Shift, it's the cannabis or high-risk customer that injects revenue into the system in the form of the per-transaction fee.
"Our customers are not the cannabis dispensaries or growers or labs but the consumers," Toney said. "We give consumers the ability to make purchases discreetly and securely anywhere within our network."
What makes this possible is that Shift works on banking rails, not credit rails. Using ACH for transactions insulates cannabis and high-risk merchants and consumers from the limitations imposed by the card networks.
"When consumers use credit cards to transact with our clients, they're purchasing the ability to process inside our network," Toney said.
Avoiding Common High-Risk Processing Pitfalls
As the legal availability of marijuana becomes more mainstream in the U.S., Shift presents an innovative integration path for cannabis merchants. The same is true for other high-risk and credit-challenged merchants and their customers.
In fact, Shift takes the position that all legal businesses in the U.S. should be open to card transactions, and it aims to make that possible with its innovative technology. The Shift team is dedicated to swiftly and securely onboarding all businesses and getting them transacting with customers quickly.
"Our primary customer is the consumer, but they need places to spend money, so we bring businesses onto our platform to give them places to make purchases," Toney said.
Of course, Shift's cannabis merchant business works only in states where marijuana is legal. For companies transitioning into legality, Shift offers support and security.

"There's a right way and a wrong way for cannabis businesses to transact with cards," Toney said. "The absolute wrong way is to try to provide merchant services where they're prohibited, and if you do that, you're going to get shut down."
One common way businesses attempt to skirt the card networks is by using a misleading merchant category code.
"Miscoding will result in closure very quickly," Toney said.
Other cannabis businesses have constructed paths to merchant services through gift card and vouchering systems.
"The problem there comes with volume," Toney said. "There's a $10 million automatic audit requirement for all gift card companies, so once they have that amount accumulated across their portfolio, they're going to get audited. That's why you see these gift card companies churning through merchant IDs left and right."
Zero Fee Processing Benefits Consumers and Merchants
Shift gives businesses that card companies often deem high-risk more options for consumer transactions. Thanks to its efficient and transparent onboarding process and business model, Shift has quickly grown to serve more than 400 merchant locations in 36 states.
"Consumers absolutely love it. They would much rather use plastic than paper, for a variety of reasons, not the least of which is they can earn points and rewards for buying products," Toney said.
And merchants benefit when they can make payment easy for their customers. Shift even makes it easy for retailers to accommodate customers who prefer cash through its cash discount program. The program allows merchants to offer a lower price to cash customers by dispensing with the card transaction fee.
Shift also gives merchants opportunities to obtain free POS equipment to expand its network. The company can help companies acquire ecommerce, mobile POS, and other transaction hardware, including EMV terminals that protect against chargebacks.
It's well worth it to the merchants because data shows that consumers spend more money when they use their cards.
"That's the single biggest reason why these dispensaries are jumping on board. We see a 26% increase in average transaction size across the nation," Toney said. "Our reporting back to businesses allows them to see that the increase in transaction size more than offsets the expenses."
And its reach is only going to get bigger. Shift also partners with organizations dedicated to furthering the cause of cannabis legalization nationwide, contributing 10% of its profits to state and regional associations and other groups.
"The more we do to mainstream cannabis, the faster banking and processing, and traditional solutions are going to be available," Toney said.
Advertiser Disclosure
CardRates.com is a free online resource that offers valuable content and comparison services to users. To keep this resource 100% free, we receive compensation for referrals for many of the offers listed on the site. Along with key review factors, this compensation may impact how and where products appear across CardRates.com (including, for example, the order in which they appear). CardRates.com does not include the entire universe of available offers. Editorial opinions expressed on the site are strictly our own and are not provided, endorsed, or approved by advertisers.