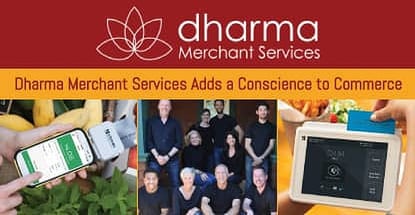 In a Nutshell: As the move toward a cashless society accelerates, businesses are evolving to accept an array of payment methods. While the field is competitive, one payments processor is prioritizing the planet over profits. Dharma Merchant Services looks to not only streamline payments for businesses with its Interchange-plus pricing model and hassle-free onboarding, but also to share revenue with important causes through philanthropic efforts. What that means is a clearer conscience, and a better bottom line, for their partner businesses. //
With more than 25 years of experience in the payments industry, Jeff Marcous knew a void existed in the market. Most payment processing companies were solely focused on financial gain, so Jeff and a group of like-minded entrepreneurs decided to start a company where money wasn't the only thing that matters.
Founded in 2007, Dharma Merchant Services has become a family affair that places a high priority on upholding ideals, like fair pricing, honest practices, and donating a portion of its annual profits to nonprofit organizations. Jeff co-founded Dharma with his daughter, Alexia, who remains on the Board of Directors, while his stepson, Nick Bencivenga, serves as Chief Operating Officer.
"People like coming to a company with values and morals," Nick said. "And it allows us as employees to say, 'We want to do the right thing in this instance. We want to do what we're here to do as opposed to following the rules of making the most money.' It empowers our employees, and it gives our customers the feeling of, 'These guys aren't in it just to make money off us, but they're in it for helping the rest of their community as well.'"
It's the interest in helping the planet that drove Jeff to start Dharma. It is also what helped the company earn one of California's first designations as a legal Benefit Corporation. The new corporation subtype is intended to free directors from focusing solely on the bottom line and take into consideration the greater benefit of the public and the environment.
Each year, the company chooses a group of nonprofits and allows its employees to pick one of their own, and donates a portion of its profits to them. In 2016, Dharma donated more than $100,000 to such nonprofits. It's this focus on sustainability, philanthropy, and fair pricing that have merchants with corresponding values turning to the San Francisco-based payments processing company.
Partnering with SMBs that Value Doing the Right Thing
Nick told us most of Dharma's employees have been with the company for a long time, and the team has become a tight-knit family over the past decade. Much of Dharma's business comes from long-term clients and the word of mouth about a processing company that values doing things the right way.
Dharma considers itself a partner to the merchants it works with. Its fixed-rate pricing with no annual fees or surprise rate hikes means small businesses save money. Merchants can cancel any time with no early termination fee. When merchants have questions, their calls are quickly answered by real, highly trained people. Dharma strives to get to know each of its clients on a first-name basis.
"Our whole premise of operation here is operating from a place of transparency and integrity," Nick said. "Essentially we try to approach merchant services as an education."
Instead of being bombarded by cold-calling, commission-based salespeople, Dharma's educational approach often attracts smaller clients who are paying much higher rates and fees with their current processor. Nick says that some clients have saved "several percent" from their current rates when they join Dharma.
"We operate from a place of wanting to be a business consultant for our merchants as opposed to the people you hate to call when something goes wrong," he said. "We're like a small family here, and typically that's what our merchants love. They like knowing us by name and like knowing that we're not here to rake them over the coals."
Low Costs & Transparency Via Interchange-Plus Pricing
While Dharma tends to draw business from merchants with similar ideals, its primary benefit to clients is its Interchange-plus pricing model. Many payment processors offer rates based on the amount of money a business generates. These tiers often price out the average SMB from accepting credit card transactions. Others may offer subscription pricing, with annual or monthly fees. Another method is a flat rate, which offers one, typically high, rate for all transactions.
Interchange-plus changes that by charging the interchange fee that all processors pay, plus a flat markup charge regardless of the transaction size. When compared to the other options, Interchange-plus is the most transparent, and often the cheapest, alternative in payment processing. Also, it allows new businesses that often cannot reach other firms' minimum-processing tiers to fit right in at Dharma.
"Because we're on Interchange-plus," Nick said, "our only incentive is to keep [the merchant's] cost low. That means we're going to look out for possible interchange reductions and process savings as well."
Those savings have led to a steady stream of new merchants joining Dharma's 3,200 other clients. Nick told us the company is on track to process nearly $1 billion in sales this year spread over several different processors. In May of 2017 alone, Nick said the company processed more than $80 million in sales.
As the company has grown, it has kept its original vision of transparency, dedication to education, and not raising rates. Each SMB that chooses Dharma for its payment processing is not only gaining one of the industry's top performers, but a company that treats clients as members of the Dharma family.
Thanks to its low rates and rising reputation as a positive-minded partner, a large number of small- to mid-sized businesses have signed on as merchants. Its clients include a long list of brick-and-mortar retail and e-commerce businesses, as well a growing number of restaurants. When the company first started, it focused solely on e-commerce, but Nick said it's grown to a nearly even split between online and in-person transactions.
A Streamlined Onboarding Process to Get You Up & Running
The company has spent the better part of three years streamlining its onboarding process to make the transition to Dharma one of the fastest and easiest in the industry. The new account pre-application and application process happens in a matter of hours, not days.
Quite often, if an application is submitted to underwriting early enough, final approval can be made on the same day if a merchant is especially motivated. Nick says most merchants are signed up with accounts within two business days.
Terminals, for merchants who require them, are shipped out as soon as the approval process is completed. All terminals include the latest technology, including EMV capabilities, and have software that has been tested and updated prior to being assigned to a new client. This allows merchants who currently accept payments through another processor to transition to Dharma quickly without losing any sales.
Dharma Merchant Services' B-Corp Status Declares its Commitment to Integrity
In January 2012, Dharma became one of California's first legal Benefit Corporations, which puts the company in a position to make business decisions based on more than the bottom line.
"It allows us to take a stand when we want to, and say 'This is how we're going to do it and why,'" Nick said.
Dharma is also a B Corporation, a for-profit company certified by the nonprofit B Lab to meet rigorous standards of social and environmental performance, accountability, and transparency. It is also a member of the Conscious Capitalism movement, which aims to provide positive value in the domains of people, planet, and profit.
"Normally, when a corporation is faced with a decision, it's forced to say, 'What makes us the most money?' And that's the decision it has to make legally," Nick said. "Benefit Corporation certification actually reduces that requirement and says, instead of just shareholder profit, we have to take into account our community, our planet, and our employees as well."
The company put its money where its mouth is in 2015, when Dharma raised its lowest employee salary to $70,000 per year without a hike in merchant rates or fees.
The company has built its foundation as a stabilizing force for the greater good in communities nationwide. Its ability to adapt to the ever-changing field of merchant services has helped it steadily grow and earned the company an A+ rated operation through the Better Business Bureau.
Advertiser Disclosure
CardRates.com is a free online resource that offers valuable content and comparison services to users. To keep this resource 100% free, we receive compensation for referrals for many of the offers listed on the site. Along with key review factors, this compensation may impact how and where products appear across CardRates.com (including, for example, the order in which they appear). CardRates.com does not include the entire universe of available offers. Editorial opinions expressed on the site are strictly our own and are not provided, endorsed, or approved by advertisers.