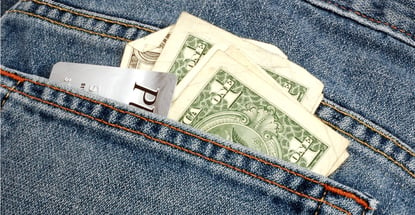 For about 18% of the consumer population, this review of cash back cards for fair credit will hit home. That's because 18% of U.S. cardholders have fair credit, defined as a credit score of between 580 and 669 on the FICO scale.
Fair credit is below-average credit (i.e., the average FICO score is 711, according to the latest Experian data), but it's not so bad as to cut off access to some pretty decent credit cards. Just don't expect these cards to offer all the benefits of those designed for higher credit categories.
We've identified the best of the breed to make it easier to find the card that most closely meets your needs.
Best Overall | More Cards | FAQs
Best Overall Cash Back Card for Fair Credit
The Capital One QuicksilverOne Cash Rewards Credit Card is our selection as the best overall cash back credit card for consumers with fair credit. It features a simple, fixed cash back rate on all purchases and a small annual fee.
Earn unlimited 1.5% cash back on every purchase, every day
No rotating categories or limits to how much you can earn, and cash back doesn't expire for the life of the account. It's that simple
Be automatically considered for a higher credit line in as little as 6 months
Enjoy peace of mind with $0 Fraud Liability so that you won't be responsible for unauthorized charges
Help strengthen your credit for the future with responsible card use
Enjoy up to 6 months of complimentary Uber One membership statement credits through 11/14/2024
You can be preapproved for this card by providing some basic information about yourself, your income, your bank accounts, and your monthly rent/mortgage payment. Preapproval is a good choice for consumers who want to know whether they will qualify for the card without requiring a hard inquiry by the issuer.
Hard inquiries, which you must authorize, allow a creditor or lender to view your credit reports but can damage your credit score.
Although preapproval doesn't guarantee final approval, it improves your chances considerably. To be approved, your monthly income must exceed your monthly housing payments by at least $800, and you can't already have two or more Capital One credit cards. Also, you can't be in the midst of an unresolved bankruptcy or have had a Capital One credit card charged off in the last year.
If you get the card, you'll be able to redeem cash back in the form of a statement credit or a check. You can redeem cash back upon request, set up automatic redemptions at a set time each calendar year, or automatically redeem after reaching a specific threshold that you select. The card also allows you to redeem your cash back to pay for previous purchases, a gift card, and more.
Unlike some of its competitors, this card supports no-fee balance transfers, but those transfers are charged the same moderately high variable APR that applies to purchases.
More Cash Back Cards for Fair Credit to Consider
These six cards for fair-credit consumers all are solid choices. Notice that four of them are student cards, which typically are issued without regard to credit score. The other two cards are from Credit One, and they both offer flat cash-back rewards on all purchases.
2. Credit One Bank® Platinum Visa®
This card is currently not available.
The Credit One Bank® Platinum Visa® is a cash back card with an unlimited flat rewards rate on eligible purchases (mobile phone service, internet service, gas, groceries, and cable and satellite TV services­). However, you may earn bonus cash back rewards on purchases at participating More Program merchants. The card charges a modest annual fee, plus a cash advance fee, foreign transaction fee, and late/returned payment fees.
You can prequalify for the card by providing information about yourself, including your Social Security number and your total monthly income. You have nothing to lose by attempting to prequalify because it won't harm your credit score, but neither will it guarantee final approval.
The card allows you to receive payment reminders, transaction notifications, and fraud alerts via email, push notifications, or text. You can shrink your carbon footprint by specifying you want online access to paperless statements and documents. This card does not offer balance transfers.
3. Bank of America® Customized Cash Rewards Credit Card for Students
This card is currently not available.
The Bank of America® Customized Cash Rewards Credit Card for Students comes from the bank named as best for college students by Money®. This is a tiered rewards credit card that offers both a signup bonus and introductory promotion. The tier structure is somewhat complicated, and elevated rewards are limited, so it may be hard to know what cash back rate you'll be earning on your purchases until you receive your statement.
While the card charges no annual fee, it does charge fees for balance transfers, cash advances, wire transfers from non-financial institutions, foreign transactions, and late/returned payments (for which a penalty APR will also apply). Cash redemptions are flexible and include statement credits as well as deposits to Bank of America, Merrill, and qualifying 529 accounts.
The card can extend your college education to include good credit habits by allowing you to manage your account online or via a mobile banking app. Using these resources lets you stay on top of your financial situation and make payments online. The card works with popular digital wallets to enable in-person and card-not-present transactions.
4. Wells Fargo Cash Back College℠ Card
This card is currently not available.
The Wells Fargo Cash Back College℠ Card offers tiered cash back rewards — sort of. The high rewards rate lasts only six months, is limited to certain merchant categories, and the dollar amount for eligible purchases is capped. All other purchases offer standard cash rewards, and you are not eligible for bonus rewards and promotions if you opened another Wells Fargo credit card in the previous 15 months.
The standard APR for purchases and balance transfers is fairly low, but you can expect a higher APR plus fees for cash advances and optional overdraft protection advances. Fees also apply to balance transfers, foreign currency conversions, and late/returned payments. The minimum grace period for this card is 25 days.
You can redeem your cash back rewards in $25 increments automatically into your Wells Fargo savings account, or in $20 increments via a check or withdrawal from a Wells Fargo ATM (debit or ATM card required). You can also redeem your rewards for gift cards, travel, merchandise, and as a credit toward another Wells Fargo credit product. You can access budget tools online through My Money Map, including spending reports and budget tracking tools.
5. Credit One Bank® Visa® Credit Card with Cash Back Rewards
This card is currently not available.
The Credit One Bank® Visa® Credit Card with Cash Back Rewards offers a flat cash back rate on eligible purchases, including those for groceries, gas, mobile phone service, internet service, and cable and satellite TV services. Cash back is earned in the form of statement credits that reduce your account balance but do not count as payments. You can receive cash back rewards as long as you're not late on your payments.
This card has a minimum grace period of 24 days, which is the interval between the close of the current billing cycle and payment due date. If you don't make the minimum payment within the grace period, you'll be hit with a late payment fee. Others include a cash advance fee, foreign transaction fee, returned payments fee, and possibly an annual fee.
The minimum starting credit limit is $300, although future increases are possible. You can add an authorized user to your account, but the person must be at least 15 years old. You also can purchase optional credit protection that will pay your minimum payment amounts for up to six periods if you become disabled or unemployed.
Earn 1% cash back on all your purchases. Pay on time to boost your cash back to a total of 1.25% for that month
Enjoy peace of mind with $0 Fraud Liability so that you won't be responsible for unauthorized charges
Enjoy no annual fee, foreign transaction fees, or hidden fees
Lock your card in the Capital One Mobile app if it's misplaced, lost or stolen
Earn up to $500 a year by referring friends and family when they're approved for a Capital One credit card
Pick the monthly due date that works best for you
The Journey Student Rewards from Capital One offers some modest perks that can save you money, although it provides no signup or introductory bonuses. This Visa card offers no-fee balance transfers at the same APR as the one used for purchases. The APR is variable and reset quarterly based on the prime rate plus a fixed percentage.
Cash advances and late payments trigger fees. The card has a minimum credit line of $300, but the limit you receive will depend on your perceived ability to pay. You must be at least 18 years old to qualify and have a valid Social Security number. If you're under 21, you can use your own income or regularly deposited income from another person to satisfy the card's income requirements; otherwise, you can use both incomes.
To qualify as a student, you must be enrolled in classes on a full-time basis, and you may have to provide documentation of your enrollment status. When you apply for the card, you may get a decision in as little as one minute or less, and, upon approval, you should receive your card within seven to 10 business days.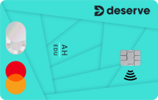 at the issuer'ssecure website
Earn 1% cash back on all purchases + Amazon Prime Student on us for 1 year
Cash back earned is automatically redeemed as a statement credit in $25 increments
Cellphone protection up to $600
Prequalify in just seconds with no impact on your credit score
Collision Damage Waiver through Mastercard
No foreign transaction fees
The Deserve® EDU Mastercard is an unusual student credit card in that it doesn't require a Social Security number, making it a good choice for international students. You can prequalify for the card in seconds with no harm to your credit score. The card offers a flat cash back rate and a few extra benefits.
Note that the card, from Celtic Bank, does not offer balance transfers nor cash advances. Fees apply to late and returned payments, over-the-phone payments, express deliveries, and copies of documents. The interest rate grace period, at 23 days, is a little shorter than those of some competitors.
Cash back is automatically redeemed as a statement credit in $25 increments. You won't earn cash back if your balance is over your credit limit or if your account is delinquent. Your cash back rewards don't expire as long as the account remains open.
Can I Get a Cash Back Card with a Fair Credit Score?
This article is proof that fair-credit cash back cards are waiting for your application. You may be a consumer who has already started to lift your credit score out of the bad credit range, making cards in this review a step up in the credit card hierarchy.
The big difference is that cards geared principally toward consumers with bad credit seldom offer cash back or any other rewards, have higher fees and APRs, and provide few benefits.
Improving Your Score
If your score is below 580, you can take steps to raise it to the fair-score range. The most important step is to pay your bills on time, every time, without fail. A credit card company will routinely alert the credit bureaus when cardholders fall more than 30 days behind on their payments, and delinquencies can remain on your credit history for up to seven years.
If you do happen to miss a payment, make the payment as quickly as you can. In addition, if it's your first late payment on an otherwise clean record, contact the credit card company, explain the oversight, and ask them to remove the negative entry from your credit history. The issuer may oblige you the first time it happens, but don't expect a second reprieve.
Naturally, more serious problems take a larger toll on your credit score. Collections, write-offs, bankruptcies, and foreclosures can send your credit score tumbling into the bad-score range, and these derogatory items remain on your credit reports for seven to 10 years. But that doesn't mean you need to be imprisoned in bad-credit jail for that long.
The interesting thing about negative events is that the damage they cause to your credit score, although immediate and severe, begins to fade after two or three years. The sooner you straighten up and fly right, the sooner you can begin improving your credit score from bad to fair.
Credit Builder Accounts
One proven way to begin rehabilitating your credit score is with a credit builder account from your local bank or credit union. Additionally, companies like Self Lender are commercial sources of credit builder accounts.
Credit builder accounts are designed to showcase your ability to pay your debts on time. The process works as follows:
You sign up for the credit builder loan with your local financial institution. If you don't already belong to one, consider joining a credit union, as they are the leaders in this kind of transaction.
Sign the loan agreement for the approved amount, which is often no more than $1,500.
The lender places the loan proceeds into a locked certificate of deposit (CD) — you cannot access this money.
You pay the loan off in monthly installments that are reported to all three major credit bureaus.
When the loan is fully repaid, the money is released from the escrow account and returned to you.
This procedure fills your credit reports with positive information (as long as you make the payments on time) that can help improve your credit score. Most likely, the credit union will offer you an unsecured credit card (if it hasn't already) when you pay off the loan, and, hopefully, it will be one that is available to consumers with fair credit or better.
What is the Best Cash Back Card for Fair Credit?
We currently consider the Capital One QuicksilverOne Cash Rewards Credit Card to be the top-rated cash rewards credit card for fair credit. We like it because earning rewards is simple, and the annual fee is modest. You can qualify for a higher credit line if you pay your bills on time for at least six months, and you get $0 liability protection, no-fee balance transfers at the transfer APR, and free credit monitoring.
Earn unlimited 1.5% cash back on every purchase, every day
No rotating categories or limits to how much you can earn, and cash back doesn't expire for the life of the account. It's that simple
Be automatically considered for a higher credit line in as little as 6 months
Enjoy peace of mind with $0 Fraud Liability so that you won't be responsible for unauthorized charges
Help strengthen your credit for the future with responsible card use
Enjoy up to 6 months of complimentary Uber One membership statement credits through 11/14/2024
If you are a student, we recommend the Bank of America® Customized Cash Rewards Credit Card for Students. It pays cash back on all your purchases and charges no annual fee or foreign transaction fees. It has a low variable APR and an introductory APR of , which isn't a very common feature for student cards.
Bank of America® Customized Cash Rewards Credit Card for Students
This card is currently not available.
As a general warning, consumers with fair credit should be careful when shopping for a credit card. You'll find several cards marketed to scores that are fair or bad, but these cards are often loaded with fees. They may also charge high interest rates, offer a minimal credit limit, and not provide any rewards.
How Do I Earn and Redeem Cash Back Rewards?
Cash back is a cash reward you earn by making purchases with your credit card. Most credit cards offer purchase rewards of cash back, points, or miles. Each card has its own scheme for earning and redeeming cash back rewards, but there a few universal commonalities:
You earn cash back on purchases only, not on balance transfers or cash advances.
Usually, your cash back rewards never expire as long as the credit card account remains open.
You may not receive cash back if your account balance is over the credit limit or past due.
Cards use three different schemes (flat rate, tiered, and rotating) to calculate your cash back earnings.
Cards may offer multiple ways to redeem cash back rewards. In some cases, you may be able to exchange cash back for miles or points.
Some cards offer special shopping deals when you want to redeem cash back.
Cards may allow cash back redemptions in any amount or may require a minimum redemption amount.
You may lose any pending cash back rewards when you close your account.
Many cash back cards offer signup bonuses that pay you a set amount of cash when you spend a specified amount on purchases during an initial period (typically three months) after opening the account.
While this may seem like a lot of fine print, most cards make earning and redeeming rewards fairly straightforward.
Earning Cash Back
The three cash back reward schemes in current use work this way:
Flat rate: This is the simplest way to earn cash back because you earn it as a set percentage of your purchases. The percentage is usually in the 1% to 2% range, and there is normally no limit on the dollar amount or types of purchases that qualify for the reward. In some cases, the credit card may break up the reward into separate amounts for purchases and payments. Or, the credit card may pay you a higher flat rate when you pay your bill on time.
Tiered: In this scheme, the card offers two or more different cash back percentages (or tiers) on purchases, depending on the merchant type. For example, a card may offer 3% cash back on up to $1,500 per quarter on grocery store purchases, and unlimited 1% cash back on all other purchases. Cards may use several different tiers as part of this scheme. The card issuer uses a standard table of merchant types to specify which ones are eligible for each tier, and more than one type may belong to the same tier. For example, a credit card may offer 5% cash back on purchases at restaurants, gas stations, and cable companies, 3% for travel-related purchases, and 1% on all other purchases. The card may cap the purchase amount eligible for each elevated tier or perhaps on the combined purchases of those tiers.
Rotating: This is the most complex of the three schemes. It involves a set of merchant types that each enjoys three months of the year to earn an elevated cash back rate. For example, a credit card may specify high rewards for travel purchases made in the year's first quarter, grocery purchases in the second quarter, etc. You must activate the new categories each quarter to earn the high reward rate. Normally, the purchase amount eligible in each quarter for the high rate is capped at a set amount (frequently $1,500). All purchases that don't qualify for the high rate will earn an unlimited flat cash back rate, usually 1%.
Some credit cards use inventive variations on cash back. All Discover cash back cards offer Cashback Match to new cardholders for the first year after opening the account. After the end of Year 1, Discover will send you a one-time bonus that is equal to all the cash back rewards you earned in the first year.
The Citi® Double Cash Card pays cash back when you make a purchase and again when you pay your bill.
The Credit One cards let you earn extra cash back rewards when you purchase items through its More Program. The Wells Fargo card offers a similar benefit through its Go Far Rewards program.
Redeeming Cash Back
Most cash back cards let you redeem your cash back rewards as a statement credit, a check, and/or a direct deposit to one of your other financial accounts. Some cards also let you redeem your cash back for a gift card or purchases from designated merchants.
You may be able to set up automatic redemptions on a calendar or an amount basis, or just let the money sit in the account until you claim it. Most cards let you redeem cash back in any amount, others enforce minimum redemption amounts.
In some cases, you can increase the value of your cash back rewards when you redeem them. For example, you may be familiar with the higher reward value of Chase Ultimate Rewards points earned with its Sapphire and business cards when redeemed for travel via Chase Ultimate Rewards. You may think, well, that's fine if you have a points card, but that doesn't help me with my Chase cash back cards.
Au contraire, mon frère! A little-known codicil in the Chase fine print explains how you can convert your cash back credit card rewards from a non-point card (like the Chase Freedom cards) into Chase Ultimate points if you also own one of Chase's points rewards cards. Those points are worth either 1.25X or 1.50X their normal value when redeemed for travel at the Chase website.
Unless you are using a credit card that allows you to convert cash back to miles or points, there's really no good reason to let your cash back accumulate, since it won't earn any interest lying around in your card account. If you want to save it up, transfer your cash back to an FDIC-insured savings account where it will earn some interest, however puny the rate of return.
What is the Easiest Credit Card to Get with Fair Credit?
Among the cards in this review, student credit cards are the easiest to obtain, if you happen to be a full-time student. Secured cards, although not reviewed here, are the easiest card for the general public to get.
Student Credit Cards
Student credit cards do not assume you have a good (or any) credit score, meaning that issuers are willing to take a leap of faith that college students will be financially responsible. There are a couple of reasons for this.
The first is that the credit card companies take your full-time enrollment in college as a strong sign of your determination to build a successful career, an endeavor that requires personal responsibility.
Of course, this assumption is sometimes wrong. Nonetheless, the sharp minds at the credit card companies that are responsible for quantifying risk are able to set reasonable parameters that mitigate against overall losses. For example, the credit limits on these student cards are usually quite modest.
The second reason the card companies are so willing to issue student credit cards is that they want to build brand loyalty. It is their hope that if you start your college life with their student credit card, you'll be more likely to step up to one of their other cards after you graduate. That's an important achievement for card issuers because survey results indicate that the least brand-loyal age group is between 18 and 29 years old.
We at CardRates.com aren't necessarily big fans of brand loyalty if it means you end up with an inferior card. Whatever your age, your best bet is to compare the cards available to you and select the one that best matches your lifestyle.
Nonetheless, card issuers seem more than willing to take a chance that college students will remain loyal to their card brand, perhaps because new graduates may have more important decisions on their minds.
Secured Credit Cards
The only obstacle to getting a secured card is your ability to deposit cash collateral into a locked account maintained by the issuer. Generally, the amount you deposit determines your credit limit. The money secures the card if you breach the credit limit or miss a payment.
Your credit history is, therefore, of little importance when you apply for a secured card. Issuers understand you only apply for one of these cards if you have a bad score or a thin credit file. Short of a conviction for financial fraud, you should be able to get a secured card no matter your credit history, even if you experienced bankruptcies or foreclosures.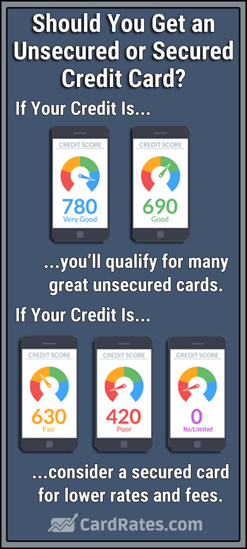 Most secured cards require a minimum deposit of $200, which gives you a $200 credit limit. One exception is the Capital One Platinum Secured Credit Card, where you may be able to get a $200 limit on a security deposit as low as $49. Security deposits are refunded when you close the account with a $0 balance, or when the issuer upgrades you to an unsecured card.
Some secured cards, such as the Bank of America® Customized Cash Rewards Secured Credit Card, require a minimum deposit of $300; others, like the Wells Fargo Business Secured Credit Card, others require $500. At $4,900, the maximum deposit allowed by Bank of America for its secured cards is the highest among our reviewed secured cards.
If the issuer must dip into your security deposit, it may reduce your credit limit accordingly or let you replenish the account to keep your current limit. However, if you miss multiple payments, the issuer may cancel your account.
If you pay your bill on time and stay within your credit limit, the issuer may allow you to increase your credit limit, with or without additional deposits to your account.
The issuers of secured cards will usually report your payments to each credit bureau, allowing you to build or rebuild your credit score. Always pay on time and try to keep your balance relatively low. Your goal is to have a credit utilization ratio (i.e., total credit card balances divided by your total credit available) below 30%.
After about six months, the issuer may reassess your account and raise your credit limit without requiring an additional deposit, making the account semi-secured. Eventually, your score should improve and the issuer may offer you an unsecured card, but if not, you can always apply for a new, unsecured card and close the secured account.
Normally, you are better off keeping old accounts open, but the refund of your deposit is more important.
Can I Get a Credit Card with a 650 Credit Score?
The range of fair FICO credit scores is 580 to 669, so a 650 score should present no problem when applying for any card catering to consumers with fair credit. All seven of the cards in this review are obtainable with a 650 score, as are credit cards geared to folks with bad credit.
As discussed above, secured credit cards are the easiest to obtain no matter what your credit score. Many of these cards do not even pull your credit report, although some may require a minimum monthly income to qualify.
Using Experian Boost
A score of 650 means you're only 20 points from a good score. We discuss below how to use credit cards to improve your score, but you may be able to simply gain 20 points by enrolling in Experian Boost, a service that connects your utility bills and other accounts to your credit report.
By paying those bills on time, you can increase your credit score by 19 points, on average, if you have fewer than five accounts.
Fixing Your Credit Reports
Savvy consumers know that many credit cards designed for good credit will consider applicants with fair scores rather than rejecting them outright. Much depends on your credit history, including the nature and age of your financial faux pas. This is why it's imperative that you clean up your credit reports before applying for a new credit card.
Mistakes and unverifiable data on a credit report can shave dozens of points off your score, so it's in your interest to remove them as quickly as possible. If you want to do the cleanup yourself, start by ordering your three credit reports from AnnualCreditReport.com, the only source for free credit reports authorized by federal law. You then need to comb through each report to identify and dispute erroneous information.
One of the most common items to challenge is hard inquiries that you did not authorize. As explained earlier, hard inquiries can lower your score by as many as five to 10 points each. Only you can authorize a hard inquiry, which usually is necessary when applying for a new credit card or loan.
If your report lists hard inquiries you didn't authorize, you can have them removed by filing a dispute (online or in writing) with the credit bureaus. Other items to dispute include transactions you don't recognize, events that didn't occur (like write-offs, collections, or bankruptcies), and accounts you didn't open.
A credit bureau is legally bound to accept or reject your dispute within 30 days. Typically, the bureaus exchange information with the merchants involved in a dispute. If you win the dispute, the bureau will remove the dubious item from your report, and you should see a quick improvement in your score.
If the bureau rejects your dispute, you can resubmit it with additional documentation. Ultimately, you can append a short note to any remaining negative items explaining your side of the story. While the note won't repair the score damage, it may help sway the thinking of a prospective lender/creditor.
If you are too busy or otherwise uninterested in the DIY approach, consider hiring a credit repair company to do the work for you. For a monthly fee, the company will dispute questionable items on your behalf. Typically, you subscribe for about six months, although you can cancel at any time.
Credit repair companies may offer several different service levels with monthly costs typically in the $50 to $150 range. In return, they will submit a specified number of challenges each month. These companies are experts at how the whole system works and may be able to sustain challenges that aren't obvious to the average DIY consumer.
Can I Perform a Balance Transfer on a Credit Card for Fair Credit?
Many fair-credit cards support balance transfers, some do not. However, you are unlikely to find any cards in this category offering a 0% introductory APR for balance transfers. Fees and/or a special APR may apply to regular balance transfers.
The reason to transfer balances is to consolidate your credit card debt and/or to pay a lower APR. Consolidating credit card balances eliminates the need for multiple monthly minimum payments and, therefore, the danger of forgetting to make one. You have only one credit card payment to make each month, and you can apply all those minimum payments to help pay down your balance.
It's unusual to consolidate balances onto a card that doesn't offer a 0% introductory APR for transfers. The minimum legal period for this offer is six months, although cards routinely offer 12-to-18-month promotions. Since cards for fair credit seldom offer this promotion, they aren't your best bet for credit card consolidation.
However, consider the case in which you've just improved your credit score from bad to fair. Your old credit card charges a 35.99% APR and you frequently carry a balance for several months at a time. By getting a lower-APR card (say, 24.99%) that supports balance transfers, you can save multiple percentage points of interest on your unpaid balances.
Our top pick among cards for fair credit is the Capital One QuicksilverOne Cash Rewards Credit Card. This card supports balance transfers but doesn't offer a 0% introductory APR promotion. Nonetheless, the card's regular APR may be less than what you are currently paying, and you can transfer to this card without coughing up a fee.
The trick to successfully paying down transferred balances is not to use any of your credit cards until you've finished the paydown. If you begin racking up new balances too soon, you could end up in worse condition than before. During the paydown period, consider switching to a debit or prepaid card for your purchases — you can go back to using your credit card when your old balance is gone.
In the final analysis, you should strive to pay your entire balance each month. This requires that you live within your means. If you need help with that, consider contacting the National Foundation for Credit Counseling for assistance.
Are Cash Back Credit Cards Worth It?
Do you like free cash? If so, get a no-annual-fee cash back credit card and pay the full balance each month. By not carrying a balance over multiple months, you effectively reduce the card's interest rate to 0%. So, what's not to like?
Here's the rub: Some desirable cards do charge an annual fee, and some consumers simply can't afford to pay their full balances each month. A card may still be worth owning even under those circumstances, but not necessarily.
Even if you have fair credit, you have access to a wide selection of cards that have either no annual fee or a modest one — under $50 per year. However, unless you are a student or choose to own a secured credit card, the APR on cards for fair credit will usually exceed 20%.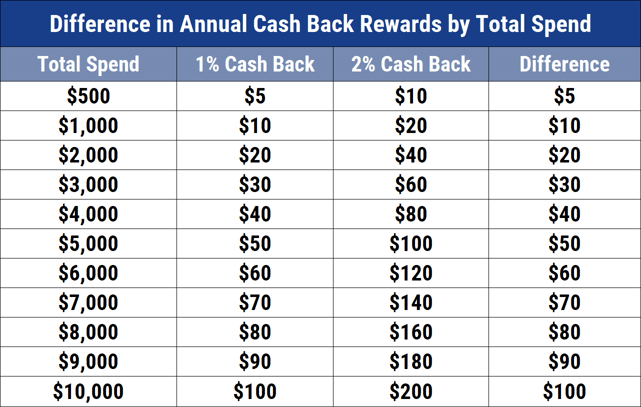 Here's an example that brings home the possible downside. Suppose you own a credit card that pays 1.5% cash back on all purchases and charges a 25.99% APR. You make a $1,000 purchase and pay back $40 per month.
Run this example through a credit card interest calculator and you'll discover that it will take 37 months to repay the $1,000 plus you'll have to shell out $455.65 in interest. Subtract your $15 cash back and your total cost for the purchase is $1440.65.
You've paid interest greater than 44% on your purchase, definitely not a good way to spend your money. Granted that even though this example is somewhat stark, it's not unrealistic. For example, imagine a person on a very tight budget that had to replace a refrigerator costing $1,000 — it may indeed take 37 months to pay it off.
This example shows why you'd like to boost your credit score into the good range. By doing so, you'd be able to get a card with a 0% introductory APR and a signup bonus. Let's redo the example on this basis.
Suppose the card for good credit will pay you a $300 signup bonus when you spend $1,000 in the first three months. The 0% introductory APR runs for 18 months, after which the normal APR of 19.99% kicks in. Here is a summary of the cost calculation:
Original cost: $1,000 due
Less signup bonus of $300: $700 due
Less cash back of $15: $685 due
You would completely pay off the purchase by paying the same $40 per month for 17 months and $5 on the 18th month, all interest-free. So, just by moving up to a better credit card, you turn a terrible deal for a $1,000 appliance (total cost of $1440.65) into a great deal (cost of $685).
The point of these examples is that there is no simple answer to whether a cash back credit card is worth it — it depends on your unique circumstances. What is clear is that improving your credit score can pay big dividends, and that using your credit cards sensibly can save you hundreds of dollars.
Is it Better to Get Cash Back or Points?
If you are a frequent flyer, you may prefer points (or miles) to cash back, because the points you earn may be worth more than cash back when redeemed for travel expenses. On the other hand, if you don't travel much, cash back makes a lot of sense, since you can use it to save money on everyday items like groceries and gas.
Credit cards do let you convert points to cash, so you can consider a points card as a pseudo-cash back card. That flexibility may come at a price, however. For instance, the Chase Sapphire Preferred® Card pays credit card rewards in points that are worth 1.25X more when redeemed for travel via the Chase Ultimate Reward website.
If you were to convert 60,000 Chase Ultimate Reward points to cash, you would pocket $600. However, applying those points to an airplane ticket would be worth $750.
The truth is that points cards are usually geared to travelers and, therefore, offer many benefits that you may not get with a cash back card. These may include elevated rewards for travel, hotel stays, and dining out, plus trip and baggage insurance, car rental insurance, and other travel-related perks. On the downside, many points cards charge an annual fee — sometimes a substantial one.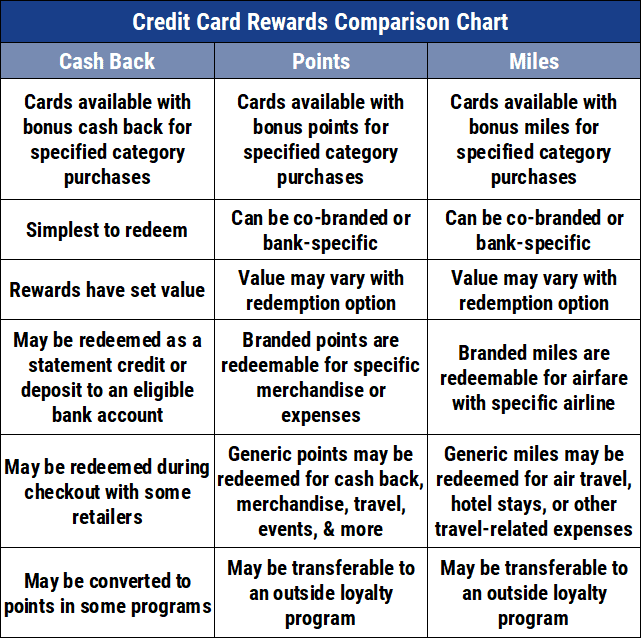 Cash back cards that offer a flat reward rate, such as 1.5%, are the most versatile because you accumulate more cash on each purchase compared to the case of a 1% default rate on non-favored merchant categories for tiered and rotating cards. Alternatively, you can select a cash back card that offers bonus rewards for one or more merchant categories that loom large in your monthly budget (e.g., groceries, gasoline, office supplies, etc.).
A default cash back rate of 1% is virtually universal on tiered and rotating cash back cards. The default rate applies to purchases not eligible for the higher rates paid on the favored tiered or rotating merchant categories.
Sometimes, the default rate applies simply because your purchase is not from a favored merchant category, but sometimes it also applies if you've exceeded a cap on eligible purchases. Or, in the case of rotating categories, you forgot to activate the quarter's selected merchant type.
Normally, travel cards that offer points rewards allow you to use those points to buy tickets on any airline. Cards that offer miles instead of points are often co-branded with a single airline or airline group. Whether points or miles, the value of these rewards depends on how many are needed to purchase a ticket on a particular airline.
Surveys have shown the disparity in the value of points and miles when used to pay for an airline ticket. For example, at one point, you could get a free business class ticket between Los Angeles and New York on Air Canada for as little as 15,000 miles, whereas a similar ticket on Southwest would set you back 73,000 miles.
Point values are a guessing game — at least with cash back, you know each dollar is worth, well, a dollar.
If you do want to get a points card, you may be interested in knowing whether you can transfer the points to frequent flyer programs, and if so, which ones and at what rate. Some cards let you convert your points to frequent flyer miles on a 1:1 basis, but the range of eligible airlines may be limited.
Note that travel cards (i.e., those with points or miles rewards) are rarely offered in the fair-credit category, where cash back cards are the standard. If you want a points card, follow the suggestions in the next section to help push your score into the good range.
How Can I Improve My Credit Score with a Credit Card?
Your credit card can be a tool of great value when used constructively to improve your credit score. This is only possible when the card reports your card transactions to at least one, and preferably all three, of the major credit bureaus (Experian, TransUnion, and Equifax).
The credit bureaus use the information they receive to calculate credit scores, so it's important for credit card owners to understand how the calculations work so they can effectively improve their scores.
The FICO Scoring System
The FICO scoring system awards a score ranging from 300 (worst) to 850 (best) and is comprised of five major factors:

1. Payment History (35% of total score)
This is the most important component of your credit score. Card issuers inform the credit bureaus when payments are 30 or more days late. You can improve your score and avoid late fees/penalty APRs by paying your bills on time, and certainly within the 30-day window.
Late payments can shave dozens of points off your score. The damage is even worse when your credit history contains derogatory items, including account write-offs, collections, account settlements, bankruptcies, foreclosures, and court judgments, among others. Negative information can remain on your credit reports for up to 10 years, although most of the damage to your score occurs in the first two or three years.
If you inadvertently forget to make a payment and it shows up on your credit report, try contacting the card issuer and asking it to remove the missed payment from your credit history. If it's your first mistake in an otherwise clean history, the creditor may be willing to oblige, but don't expect any help if you're a repeat offender.
If your account goes into collection, "pay for delete" may be an available option to remove the collection from your credit report. The process involves a collection agency agreeing to eliminate mention of a collection if you agree to repay the full amount due. Not all collection agencies will play ball, but if your case involves a willing agency, make sure you get the quid pro quo in writing.
2. Amounts Owed (30%)
Creditors are happier when you keep your debt relatively low. The credit utilization ratio (i.e., total credit balances divided by your total available credit) is a measure of credit card indebtedness, and values greater than 30% can hurt your score.
You can help improve your score by lowering the amount you owe on your credit cards to 10% to 20% of your credit limits.
We discussed earlier how to use balance transfers to consolidate your card balances onto a single card. This is a good tool for paying down your card debt but only to the extent that you refrain from using your cards for new purchases until the paydown is complete.
If possible, get a credit card that offers a 0% introductory APR for balance transfers with a promotion period of 15 to 18 months — this will save on your interest expenses, although a 3% to 5% fee may apply for each transfer.
3. Length of Credit History (15%)
Creditors like when you have old yet active credit card accounts. They look at the age of each account as well as the average age of all accounts. Creditors figure you are more likely to show financial responsibility if you've been able to successfully maintain an account for several years.
In terms of improving your credit score, the best advice is to keep old card accounts open and to use each of them at least once a year. Closing old accounts will not help and may hurt your score. But it's also important to occasionally use each of your cards, lest the bureaus consider them dormant and ding your score.
4. New Credit (10%)
Creditors get nervous when they see you frequently applying for credit within a short period because it may indicate that you are in financial distress. They get wind of this potential problem by the number of recent hard inquiries listed on your credit reports.
As described earlier, only you can authorize hard inquiries, which creditors usually require when you apply for new credit. Don't worry about soft inquiries — they won't affect your credit score. If you'd like a shiny new credit card, wait at least six months from your last card application before applying for the new one.
Also, follow the procedures outlined above to challenge and remove unauthorized hard inquiries from your credit reports, either through your own efforts or with the help of a trustworthy credit repair company.
5. Credit Mix (10%)
This is a minor factor that rewards you for being able to manage a variety of credit accounts and loan types. In terms of using credit cards to improve your score, make sure you own at least one card and use it occasionally for purchases. The card will complement your student loan, personal loan, mortgage, and other forms of debt.
There are a couple more credit card tricks you can use to improve your credit score. The first is to apply with a cosigner for a new card. This will increase your chances of getting approved for a good card and afford you the opportunity to build your credit score through on-time payments.
You can also attempt to become an authorized user of someone else's credit card. By doing so, you get to use the card and will benefit from timely payments each month. Whenever you enter into a joint account, make sure you fulfill your payment responsibilities so you don't screw up your personal relationships.
How We Rank the Best Cash Back Cards for Fair Credit
The cards for fair credit reviewed in this article offer only limited benefits compared with cards for good or excellent credit. Therefore, we must give more weight to other features when ranking the cards. The first thing we look for is whether the card and the issuing bank behind it have a good reputation for honest dealings and fair treatment.
Cardholder reviews are important when assessing how well issuers treat their customers. Reports of poor customer relations or unexpected charges definitely catch our attention. We scour the popular forums for all the commentary we can find about a card under review.
We prefer cards that keep their fees low and don't nickel-and-dime you with nuisance fees. We also favor cards that offer lower APRs and preferably avoid penalty APRs for late payments.
In terms of rewards, more is better. We don't prefer any particular cash back scheme (flat, tiered, or rotating), as long as it is more generous than the ones offered by competitors. We favor unlimited rewards, but if the rewards are capped, the limits shouldn't be too low.
Cards that offer signup bonuses and/or 0% introductory APR promotions will usually rank higher, and the more generous the better. However, we also like cards that eschew these benefits in favor of a lower everyday APR and a $0 annual fee. Other features we take into account include balance transfer promotions, credit limits, flexible due dates, and more.
Finally, we look at how the card protects you. We want to see $0 liability protection, fraud alerts, transaction reporting, purchase and travel insurance, and free access to your credit score. A good mobile app for managing your card is a plus, as are any other services that make the card more secure and convenient to use.
Advertiser Disclosure
CardRates.com is a free online resource that offers valuable content and comparison services to users. To keep this resource 100% free, we receive compensation for referrals for many of the offers listed on the site. Along with key review factors, this compensation may impact how and where products appear across CardRates.com (including, for example, the order in which they appear). CardRates.com does not include the entire universe of available offers. Editorial opinions expressed on the site are strictly our own and are not provided, endorsed, or approved by advertisers.