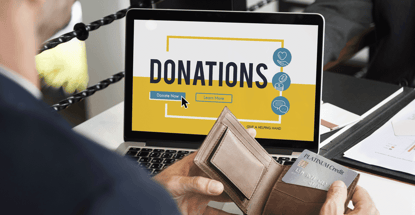 Credit cards may not seem like an obvious tool for social action. But in fact, credit cards provide multiple opportunities to make a difference and support causes you care about every day.
Whether your aims are social, political, or charitable, here are five ways to use your credit cards to promote a cause.
1. Donate Your Cash Back or Card Rewards
One way to support a cause with your credit card is to donate your cash back, miles, points, or other rewards to an organization that aligns with that cause.
If you donate cash back rewards, the organization usually will receive the full value, minus a small processing fee. If you donate points or miles, the organization may receive your rewards in the same form and be able to use them for the same goods or services you could have chosen, or the organization may receive the cash value of your rewards instead of the actual rewards. Either way, a processing fee may be charged.
If you have questions about how donations are credited, contact the organization and ask for details.
To donate your cash back or other rewards, you'll typically have to log in to your card account or the portal you'd use to claim or redeem your rewards. Once you're in the right place, you'll need to choose a recipient, specify how much you want to donate, and authorize the transaction.
Donations usually occur immediately and typically aren't reversible, so be sure you want to proceed before you complete the process.
The more cash back or other rewards you earn with your cards, the more you can donate to organizations you want to support. With that in mind, here are ways you can maximize your rewards:
Use your cards as often as you can.
Use your cards for high dollar-value purchases like furniture or a car.
Use your cards to make automated payments for recurring bill payments.
Use your cards to buy gift cards for yourself or other people.
Activate high rewards-value categories if your cards offer that option.
Use your cards for group outings, and have your friends, family or coworkers reimburse you.
Apply for new cards that fit your needs so you'll be motivated to use them more.
Apply for new cards that offer a signup bonus.
Apply for new cards that offer more generous rewards.
If you own a business, apply for a business card and use it for business expenses.
Donations aren't tax-deductible — even if you donate them to a nonprofit or charitable organization — because cash back and other card rewards are considered discounts. You'd have to cash out your rewards and donate the cash instead of the rewards to claim a tax deduction.
2. Buy from Companies with Values You Admire
Many large, mid-sized, and small businesses have identified corporate values that they've written down as mission statements or other proclamations of purpose. Examples of these values include integrity, accountability, respect, responsibility, collaboration, honesty, humility, "do the right thing," and the list goes on.
Societal values aren't part of every company's mix, but some companies aspire to such high ideals as stewardship, diversity, economic justice, and sustainability.
Whenever you shop online with your cards or make purchases at retail locations, you can do your part by choosing to support businesses whose values match your own. To find them, you can research mission statements online or look for certifications like B-Corporation, which identifies businesses that seek to balance profit and purpose.
3. Make Donations to Organizations You Support
Charitable, political, and social organizations rely on donations to pay for mission-critical programming and operating expenses. When you want to support a specific organization, you can give cash or send a paper check in the U.S. Mail, but many organizations also accept and may even prefer credit card donations.
When you use a credit card to make a donation, the organization typically pays a processing fee, which reduces the net amount of your donation, but may be comparable to or lower than the cost of handling cash or paper checks or accepting donations through other channels.
Card donations are also easier for you to make, and the organization may receive your donation sooner than it would if you mailed a check or money order. Many organizations not only accept card donations but also offer the ability to make a card donation online through their website.
If you want to make a donation to an organization that doesn't have an online option, contact the group and ask whether you can make a card donation by phone. Some organizations may accept card donations but not publicize that option online.
If you have a rewards card, you may earn some cash back, travel miles, points, or other perks for yourself when you use your card to make a donation.
4. Use Affinity Cards
Many nonprofit organizations sponsor affinity cards. A short list of examples would include college alumni groups, service clubs, and organizations involved in environmental protection, animal rights, medical research, and more.
When you make a purchase with an affinity card, the affiliated organization receives a small percentage of your transaction amount as a donation. Though the percentages tend to be just pennies on the dollar, these small sums can add up to millions for organizations that sponsor affinity cards. Using these cards also allows you to express your loyalty to the organization.
Affinity cards are sometimes called "charity cards." By either name, they work the same way.
When you shop for a new affinity card, you should consider more than just the cause you want to support. Read the promotional information and disclosures, and make sure you feel comfortable with the card's rates, fees, terms, and benefits before you apply. A card that supports a cause you like may be a great card for you — or it may not be appropriate for you at all.
If you apply for and are declined a card you want, you may need to improve your credit score. Two ways to do that are to pay your bills on time and manage your card utilization. Another option may be to shop for a card that's a better fit for you.
5. Buy from Companies that Donate to Organizations
Some companies donate a percentage of their sales or profits to nonprofit organizations. Using your cards to make purchases from those companies indirectly supports their donations program.
In some cases, you can target your support to a specific organization. The AmazonSmile Foundation, for example, donates 0.5% of your eligible purchases to a charity of your choice if you shop through AmazonSmile.
The company says its customers can choose from more than 1 million eligible charities.
How to Do More
If you're personally involved with an organization that doesn't take advantage of these fundraising opportunities, why not step up and volunteer to help the group write a mission statement, accept card donations online and by phone, accept donations of cash back or card rewards, or sponsor an affinity card? You could be the catalyst that helps your organization find a new way to boost its fundraising and do more to support its mission and achieve its goals.
Advertiser Disclosure
CardRates.com is a free online resource that offers valuable content and comparison services to users. To keep this resource 100% free, we receive compensation for referrals for many of the offers listed on the site. Along with key review factors, this compensation may impact how and where products appear across CardRates.com (including, for example, the order in which they appear). CardRates.com does not include the entire universe of available offers. Editorial opinions expressed on the site are strictly our own and are not provided, endorsed, or approved by advertisers.