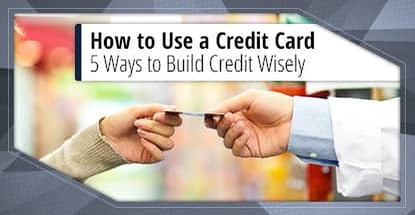 Many consumers assume they know how to use a credit card (swipe and go, right?) — and while they may know the basics — diving deeper to learn more about rewards, strategies, and card varieties is certainly worth the time.
Credit cards are the most popular way to shop online and in-store, and it's no wonder why. With the ability to securely shop at almost every location nationwide, plastic is quickly replacing cash and checks as a method of payment. While some stores have restrictions on the brand of card accepted, most are open to taking Visa, MasterCard, Discover, and American Express.
Many stores are moving to the chip-and-PIN technology needed to process those fancy cards with the little square on the front (chip cards.) These cards are inserted into a slot at the bottom of a card reader, instead of being swiped as we've been used to doing for the past decade or so, and are more secure than the magnetic strip cards of years past. Most cards have additional protections in place, outside of the retailer, to keep your information safe and your purchases legitimate. These same features are what keep your finances safe when buying online.
So, how do you know which card is right for you? And how can you get maximum benefits from your choice? Wise credit card use is key, so we've put together these tips to help. We'll cover how to find the right card for your credit score, how to use credit cards responsibly, how to take advantage of rewards and other perks, and how to avoid those interest charges that can add up so quickly.
1. Get a Card for Your Credit Type
In a perfect world, everyone would qualify for the lowest interest rates and best perks a credit card has to offer. In real life, however, banks understand that not everyone has the same degree of risk, and that's why they've developed card offers that are specific to an applicant's creditworthiness and financial needs.
What is good for one person may be a terrible option for another. Pick the tier that best represents your credit profile below, then work to move up in rank for bigger and better card options!
Good Credit | Fair Credit | Bad Credit | Student Cards
Cards for Good Credit (700+ FICO Score)
If you've reached a FICO score at this level, you are considered a good credit risk and have the option to apply for some of these top-notch card offers. The following cards are designed to reward good financial decisions and provide cardholders with flexibility and competitive features.
+See More Cards for Good Credit
Cards for Fair Credit (650+ FICO Score)
Perhaps you've made a few credit mistakes but are well on your way to a brighter financial future. You are considered to have fair credit and can still take advantage of a number of cards with more lenient application requirements. These cards are popular for those who are working hard to get closer to a credit score nearer the national average (695, for the year 2017.)
+See More Cards for Fair Credit
Cards for Bad Credit (<650 FICO Score)
If you are starting out with a new credit profile or have some mistakes that you are determined to move past, you're in luck, because many banks understand that rebuilding credit takes time. These credit cards are designed for anyone who still has to pay off bad debts or needs to re-establish credit after a bankruptcy or settlement. This list proves that a lower score doesn't mean you are out of the running for a reliable card account.
Matt Schulz of CreditCards.com shares that an unsecured card may also be an option for those with poor credit. "It works just like a regular credit card but keeps the risk to a minimum for everyone involved. Put $200 to get the card, put a few small purchases on it each month and then pay the balance in full. Do that repeatedly and before you know it, you'll be ready to graduate to another card with better terms and better rewards."
+See More Cards for Bad Credit
Cards for Students
College students have unique borrowing needs. They may not have had any blemishes on their credit histories, but they also haven't had enough history to appear reliable to lending institutions. While students work hard to build credit under their own names, these cards can offer many of the same protections and perks as those offered to more established consumers.
2. Use the Card Responsibly to Build Credit
While time generally heals all wounds (and will eventually move a bad mark off your credit history), a more effective way to build credit is to handle your debt responsibly. There are many ways to prove that you are a good credit risk and to push your FICO Score in the right direction:
Pay in advance of your due date; if possible, pay your bill in full every month.
Be aware of your credit limit, never charge more than you have available.
Watch your transaction history carefully; report suspicious activity right away.
Never lend out your card or card number to someone else.
If you have questions regarding your account, contact your card company.
Many credit problems occur when cardholders can't afford to pay their minimums each month. Understand how much you'll owe, and make every effort to meet the monthly requirement. If circumstances prevent you from making the minimum, contact your card company before your bill is due to let them know and possibly work out alternate payment arrangements. Multiple late payments will result in bad marks on your credit report, higher interest rates, and penalty fees.
3. Earn Rewards & Bonuses Through Qualifying Purchases
If you ask cardholders what they love most about their favorite card, they will probably reply with the "perks." In fact, personal finance author Donna Freedman uses her rewards credit cards for everyday stuff like groceries, utilities, and medical co-pays. When she has earned enough points, she redeems them for gift cards that will later pay for her holiday and birthday shopping. Being wise with rewards cards helps free up money in her budget by taking care of 90% of the gifts she purchases each year!
The most common types of rewards and bonuses include:
Cash back: This is awarded as a percentage of qualifying purchases (1-5%, for example.) It is paid out at the end of the promotional period, quarterly, or when a certain threshold has been reached as either cash, check, or a statement credit. Some promotions or purchase types will pay more than the standard rate. Always sign up for bonus cash back offers your card may advertise throughout the year.
Airline miles:  This type of reward currency can be used for flights, upgrades, hotels, rental cars, and more. Miles don't have to be earned only through official airline cards, however. Many travel-friendly cards will give out generic "miles" that can then be transferred to the frequent flier program of your choice. Some will even allow you to "erase" past travel purchases by simply crediting your statement when you've earned a certain number of reward miles.
Points and gifts: Some cards use their own currency to hand out rewards. These can be done as a point system (which can be redeemed for a variety of merchandise awards, gift cards, or cash). Another option is a store credit card, which works with just one retailer or vendor to offer gift cards or credit to that company alone. They are most beneficial to customers who are fiercely brand loyal and want a card that rewards this fact.
Gas rewards: These types of rewards are self-explanatory. Earn rewards on your gas purchases, sometimes saving the most when you churn those reward points back into gas gift cards or credit at the pump.
Of course, your rewards can go further when you use signup bonuses to jump-start your earnings. Many cards will offer new applicants a large gift of points or gift cards to sweeten the deal. These are good opportunities to cash in with a card you wanted to sign up for anyway!
Remember, cards usually only award points, rewards, miles, or other perks for qualifying purchases. While this definition will vary from card to card, the general rule is that you only earn on purchases as defined by the terms of the promotional offer. Balance transfers and cash advances almost never count, and many qualifying purchases may be limited by the retailer, date processed, or the cardholder on the account. It's wise to read your credit card documentation or contact a card rep if you are unsure whether a purchase qualifies for a special offer or reward perk.
4. Avoid Interest Charges by Paying Your Balance Off
Cards are a fantastic tool if used properly. They can help you build wealth and give you flexible ways to pay for purchases. But what happens if you don't pay for all your shopping before your statement hits the mail?
To be certain you don't pay more than the original price of your purchase, know your grace period. This is the number of days you have from the time you charge something until you start paying interest. Make sure your purchases are paid for in full before this time runs out!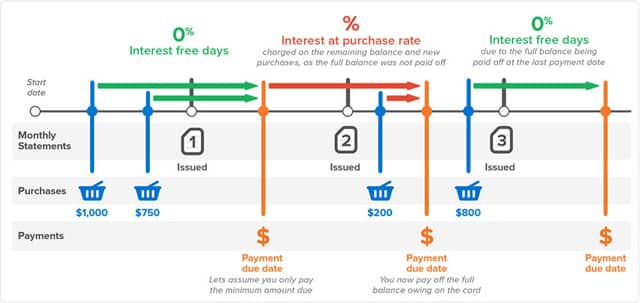 You'll also want to be familiar with your interest rate, often called "APR." This APR (annual percentage rate) is the amount of interest your credit card company will charge you – each year — for not paying your balance in full. This interest starts accruing the day your grace period ends.
Skip this drama entirely by paying your credit card bill in full each month. Bobby Lee of 2-Minute Finance advises beginner cardholders to reserve a card for large purchases only (say, $50 and up.) "At the end of the week, set aside money from your checking account to cover those purchases," Bobby recommends.
These weekly "set-asides" will ensure that you're not spending more than you have available to pay. In addition, the higher purchase amount threshold makes you pause and think before spending money. Never paying interest requires you to never fall into the trap of carrying a balance from month to month.
5. Enjoy the Perks & Protections of Owning a Credit Card
In addition to rewards, such as cash and travel miles, there are other card benefits that you would be wise to take advantage of. These include certain purchase protections and the ability to access a line of credit for unexpected large buys or emergency situations.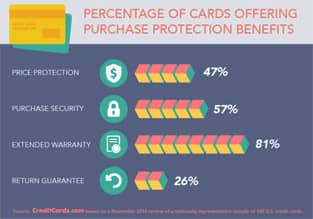 Bobby Lee's favorite protection is hands down, the return protection that many cards offer. "If you want to return an item you bought online or in-store, but the retailer refuses to take it back, your credit card has you covered," he explains.
Typically, he'll use this coverage if a return falls outside a retailer's return window but within the credit card's 90-day claim window. Now that's smart!
There are many perks to owning a credit card, especially if you use it to build your credit and get increasingly better card offers over time. It's not a bad idea to regularly check your score, see where you fall in the tiered card system mentioned above, and re-apply every year or so for a better card than what you have. As you use credit wisely and climb the card ladder, you'll get bigger and better perks and protections to make life easier and more rewarding.
Advertiser Disclosure
CardRates.com is a free online resource that offers valuable content and comparison services to users. To keep this resource 100% free, we receive compensation for referrals for many of the offers listed on the site. Along with key review factors, this compensation may impact how and where products appear across CardRates.com (including, for example, the order in which they appear). CardRates.com does not include the entire universe of available offers. Editorial opinions expressed on the site are strictly our own and are not provided, endorsed, or approved by advertisers.