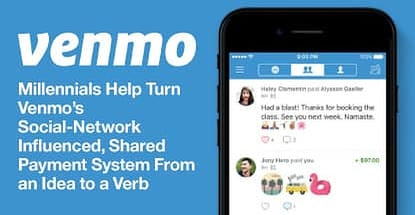 In a Nutshell: By combining social media and payments, Venmo has become a popular form of splitting bills among friends in recent years. This is particularly the case among millennials, who have helped make the five-letter word a part of the lexicon. The mostly free service (there's a 3% charge for credit card payments) provides a feed of your friends' activity so you can keep up with how they are spending their time and money. With Venmo currently working to make bank account transfers instantaneous and adding payment options through its parent company, PayPal, the app looks poised to take its already successful premise to new heights. //
As a youngster, I spent each March checking the mail every day for birthday cards with small checks enclosed from my grandmother and aunt. I had already spent most of February deciding what to spend my windfall on, and would then beg my parents to take me to a toy store as soon as the envelopes arrived.
Technology has done away with the need to write a check, send it, cash it, and wait for it to clear. Aunts today can press a few buttons on a phone and send birthday money instantaneously. Recipients can spend it that day online and never set foot in a shopping mall.
While this wasn't the issue that gave birth to Venmo, a leading online person-to-person (P2P) payment application, it has made sending, receiving, and spending money swift and simple. With the help of emoji-fluent millennials, Venmo has grown from its launch in 2012 to becoming a verb in the modern lexicon, as in "I'll Venmo you my half of the bill."
What's made the service so popular among younger consumers is the addition of a social media-esque timeline, where users can follow friends and see their transactions in real time. It's like Facebook for money, and it's growing faster than many expected. So fast, in fact, that online payments giant, PayPal, acquired Venmo's parent company, Braintree, in 2013.
"Venmo was started with the insight that sending money between friends and family was very difficult," said Josh Criscoe, Corporate Affairs and Communication professional for PayPal and Venmo. "The two founders went out for a weekend in New York City, and one of the guys left his wallet at home, so the other guy picked up all the expenses.
"After the weekend, they were ready to settle up, but at the time, one of the only options was to write out a check, mail it, wait for it to arrive, and then cash it. It was a very arduous process. They thought there had to be a better way, and Venmo was born out of that experience."
Venmo allows users to attach a credit or debit card and send money to other users as easily as you'd send a text message. Money can be stored in your Venmo account or transferred to a linked bank account. The time it takes to transfer varies, but Josh says the company is working on a solution that will allow users to instantly transfer money to a linked checking account through an approved debit card. While details are still sparse on the upgrade, it could be tied to the recent unveiling of Venmo's physical debit card.
"Later this year, we're rolling out the ability to instantly transfer your Venmo balance to your bank account," Josh said. "Right now, we rely on the ACH (Automated Clearing House) system, so most funds will arrive in your bank account the next day if you do a cash out. With this new feature, we'll be able to allow people to transfer those funds instantly to a bank account through an eligible debit card."
The application processed more than $8 billion in payments Q2 of 2017, more than twice the total from the same period in 2016. As we further evolve into a cashless society, Venmo is seeking new and intuitive ways to lure the next generation of spenders onto its platform. To meet that goal, the company turned to a tried-and-true strategy that's already proven to attract millennials.
Social Feeds Make Venmo a Destination for Young Users
With the Peer-to-Peer economy growing at a rapid rate (the market in America alone could reach as high as $86 billion by 2018), Venmo has set itself apart by making its service a stand-alone social media platform that includes brief, often entertaining, notes for each payment sent.
"Every single payment through Venmo requires a payment note," Josh said. "That can be a few words about your experience or a fun set of emojis and inside jokes. That allows people to focus on the experience rather than the transaction itself. That's what makes Venmo really popular, and what we're focusing on when we take Venmo into its next chapter."
Notes can be made private and kept off social feeds with one click, but most users don't choose that option. Notes do not include dollar amounts, but often include a string of emojis, or a small comment about the payment. It's a feature that keeps users coming back to see what their friends are up to.
"The social feed has been around since the early days," Josh said. "Peer-to-peer payments at the time had been very commoditized, and this was something that was very unique. That's been part of Venmo along the way, and it's really been following our users as far as our evolution. We started seeing that lots of people were using emojis to communicate in their notes, so we started looking at ways to make that even easier for people to write their notes, communicate, and express themselves the way they wanted to."
Emojis, or small illustrated icons that represent words or emotions, have become a part of the Venmo culture. Special edition characters are released around holidays and other occasions to enhance the many that are already available.
While users have fun with the emojis, transferring funds is still the most important aspect of Venmo. So, if you're in a crowded restaurant trying to send money to your friend — say his name is John Smith — to pay for your half of the bill, you might find 1,000 John Smiths in the search results.This is where Venmo codes come into play.
"We found that sometimes people were having trouble finding their friends on Venmo as our user base has grown," Josh said. "Sometimes, multiple people with the same name had user names that were just one or two characters off from each other. We started solving that with the use of Venmo codes. These are unique QR codes that people can use to help their friends find them in the Venmo app."
Opening an Account is as Easy as Sending Money to a Friend
If you haven't used Venmo yet, it's not too late to try it out. An account can be created with an email address, phone number, and a linked checking account, debit card, or credit card. Once your account is confirmed, you can send and receive payments through the app, with voice commands via Apple's Siri, or through a simple text on iMessage.
Sending and receiving payments from a Venmo balance or a linked checking account is free. A 3% service charge is added for credit card payments.
You can build up your friends list and begin looking at others' social feeds quickly through the optional ability to search your phone's contacts list or Facebook friend list for other Venmo users. As with any product that has linked access to your phone, bank account, or debit card, Venmo takes privacy and security seriously. All payments are sent through encrypted servers with strong walls of protection guarding your personal information.
"You also have the ability to set a PIN code so you can have an added layer of security to your account," Josh said. "So not only do you have to log into your phone, but you have a PIN to get into the app. Phones that are capable of it can add touch ID that uses your fingerprint to log in."
How Venmo's Free Services Claim a Slice of the $1 Trillion Worldwide P2P Payments Market
The worldwide P2P payment market is now worth more than $1 trillion. Companies, like Square and WePay, as well as tech giants, like Google, have rolled out their own mobile payments system in recent years. Facebook added a money transfer service into its Messenger program. Users of Snapchat can type a dollar sign and the amount in the chat feature, confirm, and money will be sent from the debit card provided.
With all of the competition, Venmo's worked to stay ahead of the curve to continue its robust growth under the PayPal umbrella.
"Having a conversation about money with friends has been traditionally a very awkward experience," Josh said. "You have to keep track of what friend owes what and track them down to make sure you get paid. That leads to a lot of heartache and damaged friendships. Over the years, Venmo has optimized ways to make that very easy and fun, so you can remember your experience with your friends rather than the awkwardness of the conversation of who owes what."
With the simplicity of the interface, and the lack of fees to send money to friends and family, it's no wonder that many of the 77% of Americans who own a smartphone have turned to payment services, like Venmo, for their money-sending needs.
For Venmo, the growth has been enormous, but the application has yet to create large profits based on its ad-free model of sending payments without charges. Future plans look to change that, but without adding extra fees for consumers.
Paying Your Next Bill with Venmo is Just the Beginning
Venmo recently inked a partnership with White Castle and multiple food delivery services to allow payment through the Venmo app. Adding more brands and the ability to pay for more items is in the pipeline, as the next step toward generating more revenue. P2P payment services aren't going anywhere; if anything, their number will only multiply over time.
As Venmo's services improve, with the ability to instantly transfer money from your balance to your bank account coming later in 2017, the company is attracting many new vendors that want to partner with the company to accept payments through the app.
Later this year, Pay With Venmo, a buy button that allows users to pay in various apps with Venmo, will be available for all PayPal purchases. The option would generate revenue by charging merchants a per-transaction fee, which has been a proven engagement generator for PayPal. Josh says this addition is only the beginning of the company's plans.
"We're really focused right now on the ability to pay with your Venmo account at retailers," he said. "We started out with some mobile apps. This fall, we're expanding to the millions of businesses that accept PayPal. You'll be able to use the money in your Venmo account to pay at those businesses.
"We want Venmo to be a payment option in many places. Anywhere you can spend money, we want you to be able to use your Venmo account."
Advertiser Disclosure
CardRates.com is a free online resource that offers valuable content and comparison services to users. To keep this resource 100% free, we receive compensation for referrals for many of the offers listed on the site. Along with key review factors, this compensation may impact how and where products appear across CardRates.com (including, for example, the order in which they appear). CardRates.com does not include the entire universe of available offers. Editorial opinions expressed on the site are strictly our own and are not provided, endorsed, or approved by advertisers.