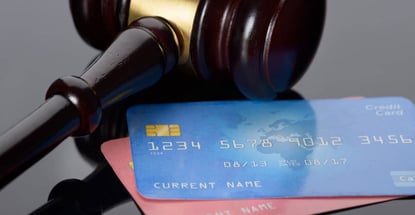 Opinions expressed here are ours alone, and are not provided, endorsed, or approved by any issuer. Our articles follow strict editorial guidelines and are updated regularly.
If you love your credit card rewards program, you may not like the Credit Card Competition Act (CCCA) of 2023.
This bill, introduced in both the US House and Senate, would make big changes in how credit card transactions are processed in the US. The bill's supporters say these changes would mean lower prices for consumers. The naysayers contend the same changes would, among other impacts, destroy card rewards programs consumers love.
Who's right?
New Requirements For Credit Card Companies
According to a summary from one of the bill's sponsors, Sen. Dick Durbin (D-Ill.), the CCCA would:
Require banks that issue credit cards and have more than $100 billion in assets to offer a choice of at least two credit card networks (rather than just one) to be used to process transactions with all of their credit cards.
Require that at least one of the two networks allowed for each card be a network other than Visa or Mastercard. Other networks include American Express, Discover, and some other, much smaller companies.
When a consumer uses a card to make a purchase, the merchant — not the consumer — decides which of the two networks associated with that card will be used to process the transaction.
Cards issued by a processing network, such as American Express or Discover, rather than a bank won't be required to add a second network to their cards but may be added as the second network for bank-issued cards.
The Durbin summary says these changes would create more competition among card processing companies, help small businesses, and lower prices for consumers.
Hundreds of trade groups that represent restaurants, retailers, grocers, franchisees, theater operators, and other merchants like the idea. Also in favor is consumer advocate U.S. PIRG.
Potential Problems
The promised benefits may sound appealing, but there's another side to this story.
In a joint letter to Congressional leaders, 10 organizations that represent banks, credit unions, and card payment processing companies said the CCCA would increase costs for card issuers and hurt consumers by reducing the number of card issuers. That would end the consumer's ability to choose their preferred card network and limit card rewards programs.
"The adverse effects of this bill are clear: fewer options for consumers, greater threats to consumer data and privacy, weakened community banks and credit unions, and the disappearance of card rewards programs that families of all income levels use to stretch their budgets," the banking groups' letter stated.
One other problem: The technology to route transactions from one card over two different networks isn't in place today. Getting it up to speed could prove costly for card issuers and inconvenient for consumers.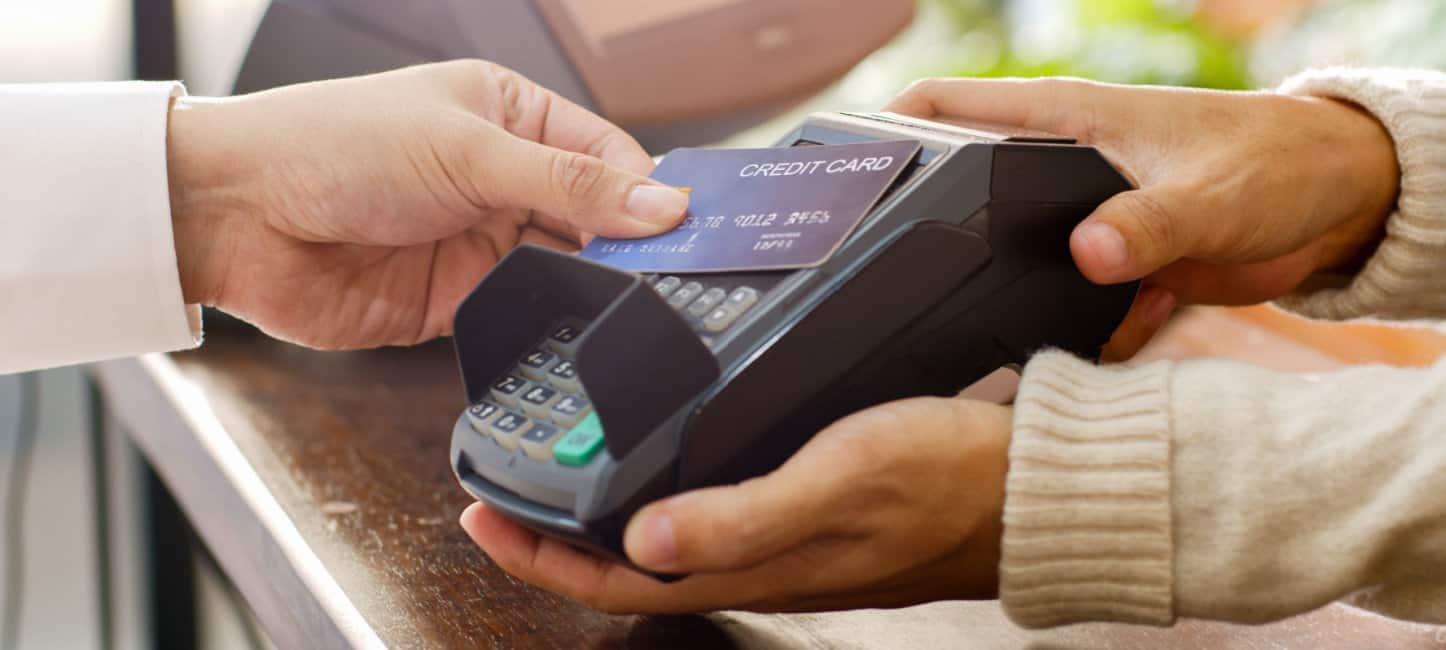 "Each time a network is added or changed to keep up with merchant demands, hundreds of millions of new chip cards would have to be issued, inconveniencing cardholders, exposing consumers to identity fraud through mail theft, and increasing the cost of the payment system," the letter stated.
The letter also pointed out that merchants and consumers receive significant benefits from the current card system. Transactions are authorized, cleared, and settled almost instantaneously, card issuers absorb losses from most fraudulent transactions, and merchants receive full payment for their goods and services. 
Who Would Benefit?
The million-dollar question — Who would benefit from the CCCA? — isn't easy to answer.
Merchants believe the fees they pay card networks to process credit card transactions are too high. That may be true from the merchants' perspective, but the CCIA wouldn't actually require lower fees. 
The requirement to add a second network may create a lower fee option, or it might remove the incentive of greater access that lower-fee networks currently have to offer lower fees. With greater access, the lower-fee networks may decide to raise their lower fees to match those of their larger competitors.
"The adverse effects of this bill are clear: fewer options for consumers, greater threats to consumer data and privacy, weakened community banks and credit unions, and the disappearance of card rewards programs that families of all income levels use to stretch their budgets."

— Joint letter to congress, June 9, 2023
Merchants that aren't happy with the fees they currently pay can already choose not to accept cards on those networks. That may prove inconvenient for their customers, but customers also have the ability to choose which cards they wish to use.
Meanwhile, banks will face significant costs to introduce new systems to route payments for two or more networks per card and to manage and maintain these dual-routing systems once they're in place. Higher costs could stem not only from new technology but also from additional legal services and customer support, among other areas.
The Durbin Amendment — 13 Years Ago
The CCCA isn't the first federal legislation to meddle with card processing fees.
The so-called Durbin Amendment to the Dodd-Frank Act of 2010 authorized the Federal Reserve to regulate the interchange fees that larger financial institutions charge merchants when consumers use a debit card to pay for a purchase.
Judging by the record of that amendment, also introduced by Sen. Durbin, consumers may not see lower prices even if the CCCA becomes law.
A 2015 report published by the Federal Reserve Bank of Richmond concluded that after that amendment went into effect, only about 1% of merchants reduced their prices, while 77% didn't change their prices, and 22% increased their prices. What effect the amendment had is difficult to discern.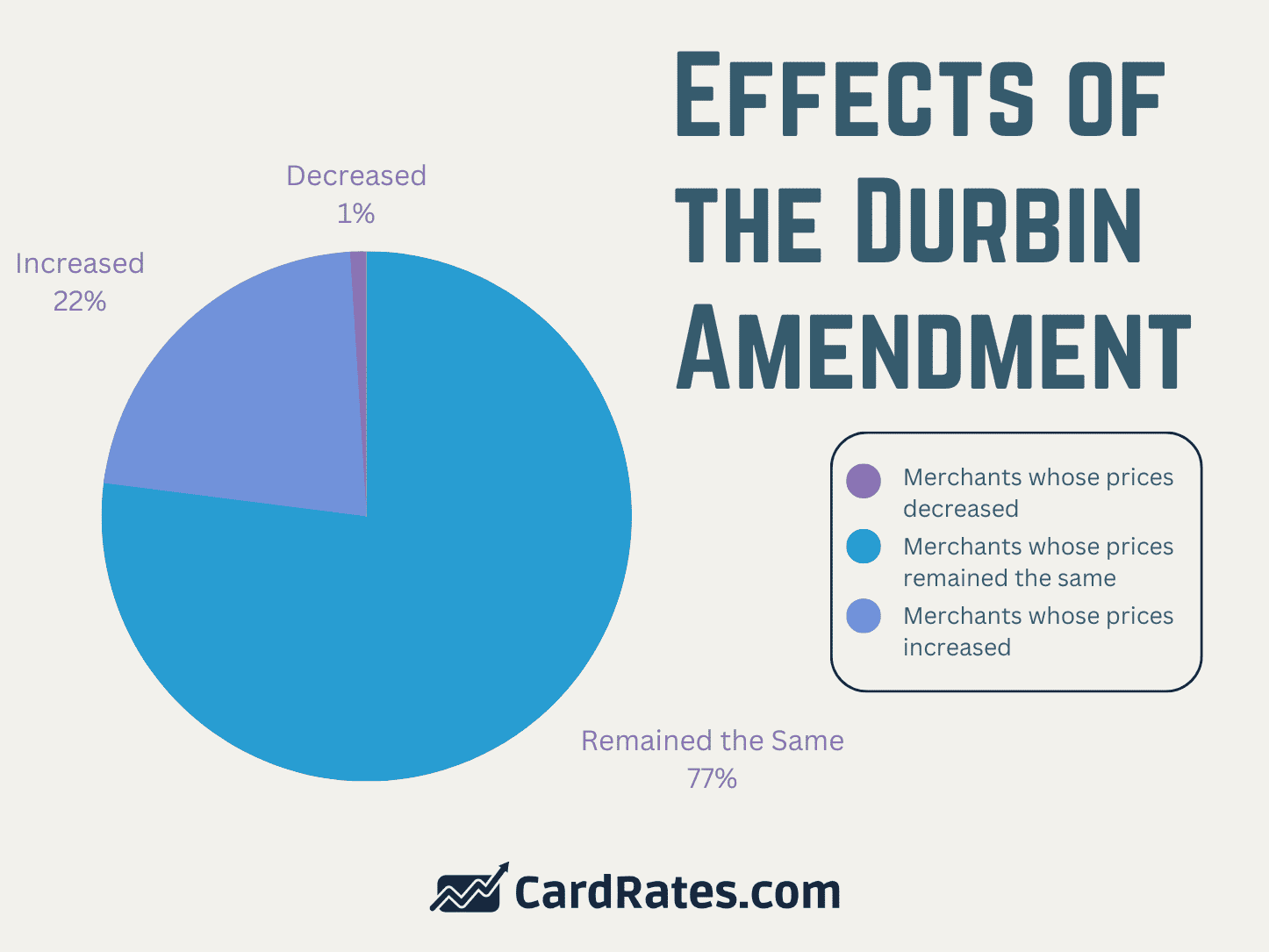 What does all of this mean for consumer card rewards programs? The truth is no one knows, not for sure. Consumers who value their card rewards will have to wait and see.
Fast Facts About Credit Card Processing Fees
Visa and Mastercard control more than 80% of the US credit card network market, processing transactions for more than 576 million credit cards.
Merchants typically pay fees of around $2 to $3 for every $100 sale to process Visa and Mastercard transactions. Part of each fee goes to Visa or Mastercard. The rest goes to the bank that issued the card.
Visa and Mastercard hiked their credit card transaction processing fees in April 2022. For the full year, these networks charged merchants $93 billion in credit card fees.
Only about 30 of the nation's banks have more than $100 billion in assets.