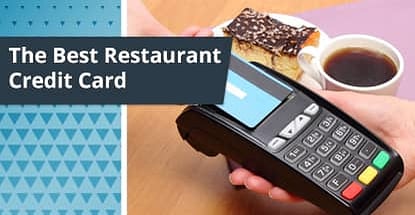 I've always considered myself a foodie. From the perfectly constructed burger to a beef tenderloin served with a truffle butter sauce, I welcome it all. And while I've become a pretty darn good home chef (if I do say so, myself), my family and I still enjoy going out for a meal together at least a few times a month. Foodie or not, one thing I think that we can all appreciate is having the ability to fill up on rewards while filling up our bellies.
If you're looking for air miles, gas rebates, points and gifts, or just straight cash back, there is definitely a card out there for you. Everyone eats out, so why not make the most of the experience and earn perks while you dine.
We've put together a list of some of the best credit cards for restaurants, which diners can use to maximize rewards or cash back offers. Students, businesses, and people at any credit level can benefit from these cards. So, before you put on that lobster bib, be sure to check them out!
 Cash Back | Air Miles | Rewards
0% APR  | Businesses  | Students
Bad Credit  | Fair Credit  | No Credit
The Best Restaurant "Cash Back" Cards
Cash, everyone can use more of it. Food, well, I can always use more of it. If you're anything like me, it'll be a smart move to look into these cards that earn top billing for their large cash back multipliers and low APRs.
These cards give you the most cash back every time you eat out. So, even if you're watching your weight and choosing healthy options, your wallet will still grow.
The Best Restaurant "Air Miles" Cards
If you're on vacation or travelling for business, odds are pretty good that you're going to be dining out — a lot. Many savvy travelers make their credit cards pull double duty by using them to pay for their meals while simultaneously earning miles for their next trip. If you're looking for miles, these cards should be at the top of your list.
The Best Restaurant "Rewards" Cards
Obviously, diners not on the road can earn perks, too. Taking advantage of a restaurant rewards card is easy: just go out, eat a great meal, and let the gifts and rewards roll in. These are excellent choices for diners to earn points, gifts, and other perks while they eat.
+ See more points & rewards cards
The Best Restaurant "0% Intro APR" Cards
Diners looking to carry a balance can also find great cards that won't break the bank. These cards have 0% introductory APRs, so you can treat your friends and family to a night out and not have to worry about racking up additional charges. So, go ahead and order dessert for everyone; they'll love you for it.
The Best Restaurant "Business" Cards
Businesses need credit cards for a variety of reasons, but entertaining clients and keeping employees fed while on the road are probably the most common. These cards will  keep clients coming back and energize your workforce to stay on the grind. They'll also pump money back into your business with their great cash back rewards.
+ See more business credit cards
The Best Restaurant "Student" Cards
Worried that you won't qualify for quality credit cards because you're a student and new to credit? Never fear! We have the cards for you. The below cards were created specifically with students in mind. They're also perfect for dining out when that cafeteria meal plan has lost its luster.
+ See more student credit cards
The Best Restaurant Cards for "Bad Credit" (Below 580 FICO)
If you're looking for a card and have a less-than-ideal credit score, there's no need to worry. Here are some of the best options to get you up and running if you're trying to rebuild your credit. Prequalification is quick and easy, so you can start planning your night on the town right away.
+ See more cards for bad credit
The Best Restaurant Cards for "Fair Credit" (580-670 FICO)
Diners with fair credit have access to some nice perks with these cards. Low APRs, cash back, and fraud protection are just some of the bonuses that come with them. The best thing about using these cards is that they'll pave the way to an even more robust credit ranking.
+ See more cards for fair credit
The Best Restaurant Cards for "No Credit Score"
If your credit history is limited or nonexistent, these cards will provide a good jumping-off point. These cards will allow you to start out strong and build a healthy credit score while enjoying cash back bonuses and other perks.
+ See more cards for no credit
Eat to Live and Live to Eat with Rewards & Cash Back
You don't have to be a foodie like me to get the biggest bang for your credit card buck at a restaurant. We all eat out from time to time, so why not add another side item to your meal in the form of big rewards?
Whether you're a business traveler looking for miles, a connoisseur searching for the best Dim Sum, or just going out for pizza with the family, one of these cards is right for you. We all must eat to live, but we can also live to eat — especially when we're getting paid for it.
Advertiser Disclosure
CardRates.com is a free online resource that offers valuable content and comparison services to users. To keep this resource 100% free, we receive compensation for referrals for many of the offers listed on the site. Along with key review factors, this compensation may impact how and where products appear across CardRates.com (including, for example, the order in which they appear). CardRates.com does not include the entire universe of available offers. Editorial opinions expressed on the site are strictly our own and are not provided, endorsed, or approved by advertisers.