Opinions expressed here are ours alone, and are not provided, endorsed, or approved by any issuer. Our articles follow strict editorial guidelines and are updated regularly.
Key Takeaways:

37.7% of cardholders polled report having recently missed a card payment due to economic factors.
The NY Fed reports that spending and debt are on the rise, which may contribute to constrained budgets and missed payments.
45.2% of cardholders polled don't know how much interest their credit cards are charging them to carry a balance.
Rewards are the number one reason cardholders choose to use a credit card for purchases. But rewards earning rates are greatly outweighed by interest rates.
Making your credit card payment on time every month is one of the best things you can do to protect or improve your credit score. But not everyone can make their payment on time every month, even if they want to. 
In fact, 37.7% of 1,055 people recently surveyed by CardRates.com said they'd recently made at least one card payment late. The reason? Unpredictable economic conditions, including spiking inflation and rising interest rates.
Rising inflation means consumers pay more for the same products and services they'd previously obtained for less. That puts pressure on their household budgets, including their card debt payments.
The Consumer Price Index (CPI) is a common measure of inflation. After languishing well below 3% annually for more than a decade, the CPI jumped to 4.2% in April 2021, then spiked to a peak of 9.1% in June 2022 before it gradually retreated to 3.7% — a still elevated level — in September. 
Interest rates affect how much consumers pay for many types of loans, including credit card debt. 
The Federal Funds Rate, a bank rate set by the Federal Reserve, is a common measure of interest rates. This rate climbed to the 5% range in June from near zero at the start of the COVID-19 pandemic emergency in 2020.
Other Reasons Cardholders Are Falling Behind
Inflation and interest rates weren't the only reasons consumers struggled to make their card payments on time. Increased spending and higher levels of overall debt could have also been factors.
Increased spending appeared in the Federal Reserve Bank of New York's "Survey of Consumer Expectations Household Spending Survey" released in January.
This report found the rate at which monthly increased household spending slowed at the end of 2022, but slower growth is still growth. The NY Fed further noted that the rate of spending growth at that time remained well above the level before the COVID-19 pandemic.
In a survey update, the NY Fed found monthly household spending rose significantly in August. The trend was most pronounced among people younger than 40, people with no more than a high school education, and people with annual household incomes of less than $50,000.
Meanwhile, the share of households that reported making at least one large purchase during the month jumped to 63.5% in August, the highest level since August 2015, the report stated.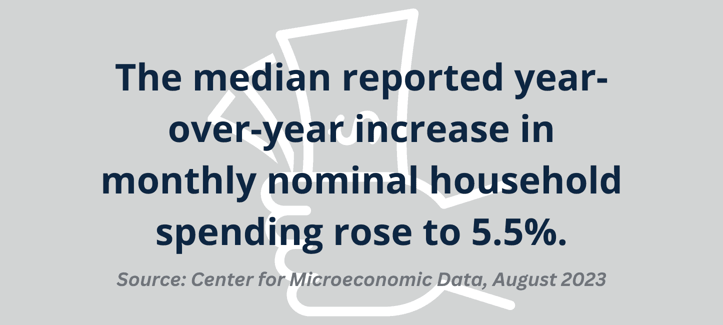 The rise in consumer debt also appeared in the NY Fed's Q2 2023 Quarterly Report on Household Debt and Credit. In that report, the NY Fed revealed that total household debt rose to $17.06 trillion, an increase of $16 billion. Aggregate credit card balances for the period rose to $1.03 trillion, an increase of $45 billion or 4.6%.
Along with more debt, consumers also boosted their aggregate number of card accounts. More than 5.4 million new card accounts were opened during the second quarter, bringing the total number of accounts to more than 578 million. The combined credit limits for all of those accounts increased to $4.6 trillion.
Though delinquency rates for consumer debt overall remained relatively low, credit cards experienced a pronounced rise in late payments during the second quarter, the report stated.
Almost Half of Cardholders Surveyed Don't Know Their Interest Rates
Another finding of CardRates.com's survey was that 45.2% of consumers didn't know the interest rate they were paying for their card balances.
For those who carry a balance from month to month, that rate determines how much interest expense they pay each month. Carrying a balance isn't at all unusual, and it may be more common among consumers who face other financial challenges.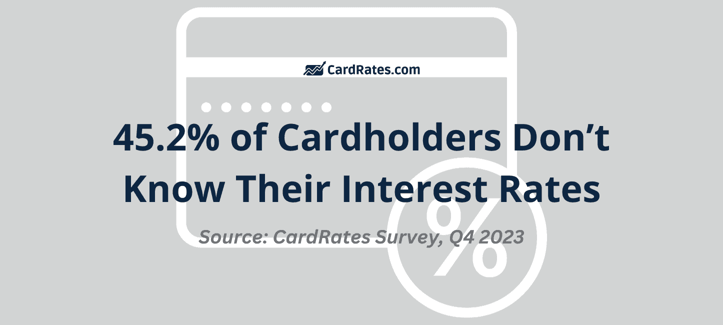 A survey released August 17 by J.D. Power found slightly more than half of US card customers carried a balance. For those deemed "financially unhealthy," that proportion jumped to 69%. (The survey defined "financially unhealthy" through a metric that combined spending-to-savings ratios, creditworthiness, and safety-net items such as insurance coverage.)
Rates consumers actually pay for their card debt vary. But one thing is certain: credit card annual percentage rates (APRs) have risen sharply in the last five years.
In 2018, the average APR for all card plans was 14.22%, according to Federal Reserve data. That rate remained relatively stable through 2019, 2020, and 2021, then jumped sharply in 2022, when the average card APR hit 19.07%. In the first and second quarters, the average APR rose to 20.09% and then 20.68%, respectively.
For card accounts that were charged interest, those APRs climbed from the 16% range in 2018 to 2021, then spiked to 20.40% in the fourth quarter of 2022 and 22.77% in August.
Rewards Motivate Consumers' Choices of Cards for Purchases
Despite the rise in total card accounts, our survey found that 40% of consumers had only one card, and 27% reported having only two cards. Fifteen percent said they had three cards; 7% reported four, and 5% said five. Only 4% of consumers said they had six to nine cards, while only 1.5% said they had 10 or more cards.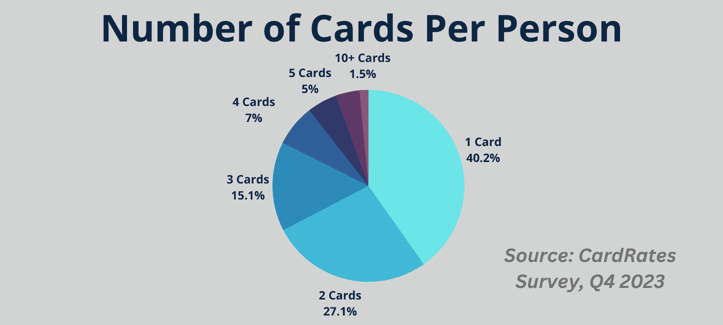 For many, one card may be enough. For others, that could be a missed opportunity to earn a wider variety of rewards, such as cash back, airline miles, hotel stays, gas rebates, or shopping points. Using a mix of different rewards cards can be a good strategy to maximize rewards.
Credit card rewards hold a special place in consumers' hearts and minds. CardRates.com's survey found rewards were the number one reason consumers chose to use a particular card for their purchases. (The other survey choices were the amount of the purchase, the payment due date, and the frequency of a particular type of purchase.)
Tips To Make Your Card Payment On Time
1. Know When Your Payment is Due
Making your payment on time doesn't necessarily mean you have to send the funds as soon as you receive your statement. With most cards, you can wait a week or two and then make your payment with no negative consequences. That's because most cards have a grace period during which you can make a later payment that's still considered on time. 
This grace period is usually 21 days, although it can vary. Your true payment due date should be printed on your card statement. 
2. Always Pay At Least the Minimum
Many cards feature a minimum payment option. This amount is usually too low to pay the interest charges for the month and chip away at your balance, but the option may be helpful if you need some temporary relief. 
The other options — making a payment later or missing a payment — could trigger a higher interest rate or a late fee and lower your credit scores.
3. Say Yes to a Balance Transfer Offer
A balance transfer offer lets you move all or part of your card balance from one card to another. The advantage is a significantly lower rate — maybe even 0% — for the balance you transfer for up to a year or longer. 
With a lower rate, your minimum payment should be lower, which could help you make that payment on time. The lower rate may also apply to new purchases with that card. Most balance transfers involve a fee that typically runs 3% to 5% of the amount transferred.
In Sum
Although some consumers face unique financial difficulties, there are simple strategies most can use to improve their on-time payments. Grace periods, minimum payments, and balance transfer offers — used strategically — can help consumers avoid missed payments and lower their interest rates.
Survey Methodology:
A national online survey of 1,055 U.S. consumers, ages 18 and older, was conducted by Propeller Insights on behalf of CardRates.com in June of 2023. Survey responses were nationally representative of the U.S. population for age, gender, region, and ethnicity. The maximum margin of sampling error was +/- 3 percentage points with a 95% level of confidence.