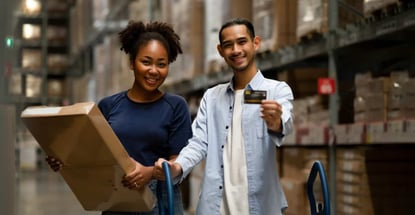 Some shoppers divide their lives into two eras: BC (before Costco) and ACE (after the Costco experience). There's no doubt that the first trip to Costco can transform the shopping habits of consumers. 
The Costco Anywhere Visa® Business Card by Citi serves small business owners who want to take advantage of economical bulk buying and low prices. We've assembled the critical facts for Costco-curious business people who have yet to discover the wonders of warehouse shopping with this versatile card.
1. You Earn Cash Back Rewards on Every Purchase, Not Just at Costco
The Costco Anywhere Visa® Business Card by Citi can be used wherever merchants welcome the Visa logo. Although it targets Costco shoppers, it's also a good general-purpose rewards credit card with several advantages (and one or two disadvantages). 
The card pays cash back rewards on various Costco purchase categories. You earn the top rewards rate when you use it to pay for gas purchases (or EV charging purchases) at any service station, not just Costco's. 
You also receive bonus rewards on travel, restaurant dining, and Costco-eligible purchases, as well as access to Costco Travel with deep discounts.
2. A Paid Costco Membership Is Required 
The Costco Anywhere Visa® Business Card by Citi charges no annual fee, but you'll first have to pony up the yearly Costco member fee. At the time of writing, business memberships cost $60/year and provide several features:
It includes a free household card (the Costco ID card)
You can add authorized cardholders for $60 each
The membership is valid at all Costco locations worldwide
It supports Costco purchase for business resale arrangements
Business members must provide Costco with the appropriate resale information
You can also choose an upgraded Executive membership for an additional $60/year. It provides an annual 2% reward on qualified Costco purchases and extra savings on Costco-eligible travel purchases and services independent of your credit card.
3. Benefits Include Extended Warranties and Concierge Service
The Costco Anywhere Visa® Business Card by Citi competes with other business credit cards by offering valuable benefits in addition to cash back rewards. These benefits include:
The card doubles as your Costco Membership ID
You never pay a foreign transaction fee
You can add employees as authorized users (a $60 paid Costco membership for each new user)
It helps you separate business and personal expenses
Damage and theft protection
Citi Entertainment
Citi® Concierge
Extended warranties that provide an additional two years of coverage on eligible items
From the business owner's viewpoint, the card helps stock the company shelves and refund part of the business's dining, travel, and gas costs.
4. Excellent Credit Is Required For Approval
Citi, the credit card company issuing the card, requires an excellent credit score to get approved for this card. But you may still be able to get the card with a good credit score — credit score alone does not guarantee approval, as your ability to pay your bill also matters. 
When evaluating new applicants, the credit card company looks at debt-to-income ratios, assets, liabilities, and other factors to determine approval.
Costco checks applicants' personal (not business) credit by accessing credit reports from one of the three major credit bureaus. Beyond the credit requirements, applicants must be at least 18 years old and have a steady income, a Social Security number, and a Costco membership. 
You can apply for a Costco credit card online or at any Costco store when you become a member. 
You should get an instant decision, but sometimes it may take longer (up to a few weeks). If Citi approves your application, you'll e-sign a cardmember agreement and receive the card within a week or two.
5. Citi Rewards Your Cash Back Annually
We mentioned earlier that Costo credit cards have a couple of disadvantages and may not be your best credit card option. You may view the redemption procedure as the most significant downside. 
You accumulate your Costco cash rewards over a year that are then paid out at one time. Once Citi distributes your February credit card statement, you'll receive a Costo shopping certificate listing the cash back you earned over the previous 12 months. 
You can redeem your rewards at the Costco checkout line anywhere in the US and Puerto Rico or online at Costco.com. You must redeem your Costco cash rewards by the end of the year or forfeit them. You also lose any cash back you've accumulated if you cancel your membership.
Business owners may prefer immediate access to their cash back, especially if they could use the extra money to finance additional purchases as they grow a business. If that's the case, you may want to consider an alternative Visa card.
Alternative Visa Business Cards For Costco Shoppers
Plenty of business credit cards are available to small business owners, but you can use only a Visa card — not American Express, Mastercard, or Discover — for Costco shopping. Chase Bank offers several varieties of its Visa Ink business card, including the following four cards:
Of these cards, the Business Unlimited and Business Cash cards charge no annual fee and are the most direct competitors to the Costco Anywhere Visa® Business Card by Citi. They make a lot of sense if you already have a Chase checking or savings account.
The Chase cards pay Chase Ultimate Rewards Points you can redeem for cash, travel purchases, gift cards, and other items. And, you can redeem Chase Ultimate Rewards as soon as you earn them. 
Costco Anywhere Visa® Business Card by Citi FAQs
As a business person, you want to know all the facts before making a decision. The answers to these FAQs may help you decide whether owning the Costco business credit card is a smart move.
What's the Difference Between the Business and Consumer Costco Cards?
The only difference between the two cards is that the Costco Anywhere Visa® Business Card by Citi accepts employees as authorized users. Citi doesn't charge any fees for additional cards, but each new authorized user must have a Costco membership. The membership must be in the authorized user's name. 
If you are a business owner, the advantage of adding employees to your card is that you accumulate all the cash back rewards they earn. Of course, it may make good logistical sense for employees to have a Costco card if they are responsible for Costco purchases. 
For example, you may have a kitchen staff that buys meat and produce from the local Costco warehouse store. Costco also sells paper, ink, and many other business supplies. Employees can use the same card for business trips, dining with clients, and refueling a company car.
Citi allows you to set spending limits on authorized users of Costco credit cards. This feature is unique to Costco, as Citi doesn't provide it for its other cards, such as the Costco Anywhere Visa® Business Card by Citi. Therefore, business owners can keep a tight rein on spending, setting the appropriate limit for each employee.
How Do I Request a Credit Limit Increase With Citi?
You can request a higher credit limit on your Costco business credit card by contacting Citibank via the online webpage, mobile app, or phone. The customer service number is (855) 378-6467. 
To increase the odds of success, you should:
Pay your bill on time, every time, for at least six months before requesting the increase. FICO assigns 35% of your credit score to your payment history. You should see steady score improvement after six months or so. Missing a credit card payment by more than 30 days will cause your score to drop and create a derogatory item on your credit report that will persist for seven years.
Reduce your credit card balances. FICO assigns another 30% of your score to the amount of money you owe, measured by your credit utilization rate (i.e., credit spent / credit available) on your credit cards. Keeping your CUR below 30% helps your credit score, and the effect is immediate.
Check your credit reports. Inaccurate, unfair, or untimely data can damage your credit score. You can get free copies of your credit reports through AnnualCreditReport.com and dispute any derogatory items you find. The DIY method requires you to communicate directly with the credit bureaus, but you can save time and energy by hiring a credit repair service to lodge disputes on your behalf. The credit bureau has 30 days to respond, and if it sustains your challenge, it will remove the offending item and recalculate your credit score.
Keep Citi informed about pay raises. The bank considers your debt-to-income ratio and assets when you request a larger credit line. Higher compensation suggests you can afford more debt and a higher credit limit.
Certain conventions exist regarding the right way to ask for a credit limit increase. These include a polite attitude and speaking about your on-time credit card payment record. A good time to request a higher credit limit is right after receiving a raise or promotion.
Which Businesses Will Get the Most Benefit From the Costco Business Card?
The ideal business for a Costco credit card needs the products and services available from a warehouse store. Costco discounts many of its products, and owning a Costco rewards credit card increases your savings through cash back and special deals. Costco sells a wide variety of business products, from office furniture to supplies. 
Businesses that like to buy in bulk will benefit from lower unit costs and the ability to stock up with fewer trips to the store. Costco offers many items (including gasoline) under its house brand, offering even more savings. 
The card will also benefit companies that book travel and dining expenses. The card pays bonus rewards on these specific purchase categories and conveniently segregates these expenses from personal ones. 
Is the Costco Anywhere Visa® Business Card by Citi Worth It?
On the plus side, there is no annual fee, and the reward rates reach as high as 4%. 
On the downside, you must be a Costco member to get the card, and you can redeem your cash back only once per year at a store in the US or Puerto Rico (or online). The cash back rate is only 2% on Costco-eligible purchases, lower than the rate some cards pay on grocery shopping.
Before signing up for the card, check out the competing Ink cards from Chase. They may provide you with better perks, and two of them charge no annual fee.
Consider Hiring the Costco Anywhere Visa® Business Card by Citi
Costco remains a wildly popular shopping solution to millions of Americans, including business owners looking for every possible advantage. The Costco Anywhere Visa® Business Card by Citi provides key benefits to business owners who regularly buy products and services from the warehouse store. Its high gas rebate is also a strong factor in the card's favor. 
Whether it is the best credit card for you depends on your business expenses, but it is deserving of your careful consideration.
Final Notes on "Costco Business Credit Card: 5 Things to Know (Sep. 2023)"
We hope this guide "Costco Business Credit Card: 5 Things to Know (Sep. 2023)" has been a helpful resource for you in learning more about your financial options. In this guide, we've covered:
1. You Earn Cash Back Rewards on Every Purchase, Not Just at Costco
2. A Paid Costco Membership Is Required 
3. Benefits Include Extended Warranties and Concierge Service
4. Excellent Credit Is Required For Approval
5. Citi Rewards Your Cash Back Annually
Alternative Visa Business Cards For Costco Shoppers
Costco Anywhere Visa® Business Card by Citi FAQs
Consider Hiring the Costco Anywhere Visa® Business Card by Citi
To learn more about options not mentioned here, be sure to check out other popular reviews from our team of experts:
We also encourage you to check back at this URL regularly, as we update the offers listed in "Costco Business Credit Card: 5 Things to Know (Sep. 2023)" and other guides on a daily basis.
Advertiser Disclosure
CardRates.com is a free online resource that offers valuable content and comparison services to users. To keep this resource 100% free, we receive compensation for referrals for many of the offers listed on the site. Along with key review factors, this compensation may impact how and where products appear across CardRates.com (including, for example, the order in which they appear). CardRates.com does not include the entire universe of available offers. Editorial opinions expressed on the site are strictly our own and are not provided, endorsed, or approved by advertisers.