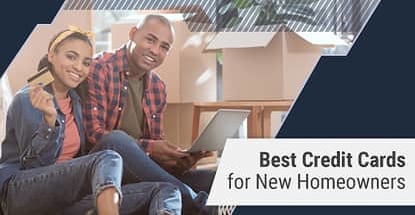 Although the purchase price of your new home was likely in the six figures, handing over that check at closing is often only the start of the spending. You still need to pay for the move, set up utilities, fix that leaky faucet, buy furniture — and the list goes on.
In other words, while finding savings where you can is always a good idea, it can be downright vital for many new homeowners whose budgets are already strapped. That's where using the right credit cards can make a big difference, helping you save where it counts. We've compiled a list of the best credit cards for new homeowners below. You can also quickly jump to the No. 1 pick in each category using the links in this section.
Of course, the options are hardly limited to our top picks. Between interest-rate deals, signup bonuses, and purchase rewards, you can find myriad ways to save as you turn your new house into a home.
Overall | 0% APR | Signup Bonus | Home Improvement | Furniture | Utilities | Housewares
Best Overall Cards for New Homeowners
The best overall credit card for a new homeowner isn't actually just one card. Each cardholder has specific needs and spending habits, so the best card for one new homeowner may be less worthwhile to another.
With that in mind, each of our top overall cards offers great value for a different type of new homeowner. At the same time, they also all provide long-term value that will last well beyond the first few months in your new home.
With the top overall card, you can earn a very valuable signup bonus with just a few major purchases for your new home, as well as earning unlimited Ultimate Rewards® points while you're at it. Plus, you'll receive double points on dining purchases, including take-out and delivery, which can come in handy for easy meals during the move.
This card not only offers unlimited 1.5% cash back rewards, regardless of purchase category, but it also comes with a long introductory 0% APR offer that can give you the breathing room to pay for things like movers and appliances at your own pace.
The Citi Premier Card can help you save on moving costs with 3X points for travel purchases, including gas and airfare. You'll also earn bonus rewards on entertainment purchases to cut the cost of streaming to your new home.

Earn 3X points per $1 spent on eligible travel purchases, including gas stations
Earn 2X points per $1 spent on dining and entertainment purchases
Pay no annual fee the first year, then $95
Additionally, the card offers bonus points for dining purchases, which can be a huge help when your kitchen is in boxes and no one has the energy to whip up dinner after the big move.
Best 0% APR Cards for Large New Purchases
While few things can compare to the price tag of your new home, much of what goes into that home will have a hefty price tag of its own. Simply buying a new refrigerator can run four figures, and a full living room set can easily set you back thousands of dollars.
Given the high cost of outfitting your new home, adding interest charges onto the pile can end up in disaster. Credit cards with introductory 0% APR offers can help you avoid the danger of skyrocketing balances by giving you 12 months or more of interest-free purchasing.
Although its introductory APR offer isn't the longest on the market, this card has no annual fee and offers unlimited cash back rewards on every purchase, with no spending caps or rotating categories to activate and track.
This card pairs interest-free purchases with the ability to earn bonus cash back on eligible category purchases when activated. Categories change each quarter, with popular options like gas, restaurants, and Amazon.com frequently offered.
The Wells Fargo Platinum card is a solid options for saving on interest thanks to its 18-month 0% APR introductory offer good on both new purchases and balance transfers (balance transfers must be made within 120 days of account opening; transfer fee applies).
In addition to a competitive introductory offer, this card comes with a number of Wells Fargo and Visa benefits, including up to $600 in cellphone protection when you pay your bill with your card, as well as free FICO credit scores and $0 liability protection.
Best Cards for Earning Big Signup Bonuses
Although some people prefer to pay for their large purchases a little at a time, if you have the means to pay off your major expenses as you make them, then an intro-APR card isn't that useful. A nice big signup bonus, on the other hand, can be hugely valuable.
Many of the best signup bonuses come from top-tier travel rewards cards, but some cash back options are also available. Make sure you note the minimum spending requirement and time limit to ensure you meet the qualifications, and pay off your purchases right away to avoid being charged interest fees.
Although this card has a high spending requirement, a new set of appliances or a room of furniture could potentially meet the minimum (and then some) with a single purchase. To get the most out of your bonus, redeem for travel through the Chase portal using the card's redemption bonus, or transfer to a hotel or airline partner for even more value.
While the signup bonus for this card is larger than its big sibling above, you won't get as much value point to point through the Chase portal thanks to a lower redemption bonus. That said, you can transfer your points at the same rate with either card, unlocking huge value potential.
Discover has a relatively unique signup bonus. Rather than offering a quick flat-rate sum, Discover offers cardholders a one-time bonus at the end of the first year that, if rewards are taken advantage of throughout the year, can really add up.
Best Cards for (the Inevitable) Home Improvement Projects
Unless you're buying a brand new home — and sometimes even then — the odds are high that you'll need to make a few repairs or improvements. Depending on the scope of the job, this could mean thousands of dollars worth of construction costs.
Even if you go the DIY route, you'll still likely spend a small fortune at the local hardware store. Either way, a credit card that can help you both earn rewards on your purchases and save on interest fees is a clear winner.
Although this card doesn't offer bonus rewards for hardware stores, it does offer more flexibility; you'll earn cash back rewards with this card no matter where you purchase your home improvement supplies. Plus, new cardholders can enjoy the introductory offer of more than a year with 0% APR and pay no annual fee.
The Huntington Voice Credit Card® gives the power to choose your own bonus rewards category from 10 different options. Simply choose home improvement stores as your quarterly bonus category to earn 3X points per dollar at your favorite hardware store.

Select your own rewards by choosing your 3X points bonus category each quarter
Earn 1X point per $1 on all other purchases
Pay no annual fee
This card isn't a one-trick pony, either. You can change your bonus category each quarter to suit your changing needs. For example, when you're done with the repairs and ready to upgrade your home with a new entertainment system, simply change your bonus category to electronics stores and start earning.
The BBVA Compass ClearPoints Credit Card gives cardholders the ability to choose their own 3X and 2X rewards categories (one each). While available categories can change from year to year, hardware stores are a frequent option.

Select your own rewards by choosing your 3X and 2X points bonus rewards categories each quarter
Receive 0% Intro APR for the first 13 months
Pay no annual fee
The main drawback to the card is its limited availability; you'll need to head into your local BBVA to apply, and the card is only available in Alabama, Arizona, California, Colorado, Florida, Georgia, Massachusetts, Mississippi, New Mexico, Oklahoma, Tennessee, and Texas.
Best Cards for Saving on Roomfuls of Furniture
Furniture is expensive. Even a cheap sofa can run you a few hundred bucks, and filling an entire house with new furniture can be a four- to five-figure investment. If you'll need time to pay off your new bedroom set, then a credit card with an intro-APR offer is your best bet.
However, if you have the money at hand and want to make the most of your purchase, then a rewards credit card is the way to go. While few credit cards offer bonus rewards specifically for furniture store purchases, you can find a number that will reward you for department store purchases.
The U.S. Bank Cash+™ Visa Signature® Card is one of the only cards that offers bonus rewards specifically for furniture purchases, allowing users to choose furniture stores as one of their 5% cash back bonus categories.

Earn 5% cash back in two categories of your choosing, plus 2% cash back in an additional category you select
Earn 1% cash back on all other purchases
Pay no annual fee
To really make the most of your rewards with this card as a new homeowner, you can choose electronics stores or home utilities as your second 5% cash back category and gas stations or restaurants as your 2% cash back category.
The Amazon Rewards Visa Signature Card is available to consumers with and without a Prime membership, but Prime members earn much better rewards. Specifically, non-Prime members earn 3% back on all Amazon.com purchases, while Prime members earn 5% back. So, not only can you earn rewards on your furniture, you can have it delivered to your front door.

Earn 3% back on Amazon.com and Whole Foods purchases; Prime Members earn 5% back
Earn 2% cash back at restaurants, gas stations, and drugstores
Pay no annual card fee, Prime fee may apply
The points you earn with the Amazon Rewards card can be redeemed directly at checkout to pay for most Amazon.com purchases, or you can redeem them for cash back, gift cards, or travel.
The Voice Credit Card® from Huntington is one of the most flexible cards on the market, allowing cardholders to choose their own categories. Simply select department stores as your bonus category for the quarter to earn 3X points per dollar on furniture and appliance purchases.

Select your own rewards by choosing your 3X points bonus category each quarter
Earn 1X point per $1 on all other purchases
Pay no annual fee
When you've filled every room and don't need department store rewards anymore, be sure to change up your rewards category to maintain the card's value. Earn 3X rewards on categories like gas, groceries, or electronics for year-round savings.
Best Cards for Paying Your New Utility Bills
One thing that can come as a big shock to new homeowners is the cost of utilities for their new house, particularly those homeowners who are more used to apartment living or who upgrade their home size. The fact is, doubling your square footage can more than double your utility bills.
While some utility companies are still in the stone age when it comes to accepting credit cards, most major providers will accept card payments — for a fee. So, the key is to find a card that earns at least as much in cash back or points as the fee (but preferably much more).
While this card only typically offers bonus rewards on utilities one quarter a year, you'll earn 5% cash back on your cable, internet, and cellphone bills when you activate your category bonus for that quarter. Other quarter categories can also be quite lucrative, giving this card year-round value for many consumers.
The Voice Credit Card® from Huntington stands out as a card with many categories you don't see often, and utilities are yet another example. Simply choose utilities and office supplies as your bonus category to earn 3X points per dollar on your bills.

Select your own rewards by choosing your 3X points bonus category each quarter
Earn 1X point per $1 on all other purchases
Pay no annual fee
Your bonus category is selected each quarter and you can choose the same category or pick a new category if you have other big expenses coming up. Bonus rewards can be earned on up to $2,000 in qualifying category purchases each quarter.
The U.S. Bank Cash+™ Visa Signature® Card allows you to select two 5% cash back categories, giving you the option to earn 5% cash back on both home utilities and your cellphone bill (or another category entirely).

Earn 5% cash back in two categories of your choosing, plus 2% cash back in an additional category you select
Earn 1% cash back on all other purchases
Pay no annual fee
Additional 5% cash back category options include a number of popular everyday expenses, like gym/fitness centers and ground transportation, as well as entertainment-based purchases like electronics stores and movie theaters.
Best Cards for Pots, Pillows & Other Important Housewares
Once you've finished the repairs, purchased furniture, and moved your stuff in, you may think the purchasing is done — think again. You can't forget all the little things that make a house truly livable, things like kitchen utensils, pillowcases, and light bulbs, just to name a few.
Given that many folks spread the housewares buying around a variety of retailers, it can be difficult to find one card that will reward you for everything. Rewards cards with rotating categories or store cards with big rewards may be the best way to maximize your housewares rewards.
You can earn great rewards on housewares purchases from a number of locations with this card, as it not only typically offers one quarter of bonus cash back at Amazon.com, but you'll also generally see at least one quarter of bonus cash back at wholesale/discount clubs, as well. Quarterly spending limits apply, and categories must be activated.
Like its Discover counterpart, this card's rotating cash back categories change every quarter, so you may need to time your housewares purchases wisely. However, each quarter offers valuable bonuses in popular categories that include grocery stores, drug stores, and Target, to help you stock up every room in the house.
The Amazon Rewards Visa Signature® Card can be surprisingly valuable for new homeowners who happen to be Prime members. The 5% cash back on Amazon.com purchases can be handy for everything from cleaning supplies to housewares, most with that ever-popular Prime shipping.

Earn 3% back on Amazon.com and Whole Foods purchases; Prime Members earn 5% back
Earn 2% cash back at restaurants, gas stations, and drugstores
Pay no annual card fee, Prime fee may apply
You can even save while you stock up your new fridge with 5% cash back on Whole Foods purchases when you use your card. And don't forget to scan your Prime member discount code for even more savings.
Make the Most of Your New Investment
Buying a new home is a big investment — and we're not just talking about the cost of real estate. Everything that goes into your new home is also part of the investment, from the time and money spent on repairs and upgrades to the hundreds of dollars in furniture gracing each room.
To make the most of that investment, it's important to use the right payment method for every purchase. With smart credit card use, for example, you can save at every step, earning cash back and points that you can invest in additional improvements — or a well-earned vacation.
Advertiser Disclosure
CardRates.com is a free online resource that offers valuable content and comparison services to users. To keep this resource 100% free, we receive compensation from many of the offers listed on the site. Along with key review factors, this compensation may impact how and where products appear across the site (including, for example, the order in which they appear). CardRates.com does not include the entire universe of available offers. Editorial opinions expressed on the site are strictly our own and are not provided, endorsed, or approved by advertisers.