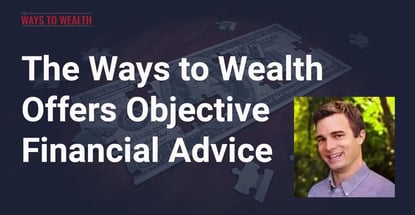 Our experts and industry insiders blog the latest news, studies and current events from inside the credit card industry. Our articles follow strict editorial guidelines.
In a Nutshell: With so much financial management and investment advice available online, R.J. Weiss' The Ways to Wealth has attracted millions of readers due to its comprehensiveness and impartiality. As a Certified Financial Planner™ (CFP™), Weiss produces reviews, how-to guides, best-of lists, and product comparisons for a broad audience according to the CFP fiduciary standard of always acting in the client's best interest. Regardless of where you are in your financial journey, you can trust Weiss and his experienced team of writers and editors to help you get there.
If there's one thing we know about the financial management and investment advice available online, it's that there's a lot of it. And because the purpose behind financial content is not always clear, it's fair to assume that the goal of some content creators is to profit when readers, listeners, or viewers purchase specific financial products or services.
If the content producer makes that goal explicit, there's nothing inherently wrong with that strategy except that it offers the consumer no basis for comparison. It's wise to understand the advantages and disadvantages of particular products and services because they can result in life-changing consequences — either positive or negative.

That's where The Ways to Wealth distinguishes itself and why the site has attracted millions of readers since its inception in 2016. Founder and Senior Editor R.J. Weiss, a Certified Financial Planner (CFP), has counseled individuals, families, and businesses for more than 10 years at his family's financial services firm according to the CFP fiduciary standard of always acting in the client's best interest.
Weiss and his writers and editors have applied that standard to The Ways of Wealth. Readers trust the team to offer objective, reliable financial advice with no conflict of interest or profit motive. Weiss said the fiduciary standard has given him and his team the responsibility to help readers make their own choices.
"The fiduciary standard was important for me when working in financial services with clients so they could have that comfort of knowing that what I told them was in their best interest," Weiss said. "We've transitioned those values to the website, so when discussing a product or service, we're giving our best advice."
Content for a Broad Audience Based on Experience
Weiss went to work for the family business right out of college, handling personal and small-business insurance, retirement planning, and wealth planning for a diverse customer base. As he gained experience and earned the CFP designation, he enhanced his view of financial planning through product knowledge and firsthand experience discussing financial options with clients.
That enabled him to develop insights and recommendations on wide-ranging topics, including side hustles, online jobs, budgeting, investing, and travel hacking.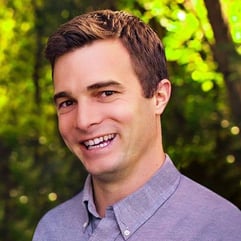 The same is true for Weiss's team. A managing editor with more than five years of tenure on the site oversees content production from the lens of best practices and core values to ensure content reflects those. That also applies to content writers, with the team priding itself on obtaining as much firsthand product knowledge as possible when producing reviews and offering insights and recommendations.
"Firsthand experience has allowed me and the team to create distinctive content in a crowded space," Weiss said. "Having writers who see things the same way we do and an editor to ensure that process is consistent is really beneficial for the site."
As for core values and best practices, The Ways to Wealth aims to make a difference in people's lives by helping them make and save more money and invest their assets wisely. It adheres to the principle that money is a tool that can help people maximize their happiness. The primary goal is to help readers from all walks of life identify their priorities and take positive steps forward.
To get there, the team has a mindset to speak to readers as they would speak to friends and family and to inform its audience when it earns revenue from product recommendations and affiliate marketing.
"We tell readers what we've learned and what to expect so there are no surprises and their questions are answered," Weiss said.
The Value of Fundamentals and Financial Awareness
Over his financial planning and management career, Weiss has developed a few core tenets that help inform and direct the site's mission and purpose. Unsurprisingly, these principles adhere to financial fundamentals that mesh with the fiduciary responsibility to produce results.
The first is that compound interest is a double-edged sword. Although many are familiar with the analysis that you can invest $500 a month for 40 years and become a millionaire, the other side is that compound interest, in the form of high-interest debt, can be highly detrimental to long-term success. Spending money to stay afloat is no way to build a nest egg, in other words.
There's also the opportunity cost of not investing. Deciding to park money in low-interest savings accounts and CDs instead of letting compounding work its magic fails to take advantage of earning opportunities. The Ways to Wealth encourages savers to become investors.

That's easier for folks with financial awareness, another of Weiss's core tenets. Knowing and tracking basic financial numbers, such as how much you spend and your after-tax earnings, creates a positive feedback loop, leading to better money decisions.
"That's a theme you'll find throughout the writings on our site," Weiss said.
Another fundamental for Weiss is that money management and wealth building are skills, and skills are teachable and enhanceable through practice. That's the point of The Ways to Wealth: to impart awareness of financial fundamentals and teach skills necessary to build wealth.
In a way, Weiss said, building money management skills has a compounding effect similar to how compound interest increases the bottom line. The more you know and feel comfortable doing, the better the results.
"Budgeting and making money are skills you can develop," Weiss said. "We want you to practice personal finance to get from where you are today to something better."
Helping Millions Achieve Their Financial Goals
We've stressed the comprehensiveness of The Ways to Wealth, but that doesn't mean the site is hard to use. On the contrary, Weiss and his team strive to make copious amounts of diverse content accessible through landing pages organized by topic.
The section on making money presents tips for side hustles, offers and promotions to earn free money, jobs to increase income, and money-making strategies.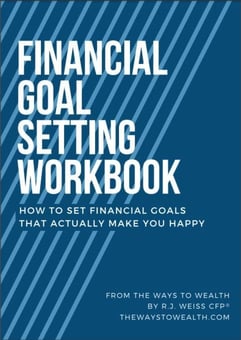 The section on investing breaks down many of the most popular strategies, reviews popular investment tools and platforms, and offers free stock and brokerage promotions.
Finally, a series of landing pages for managing and saving money walks readers through strategies, tools, guides, and reviews to make the most of what you have and turn it into something bigger.
"We focus on core subjects and have those be a home base for further exploration," Weiss said. "We try to make it so readers don't have to click through 10 pages to find what they're looking for."
As a married father of three, Weiss lives what he recommends and tries to look after every dollar he earns. Part of the reason is a habit of mind, but Weiss and his family are travel buffs who use travel credit card rewards to their advantage when taking trips.
Recently published articles on travel hacking and the best ways to earn travel rewards explore top strategies, including credit card bonuses and shopping portals, that he and his family use to expand their horizons.
Meanwhile, The Ways to Wealth homepage offers readers who join the mailing list a free workbook on setting and accomplishing financial goals. It's an ideal introduction to Weiss' fundamentally focused money-making philosophy.
"Reading that is a great way to get deeper into our principles and start your own journey," Weiss said.