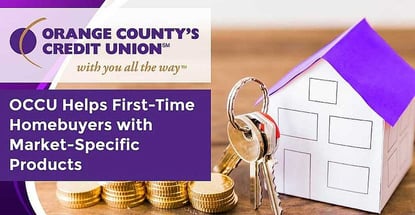 In a Nutshell: In Orange County, California, rising property values have made it difficult to purchase a home for many prospective homebuyers — especially those without perfect credit or the ready cash required for a large down payment. Orange County's Credit Union, founded in 1938, closely follows the current California housing market and offers members loan products and resources that help guide them through the buying process. With competitive interestfir rates on zero-down loans, rebate programs, and personalized financial guidance, Orange County's Credit Union can help residents of Orange and Riverside counties realize their dream of homeownership.
After steady increases over six-and-a-half years, the median home value in Southern California hit a record high of $537,000 in June of 2018. For residents of Orange County, California, those market conditions can make securing financing a difficult first step to homeownership. As property values continue to exceed loan limits, prospective homebuyers are often priced out of the county before they even start looking for a house.
Meanwhile, the cost of renting in Orange County — an average of around $2,000 ­per month — can keep families from saving enough money for a down payment on a starter home. When residents finally approach a mortgage broker or commercial bank, financial setbacks from the past can also make it hard to get approved for a loan.
Orange County residents with similar stories have approached Jennie Jacobson, a Mortgage Loan Officer for Orange County's Credit Union.
One man came to Jacobson still burdened by financial troubles from a divorce. Although he had a good income, his credit score hadn't yet recovered. Remarried and ready to purchase a new home, he approached several lenders only to be declined. Then he came to Orange County's Credit Union. While he'd banked with the cooperative for years, he was surprised to find that his credit union also offered mortgages.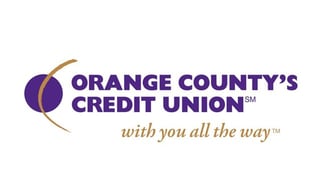 "We did the loan for him and helped him purchase a house. He couldn't believe we saw him as a person who had made mistakes but was recovering from them. We took the time to do credit counseling and work with him through that," Jacobson said. "He ended up being so grateful that he moved all his investments to us, and he tells everybody about what we did for him."
Another couple Jacobson helped was recovering from a recent bankruptcy after a series of fertility treatments had drained their savings and caused financial difficulties.
"I did an FHA loan for them because it was the best fit based on the limitations of their scenario, and they bought a small condo. It was a very difficult approval, but I stuck with it because I understood their situation and sometimes the best fit is a stepping stone toward their end goal. The woman found out she was pregnant during the process, and their daughter is now 4," Jacobson said.
This openness to personal connection and commitment to helping residents navigate the otherwise daunting process of home-buying in Southern California make Orange County's Credit Union a refreshing option among mortgage lenders.
Since its founding in 1938, Orange County's Credit Union has grown to more than 100,000 members and continues to develop products and programs that help Orange County and Riverside County residents buy a home — no matter what housing market challenges they may face.
Offering Mortgage Products & Exclusive Home Rebates that Cater to Orange County
When it's time to shop for a lender, some homebuyers aren't aware of what differentiates a credit union from a commercial bank. Others may not think they qualify to join one, Jacobson said. Historically, many credit unions have been employee-based. Orange County's Credit Union was itself founded as Orange County's Employees Credit Union, but opened its membership to all residents of Orange County in the 1990s. Today, it's open to everyone who works or lives in Orange County and Riverside County, as well as the cities of Long Beach, Signal Hill, Lakewood, and Cerritos.
The credit union's not-for-profit model can make a difference when it comes to the interest rates and fees associated with a mortgage. When it makes a profit, that goes back to its members in the form of savings on interest rates. When comparing rates on a 30-year fixed mortgage, Orange County's Credit Union offers an APR that's, on average, as much as 0.207% lower than the APRs offered by several large commercial banks.
Since the entire process from loan origination to post-closing and audit are done in-house, Orange County's Credit Union can cut loan costs, as well. "If you look at a statement from a broker versus a credit union, you'll be amazed at the difference in the fees there," Jacobson said.
While Orange County's Credit Union offers industry-standard loans through Fannie Mae, it's niche is the zero-down home loan. This Adjustable-Rate Mortgage (ARM) loan allows first-time or seasoned homebuyers to borrow up to $679,650 with no upfront fees or negative amortization, options for no points or closing costs, and no max income limitations.
"The payment's affordable, and the private mortgage insurance (PMI) isn't much more than if you had a down payment," Jacobson said. To qualify, applicants need good credit and two months of principal, interest, property taxes, homeowners insurance, and association dues (PITIA) — an amount that sits in their account in case of an emergency.
This loan option helps residents for whom high rent and other costs of living have made it difficult to save money for a down payment. Even if a homebuyer could come up with the minimum of 3% to 5% by draining their savings, the zero-down loan allows them greater financial flexibility.
"Instead of taking their money, we leave it with them so they can still have an emergency fund, buy furniture, or set it aside for a remodel," Jacobson said.
A similar offering is the 3% down jumbo loan, which allows residents to overcome the obstacle of property values that exceed conforming loan limits. This type of loan is often the only way members can buy in certain areas, Jacobson said.
Orange County's Credit Union takes its efforts to help Orange County homebuyers a step further by creating a home rebate program. The program, known as Home Connections, allows buyers and sellers to earn 20% to 25% of their agent's sale commission and can be used in combination with the zero-down home loan.
Not only does the program enable participants to save and earn money on their home transaction, but it also comes with the benefits of a more streamlined, hassle-free process.
Financial Resources and Information for New Homebuyers
Many potential homeowners come to Orange County's Credit Union without much knowledge of the financial implications of owning a home, which is why the organization offers its members free resources and advice as they prepare.
Under Buying a Home, members can find infographics, loan lookup tools, FAQs, and calculators to help them assess their financial readiness and answer important questions, such as, "How much house can I afford?"
"Something I always ask people, in the beginning, is what they can afford for a payment. It doesn't matter what you can qualify for if it's different than what you can afford," Jacobson said.
Orange County's Credit Union's complimentary Total Cost Analysis tool can help answer that question and many others. The tool shows a side-by-side comparison of a buyer's loan options along with a simplified overview of costs, savings, and other relevant factors. The Total Cost Analysis provides a personalized snapshot that helps buyers make a more informed decision about which type of loan is best for them. The analysis, which is updated in real time, can be viewable in many formats, including on mobile devices.
Another factor that often confuses first-time buyers is understanding the difference between pre-approval and pre-qualification.
"Many lenders will give you a pre-qualification letter, which is based off what you put in for your income and isn't vetted by an underwriter. If you're only pre-qualified, something could happen at the very end to could keep you from closing," Jacobson said. "When listing agents are getting multiple offers — and they are in this environment — they want a pre-approval, which means you've provided your documents, and an underwriter has reviewed and approved you. It's much easier to get an offer accepted and close escrow quickly without stress."
For these reasons, Orange County's Credit Union waits until members are pre-approved before asking them to send offers.
As always, Jacobson said, it's good to shop around with a few lenders before deciding where to finance a home purchase. "You want to look and see what's out there and at what rate, but you should always have a credit union in the running because you'll be amazed at the difference," she said
Guiding Members Throughout the Home-Buying Process
The home-buying process is rarely a straight shot. For some, it can take years before the timing — which hinges largely on their financial situation — is right.
"It can be intense. I've talked to some members for five years before they ever buy. Or, they might feel like they're two years out, but they're actually ready now. Others might feel like they're ready now, but they're two years out," Jacobson said. "Being a homeowner is different — you need to make sacrifices in your spending."
Whether buyers need to address their financial readiness for a mortgage payment, improve their credit score, or learn more about their loan options, Orange County's Credit Union is there to help — and the benefits show in the feedback and organic growth it has experienced over the last 80 years.
"So much of our business comes from word of mouth. We have trust from day one because a sister or co-worker had a good experience with us, and they want the same thing," Jacobson said. "We ride the wave of emotions with them, and it's rewarding in the end — especially for the people who had a bad experience with another lender or had a long journey to get there."
For Orange County residents such as the couple who came to Jacobson to purchase their first small condo, Orange County's Credit Union's caring approach and specialized loan products have started them on the path to not only homeownership but also financial recovery.
"They just came back to me to sell that house and buy a single-family residence," Jacobson said. "It was great to see all the hard work pay off, and that we were able to get them a very similar payment in a bigger house," Jacobson said.
Advertiser Disclosure
CardRates.com is a free online resource that offers valuable content and comparison services to users. To keep this resource 100% free, we receive compensation for referrals for many of the offers listed on the site. Along with key review factors, this compensation may impact how and where products appear across CardRates.com (including, for example, the order in which they appear). CardRates.com does not include the entire universe of available offers. Editorial opinions expressed on the site are strictly our own and are not provided, endorsed, or approved by advertisers.