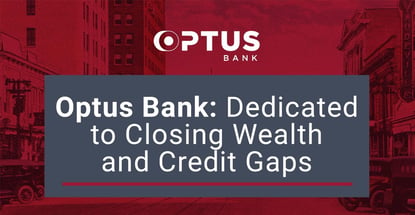 In a Nutshell: Although the history of the post-Civil War American South is in many ways a history of African American exclusion, Optus Bank stands as a marker for correcting the mistakes of the past. Founded as Victory Savings Bank by black leaders in 1920s South Carolina, today's Optus Bank is a $300 million institution with a laser focus on supporting entrepreneurship and broadening consumer credit access in underserved communities of all kinds. One of only 16 black-owned banks in the U.S., Optus builds on its legacy to create a fairer and more equitable future.
The gaps in wealth distribution and access to financial services — especially along racial lines — have stubbornly persisted in the U.S. for 400 years.
The COVID-19 pandemic has perhaps brought those inequities into clearer focus than at any other moment in recent history.
Now lump that systemic injustice in with other disparities experienced by other historically underserved populations and regions, and you're looking at a problem that may very well seem too big to solve.
But it isn't, argues Dominik Mjartan, President and CEO of Optus Bank, based in the heart of the Old South in Columbia, South Carolina. In fact, by focusing almost all of its energy on encouraging entrepreneurship, home ownership, and responsible credit utilization specifically in underserved communities, Optus is seeing real results that promise greater momentum toward closing those gaps.

"Because we believe that entrepreneurship is the key to addressing disparities and creating multi-generational wealth, the small business owner/entrepreneur is at the heart of our bank," Mjartan said.
"But because many of our entrepreneurs frequently tap the equity in their homes or their personal consumer credit to invest in their businesses, we also believe that we almost have an obligation to offer responsible and responsive consumer products as well," he said.
Optus therefore offers home loans in addition to lines of personal and business credit, including a popular CD-secured loan that customers turn to for credit building.
"Unfortunately, all credit is not created equal," Mjartan said. "We want to make sure we're building that on-ramp to low-cost or more appropriate credit as opposed to predatory credit."
A Rich History of African American Inclusion
In addition to being one of only 16 black-owned financial institutions operating in the U.S. today, mission-driven Optus is also a U.S. Treasury-certified Community Development Financial Institution that explicitly targets entrepreneurs and credit consumers overlooked by mainstream institutions.
"These are folks who are totally bankable and good successful business owners or aspiring entrepreneurs, but they may not be perfectly suited for the mainstream banks," Mjartan said. "Our core mission is to close those credit and opportunity gaps."
It's a mission that has stayed constant since the original Victory Savings Bank was founded in 1921 in Columbia by a group of visionary and courageous African American entrepreneurs.
"They saw the mainstream community buying homes and growing businesses, but they were cut out by most of the banks, so they created a bank that would allow them to build wealth," Mjartan said. "Today, that bank has reincarnated into Optus."
In 1948, physician and community leader Dr. Henry Monteith led the bank, relocating it in 1955 to a now-historic location on Washington Street in downtown Columbia.
Using deposits from the South Carolina NAACP and state civic groups, Victory Savings Bank for years was the chief lending institution for farmers and businessmen affected by boycotts led by White Citizens' Councils. Also, Monteith's sister, the well-known reformer Modjeska Monteith Simkins, led a branch of the bank for a time.
Rapid growth over the past four years has resulted in Optus attaining more than $300 million in assets, up more than 500% from just four years ago.
"A majority of our shareholders' voting control is in the hands of African Americans who intend to keep it that way forever," Mjartan said. "We're out to ensure that every person in America, regardless of their inherited circumstances or ZIP code, has fair and equitable access to financial services."
On-Ramps to Low-Cost Credit and Home Ownership
On the consumer side, that starts with the idea that while everyone may have access to credit, predatory credit is actually counterproductive. So Optus puts customers first, regardless of their current or inherited status, in seeing them through to financial autonomy.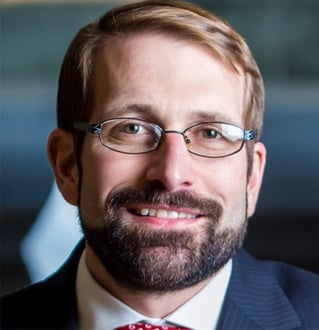 "Building that on-ramp sometimes starts with something as simple as a credit builder CD or even just a counseling session with one of our lenders," Mjartan said. "When someone comes in and asks for a loan and we pull their credit report and see all kinds of issues, frequently those can be remedied in a matter of weeks or months and improve that person's credit status."
For the energetic staff at Optus, that sometimes means spending more time on the small customers than on the big ones.
"As the old saying goes, if you need to borrow $1 million, you're qualified, but if you need to borrow $1,000, you're probably not," Mjartan said. "The smaller the loan, and the greater investment of time you typically have to make in a relationship with that borrower if you want to really help them."
Essentially, the goal is to put customers into products they can not only afford but that help them thrive. Bureau-reported CD-secured loans are a prominent solution in that regard.
"I actually prefer that product to a secured credit card because at the end of the term, the customer has a liquid asset available to them," Mjartan said. "Frequently it's more money than they've ever had in their lives."
And if there's a struggle to find a fit for a particular product, the customer is going to know the precise reasons, even if the conversation is painful.
"We do consumer lending to serve the whole person and the whole community," Mjartan said. "I'm a strong believer in holding our bank accountable to our customers and our communities."
Optus Bank: An Engine for Minority Entrepreneurship
For many entrepreneurs, building home equity is a key step to growing their business, and Mjartan and Optus see home equity as a key to generating the multi-generational wealth lacking for so long in underserved communities.
"For our entrepreneurs, building home equity that they can then leverage for their business puts them on that path to very low cost funding that can create a permanent asset for themselves and their families," Mjartan said.
Business lending at Optus therefore ranges from the smallest unsecured loans and home loans all the way to multimillion-dollar commercial real estate (CRE) and commercial and industrial (C&I) loans and working capital lines of credit — all built to include the excluded.
"They may have a little bit of a unique story, or they may have a little bit less liquidity, or they may have a little bit less collateral," Mjartan said. "That's where our relationship banking approach really proves valuable."
Unfortunately, COVID-19 revealed the systemic gaps Optus seeks to fill. Growth actually accelerated during the pandemic as the bank picked up hundreds of new relationships that more mainstream institutions considered too small to save.
"Now folks can clearly see the value of calling their banker on a Sunday night and asking for help," Mjartan said. "We didn't have to find them, they found us — and we're grateful for the opportunity to serve them."
But whereas larger institutions have to be intentional to bank the underserved, it's the other way around at Optus. Up to 90% of its loans are invested carefully in underserved communities and support underserved people.
"Regardless of where you are on your financial journey, you have a good home here, and we can help you, in some way, move to the next rung on that proverbial financial ladder," Mjartan said. "When you leave our doors, you'll leave better off than when you walked in."
Advertiser Disclosure
CardRates.com is a free online resource that offers valuable content and comparison services to users. To keep this resource 100% free, we receive compensation for referrals for many of the offers listed on the site. Along with key review factors, this compensation may impact how and where products appear across CardRates.com (including, for example, the order in which they appear). CardRates.com does not include the entire universe of available offers. Editorial opinions expressed on the site are strictly our own and are not provided, endorsed, or approved by advertisers.