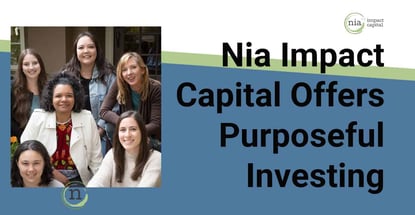 Our experts and industry insiders blog the latest news, studies and current events from inside the credit card industry. Our articles follow strict editorial guidelines.
In a Nutshell: Americans who invest as part of their wealth-building and retirement planning strategies increasingly want to do so in ways that align with their values. Nia Impact Capital is a women-led firm offering purposeful investing that prioritizes sustainability and social justice. Nia invests in well-positioned growth companies offering a primary product or service that benefits people and the environment. With a commitment to shareholder activism, it holds its portfolio companies accountable to their stated goals and advocates broadly for equity and sustainability.
Nia is the Swahili word for intention and purpose, and Nia Impact Capital lives up to its name as a successful test case for the idea that investing can be an agent for social change. With more American investors seeking opportunities that reflect their values, Nia champions an approach where investing is central to building a better world.
Founder and CEO Kristin Hull leads a dynamic team with a "change the face of finance" ethos and a single-minded strategy to drive social impact solutions. Nia seeks to redress the endemic lack of representation among women and people of color in investing and focus on firms that do the same. Its internship program actively trains and empowers women to invest and to push for more diversity in corporate America.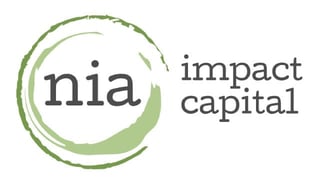 "Among portfolio managers, women and people of color oversee about 1.4% of the assets combined," Hull said. "We're looking to bring intention and purpose into asset management and create products people yearn for these days as they align their capital with their values."
There's a fit for investor-customers of all ages, but Hull said millennials are leading the way toward a market that reflects more socially responsible goals. They understand the status quo economy has only worked for some and want to see change, including climate and healthcare solutions and more indications companies actively care about their workers.
Hull said companies that consider employees as occupying the asset side of the balance sheet, as opposed to the expense side, do better. In the wake of the COVID-19 pandemic, the market needs more inclusive environments where employees are more highly valued.
"We take that to heart at our firm and put our employees first," Hull said.
Products That Help Drive Social Change
Hull cut her teeth professionally at a trading firm where the mantra was to buy low and sell high as often as possible.
"That's what you do in high-frequency trading," Hull said. "But I was always left with the question of what it would look like if we could harness financial markets for justice."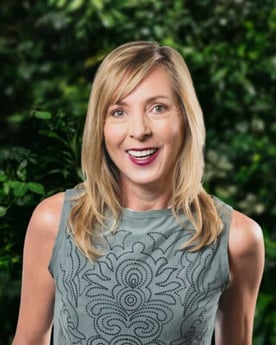 Nia operates on the premise that because humans generate the economy they invest in, investors ought to support the companies that help produce the economy they want. Individual investors who contact Nia can expect personalized onboarding and ongoing support as they open and fund their accounts with the custodians of their choice.
Nia's Global Solutions and Growth and Dividend products are separately managed accounts with a $100,000 minimum investment. They're a fit for individual and institutional investors and investment advisors, typically via self-directed IRAs.
"Because we offer daily liquidity with no lockup, anybody looking for high impact, who needs some flexibility about liquidity and can't get that in private markets, can come to us for that type of high impact," Hull said.
Nia's portfolio companies all have some degree of women and diversity in leadership to start, and then Nia works with them to increase those numbers. The investment firm values diversity at all levels and wants to see diversity in products and services, revenues across geographies and sectors, and organizationally at the top and throughout the company.
More than diversity, Nia wants an inclusive company culture where employees can bring their whole selves to work, Hull said.
"When you feel you can really bounce ideas around and be innovative, that's where the most innovation happens," she said. "We count on our companies to be the most innovative for the solutions they're solving."
Solution Themes Direct Portfolio Governance
Nia calls its approach purposeful investing. Companies in Nia's lineup follow ESG (environmental, social, and governance) guidelines and meet Nia-established standards. They're good buys because they show solid growth and product potential that the market may only partially recognize.
They take a balanced approach to achieving social and corporate goals they view as complementary. And they hire women in leadership roles, promote inclusive work environments, and offer products and services that benefit women and girls.
Nia uses rigorous, fundamentals-driven research to select companies within six themes or focus areas related to systemic risk. Themes include sustainable planet (climate change mitigation and adaptation), healthcare innovation and access, natural and organic foods, sustainable and affordable transportation, affordable housing, and education, communication, and financial services.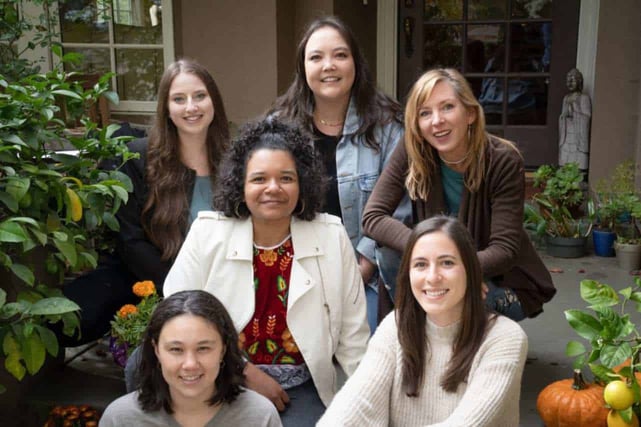 The six themes align with the 17 UN Sustainable Development Goals. In 2012, Japan had its first cases of yellow fever because climate change had expanded the range of the disease. This event spurred Hull to systematize how her vision of impact capital would address climate change. She used systems to devise the themes based on solving the most pressing problems for people and the planet.
"If we want an economy where people and planet will not only survive but thrive, we need to stop extracting from our Earth and our communities," Hull said. "And we need to invest in regenerative solutions, particularly for energy."
Nia is able to help because its message of social change is direct, which consumers readily respond to.
"When people have Nia in their IRA or account, they understand the companies and how we work," Hull said. "We empower women and people of color — and really everyone — to direct more capital into the world we all want to see."
How Investing Can Build a Better World
Hull and the NIA team participate in webinars and interviews, and produce articles and communications materials to advance the argument that more women should do more to help the world through investing. Customers and consumers may follow Nia on social (Facebook, LinkedIn) to stay updated and involved.
These activities signal Nia's commitment to change and to engage stakeholders and the public in a debate about outcomes. But Nia goes further through direct action for diversity, equality, and sustainability with its portfolio companies.
It holds companies accountable in a variety of ways. First, it issues investor statements to direct progress. It meets with companies to share best practices.
"If those conversations don't progress at a pace that we feel is reasonable and productive, we'll use other tools such as shareholder resolutions, where we go to the Securities Exchange Commission and file," Hull said. "We do that frequently, which gets their attention and moves the progress and the conversation more quickly."
In late 2022, Nia helped achieve a victory when the US tech company Apple announced it was eliminating nondisclosure agreements and employee contracts. Nia was also instrumental in compelling IBM to issue diversity reports through a shareholder vote.
Other times, action is indirect. For example, Nia's efforts to spur Tesla to reduce or eliminate forced arbitration because of associations with sexual harassment and racial discrimination haven't come to fruition. But Nia directed Tesla employees to register complaints with the California Department of Housing and Employment, and the state is now suing the car company for racial discrimination.
Hull said more investment consumers want to know actions such as these are underway.
"Moving into active management, where we watch all the outputs and create solutions-focused companies, that's the investing of the future," Hull said.