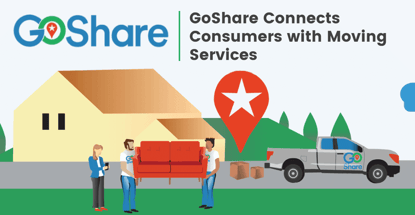 In a Nutshell: Everyone needs help moving at some point, but traditional moving and truck rental services generally offer a lackluster — and expensive — experience. But the GoShare platform allows users to find affordable movers in their area on-demand. GoShare connects independent contractors who own trucks and vans with businesses and consumers who need their services. As a manifestation of the sharing or gig-based economy, GoShare is bringing new levels of service and accountability to an industry receptive to disruption.
Shaun Savage often found himself in need of moving and delivery services. Life events ranging from apartment moves to large appliance purchases and even small package deliveries all seemed to require a van or delivery truck. At one time, Savage also ran a painting business, which involved continually running back and forth between stores and job sites to drop off equipment and supplies.
He also found that his experiences with moving services were never quite what he thought they'd be. And whenever he had to secure a vehicle himself, the process was cumbersome and expensive. Even when he was doing business with a company that also provided delivery, it seemed arbitrary and often costly.
Around 2014, Savage became a fan of emerging businesses — including Uber and Airbnb — that were gig-based and modeled on the sharing economy. In contrast to traditional companies, gig-based organizations eliminate as much inefficiency and bureaucracy as possible to connect buyers and sellers directly.

So Savage decided to solve his own inconvenience, and that of many others, by starting GoShare, a platform that connects people with moving and delivery services on-demand.
Savage understood that the gig model was successful because it placed more power in the hands of consumers and more accountability on suppliers. That's why he built GoShare to boost efficiency in the moving and delivery services industry through gig work in the same way that had revolutionized ride-sharing, home and room rentals, and other industries.
"Why can't we live in a world where you just tap a few buttons on your mobile device, and a truck comes with a guy to help you if you need it?" Savage said.
That idea turned out to be quite popular. Since its founding in 2014, GoShare has expanded to more than 30 major metro areas across the U.S., and has plans to grow a much larger national footprint.
Increasing Options and Opportunities for Independent Delivery Contractors
GoShare connects independent moving contractors with people and businesses who need to move, haul, or deliver items. Like other popular sharing-based services, users request service through an intuitive mobile app. GoShare drivers own pickups, cargo vans, and box trucks, and have on-demand availability.
And driver opportunities abound in GoShare locations. Pickups and cargo vans earn $50-60 an hour, with larger trucks taking in $70 or more an hour. Drivers set their own areas and hours of operation, accepting work only when they want it and receiving compensation directly from GoShare within a week. GoShare handles customer billing and cargo and liability insurance, so drivers can focus on making money.
Potential drivers must own vehicles that are in good condition, and meet all relevant state license, registration, and insurance requirements. They must also pass background and driving history checks.
"Our drivers love it," Savage said. "Many say, 'My whole life I've been doing moving favors for people, and now I can actually make a good living doing it consistently.' It's just such a good fit."
GoShare also works to ensure ample opportunities for drivers by carefully researching expansion locations.
"We developed our own scoring system to help us get a better idea of where we should launch next," Savage said. "We take probably 15 or 20 different factors into consideration — population size, trends in terms of people moving out or moving in, and even whether we would have a waiting list for drivers in a particular location."
Meeting the Needs of Businesses and Consumers Alike
GoShare drivers serve customers that range from enterprises with international footprints to local businesses and individual consumers.
"Major retailers like Costco and other business customers turn to us as a reliable, on-demand, cost-effective, last-mile delivery service from store to home," Savage said. "They see the value in that we give them access to data that they don't normally have. And they gain command of a flexible fleet of trucks that they don't need to manage and that they can summon within a few minutes on a smartphone."
On the data side, businesses can track order history, average order value, and other metrics. Dedicated account managers also provide additional monthly analytics reports.
And consumers get what they need without any hassle.
"As an individual, your alternatives are going with a traditional moving company or renting a truck and doing it yourself," Savage said. "And I don't think people love either of those options. We try to focus on customer experience and ensuring it's simple for someone to get a truck and maybe one or two strong movers to help out."
The pricing is also affordable. GoShare uses an algorithm to compute almost a per-minute fee based on the items being moved, where they're going, how many hands are necessary, and what type of vehicle is required. Payment via credit card of the exact amount based on that computation is straightforward and transparent. And feedback is direct.
"Drivers get rated after every delivery, so if anyone isn't a good actor, we identify and remove them," Savage said.
GoShare: Disrupting the Industry by Expanding Markets
GoShare is not reinventing the wheel — moving and delivery services have been around for a long time. What it does is make those services more accessible, efficient, and affordable.
"We found a way to use technology to do it better, faster, cheaper, and more conveniently," Savage said.
But making all those variables work in favor of customers large and small means a bright future ahead for the moving industry's chief disruptor.
"When people learn about us — whether it's a business that's using GoShare or a consumer — they like it better than what's available, so they end up switching," Savage said. It wasn't easy for a new, small company to come in and get a contract with a Costco, but we did it. We built something that people like to use, and it's better than what was available."
And GoShare's careful, metrics-based growth strategy and plans for future platform enhancements offer ample potential for prospective investors. Savage anticipates Series A financing, and the GoShare team envisions working with a family office or an institutional B2B fund soon.
"After we identify our lead investor — and depending on how much they're willing to participate — we would also have room for other high-net-worth individual angels to come on board," Savage said. "Some of our current investors will be participating, as well."
What supporters stand to gain is a stake in a company with international aspirations.
"We've displaced a lot of incumbents along the way," Savage said. "And there are a lot of good market opportunities. We don't see ourselves as being just a U.S. company."
Advertiser Disclosure
CardRates.com is a free online resource that offers valuable content and comparison services to users. To keep this resource 100% free, we receive compensation for referrals for many of the offers listed on the site. Along with key review factors, this compensation may impact how and where products appear across CardRates.com (including, for example, the order in which they appear). CardRates.com does not include the entire universe of available offers. Editorial opinions expressed on the site are strictly our own and are not provided, endorsed, or approved by advertisers.