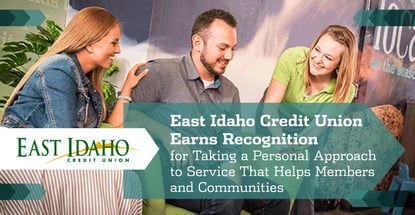 In a Nutshell: East Idaho Credit Union (EICU) has cared for the people in the Idaho communities it serves for generations. EICU employees counsel members personally, raise funds for local charities, and encourage area schoolchildren to support their less-fortunate peers. The institution is on a mission to invest in local people and foster employee communication, teamwork, and volunteerism. That dedication to its members and Idaho residents has earned EICU our Editor's Choice™ Award for Community Commitment.
In the run-up to the election of Franklin Roosevelt as president during the Great Depression in 1932, Bing Crosby's recording of "Brother, Can You Spare a Dime?" became a huge hit. The song tells the story of a working man who builds railroads and skyscrapers and defends his country in World War I. But the economic downturn has not spared him, and he spends the song asking passersby for spare change.
Not long after Roosevelt's election, 24 U.S. government employees based in Idaho Falls, Idaho, founded what would later become East Idaho Credit Union (EICU). Ever since, through good times and bad, struggles and successes, EICU has actively participated in the financial success of its members and invested back into its communities.
Today, the state-chartered EICU operates a total of nine branches and serves more than 32,000 members who live and work in Idaho Falls and the surrounding rural communities of eastern Idaho. EICU continues to grow and build on its more than $300 million in assets, with a 10th branch scheduled to open in 2020.
The institution promotes the values of teamwork, respect, integrity, and knowledge, and strives to demonstrate those in interactions with its members. And EICU also understands its history and the challenges faced by many East Idaho residents today, especially in the predominantly agricultural communities where they live and work.
EICU also understands that help can sometimes come in the form of spare change. Toby Hayes, EICU Vice President of Marketing, said the institution's Coins for Christmas campaign motivates area students to help others — one coin at a time — for more than 30 years.
"Coins for Christmas is based on the credit union principle of people helping people, but on a much younger level of kids helping kids," Hayes said. "Every holiday season, we put empty water jugs in our elementary schools and ask the kids to bring in their spare change. We use that change to buy shoes for children in need."
For that dedication to members, schools, and causes in Idaho, EICU earns our Editor's Choice Award for Community Commitment.
"Kids Helping Kids" Model Fosters Significant Impact
EICU partners directly with qualified school counselors and social workers to ensure the Coins for Christmas shoes — no matter what sizes —end up on the feet of children who need them.
"In 2018, we had a kid from an impoverished family who had different-sized feet, and he always had to have at least one shoe that didn't fit," Hayes said. "We stepped in and got him two pairs of shoes so he could take one from each. It was the first time he had ever had a pair of brand-new shoes that fit."
Over the years, as needs have grown in East Idaho, Coins for Christmas has grown, too. As the program gained momentum, EICU incorporated additional fundraising programs to meet the additional demand. The credit union has hosted an annual Kicks for Kids golf tournament since 2017 to bring competitive East Idahoans on board with the campaign.
"This past June we raised almost $50,000 for the program," Hayes said. "In 2018 alone, we bought 1,500 pairs of shoes. We're happy it gets so much participation because there's a lot of need out there."
Meanwhile, in the schools, Coins for Christmas attracts the enthusiasm of students who sometimes face daunting challenges themselves.
"The student body president at one of the elementary schools went in front of her fellow students to get them excited about the kids-helping-kids opportunity," Hayes said. "We found out later that she had a brother who had passed away recently. But she took that opportunity to give back even though she and her family were going through an extremely tough time."
Personally Connecting with Members to Address Needs
Just as EICU helps community members through its programs, its employees take a personal approach to assisting credit union members. Employees strive to address financial challenges on a case-by-case basis so members can build a better future for themselves — and East Idaho as a whole.
"We invested in a training program that allows us to dig in and understand people's needs — not just to sell loans or promote services," Hayes said. "It's a pretty intensive program."
Instead of hosting financial literacy workshops and other forms of instruction, the EICU program can have a more direct impact. That's because it allows employees to engage in one-on-one conversations with members and dive into the financial details that lead to workable solutions.
In addition to providing a comprehensive line of products, services, and tools for its members, EICU stays true to its mission of "Not for Profit, Not for Charity, But for Service."
"Every front-line employee goes through the training, and it gets reinforced regularly," Hayes said. "That allows us to have those conversations and connect on a personal level with our members."
And those conversations can happen in any of EICU's branches — from its main branch in Idaho Falls to others in much smaller municipalities located hundreds of miles away.
EICU: Lending a Helping Hand Wherever it is Most Needed
EICU helps its members with customized financial products and encourages local students and community members to help others with their spare change. But the institution's employees also volunteer personal time to support organizations in need of a helping hand. And EICU financially supports charities that make positive local impacts.
Its community partners include an area hospital and an animal shelter, and EICU gives back through scholarships and donations to organizations, including the Children's Miracle Network. Employees often volunteer at institutions, including the Family Crisis Center located in Rexburg, which provides a safe haven for victims of domestic violence and sexual assault.
Over the years, the positive workplace culture embodied in all of EICU's branches has resulted in volunteerism taking on a life of its own.
"We used to require our employees to volunteer," Hayes said. "It's to the point now where we have so many who want to get involved — even on Saturdays."
That kind of commitment was certainly a factor in EICU being named the best large company to work for in Idaho in two consecutive years (2018 and 2019). The Credit Union National Association also awarded EICU its 2019 Dora Maxwell Social Responsibility Community Service Award.
"We translate what we do for the community to lift people up, and it makes EICU a great place to work," Hayes said.
In keeping with the old song, just as East Idaho students give back one dime at a time, EICU also thanks its members one burger at a time. Every summer, it hosts a member appreciation day at each of its branches. This year in the town of Salmon, which has a population of about 3,000, the credit union fed burgers and hot dogs to more than 700 people. And in Challis, a town of about 1,000, EICU fed more than 350 people.
"It's a chance for us to say, 'Thank you for being a member of the credit union and for being connected to something that's so strong within the community,'" Hayes said. "Being involved in all the things we do is uplifting."
Advertiser Disclosure
CardRates.com is a free online resource that offers valuable content and comparison services to users. To keep this resource 100% free, we receive compensation for referrals for many of the offers listed on the site. Along with key review factors, this compensation may impact how and where products appear across CardRates.com (including, for example, the order in which they appear). CardRates.com does not include the entire universe of available offers. Editorial opinions expressed on the site are strictly our own and are not provided, endorsed, or approved by advertisers.