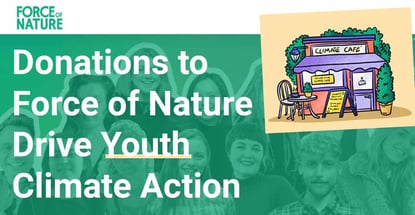 Our experts and industry insiders blog the latest news, studies and current events from inside the credit card industry. Our articles follow strict editorial guidelines.
In a Nutshell: Sixteen-year-old Clover Hogan attended the COP 21 UN Climate Change Conference in 2015 flush with youthful anticipation that global leaders were on the cusp of achieving a more favorable climate future. When she saw attendees greenwashing their sustainability contributions with platitudes and empty promises, she decided to do something about it. The result is Force for Nature, a UK-based nonprofit that nurtures young voices and bridges generations to address climate change. Donations help Force for Nature transform hopes for a more sustainable world into meaningful action.
They say youth is wasted on the young, but with Clover Hogan, that wasn't the case. She embarked on a journey to understand the global climate threat in high school. What she learned put her on a path to activism and entrepreneurship, and at the age of 19 in 2019, she founded Force of Nature to carry the climate fight across generations.
On one level, Force of Nature is an education and advocacy organization. It consults with businesses and participates in workshops and youth advisory boards to connect young activists with corporate leaders. It also facilitates student workshops and teacher training and develops educational resources.
It's the way they go about it that's different. Force of Nature sells many of its services and uses the funds (along with private donations, which account for about 60% of its revenue) to train and equip young people like Hogan to participate on the global climate stage and effect transformative change. In doing so, they combat growing eco-anxiety among youth and provide tools for transforming feelings of frustration about climate inaction into strategies and techniques for getting things done.
Those feelings of frustration are at the heart of everything Force of Nature does, said Kat Hamilton, Force of Nature's Partnerships and Programmes Director. As of spring 2023, Hamilton is on a team of 11 at Force of Nature, which Hogan still leads.
"What we need is just for people to take action on things they care about," Hamilton said. "It sounds too simple, but the reality is that the way we're taught and the structures in place leave people feeling overwhelmed. But we can't shut down just because those emotions are difficult."
Activating a Global Community of Change Makers
Hogan's student experiences within the climate activist community left her feeling overwhelmed too. As a 16-year-old in 2015, while a student at Green School Bali in Indonesia, she attended the COP 21 UN Climate Change Conference in Paris, a budding climate activist optimistic that world leaders would find ways to reverse the trends she was learning about.
As she recounts in a video, participating with corporates and organizations at COP 21 left her feeling their climate commitment was window dressing designed to perpetuate the status quo.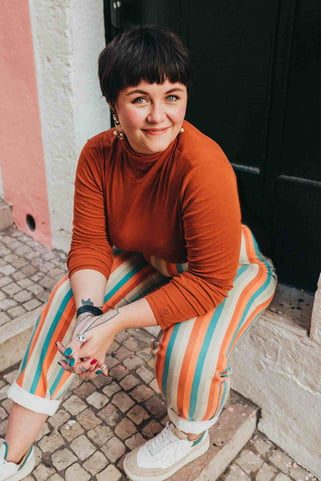 "I had never encountered greenwash at such an unapologetic scale, and I'd never met so many leaders fluent in making promises scheduled far enough into the future that they required no immediate action," Hogan said in the video. "COP 21 showed me that we've had the technology and resources and ingenuity to solve the climate crisis for many decades, and yet, critically, we've lacked the mindset."
That's what Force of Nature is for — building that mindset among young people and preparing them to deal with leaders face to face. To do that, Force of Nature offers a Youth Portal for individuals between 16 and 35 to join a network of thousands and participate in a free training pathway. As of spring 2023, the next cohort of pathway participants will begin in June and July.
Consultant training prepares youth to advise business leaders, engage in decision-making, and disrupt the status quo. Content creation training prepares participants to create online media about climate anxiety, systemic change, and climate justice.
Speakers training is preparation for the rigors of public speaking, negotiating with business leaders, and taking a permanent place among thought leaders, activists, and experts. Facilitators training teaches participants to deliver workshops to students, educators, and decision-makers.
"We measure the impact of our work through the people we reach and the mindset shifts that occur," Hamilton said. 
Force of Nature will continue to develop trainings that equip young people with the skills to take climate action.
Youthful Voices Connect to Leadership Culture
Products for businesses and educators mesh with the training pathways to establish a feedback loop with organizations supplying the funding and community participants supplying the expertise.
Businesses interact with Force of Nature through intergenerational forums. Pathway graduates can provide a keynote address, facilitate a 30-minute lunch and learn session, or delve into a standard hour-long workshop.
To book a speaker, fill out a form and apply, and a Force of Nature team member will reach out with further assistance.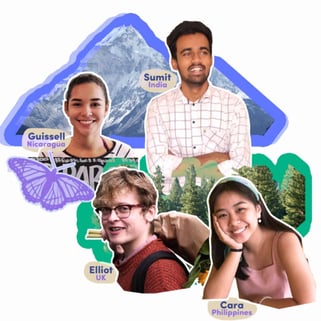 A deeper-dive business offering includes an organizational survey, The Pulse, and a 120-minute Pulse insights workshop. The Pulse uses a unique analysis methodology based on qualitative and quantitative questions to gain powerful and nuanced insights into the mindset and culture of organizations.
Business clients may also participate in The Biome, Force of Nature's hand-picked community of companies, formed to foster deeper collaboration among diverse groups through community-building, intergenerational exchange, and long-term interventions.
Programs for educators include a 90-minute Anxiety to Agency workshop and a Becoming a Force of Nature program that incorporates the workshop into three 90-minute sessions, both directed at students.
Teacher trainings include a 60-90 minute Continuing Professional Development session to teach responses to climate anxiety and a five-week Train-the-Trainer program that immerses participants in Force of Nature's research, curriculum, and theory of change.
"One of the stats we often quote is there's a 26% decrease in feelings of hopelessness among the young people who go through our workshops," Hamilton said. "Moreover, most people are more motivated to take action in their roles in the companies they work for and more likely to raise sustainability concerns with their colleagues, which definitely makes us hopeful as a team."
Channeling Climate Anxiety Into Agency
Force of Nature offers its pathway programs to community participants aged 16-35 completely free to ensure equitable global access to the opportunities the programs afford. Alleviating the anxiety of powerlessness starts a journey of converting frustration into action.
Force of Nature's status as a UK-based community interest company distinguishes it from charities that may receive government grants and establishes a rationale for program sales. But because sales supply only about 40% of its revenue, it relies on a vibrant private donorship community to subsidize its outreach to financially struggling constituencies and marginalized or historically overlooked communities.
"Our status means that we remain financially transparent but are not solely reliant on donations," Hamilton said. "That was a strategic decision so we could grow through our services."
The problems within the climate crisis cannot be solved with just the same people and thinking that created them. Force of Nature keeps that in mind as it navigates relationships that cross generations and place participants in new situations with new challenges.
"We hear the same stories of powerlessness from CEOs as from sixth graders," Hamilton said. "It all comes down to the role of mindset in finding solutions."
Its outreach extends as more young people graduate from the program and become equipped for prominent roles in the climate action. The global community now spans 50+ countries.
That means more of the work can be local or regional, where locally based youth are better equipped to speak to the lived experiences in those regions. Force of Nature is also extending its digital reach to encompass diverse nationalities and languages. As Clover Hogan enters her mid-20s, the organization she founded is poised to thrive over the long term.
"We're getting young people into rooms, onto stages, and into facilitation roles where they can do this work," Hamilton said. "It's a learning journey toward a long-term commitment about things they care about, particularly around finding climate solutions."