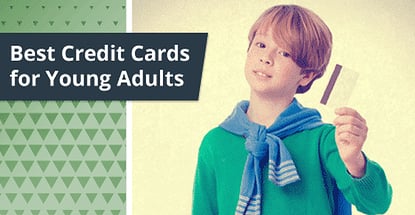 Acting as a universal key to credit locks, a good credit score can make your financial life a whole lot easier. As a young adult, however, the options for establishing your credit may be limited by your age and inexperience. Keep reading for information on the best credit cards for young adults.
No one under the age of 18 can be considered for credit on their own. Furthermore, the CARD Act of 2009 prevents young people under the age of 21 from obtaining a personal credit card without proof of income or an adult co-signer with good credit. Even when you do meet the qualifications, your lack of experience may be enough to keep you from obtaining the credit card of your dreams.
But that doesn't mean you'll always fall short of the requirements for that killer cash back card; a wide range of issuers have credit card options specifically designed for young people to start building credit. Let's take a look at some of these credit cards, including cards specifically created with students in mind, cards for fair credit, cards for limited or no credit, and prepaid cards.
Students | Fair Credit | No/Limited Credit | Prepaid
Best "Student" Cards for Young Adults
Whether you're heading to the local community college or the Ivy League, being a student is all about learning. And one of the most important things you can — and should — learn before heading into the real world is how to manage your finances, including your credit. And one of the easiest ways to get started in the world of credit is to dive right in.
Credit cards designed specifically for students are a great way to get your credit feet wet, as they tend to be easier to obtain without an established credit history. Our favorite student cards welcome first-time cardholders, charge no annual fees, and even include solid cash back rewards on every purchase made with the card.
Another key reason for young adults to obtain a credit card in college is the significant jump-start on building a credit history. The length of your credit history is 15% of your FICO score, and the calculation takes into account both the age of your oldest account as well as the average age of all of your credit accounts.
Just remember to use your student credit card responsibly. There are more than a few stories of college students who viewed their credit cards as free money, and by the time they graduated, they entered the workforce with a significant amount of credit card debt on their record.
Best "Fair Credit" Cards for Young Adults
When calculating your credit score, FICO takes a number of factors into account — but none of those factors is your actual age. So, for some young adults, simply being young doesn't mean their credit is unestablished, especially for those who enter the working world at 18. Instead of lacking credit, these young people are building it, and will typically have fair credit as they get started.
With fair credit, consumers won't qualify for the most exclusive cards, but they be stuck with bad credit or subprime cards either. Our top-rated fair-credit credit cards will include options for cash back or no annual fee, and all will report to the three credit bureaus to ensure your credit report keeps growing.
The most important thing to remember when building your credit is that making late payments — or, worse, missing payments entirely — can really sink your score. If you use your credit card responsibly by maintaining low balances and paying your bill before the due date each statement cycle, however, you should see your credit jump from "fair" to "good" in next to no time.
Best "No/Limited Credit" Cards for Young Adults
Although some industries may hold to the adage that "no news is good news," the credit industry isn't quite so laissez-faire when it comes to applicants without established credit. Without a proper credit history to establish your credit risk, many issuers will simply assume a certain level of risk.
And while this "assumed" risk is typically less than the risk represented by bad-credit applicants, it isn't going to net you the pick of the pack, either. That said, our top selections for no or limited credit still include options for cash back, no annual fee, and credit score tracking to help you stay on the right credit path.
+See More No/Limited Credit Cards
Without other items on your credit report to buffer your score, your first credit card will likely set the tone for your early credit score. This means you should be careful to maintain a low balance and to make your payments as agreed. Setting up automatic payments can be a great way to ensure you never miss a credit card payment.
Best "Prepaid" Cards for Young Adults
Of all the reasons to obtain a credit card as a young adult, perhaps the most important is to start learning the right way to handle credit — and finances in general. For those under the age of 21, one of the best methods for learning how to handle credit won't actually impact their credit at all: a prepaid card.
While still usable to make many of the in-store and online purchases for which you'd want to use a credit card, prepaid cards need to be pre-loaded with funds instead of being paid after the fact. This means young adults can learn important budgeting skills, including how to prevent impulse swiping, without negative credit repercussions. Our top-rated picks are backed by Visa and can be used anywhere Visa is accepted.
The things to look for when comparing prepaid cards include any applicable usage fees, such as monthly account fees or reloading fees, as well as the available methods for reloading your card. Some options may also provide cash back or other purchase rewards programs, so be sure to shop around.
Your First Card Can Help Build Your Credit Future
The key to everything from a car loan to a home mortgage, your credit is an important part of your personal finances. And cultivating your credit early is a good way to help ensure a solid credit foundation for the future.
Of course, whether picking up your first card as you head off to college or looking for your first card as you head off to the real world, obtaining a credit card as a young adult can be a challenge. In the end, it simply comes down to doing the right research and knowing your options to get started on your credit journey.
Advertiser Disclosure
CardRates.com is a free online resource that offers valuable content and comparison services to users. To keep this resource 100% free, we receive compensation from many of the offers listed on the site. Along with key review factors, this compensation may impact how and where products appear across the site (including, for example, the order in which they appear). CardRates.com does not include the entire universe of available offers. Editorial opinions expressed on the site are strictly our own and are not provided, endorsed, or approved by advertisers.