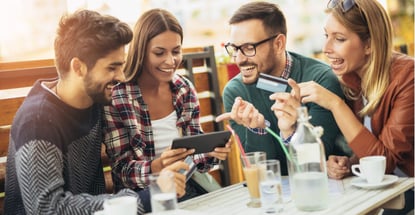 The best credit cards for young adults can make your financial life a whole lot easier. As a young adult, however, the options for establishing your credit may be limited by your age and inexperience.
No one under the age of 18 can be considered for credit on their own. Furthermore, the CARD Act of 2009 prevents young people under the age of 21 from obtaining a personal credit card without proof of income or an adult co-signer with good credit. Even when you do meet the qualifications, your lack of experience may be enough to keep you from obtaining the credit card of your dreams.
But that doesn't mean you'll always fall short of the requirements for that killer cash back card; a wide range of issuers have credit card options specifically designed for young people to start building credit. Let's take a look at some of these credit cards, including cards specifically created with students in mind, cards for fair credit, cards for limited or no credit, and prepaid cards.
Students | Fair Credit | No/Limited Credit | Prepaid
Best "Student" Cards For Young Adults
Whether you're heading to the local community college or the Ivy League, being a student is all about learning. And one of the most important things you can — and should — learn before heading into the real world is how to manage your finances, including your credit. And one of the easiest ways to get started in the world of credit is to dive right in.
Credit cards designed specifically for students are a great way to get your credit feet wet, as they tend to be easier to obtain without an established credit history. Our favorite student cards welcome first-time cardholders, charge no annual fees, and even include solid cash back rewards on every purchase made with the card.
Another key reason for young adults to obtain a credit card in college is the significant jump-start on building a credit history. The length of your credit history is 15% of your FICO score, and the calculation takes into account both the age of your oldest account as well as the average age of all of your credit accounts.
Just remember to use your student credit card responsibly. There are more than a few stories of college students who viewed their credit cards as free money, and by the time they graduated, they entered the workforce with a significant amount of credit card debt on their record.
Best "Fair Credit" Cards For Young Adults
When calculating your credit score, FICO takes a number of factors into account — but none of those factors is your actual age. So, for some young adults, simply being young doesn't mean their credit is unestablished, especially for those who enter the working world at 18. Instead of lacking credit, these young people are building it, and will typically have fair credit as they get started.
With fair credit, consumers won't qualify for the most exclusive cards, but they be stuck with bad credit or subprime cards either. Our top-rated fair-credit credit cards will include options for cash back or no annual fee, and all will report to the three credit bureaus to ensure your credit report keeps growing.
The most important thing to remember when building your credit is that making late payments — or, worse, missing payments entirely — can really sink your score. If you use your credit card responsibly by maintaining low balances and paying your bill before the due date each statement cycle, however, you should see your credit jump from "fair" to "good" in next to no time.
Best "No/Limited Credit" Cards For Young Adults
Although some industries may hold to the adage that "no news is good news," the credit industry isn't quite so laissez-faire when it comes to applicants without established credit. Without a proper credit history to establish your credit risk, many issuers will simply assume a certain level of risk.
And while this "assumed" risk is typically less than the risk represented by bad-credit applicants, it isn't going to net you the pick of the pack, either. That said, our top selections for no or limited credit still include options for cash back, no annual fee, and credit score tracking to help you stay on the right credit path.
+See More No/Limited Credit Cards
Without other items on your credit report to buffer your score, your first credit card will likely set the tone for your early credit score. This means you should be careful to maintain a low balance and to make your payments as agreed. Setting up automatic payments can be a great way to ensure you never miss a credit card payment.
Best "Prepaid" Cards For Young Adults
Of all the reasons to obtain a credit card as a young adult, perhaps the most important is to start learning the right way to handle credit — and finances in general. For those under the age of 21, one of the best methods for learning how to handle credit won't actually impact their credit at all: a prepaid card.
While still usable to make many of the in-store and online purchases for which you'd want to use a credit card, prepaid cards need to be pre-loaded with funds instead of being paid after the fact. This means young adults can learn important budgeting skills, including how to prevent impulse swiping, without negative credit repercussions.
The things to look for when comparing prepaid cards include any applicable usage fees, such as monthly account fees or reloading fees, as well as the available methods for reloading your card. Some options may also provide cash back or other purchase rewards programs, so be sure to shop around.
How Does a Credit Card Work?
Consumers take credit cards so for granted that they sometimes forget the learning curve they went through to get their first card. Credit Card Science isn't taught in schools, so consumers have to go elsewhere (like CardRates.com) to learn about credit cards — how they work, their pros and cons, and how to manage them responsibly.
Cardholders use their credit cards as a substitute for cash when making a purchase. Credit is a loan — specifically, the card issuer is lending the cardholder the money to pay for their purchases, up to the card's credit limit.
Cardholders then repay the amount they owe on a schedule that suits them. Cardholders can repay the money right away or spread out the payments over multiple billing periods, just as long as they pay the minimum amount due each month.
Most credit cards come with preset spending limits. New cardholders can expect an initial credit limit that ranges from a couple hundred to several thousand dollars on their first card, although the lower range is more likely.
If a purchase puts your balance above the limit, the transaction will probably be rejected and you may be charged a penalty fee. Sometimes, a card will allow some over-limit spending, but it can still assess a fine and demand immediate repayment.
Credit cards organize transaction activity via monthly billing periods. Every 30 days or so, the card will issue a billing statement that lists all the activity that occurred during the period, including purchases, returns, refunds, cash advances, and balance transfer transactions (you'll have to pay a cash advance or balance transfer fee for these services).
In almost all cases, your card grants you a grace period of at least 21 days after the close of the billing period (i.e., the statement end date) to repay your balance. You can repay any amount from the minimum due to your entire balance.
If you've repaid less than your balance by the end of the grace period, the card will charge you interest on the unpaid balance. Some cards do not offer a grace period and begin charging interest right away — you want to avoid these cards.
Interest accrues daily at the card's annual percentage rate (APR) until you repay the balance. APRs on credit cards range from about 10% (if your credit is excellent) to 36% (for bad credit).

The minimum payment due is approximately 5% of your balance. Once you begin carrying a balance past the payment due date, the grace period disappears until you repay your total balance.
Credit cards also offer small cash advance loans, which usually comes with an expensive interest rate. Many also have balance transfer offers that allow you to consolidate your credit card debt onto one card (balance transfer fee applies).
The best credit card offerings provide more than just the ability to charge purchases, including:
You can use your credit card in stores, online, in apps, or over the phone. The best practice is to keep your credit balances low and always pay your bill on time.
How Do You Get Your First Credit Card?
Credit card ads are ubiquitous, appearing on TV, cable, and all over the internet. Card issuers encourage you to apply for a card by making the process quick and straightforward.
You can get your first credit card if you meet certain age, residence, income, and credit rating requirements. Most cards are unsecured, meaning you don't have to post any collateral to get one.
A secured credit card requires a security deposit to guarantee that you'll pay your bill. A secured card is easy to get as long as you can cough up the deposit money, usually equal to your initial credit line. A secured credit card may restrict your initial credit line to a relatively small sum, but you can find a secured card with a limit as high as $5,000.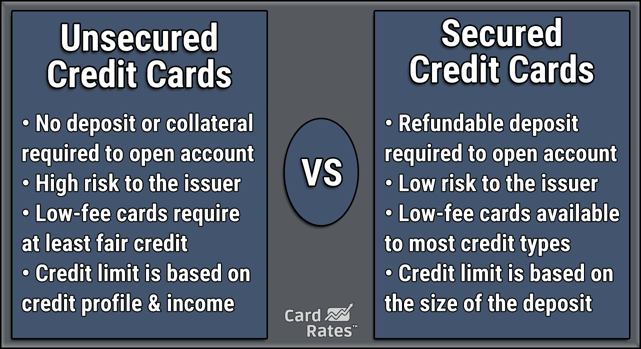 You can apply for virtually all cards online. You may want to prequalify for a card to see whether you are eligible. The procedure is similar whether you choose to prequalify or not. You answer a few questions about yourself, your job or another source of income, your debts, your monthly housing costs, and one or two others.
Typically, the issuer will give you a decision quickly. In some cases, it may want you to provide additional documents. If your application is approved, your card should appear in your mailbox within 10 days. You then activate the card online or over the phone, sign the back, and go shopping.
Part of the approval process (but not prequalification) is the card issuer's pull of your credit files. The three major credit bureaus (Experian, Equifax, and TransUnion) establish your files when you first use credit. The bureaus calculate your credit score based upon the information they collect from creditors, lenders, and other interested parties, using one or more scoring systems such as FICO and VantageScore.
Credit scores are determined based on your credit history and range from high to low as excellent, good, fair, poor, and very poor. Cards are available for every score, but their characteristics vary greatly depending on how long you've used credit and how responsibly you've used it.
How Do Credit Cards Help You Build Credit?
Scoring systems such as FICO specify how to calculate your credit score based upon your use of credit. FICO scores range from 300 (worst credit) to 850 (best credit). The following chart shows you how to interpret your score.
You build credit by paying your bills on time. Payments more than 30 days late appear on your credit report and hurt your score. The impact increases the longer the account remains overdue, but things get terrible if the credit card company sends your account to collections or writes it off.
These negative items remain on your credit reports for seven years, as do repossessions, foreclosures, and settlements. Bankruptcy filings can linger on your reports for up to 10 years.
There are several things you can do to improve your credit score. You can build credit by keeping your credit utilization ratio (CUR) below 30%. Your credit utilization ratio equals the amount of revolving credit you are currently using divided by the total amount of revolving credit you have available.

FICO interprets a CUR above 30% as an indication of financial distress. Reducing your CUR, i.e., your credit card balances, is the fastest way to improve your credit.
There are a few other ways to build your credit, including refraining from applying for credit too often, having a broad mix of credit and loan types, and maintaining credit accounts for long periods.
What's the Difference Between Credit Cards and Debit Cards?
You can use both credit and debit cards as cash substitutes for purchases. Both contain 16-digit account numbers, security codes, and expiration dates. But debit cards pay for purchases using the money you've already deposited instead of the credit advanced by credit cards. The three main types of debit cards are:
Bank debit cards: These cards draw upon the money in your checking account at a financial institution — a bank, credit union, or broker.
Reloadable prepaid cards: You don't need a bank account to use these cards. Instead, you deposit money with the card issuer to maintain your balance.
Gift cards: These are non-reloadable prepaid cards.
All three debit card types share an essential characteristic: You can only spend the amount you deposited into the account. These cards don't charge fees for overspending or late payments, and they don't charge interest. Bank debit cards and a few reloadable ones may offer optional overdraft protection that has fees attached, but you can decline this feature.
Some reloadable cards offer a modest purchase cushion (usually around $10) to cover small overdrafts, but they don't charge interest or fees for this service.
What are Family-Oriented Prepaid Debit Cards?
Several prepaid debit cards offer family accounts that allow parents to add their children as authorized users. These cards teach young people the use of money and budget their spending. Parents can control and monitor their children's cards and set up automatic allowances, spending limits, and other features to help ensure responsible usage.
We've reviewed some family cards, including the Greenlight – Debit Card For Kids, FamZoo Prepaid Mastercard, and BusyKid Visa® Prepaid Spend Debit Card.
What Should You Look For in Your First Credit Card?
You're pretty much a blank slate when you apply for your first credit card. A typical credit card company doesn't know if you are creditworthy, so it tends to be cautious. The cards they offer you will probably have low credit limits, few benefits, and modest rewards, if any.
You should consider several factors when searching for the best first credit card. Look for a starter card that doesn't charge an annual fee and offers an introductory promotion. You may qualify for a rewards card if you're a student.
Student credit cards are the best deal in the industry. Issuers offer student credit cards with the features you'd expect for folks with good credit, even though most students have no credit history.
How Many Credit Cards Should You Own?
If you are a credit card newbie, allow some time to develop your sea legs before applying for another card. Learn to use credit responsibly and build a good credit score. You may then want to get a second card with better features than the first.
It makes sense to own at least two credit cards should you lose or max out one. In addition, you can choose a second card to complement the rewards offered (if any) by the first. Many consumers are fine owning just one or two cards, but many others own several.
The more you have, the more spending you can do using credit, and the more trouble you'll encounter if you tend to overspend. To protect your credit score, apply for an additional card only once every six to 12 months — more frequent applications can damage your credit.
Your First Card Can Help Build Your Credit Future
The key to everything from a car loan to a home mortgage, your credit is an important part of your personal finances. And cultivating your credit early is a good way to help ensure a solid credit foundation for the future.
Of course, whether picking up your first card as you head off to college or looking for your first card as you head off to the real world, obtaining a credit card as a young adult can be a challenge. In the end, it simply comes down to doing the right research and knowing your options to get started on your credit journey.
Advertiser Disclosure
CardRates.com is a free online resource that offers valuable content and comparison services to users. To keep this resource 100% free, we receive compensation for referrals for many of the offers listed on the site. Along with key review factors, this compensation may impact how and where products appear across CardRates.com (including, for example, the order in which they appear). CardRates.com does not include the entire universe of available offers. Editorial opinions expressed on the site are strictly our own and are not provided, endorsed, or approved by advertisers.