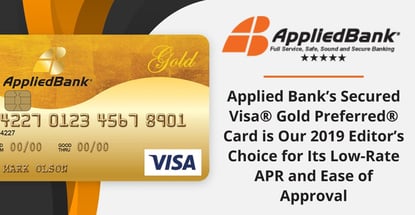 In a Nutshell: Applied Bank has a long history of providing secured credit card offerings to consumers seeking to establish or improve their credit profiles. For a $48 annual fee, the bank's Secured Visa® Gold Preferred® Card comes with a very low 9.99% APR on purchases and cash advances. The card's credit limits range between $200 and $1,000, depending on the amount of the initial refundable security deposit, and can increase to $5,000 after account approval.
Like most things in life, no two credit scores are created equal. Sure, you may have the same credit score as your neighbor, but the way you both got to that number could be vastly different.
Although we all shoot for the highest number possible, consumers generally have a long ladder to climb to reach that perfect 850 FICO score.
According to FICO, less than 1% of Americans boast the perfect 850 credit score, whereas nearly a third of Americans have FICO scores in the "poor" range.
And for those with poor credit, there's a limit to the number of affordable and effective bank products to help them improve their credit score.
Applied Bank was a forerunner in providing secured credit cards to these consumers and continues offering a product which can help establish — or repair –their credit profile through responsible use. The bank's Secured Visa® Gold Preferred® Card, with a low 9.99% interest rate for purchases and cash advances, is our Editor's Choice for paving the way to an improved credit history.
"Applied Bank opened in the mid-1990s, and at that time, we were one of the largest Visa card issuers in the United States," said Eric Keresty, AVP of Card Operations at Applied Bank. "We expanded from that time to eventually offer a suite of unsecured consumer products — primarily looking at sub- and near-prime candidates."
Keresty noted that the Credit Card Accountability, Responsibility, and Disclosure Act Of 2009 caused many larger card issuers to abandon subprime customers — which made it far more difficult for these people to get access to the credit they needed to improve their scores.
"That left a large swathe of customers who were now underserved by the credit marketplace," Keresty said. "There was a need for a product that could serve the subprime community since credit underwriting criteria tightened with larger banks and smaller issuers."
Aside from the excellent interest rate, Applied Bank's secured offering charges an annual fee of $48 — less than the average secured card — and reports all card activity to the three credit bureaus to help cardholders improve their credit score with responsible use.
"We've been doing this for a long time, well before a lot of the larger banks got involved," Keresty said. "What's great about our product, beyond the 9.99% interest rate, is that we don't use your credit report as underwriting criteria for the secured card."
Credit Limits Between $200 and $1,000 with No Credit Check
The Secured Visa® Gold Preferred® Card can be used around the globe like any other Visa card. But since a security deposit establishes the card's credit limit, Applied Bank can make approval decisions without using an applicant's credit history.
"We require validation of personal and demographic information as well as successful security deposit funding, but we don't use credit scores as a determination for card acceptance," Keresty said. "It's essentially a no-credit-check card."
And, since the card offers revolving credit, you can reuse the balance every time you make a payment. That comes in handy when setting up automatic payments for monthly bills or making large purchases that you need time to pay off, but still need access to your credit card.
"This is not a prepaid card, where you give us $500 and then you use the $500," Keresty said. "You determine what your credit limit will be on the card by funding your deposit account with that money."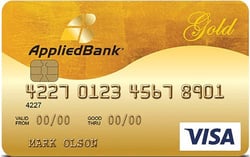 Credit limits range between $200 and $1,000, depending on the refundable security deposit the cardholder makes, but can be increased any time after account approval.
"We do allow you to increase your credit limit up to $5,000 once you've established your account with us," Keresty said. "That requires additional deposits."
Furthermore, applicants need not open an Applied Bank checking or savings account, as the bank can directly deduct monthly payments from any financial institution.
The application takes less than five minutes to complete, and asks applicants to provide personal data and funding information for the secured deposit. Once approved and funded, Applied Bank ships the card to the consumer, and it's ready to use as soon as it arrives.
"We have a very easy step-by-step application process online," Keresty said.
On-Time Payments Will Help Repair Your Credit History
Whether you're just starting your credit building journey or are repaving the path after a few bumps in the road, the Secured Visa® Gold Preferred® Card makes it easier and faster to get to where you want to be.
That's because Applied Bank reports all payment activity to the three major credit reporting bureaus — Equifax, TransUnion, and Experian. Responsible usage is reflected on your credit report as positive payment history when you continue to make all of your payments on time. This can begin to negate past transgressions and give your credit score a push in the right direction.
After just a few months of on-time payments, most cardholders start to see a gradual increase in their credit score. These changes build up over time as negative marks on your credit report age and impact your score less over time.
"You can use it just like any other credit card to buy things and make payments," Keresty said. "And, with responsible use, it will help you establish or improve your credit profile."
And that improved score can help you gain access to larger credit lines and better loan terms. Surveys have found consumers with lower credit scores pay more in interest charges over time — and a good credit score can save you more than $45,000 over the life of several types of loans.
And since the card features the Visa logo, you can use it at any of the 40 million global merchants — online or in-person — that accept Visa cards.
"This is a full-range Visa credit card product," Keresty said. "You can use it just about anywhere you want for just about anything you need."
An Award-Winning Bank with a History of Success
Applied Bank is a top-rated Delaware state-chartered bank and one of America's highest-rated banks for safety and security. The bank and its associates have a long history of community involvement.
The institution's Secured Visa® Gold Preferred® Card is just one way it extends that helping hand outside of Delaware borders and around the country. The card's very low 9.99% interest rate and $48 annual fee make it an affordable way to establish a credit history.
Cardholders also have 24/7 access to the bank's mobile-friendly website, where they can view and maintain their account details.
"Our website is a great resource for customers," Keresty said. "You can review your account balance, check on purchases or remaining credit, or call our fully functioning interactive voice response system to get answers to any question you may have."
All of these resources have helped earn Applied Bank an A+ rating through the Better Business Bureau and thousands of customers who have achieved financial independence over the years through responsible use of its credit product.
"We do our best to really give our customers confidence that the bank, which is FDIC insured, is safe and sound from a financial perspective," Keresty said. "Our customers are assured that we can support their purchases and other financial activity."
Advertiser Disclosure
CardRates.com is a free online resource that offers valuable content and comparison services to users. To keep this resource 100% free, we receive compensation for referrals for many of the offers listed on the site. Along with key review factors, this compensation may impact how and where products appear across CardRates.com (including, for example, the order in which they appear). CardRates.com does not include the entire universe of available offers. Editorial opinions expressed on the site are strictly our own and are not provided, endorsed, or approved by advertisers.