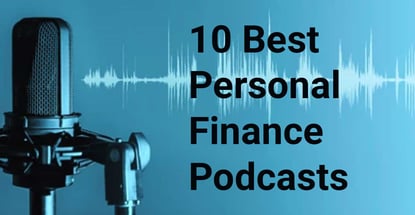 Our experts and industry insiders blog the latest news, studies and current events from inside the credit card industry. Our articles follow strict editorial guidelines.
Jump on the podcast bandwagon — podcasts are an easier, less time-consuming way to learn about the personal finance topics you care about. Podcasts are more available than ever, they're usually free, and you can listen and learn while you do other things. They're a busy multitasker's best friend.
They're also private. People setting goals or struggling with financial issues may want to avoid attending a seminar or webinar where their challenges become public knowledge. While you're training for that 5K you've always wanted to run, pop in a set of earbuds and learn to increase your credit score, create a savings or investment plan, or even build a better, more insightful relationship with money.
No matter what money topic you're interested in, there's a personal finance podcast for you. Our team compiled this categorical list after much reflection based strictly on merit. We're confident you'll find these podcasts helpful and engaging.
Best for Accessibility: The Stacking Benjamins Show
Who doesn't want a fat stack? Stacking Benjamins bills itself as "The Greatest Money Show on Earth," and it's a hoot. Hosts Joe Saul-Sehy and OG (AKA "The Other Guy") welcome expert guests to Joe's Mom's half-finished basement to discuss personal finance and money trends.
Joe is a former financial advisor, media representative, and television personality who has written for magazines and newspapers. OG is a Certified Financial Planner with a lot of behind-the-scenes industry knowledge.
You can expect lots of laughs as Joe and OG read messages from listeners, discuss current events, stump each other with trivia questions, and generally have a good time making the ins and outs of money topics more accessible.
More About The Stacking Benjamins Show
Joe has appeared online in more than 200 different places, including CNBC.com and WSJ.com.
Joe has an unusually frank viewpoint on the state of the financial planning industry.
This podcast uses the science of play to help listeners think more seriously about money.
Joe and Emily Guy Birken wrote a book called "Stacked" that takes readers through helpful steps to building wealth.
Best for Achieving Financial Independence: ChooseFI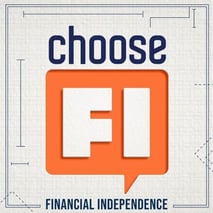 Ah, financial independence — sounds good, doesn't it? ChooseFI co-hosts Brad Barrett and Jonathan Mendonsa lead the world's largest community of financial goal-setters, who claim that financial independence is ultimately a matter of making certain choices.
Brad's a former CPA who reached financial independence at 35. Besides saving money, he's a credit card rewards buff who loves traveling with the rewards he's earned. Jonathan graduated from pharmacy school at 28 with $168,000 in student loans. He's paid those off and is on the path to financial independence.
To help listeners "ChooseFI," Brad and Jonathan recommend life hacks, strategies, stories, tools, and resources, many crowdsourced from their financial independence community.
More About ChooseFI
Brad's favorite topic is leveraging credit card rewards to save money and travel.
Paying off his student loans led Jonathan to his passion for financial independence.
The ChooseFI Foundation has created a free PreK-12 Financial Literacy Curriculum.
Their website features a helpful blog, cohort groups, calculators and tools, and travel rewards topics.
Best for Debt Reduction Strategies: The Ramsey Show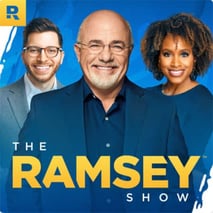 Maybe you've heard of host Dave Ramsey. He's an eight-time national bestselling author and personal finance and retirement expert. Dave and his team of top experts help millions of listeners crush their financial, personal, and career goals.
The idea behind The Ramsey Show is that everyone makes financial mistakes from time to time. Fixing them is about taking control of not only your money but also your attitudes and philosophies about life.
The show provides a Bible-based viewpoint where hope is the key to happiness. Once you've figured yourself out, the rest is easier, with success leading to more success. Check out The Ramsey Show to find out how.
More About The Ramsey Show
More than 23 million tune in to Ramsey radio shows, podcasts, and videos weekly.
Dave Ramsey battled his way out of bankruptcy and millions of dollars of debt to share his message of hope to everyone in every walk of life.
Dave's website includes a getting started questionnaire to point visitors to the resources they need.
Trusted Services features links to homebuying, retirement planning, investing, and tax preparation services.
Best for Money Stories: So Money with Farnoosh Torabi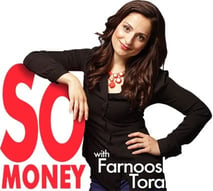 Bestselling financial author and former CNBC host Farnoosh Torabi is a leading personal finance authority dedicated to helping listeners live their richest, happiest lives.
So Money chronicles Farnoosh's financial explorations through one-of-a-kind interviews and deep conversations about money. She invites leading experts, authors, influencers, and entrepreneurs to discuss their financial perspectives, money failures, and habits. She also answers listeners' financial questions.
Topics range widely because Farnoosh's guests run the gamut from cryptocurrency experts to Queen Latifah. Listeners never quite know what to expect from the next episode until they stream or download it and find out. The stories and strategies Farnoosh's guests highlight are always inspiring.
More About So Money
At 22, Farnoosh was more than $30,000 in debt and made $18 an hour before taxes — with a Master's degree.
Dedicated to helping people unravel psychological knots so they can clean up their financial messes.
Farnoosh invites top business minds, authors, and influencers to her podcast, including Arianna Huffington and Tim Ferriss.
Farnoosh has written three books on money: "When She Makes More," "Psych Yourself Rich," and "You're So Money."
Best for Women: HerMoney with Jean Chatzky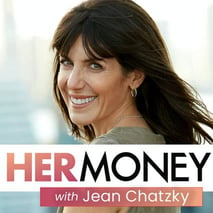 We've come a long way from the days when women couldn't open bank accounts. But host Jean Chatzky insists that women still have distinct financial issues and concerns and approaches her podcast from that point of view because they often view money differently than men and seek to use it to create change in their lives, the lives of the people they love, and the world.
Women also communicate about money differently than men, and HerMoney reflects that through conversations with leading women financial experts and personalities, who all bring something different to the table.
Whether your concern is family, career, or even the gender-wage gap, Jean and the HerMoney team tackle the issue uniquely and compassionately.
More About HerMoney
Jean believes that women can inspire other women to change, hence her female-focused podcast.
She was an English major, so she knows how to report on personal finance without using jargon.
HerMoney strives to be an inclusive community for everyone, regardless of gender identity.
Her website features resources to earn, save, invest, protect, borrow, connect, and ultimately enjoy life through money.
Best for Women of Color: Brown Ambition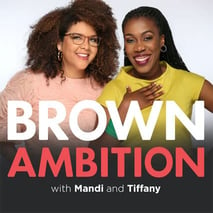 Brown Ambition is a conversation between two women of color who are just as likely to talk about dating and relationships as they are about budgeting, wealth building, and career goals.
Hosts Mandi Woodruff, a personal finance expert and journalist, and Tiffany "The Budgetnista" Aliche, an award-winning financial educator and bestselling author, range across the financial and social landscape to create a world where black and brown women feel valued and heard.
They ask the tough questions in an entertaining way in a podcast chock-full of real-world advice that sometimes gets down to the nitty-gritty. Don't be shy — join their passionate community and find out for yourself.
More About Brown Ambition
Mandi and Tiffany decided to start a podcast after meeting several times in professional settings.
They acknowledge that personal relationships influence professional and financial goals.
Mandi has helped nearly 2,000 professionals take charge of their careers.
Tiffany is the New York Times bestselling author of "Get Good with Money."
Best for Couples: I Will Teach You To Be Rich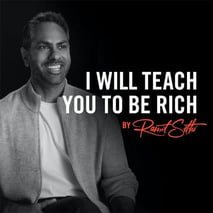 Is any challenge greater than getting a couple on the same page with money? We can think of only a few.
In I Will Teach You To Be Rich, host Ramit Sethi counsels couples to live their version of the Rich Life by spending extravagantly on the things they love and mercilessly cutting everything else down to the bone.
Listeners learn from couples who just can't get their priorities straight and those who seem to have it all worked out. Ramit and his guests discuss everything from wives who hide credit card debt from their husbands to a straightforward process for hiring a financial advisor. If you're interested in working more productively on finances with your partner, this podcast is for you.
More About I Will Teach You To Be Rich
Ramit studied technology and psychology at Stanford and built a system to apply successfully to more than 60 scholarships.
Ramit invested his first scholarship check in the stock market and immediately lost half his money.
Ramit believes that living the rich life means you're in control of what and how you spend.
Ramit is the New York Times bestselling author of the book, "I Will Teach You To Be Rich" and has a new Netflix series called "How To Be Rich."
Best for Budgeting: The Minimalists Podcast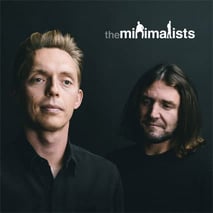 If you think minimalism is only about giving away everything you own, Joshua Fields Millburn and Ryan Nicodemus, hosts of The Minimalists Podcast, are here to tell you differently.
Joshua and Ryan are both bestselling authors with a knack for turning what may seem the world's dreariest lifestyle into extravagance.
By the time they reached their 30s, they had achieved everything they wanted financially, yet something was missing. Their take on minimalism is that it's not about taking things away. Instead, it's about making room for more. By that, they mean more of the richness and beauty of life, not transient possession. To put it minimally: listen and learn.
More About The Minimalists Podcast
Josh and Ryan have been featured in Time, GQ, ABC, CBS, NBC, BBC, and NPR, and they have given speeches at Harvard, Apple, and Google.
Both had achieved everything that was supposed to make them happy by age 30 yet were dissatisfied living consumer-driven lives.
With friends, The Minimalists own a multi-roaster coffeehouse, Bandit Coffee Co., in St. Petersburg, Florida.
Their website features a blog, and more info about their books, films, events, resources, and a Patreon page.
Best for Side Hustle Advice: The Side Hustle Show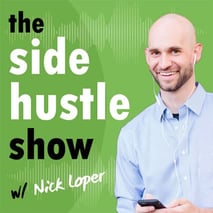 Digital technology almost makes it possible to be in two places at the same time. Side hustles are second (and third, fourth, and fifth) jobs and opportunities people can leverage for financial advantage.
In The Side Hustle Show, Chief Side Hustler Nick Loper takes a lighthearted yet in-depth look at the ways side hustlers like him amplify their earning power.
From online businesses to freelancing, eCommerce, and investing, Nick and his guests explore creative side hustles that make money without burning people out. Because in Nick's world, no side hustle is worth comprising quality of life. Download or stream Nick's podcast to learn how to make the most of your money-making time.
More About The Side Hustle Show
Nick's earliest money-earning projects included selling candy to fellow Boy Scouts at summer camp and painting houses in college at the University of Washington.
Side Hustle Nation is a 1% for the Planet member, contributing at least 1% of its revenue to sustainability initiatives.
Nick once took cold showers for 500 days in a row.
His website features side hustle ideas, including online businesses, freelancing and eCommerce opportunities, investing advice, and Hustle 101 productivity posts.
Best for Investing: Afford Anything with Paula Pant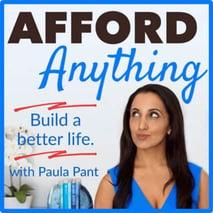 Afford Anything is host Paula Pant's examination of the good life. As a former nine-to-fiver who would never return to that form of structure, Paula explores the psychology of money, creative entrepreneurial strategies, and the benefits of real estate investing to get people thinking about what they really want out of life and how to find it.
As a former newspaper reporter, Paula is no stranger to deadlines but loves living without them. Finding a way to earn that sweet passive rental income is one of Paula's recommendations to move beyond a humdrum lifestyle into something more accommodating. Check out how she and her guests have accomplished what you may think is impossible. Spoiler alert: it's not.
More About Afford Anything
When Paula was 21, she bought a car on Craigslist for $400 that she negotiated down from an asking price of $450.
Paula's Afford Anything movement is about creating a lifetime of self-sustaining financial freedom.
Her anti-budget idea involves skimming savings off the top and living off the rest.
Her website features a blog, community resources, and advice for learning how to travel for free.
There you have it — our list of top podcasts for people at all stages of their financial and life journey. We think the best approach to podcasts is to do a little exploring to find out what works best. But with so many podcasts out there, that could be a lesson in futility. So we narrowed down your choices — enjoy the best of the best!