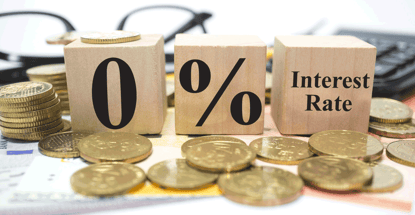 Nothing's better than getting something for free. But let's face it, most things in life aren't free, so financing them interest-free isn't a bad consolation prize.
You can save thousands of dollars with the right credit card that offers an extended interest-free introductory period. And whether you're making a big purchase or paying off existing debt that's currently sitting on a credit card with a high APR, there's never been a better time to find the right 0% offer.
That's because the competition between many credit card issuers has some banks offering new cardholders sweet deals — many of which are unprecedented in the space.
0% APR on Purchases | 0% APR on Balance Transfers | FAQs
Cards with No Interest on New Purchases for 18+ Months
The average credit card APR currently sits at 17.72%. Let's say you make a $4,000 purchase on a new card at that rate. If you make monthly payments of $222.22, you'll pay that debt off in 22 months — including $684.09 in interest charges.
With an 18-month interest-free credit card, those payments would eliminate the balance in 18 months with zero finance charges added. That means you've saved nearly $700 while paying your debt off sooner.
But the pandemic changed credit card rewards a lot, and extended 0% purchase APRs are much harder to find than are 0% balance transfers. We know of just two cards that currently net you 18+ months of 0% APR on new purchases: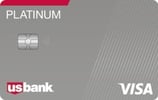 at the issuer'ssecure website
For a limited time, get a special 0% introductory APR on purchases and balance transfers for 20 billing cycles. After that, the APR is variable, currently 15.99%-25.99%.
Enjoy Cellphone Protection Coverage of up to $1,200 annually when you pay your monthly cellphone bill with your card
View your credit score anytime, anywhere in the mobile app or online banking. It's easy to enroll, easy to use, and free to U.S. Bank customers.
Fraud Protection detects and notifies you of any unusual card activity to help prevent fraud
Choose your payment due date
$0 Annual Fee
New cardholders of the U.S. Bank Visa® Platinum Card can take advantage of a whopping 20 months of interest-free financing on new purchases and balance transfers with no annual fee.
While this card is a tremendous offering if you need to make a large purchase or pay off existing high-APR debt on another card, the lack of rewards and slightly high APR after the introductory period might not make this the best long-term solution for your wallet.
2. BankAmericard® credit card
This card is currently not available.
Another card that doesn't offer rewards, the BankAmericard® credit card shines for its valuable 0% interest period on both new purchases and balance transfers. This card gives you more than a year to finance your purchases interest-free, and you won't be subject to deferred interest when the promo period expires.
Cards with No Interest on Balance Transfers for 18+ Months
A 0% balance transfer offer is good for anyone who has a large amount of debt on a credit card with a high APR. Balance transfers work by allowing you to transfer your existing debt to the new card with the added benefit of 0% interest financing, so you're no longer being charged interest fees for the duration of the promotional period.
In the case of these cards, all offer a minimum of 18 months to pay your transferred balance down before the regular APR kicks in.

at Discover Card'ssecure website
INTRO OFFER: Unlimited Cashback Match – only from Discover. Discover will automatically match all the cash back you've earned at the end of your first year! There's no minimum spending or maximum rewards. You could turn $150 cash back into $300.
Earn 5% cash back on everyday purchases at different places each quarter like Amazon.com, grocery stores, restaurants, gas stations and when you pay using PayPal, up to the quarterly maximum when you activate. Plus, earn unlimited 1% cash back on all other purchases – automatically.
NEW! Discover helps remove your personal information from select people-search websites. Activate by mobile app for free.
Every $1 you earn in cash back is $1 you can redeem.
No annual fee.
Click "Apply Now" to see terms and conditions.
| | | | | |
| --- | --- | --- | --- | --- |
| 0% Intro APR for 6 months | 0% Intro APR for 18 months | 14.99% - 25.99% Variable APR | | |
If you're looking to transfer a high balance, then the Discover it® Balance Transfer card may be for you. With this card, you can save money on interest and purchases. Discover is regularly lauded for its highly rated, U.S.-based customer service team.
This card is currently not available.
Nobody likes fees. And with the Citi Simplicity® Card, you won't ever pay late fees, annual fees, or receive a penalty APR increase. It's part of the Simplicity Card's pledge to keep its charges to a minimum. While this card may offer the longest introductory 0% promotional period on balance transfers we've seen, it also charges one of the highest balance transfer fees.
Earn 2% on every purchase with unlimited 1% cash back when you buy, plus an additional 1% as you pay for those purchases.
For a limited time, earn $200 cash back after spending $1,500 on purchases in the first 6 months of account opening.
Balance Transfer Only Offer: 0% intro APR on Balance Transfers for 18 months. After that, the variable APR will be 16.99% - 26.99%, based on your creditworthiness.
Balance Transfers do not earn cash back. Intro APR does not apply to purchases.
If you transfer a balance, interest will be charged on your purchases unless you pay your entire balance (including balance transfers) by the due date each month.
There is an intro balance transfer fee of 3% of each transfer (minimum $5) completed within the first 4 months of account opening. After that, your fee will be 5% of each transfer (minimum $5).
| | | | | |
| --- | --- | --- | --- | --- |
| | 0% Intro APR Period 18 months on Balance Transfers | 16.99% - 26.99% (Variable) | | |
Additional Disclosure: Citi is a CardRates advertiser.
The only thing better than earning cash back is earning double cash back, and the Citi® Double Cash Card gives you just that with 1% back on all purchases plus another 1% when you pay. New cardholders also receive introductory 0% financing on balance transfers, but a hefty balance transfer fee applies, and there's no intro 0% promotional period on new purchases.
6. Citi® Diamond Preferred® Card
This card is currently not available.
The Citi® Diamond Preferred® Card gives new cardholders interest-free financing and special access to purchase tickets for thousands of events through Citi Entertainment®. If you're looking for a good introductory rate, this card has your back. But after that intro period ends, be prepared to pay the regular purchase APR.
7. BankAmericard® credit card
This card is currently not available.
Here's this card again, because it offers the same long intro period for balance transfers as it does for purchases. While you won't earn rewards, you can save a boatload on interest fees.
What Does 0% APR for 18 Months Mean?
Your annual percentage rate (or APR) is the annual rate charged by your credit card issuer for the convenience of borrowing money. Credit cards express an APR as a percentage that represents the actual annual cost of credit over the time it takes you to repay the debt.
So, if you have an APR of 21%, you will be charged 21% of your balance as a fee each year. But since banks typically charge interest monthly, that 21% gets divided into 12 months.
In the case of a 21% APR, you'd be charged 1.75% of your existing balance at the end of each billing cycle. Higher balances always mean greater charges.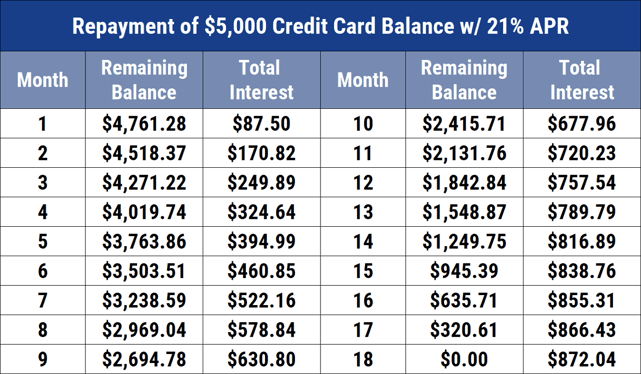 And those charges are part of the reason why paying only your minimum balance each month works against you. In many cases, your monthly payment barely covers your interest charges alone and doesn't work to lower your overall balance. Making the minimum payment each month really gets you nowhere over time.
But when you get a 0% introductory offer from a credit card issuer, you won't pay any interest charges for the length of the intro offer.
Some cards include transferred balances and new purchases in their introductory offer. That means you can transfer balances from an existing high-interest credit card and pay it off over the intro period without paying any of the interest charges you would have on the other card.
That helps you pay the debt off both faster and cheaper — two things that every consumer appreciates. The only thing to be aware of when completing a balance transfer is the potential balance transfer fee.
What are the Best 0% Interest Credit Cards?
No two definitions of "best" are alike — and your idea of the best card will almost certainly depend on what you need to get from the card.
But no matter what you want from your new credit card, the top 0% APR offerings will all include an equal number of months in the introductory rate for balance transfers and new purchases alike. There should also be some sort of rewards structure to thank you for your business, unless you can find a balance transfer offer that doesn't charge a balance transfer fee instead.
No credit cards currently offer 0% financing for as long as 18 months that do not charge a balance transfer fee, however, you can find card offers with shorter 0% periods without this fee.
Aside from what you can gain from the card, a good credit card shouldn't overcharge you for membership. After all, what's the point of saving money through an introductory period if you're going to give it right back in the form of an annual fee?
What Credit Card Has the Longest Interest-Free Period?
This will largely depend on your intentions for the card. That's because some cards offer longer intro periods for balance transfers than for new purchases and vice versa.
And, keep in mind that card issuers change terms and rates regularly — so the best offering now could very well be less-than-stellar six months from now. Some cards also come with caveats.
Take, for example, the Citi Simplicity® Card. Current new cardholders can take advantage of an introductory 0% APR on balance transfers for a typically unheard-of length of time.
You may also find other cards that offer 18 months or more of interest-free balances but tack on an annual fee or balance transfer fee to offset the savings. What's more, some cards can end your interest-free period early if you record a late payment.
Before you choose the card you want to apply for, be certain that it meets all of your potential needs. You can only benefit from an introductory rate if you know the rules. That may mean completing all of your balance transfers within a 60-day window after opening your card or possibly paying a fee for the balance transfer.
Do No-Interest Credit Cards Hurt Your Credit?
That depends on how you use the card. One of the five factors that determine your credit score — and 30% of your overall score calculation — is your credit utilization or amounts owed. You can find your current utilization by dividing your balances across cards by your total credit limits combined.

Banks typically express utilization in percentages. So, for example, if you have a credit card with a $1,000 limit, and you're carrying a current balance of $250, you're utilizing 25% of your current credit limit.
Credit card issuers and other financiers don't like to see high utilization. They want to get paid back quickly and don't want to take on risky borrowers who may be over their head in debt. It is generally recommended to keep your total utilization below 30%.
When you can take advantage of interest-free offers from credit card issuers, you can pay your debt off faster — lowering your utilization without paying those steep interest charges you may be used to seeing on your monthly statements. And when you eliminate your debt, your credit score can see a tremendous jump.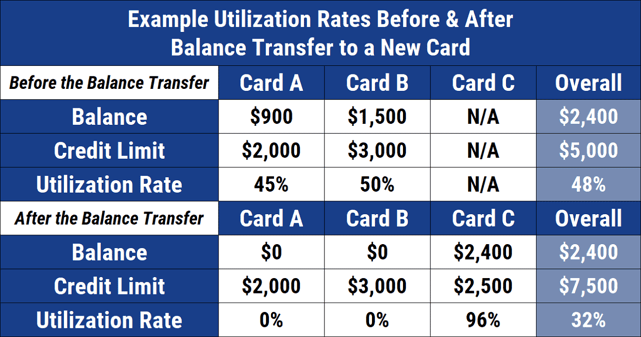 But if you continue to charge on the card from which you transferred the original debt, your utilization will only increase and hurt your credit score. It could also hurt your credit score if you open a new 0% APR card to finance a big-ticket purchase that utilizes most of your available credit limit.
Keep in mind that every 0% interest credit card offer comes with different terms. Some cards will start charging you interest on your remaining balance once the introductory period ends. Others might charge you deferred interest — which is interest on the entire amount charged or transferred — if the balance isn't paid in full by the end of the introductory period.
If you get stuck with that charge, your balance could quickly increase, leading to a decrease in your credit score because of the added utilization. Interest-free credit cards are best used when the balance is paid off before the regular APR sets in. You can then evaluate whether the card still has benefits worth reserving a spot in your wallet.
Pay Your Full Balance to Avoid Ever Paying Interest
They say the best things in life are free. But for life's wants and needs worth paying for, why not take advantage of credit card introductory offers that essentially give you interest-free financing?
No matter what you need to pay off — be it a new purchase or existing debt — the right credit card can save you thousands in interest charges. That's money you can put into savings or use toward life's next big necessity.
Advertiser Disclosure
CardRates.com is a free online resource that offers valuable content and comparison services to users. To keep this resource 100% free, we receive compensation for referrals for many of the offers listed on the site. Along with key review factors, this compensation may impact how and where products appear across CardRates.com (including, for example, the order in which they appear). CardRates.com does not include the entire universe of available offers. Editorial opinions expressed on the site are strictly our own and are not provided, endorsed, or approved by advertisers.