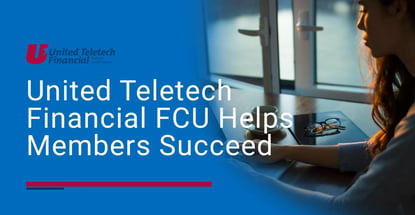 In a Nutshell: In 1960s New Jersey, Bell Labs was the hub of a tech center that was a lot like today's Silicon Valley is today. Employees there started United Teletech Financial Federal Credit Union to help them build on their success. More than 24,000 community members in three counties now count on UTF's commitment to their financial health. UTF offers a diverse card lineup, staffs each of its branches with certified financial counselors, and even provides members with a chance to win prizes for good savings habits.
A lot has happened in telecommunications since the 1960s, when Bell Labs' New Jersey facilities routinely broke ground on research and development much like Silicon Valley does today. You may be reading this article on a powerful little computer that you carry around in your pocket thanks to Bell Labs' pioneering work in cellular telephone networks, for example.
The company's legacy extends to other areas as well. One of them is its financial services that put people and communities on the same team rather than pitting them against each other.
As Bell Labs employees were creating the future in telecom, they also created United Teletech Financial Federal Credit Union, an institution where they could put their money to work in their common interest. Today, under an expanded community charter, UTF still places the same emphasis on helping more than 24,000 members reach their goals and build financially healthier communities.

"As a credit union, we're a cooperative, specifically rising out of those employees who wanted to come together and manage their finances," said Chris Stratton, UTF's Marketing and Communications Lead. "So we have a very personal relationship with our members."
The credit union stepped up in 2020 when the COVID-19 pandemic hit, and people suddenly needed to socially distance themselves. The UTF team quickly pivoted to deliver services via phone and video and by appointment at its six branches.
A comprehensive digital service platform helped convert in-person financial education seminars on topics like homebuying and credit building to virtual offerings.
"We had to shift everything through a digital mindset and really adapt the way we were doing things," Stratton said.
Offering Cards to Fit All Lifestyles and Spending Patterns
One thing that hasn't changed is UTF's commitment to serving all members wherever they are on their financial journey. One way the credit union does that is through its credit card program, with its array of five cards that fit different niches and serve different needs.
The top-tier product in the lineup is UTF's World Rewards card, built for frequent travelers interested in leveraging points. The card awards 1.25 points per dollar spent and comes with an assortment of perks, including discounts on shipping and luxury vacation rentals.
Next in the UTF lineup is the Platinum Rewards card, which awards one point per dollar spent and comes with no annual fee.
"We have much more competitive rates than our competition," Stratton said. "When the big banks offer these great cards with great rewards, we know that it's coming at the expense of rates and fees."

UTF also offers a basic balance transfer option, the Platinum card, which takes the interest rate advantage still further, and then two cards where UTF shines as a provider of credit-building services — the Student card and the Secured card.
"With the Student card, we're more lenient with credit (requirements), and interest rates are a little higher, but it's great for someone who's in school and looking to start out," Stratton said.
And with the Secured card, a small collateral deposit puts members in charge of building or rebuilding their credit and eventually moving to a more flexible unsecured product.
"You put money aside, and that's how you stabilize that," Stratton said.
Certified Financial Counselors Help Build Good Habits
In keeping with UTF's personalized approach, the Secured card is one that's likely to come up when discussing options with members either in branches or over the phone.
Its team of certified financial counselors provide free guidance not just for building credit but for meeting other challenges, including budgeting, buying a home, and planning for retirement.
In an environment where a significant percentage of community members are living paycheck to paycheck and facing financial and credit obstacles, the certified financial counselor benefit at UTF is ultimately about helping every member build good financial habits.
"Either people are falling behind on their credit or their utilization is too high," Stratton said. "The Secured card is something you can use that you're not going to go into debt over and that you're going to build good habits with."
The philosophy behind the strategy is that it's not inappropriate financial products that get people into trouble, it's inappropriate habits for dealing with financial challenges. With the right discipline and knowledge, almost any product can work for almost any person.
"If you don't have that habit where you're paying your bills, budgeting, and putting money away into savings, your finances will go off track eventually," Stratton said. "Good financial habits are the key."
Another key is that discussions for building good habits occur in a judgment-free zone. UTF counselors are specifically trained to treat members as individuals and to start with a plan for moving forward, not with a review of past mistakes.
"When people feel judged, they're afraid to share, and when they don't share, they don't realize that other people are dealing with the same thing," Stratton said.
United Teletech Financial FCU Gives Back to Members
UTF is so serious about encouraging sound money management through savings that it puts its money where its mouth is. Through the U-Win Savings Account, UTF awards prizes to people who save, and there are enough prizes to go around where members who participate stand a good chance of eventually winning.
Every dollar deposited in U-Win generates a chance to win one of 40 monthly prizes of $25 each; the program also offers a quarterly prize of $500 and an annual prize of $1,000. Members can earn a maximum of 100 chances to win the monthly prize, 300 to win the quarterly prize, and 1,200 to win the annual prize.
"The more prizes that are offered, the more likely people are to save," Stratton said.
Saving just $10 a week for a year generates 520 chances to win the $1,000. And in a classic win-win situation, everybody who plays has a better emergency fund to draw on when needed.
"Automating that small amount of savings every week is a great way to build good financial habits," Stratton said.
And it's just one more way UTF strives to live up to the credit union ethos of members helping members. Because of UTF's status as a financial cooperative, members who use U-Win in a way are awarding prizes to each other.
"I don't think the cooperative movement is talked about enough," Stratton said. "The whole idea is that you have some autonomy, that you have some say in what happens, and that everything is done for the membership as a whole. You're part of an autonomous unit where you give something, and you get something back."
Advertiser Disclosure
CardRates.com is a free online resource that offers valuable content and comparison services to users. To keep this resource 100% free, we receive compensation for referrals for many of the offers listed on the site. Along with key review factors, this compensation may impact how and where products appear across CardRates.com (including, for example, the order in which they appear). CardRates.com does not include the entire universe of available offers. Editorial opinions expressed on the site are strictly our own and are not provided, endorsed, or approved by advertisers.