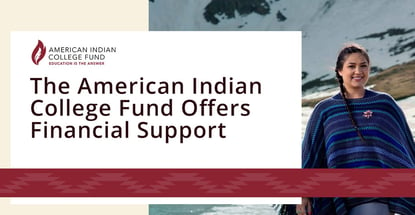 In a Nutshell: College students may view financial aid or personal credit as viable funding sources for their education. However, many young Native Americans live in communities that are so culturally and economically isolated that loans, and even higher education, may seem unattainable. The American Indian College Fund has worked to reverse that trend among Native students for more than 30 years. The College Fund helps thousands of students each year achieve the social and financial equity they deserve through access to higher education.
Only 14.5% of Native Americans have a college degree, which is less than half the rate for society as a whole. The reasons behind that disparity are complex, but long-standing patterns of cultural isolation and financial inequity have certainly played an outsize role.
Today, when many young Native students start planning to attend college or vocational school, obtaining financial aid or some other form of credit to pay for it isn't always part of the process. More often than not, they may be hesitant to take the risk or don't feel financially secure enough to qualify.
The prevailing tendency among young adults in these communities has been to pick up job opportunities closer to home instead of pursuing higher education.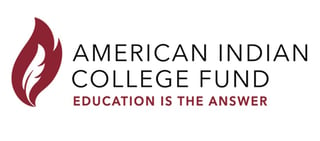 The American Indian College Fund helps level the playing field for Native Americans. It helps American Indian and Alaska Natives improve their lives by accessing higher education. Since its formation in 1989, the American Indian College Fund has disbursed more than $237 million in scholarships and institutional support and helped the entire Native community move toward a better future.
Corporate, public, and individual donations fund scholarships, internships, and educational programs and enable a success team to work with students who need individual assistance.
"Almost half of the participants in our flagship Full Circle scholarship program receive some sort of coaching," said David Bledsoe, Student Engagement Communications Manager for the American Indian College Fund. "Because it's one thing to offer a scholarship, but it's another to really meet a Native student where they're at in terms of how they view the world and what their goals are."
Full Circle and Tribal Scholarships Provide Opportunities
Last year, the American Indian College Fund helped nearly 4,000 credit-challenged students — most of whom were first-generation college attendees — to attend more than 200 different schools. It also extended support to 35 accredited tribal colleges and universities, institutions chartered by tribal governments and located on or near Indian reservations.
The Full Circle scholarship program is the umbrella under which all of those initiatives operate. Each year between February 1 and May 31, the American Indian College Fund accepts applications for the program. Students planning to attend a tribal college or university can also use the same application.
"It's a great opportunity for any Native student. It is a common application for over 100 different scholarships with a lot of different requirements," Bledsoe said.
Watch on
That approach checks off many boxes and helps alleviate financial roadblocks to higher education. The American Indian College Fund team locates and vets available funding sources and takes the extra step of custom fitting a solution to every student who needs it.
"If you look at other organizations, they may have an opportunity with Exxon, Coca-Cola, or another corporation," Bledsoe said. "What we're doing is, basically, putting them all into one basket."
That puts a premium on the comprehensive application. The more information a student provides about interests and goals, the better.
"There's a big focus on career readiness and employable graduates with what the College Fund does," Bledsoe said. "We encourage students not only to look at traditional bachelor's and graduate degrees but also at technical and vocational opportunities."
Elevating Native Voices through Coaching and Guidance
Diversifying the scope of searches is important because the American Indian College Fund wants students to gain the financial capabilities to attend school free of any credit crunch. It also helps students access relevant experiential opportunities while realizing that their path forward may not be exactly as they envisioned.
That can also translate into viewing higher education as a way to give back to their communities.
"Many of the colleges we work with provide excellent programs that allow students to work close to home," Bledsoe said. "Some choose to go to big cities, but others want to stay in their communities specifically to strengthen them and to inspire others."
That's where the range of coaching options comes into focus. Although coaching can be a rather simple process of connecting with providers and doing check-ins, some funders offer additional support that requires more personalized planning to access.
"We make sure our students have the resources they need and that their questions are answered," Bledsoe said.
The American Indian College Fund also boosts the process through Native Pathways, an array of culturally relevant educational resources. And it hosts events in partnership with tribal colleges and other universities serving large Native student populations. The free Native Pathways guidebook addresses the specific needs and viewpoints of many students.
The Career Pathways career readiness guidebook focuses on carrying that stewardship forward to life after college. It incorporates coaching models and frameworks with proven effectiveness.
"Native students may have ties to their families and communities that are different from traditional mainstream college students," Bledsoe said. "But they have the same goals."
Offering a Pathway to Equity for Native Students and Their Communities
Members of a sovereign Native nation and their descendents — or those cut off from resources, loans, and credit — are eligible to receive support through the American Indian College Fund. The biggest step is just filling out the application.
"The biggest piece of advice we give to students who are looking at this is just to apply," Bledsoe said. "A lot of them get intimidated. They say, 'Oh, they're not going to choose me,' or 'I don't qualify,' or 'I won't be a good enough candidate.' And they're missing out."
The American Indian College Fund is always there to offer encouragement — and help applicants understand their motivation. The best strategy is to go beyond the minimum requirements outlined in the application and provide as much information as possible.
"We're trying to match students to over 100 different opportunities — we need to know," Bledsoe said.
The Native American and higher education professionals who read the applications respond favorably to personal stories.
"If you have a grandparent or parent who worked as a nurse, doctor, or was a healer, and that inspires you, it's important to share as much as possible so the people who evaluate your application get a feel for who you are," Bledsoe said.
That way, the American Indian College Fund can better serve each student and help them continue to close the generational and educational gaps in many Native American communities.
"In partnership with a lot of great organizations and individuals, we're always working toward equity," Bledsoe said. "And it's only with support that we can find it for Native students."
Advertiser Disclosure
CardRates.com is a free online resource that offers valuable content and comparison services to users. To keep this resource 100% free, we receive compensation for referrals for many of the offers listed on the site. Along with key review factors, this compensation may impact how and where products appear across CardRates.com (including, for example, the order in which they appear). CardRates.com does not include the entire universe of available offers. Editorial opinions expressed on the site are strictly our own and are not provided, endorsed, or approved by advertisers.