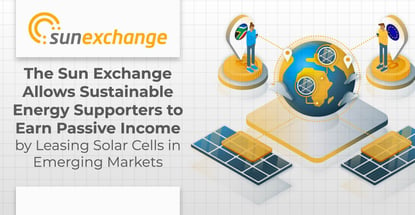 In a Nutshell: When communities, schools, and businesses rely on expensive, inefficient power sources, it may hamper growth and harm the environment. But by developing solar power structures in regions where the sun shines brightest, they can harness more affordable energy. The Sun Exchange offers a way for solar investors to fund those vital projects and earn returns from municipalities, schools, and businesses looking to save on their energy bills. The Sun Exchange process promotes growth and sustainability in emerging markets while attracting investors with steady returns.
Abe Cambridge has an academic background in climate science and got his start in solar energy in the U.K., where the industry flourished due to an influx of government subsidies.
"It was like an artificial market," he said. "But when the government withdrew the subsidy program, the market imploded."
So Cambridge moved to South Africa to work as a consultant and realized just how different its market was from the U.K. When he looked around, he saw no solar panels on roofs, even though the region has an abundance of sunlight.
"When I crunched the numbers on the economic effectiveness of solar, it became clear that solar power, when deployed in South Africa, produces a decent return to the owner — with no government subsidy or tax incentives required," Cambridge said.
So Cambridge founded The Sun Exchange with a commitment to bring solar investment to South Africa and monetize sunshine on a global scale. The company allows customers to purchase and lease solar cells to schools, businesses, and communities in emerging markets — and earn steady returns.

The Sun Exchange is also building a community dedicated to addressing climate change and environmental degradation while solving issues hindering sustainable global development.
Cambridge saw how high capital costs held the South African solar industry back, so he developed a solution that benefits people around the globe.
"In developed markets, debt is cheap. You can easily go to a bank and get a loan or use one of the many government tax incentives to put solar panels on your business," he said. "But in South Africa and other emerging markets, such luxuries don't exist — governments have bigger issues than subsidizing clean energy."
Crowd-Selling Affordable Solar Technology to Power Schools and Businesses
To bring the technology to South Africa, Cambridge developed a system that enables businesses to go solar with no up-front cost. The Sun Exchange accomplishes that by making solar panels easy and affordable for users to own, then connecting those users with worthy projects.
When an entity such as a school or business approaches The Sun Exchange with a request to place a project on the platform, the company studies the project's technical, social, and financial viability.
"We validate that the energy user is reliable, and that the installer of the solar panels is going to do a good job," Cambridge said. "Once we're satisfied, we put the project on The Sun Exchange platform and sell those individual solar cells that make up the project to our customer base."
On the platform, users can explore the open projects available. For example, one campaign to power a supermarket in Hoedspruit, South Africa, is offering solar cells for around $5.
"People with little investment capital can now actually own a solar panel," Cambridge said. "It's an alternative way of investing in solar."
A user's return is based on the amount of power produced, which The Sun Exchange estimates in advance using industry-standard methods. Cambridge said that users could think of The Sun Exchange like a real estate agent who collects rent from a tenant and pays them.
And the leases run for 20 years.
"We're finding projects that are long term — schools and colleges that have been around, sometimes for hundreds of years," Cambridge said.
Bitcoin Exchange Infrastructure Ensures Security, Efficiency, and Accessibility
When an installation starts generating power, The Sun Exchange deposits monthly returns to the user in the form of fiat currency or Bitcoin. Cambridge's decision to deploy an exchange infrastructure based on cryptocurrency, in fact, was crucial to the viability of The Sun Exchange project.
"In 2014, I was starting to pay careful attention to the developments in cryptocurrency, what it achieves, and its benefits," Cambridge said. "When I completed my first cryptocurrency transaction, I realized I could send Bitcoin from South Africa to the U.K. instantly at practically no cost."
That inspired a model that allows a user in London to own solar panels on a roof in South Africa and lease them at a rate of usage that is advantageous to both parties.
For payments, The Sun Exchange continues to use Bitcoin exclusively.
"That's because it's the most secure and the most liquid," Cambridge said. "Even though there are other cryptocurrencies now, Bitcoin is the most valuable. And as an alternative to the dollar, it's universal and zero-friction, and can be converted into fiat currencies instantly, avoiding any volatility issues," he said.
In 2018, The Sun Exchange also began to issue its own cryptocurrency, known as SUNEX, which powers the company's investor rewards program. Owners of SunEx receive discounts when purchasing and higher lease rates on their solar panels. It also gives them priority access to sales of solar panels.
"They do sell out fairly quickly, so there's an advantage in getting into our projects early," Cambridge said.
Supporting Environmental and Economic Progress in Developing Countries
When Cambridge saw that South Africa wasn't harnessing solar energy, he founded The Sun Exchange on a simple reasoning: a solar panel in South Africa generates double the energy of a panel in the U.K.
"Owning a solar panel in South Africa rather than the U.K. generates four times the carbon savings," Cambridge said. "So, from an environmental and climate perspective, it just makes more sense to put your solar panel where it can have the most impact."
The Sun Exchange's combination of convenience and commitment has attracted users from approximately 140 countries and fostered a new kind of energy investor. Most people in the world don't own their living spaces. But with The Sun Exchange, they can still be part of the solar revolution.
"We've got 18-to 25-year-olds who are buying one or two solar cells as a way to start earning cryptocurrency. And we have people in the 45 to 55 age bracket who are buying $10,000 worth of solar cells because they like the fact that their money is creating a social impact and generating a slow and steady return," Cambridge said.
And The Sun Exchange continues to grow and expand into emerging markets in Latin America, Southeast Asia, Africa, and other places where the sun shines brightly, and credit isn't easily accessible.
"It's a business based on the principles of democracy and decentralization. A global community of people brought together to collectively do good and solve some of the greatest challenges of the planet today," Cambridge said.
Advertiser Disclosure
CardRates.com is a free online resource that offers valuable content and comparison services to users. To keep this resource 100% free, we receive compensation for referrals for many of the offers listed on the site. Along with key review factors, this compensation may impact how and where products appear across CardRates.com (including, for example, the order in which they appear). CardRates.com does not include the entire universe of available offers. Editorial opinions expressed on the site are strictly our own and are not provided, endorsed, or approved by advertisers.