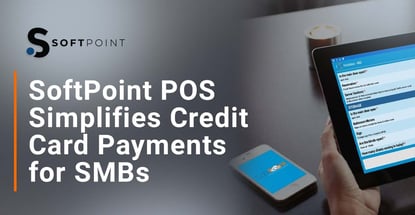 In a Nutshell: Many hospitality businesses want to modernize their EMV payment infrastructure without converting their legacy systems. SoftPoint point-of-sale systems simplify that process by allowing clients to accept a wide variety of payment types alongside credit cards. SoftPoint technology also offers simplified ordering tools for restaurants that save customers and staff time. Restaurants that leverage SoftPoint solutions can also help their employees earn more tips by using a streamlined system.
Many restaurants and bars reopened after state and local governments lifted COVID-19 pandemic restrictions, but they often didn't have the staff to operate at pre-pandemic levels. Today, about 26% of restaurants still need cooks, while 17% report they need servers and 7% have open positions for bartenders.
In response to these key job vacancies, some restaurants are maintaining limited hours, while others rely more heavily on a smaller staff. Sit-down restaurants, in particular, are feeling the effects of the labor shortage:
"Full-service concepts are operating with 6.2 fewer employees in the back of the house and 2.8 fewer staff members in the front of the house compared to 2019," Restaurant Dive reported.
Limited-service restaurants like McDonald's and Chick-fil-A are not immune either, with some shutting down their dining rooms or curbside ordering because they cannot find enough workers.

In addition to searching for workers, many restaurants look for innovative ways to decrease the workload on their employees. SoftPoint offers restaurants a robust management platform that simplifies everything from ordering to credit payments for customers. The technology can also lessen the burden on employees by streamlining the process.
SoftPoint helps clients implement online and tableside ordering and helps restaurants manage customers and retain staff. The company also offers updates to restaurant analytics, EMV payments, and point-of-sale systems.
Many restaurants turn to SoftPoint because the scarcity of workers could be a permanent change, and many restaurant staff may not return.
According to Restaurant Dive, "Thirty percent of former restaurant employees found office positions and 17% went into teaching or education, according to Technomic's Crisis on the Front Lines study. Many have also turned to industries that are experiencing tremendous growth. Warehouse and logistics jobs, following a boom in online sales, are up 278% and on-demand jobs."
Even when restaurants offer higher hourly wages, employee turnover is still considerably higher than in 2019. SoftPoint helps those businesses increase the effectiveness of their current workforce through payment and ordering innovations.
"We allow restaurant operators to extend their capital investment in legacy point-of-sale programs and deliver these modern order and payment solutions without having to displace their environment. We extend the functionality of their existing systems," said Tim McKenna, Chief Sales Officer at SoftPoint.
Businesses Can Integrate Multiple Payment Alternatives
Christian Rivadalla revolutionized processes for making hotel reservations online 20 years ago. Essentially, he created a system that keeps databases in sync without needing to integrate. His method became the system for PayPlug, a platform that keeps multiple disparate systems connected.
Rivadalla wanted to involve himself more deeply in the hospitality industry after helping Interpol track blood diamonds and gold across the black market after 9/11. He asked his son, also named Christian, if he wanted to apply the PayPlug technology into the hospitality space more deeply.
His son agreed, and in 2011, they launched SoftPoint.
The company's primary offering is an EMV payments solution. SoftPoint's EMV integrates into restaurant point-of-sale systems while providing customers with even more payment options about how they want to pay. With SoftPoint, restaurant guests can easily split checks and pay with a credit card, PayPal, or Apple Pay.
Watch on
Staff can also conclude transactions directly at customer tables, which saves plenty of time. That functionality gives them about 25% of their time back — which was previously spent on cashier duties. That also means they can wait on larger sections of the restaurant, which, in turn, earns them more income.
One of SoftPoint's biggest selling points is that restaurants do not have to disrupt legacy systems to adopt modern EMV payments.
SoftPoint's EMV is also device- and processor-agnostic, meaning it can function on devices from First Data, TSYS, or WorldPay.
Payment Security Is Crucial to Building Trust
The COVID-19 pandemic forced the entire restaurant industry to innovate. Not only did some eateries adopt mobile POS for ordering, but many diners became accustomed to ordering on their own devices using DoorDash or QR codes.
As more establishments adopt those technologies, restaurants and customers need to feel that their payments are secure — including credit cards and contactless wallets. Another key component of SoftPoint's architecture is that it doesn't rely on native card processing systems.
"Our payment application is actually the system of record for the transaction. We aren't passing it through EDC or other point-of-sale systems that transact the payment to the acquirer," McKenna said. "We deploy a light point of sale umbrella — that's the rosetta stone. It pushes back down the sales data into the system."

Specifically, this security feature prevents transaction-level data and tokens from being sent back and forth the way they are on native credit card processing systems. SoftPoint aims to deliver the efficient systems customers expect without driving up costs for restaurants.
"We try to deliver those mobile solutions but capture it in a way that makes sense for enterprise operators at scale," Tim said.
When customers, restaurants, and staff all trust the safety and cost-effectiveness of these solutions, then ordering and payment processes become streamlined. SoftPoint can also implement the changes remotely, as it has for national diner chains, including Huddle House and Perkins.
"In implementations, the crucible of COVID-19 asked us to dial in our procedures to be 100% remotely operated. There is no physical cabling to any workstation. We log in remotely. Everything is done over a series of remote sessions, including system check, integration, and training," McKenna said.
SoftPoint: Allowing Modern SMBs to Accept Credit Cards
Restaurant and bar operators are indeed in a transitional period. With COVID-19 pandemic closures and staff shortages, many have modified their operating procedures out of necessity.
SoftPoint recently worked on a project for a mobile wallet provider that facilitates all of the in-suite ordering for the U.S. Open Tennis Championships in Queens, New York. Now, attendees can pay using their mobile wallets, rather than relying on physical credit cards.
"The key is knowing how to mix and match those ordering modalities and still make operational sense," McKenna told us.
As the restaurant space continues to evolve, SoftPoint will continue to innovate solutions. The company plans to seamlessly include feedback and offer more market-based solutions.
"Getting guest feedback in a structured way is going to be a thing. I think we're going to see more of it," said McKenna.
The company is also developing more analytics options to provide companies with robust data about their guests and help them to make informed decisions. That information can also help enterprises make smarter decisions in adopting technologies and implementing staffing solutions. Organizations can also track information in real time and use the same system to glean menu-tracking insights.
"The magic is how you make that data actionable, and I look forward to seeing what's developed along those lines as well," McKenna told us.
Advertiser Disclosure
CardRates.com is a free online resource that offers valuable content and comparison services to users. To keep this resource 100% free, we receive compensation for referrals for many of the offers listed on the site. Along with key review factors, this compensation may impact how and where products appear across CardRates.com (including, for example, the order in which they appear). CardRates.com does not include the entire universe of available offers. Editorial opinions expressed on the site are strictly our own and are not provided, endorsed, or approved by advertisers.