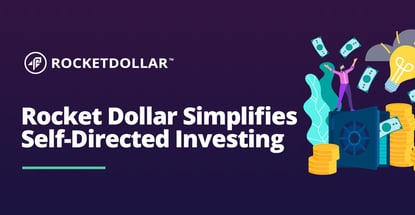 In a Nutshell: Rocket Dollar offers an innovative approach to self-directed investing by automating the process. Investors maintain complete autonomy over fund allocation through an LLC that the account holder manages directly. Rocket Dollar enables users to easily invest in startups and other alternative assets. Its checkbook IRA accounts are simple, straightforward, and provide account holders with the information and support they need to confidently direct their own investments. Through Rocket Dollar, investors gain a new level of autonomy with their funds, ensuring they have customized, diversified portfolios.
It certainly garners attention when a self-directed investment startup raises seed money through self-directed investing. Rocket Dollar accomplished that feat through efficiency and innovation, funding the company while showing its capability. And it provides a great example of the versatility and opportunity that self-directed investing offers.
"Other self-directed providers will make investments for you, but it's a lot more complicated," said Thomas Young, Co-Founder and VP of Marketing at Rocket Dollar. "That's because the custodian has to do a lot more work, so it gets expensive, and it's also a pain for the receiving end."

Rocket Dollar is a self-directed investment account provider. It gives investors access to a wide range of alternative retirement investment options, including real estate, angel investing, and other avenues. Just as importantly, it offers investors the autonomy to deploy funds however they wish through its easy-to-use checkbook IRAs and account debit cards.
"We try to make it safe, fast, and inexpensive. It's much more transparent and straightforward, and people have responded to that," Young said. "One of our biggest channels is people dropping their other self-directed providers and coming to us. It's not about creating a new market of new self-directed investors; it's people who have been frustrated with other providers who are coming to us."
And Rocket Dollar continues to be an attractive option for investors who want more control and a variety of investment options.
Automation Cuts Costs and Empowers Investors
Around 2018, Young worked at a traditional self-directed account provider. It was a paper-based, manual provider, which means it was expensive.
"We were charging $1,500 to $2,000 just to set up the account," Young said. "I was setting up the accounts myself using pen and paper and spending about three or four hours per customer."
The cost and the effort prompted Young to consider opportunities for innovation in the space. Luckily, he was in a prime position to do so; he was familiar with the industry, and just as importantly, he was living and working in Austin, Texas.
"This is where we automate things and build tech around things," Young said.
Young knew Chris Palmisano, now COO of Rocket Dollar, who introduced him to Henry Yoshida, who is a Co-founder and CEO. Yoshida had previously developed Honest Dollar, which offered small business retirement plans.
"If you know anything about corporate retirement plans, they're really expensive, so they did them online, automated, cheaper," Young said.
That was essentially the model Young wanted to pursue in the self-directed investment space. Rick Dude, Rocket Dollar Co-founder and CTO, provided the fintech piece of the puzzle. Now, only one thing remained:
"We were just sitting around, having a beer, talking about it," Young said. "Henry's last company, which was very successful, was called Honest Dollar. We figured, these self-directed accounts, you rocket your dollar. Rocket Dollar. And we were able to buy the URL on my iPhone. I think it was like $1,500. That was the first money we ever spent on Rocket Dollar, and it was on a personal credit card."
Member LLCs Offer Access to Alternative Investments
Rocket Dollar offers truly self-directed investing, while most providers only allow investors to direct assets into funds they offer. Self-directed IRA custodians allow more versatility, but at the cost of time, fees, and the hassle of convincing the custodian that the investment is a good risk.
"We took that a step further and provided what's called a checkbook IRA," Young said. "We have a custodian — because all IRAs require a custodian. But the custodian is directed to invest in a single-member LLC, which your IRA owns."
The account holder then acts as manager of that LLC, making investments out of the LLC's business checking account. The transactions are direct, with no custodian to haggle with and no additional fees. The investor acts directly, using the account checkbook and debit card.
"You have full control, and that creates two things, one good, one bad. The good thing is it's really easy to make an investment," Young said. "You can do it out of the checking account of your LLC. It also creates the problem that it's easier to get in trouble. A lot of the product and technology we build helps people avoid getting in trouble."
Rocket Dollar started out consulting directly on investments with its clients. It has also developed knowledge bases and resources for investors, providing even more autonomy and freedom. The staff is still available by phone and email to assist, but investors don't need approval to place their funds.
"We don't have any stake in where you invest, which is, we think, as it should be," Young said. "You're your own best fiduciary."
Account and Tier Options Empower Self-Directed Users
Investors can establish a variety of accounts through Rocket Dollar. Those include traditional IRAs and Roth IRAs. Self-employed workers and business owners also have access to Solo 401(k)s and SEP IRAs. Rocket Dollar also curates Inherited IRAs, which are traditional and Roth IRAs inherited from another individual.
Rocket Dollar offers two tiers of service for its clients. At the Core level, investors pay a $360 initial setup fee and $15 per month. They get an LLC to hold investments, management tools, document storage, and email support for their account.
The Gold tier offers expedited service and transfers, four free wire transfers each year, and an account checkbook and debit card. All checkbook and card transactions appear under a custom LLC name that the client chooses. They also receive priority support with expanded capacities to assist them with their accounts and investments.
Once users have an account, traditional options for self-directed investing include precious metals and real estate. But other opportunities are also available, including investing in startup companies and peer-to-peer lending.
To help investors orient themselves in self-directed investing, Rocket Dollar provides educational resources and connects investors with partners who can give more information and opportunities.
"We partner with a lot of people who are raising money," Young said. "It's up to them to provide you with the education, as an investor, to feel confident about investing. But we're happy to make the introduction."
Rocket Dollar Unites Traditional and Alternative Investing
Traditionally, the self-directed space has been aimed at knowledgeable, seasoned investors who know what they want — and what they're doing, according to Young. But because of the learning curve, it can be challenging to convince people to invest their retirement funds in alternative spaces.
"People view their retirement savings like they can't touch it, and it's so sacred. In reality, it's just money," Young said. "We don't suggest that you should put your entire retirement savings into Rocket Dollar. We think part of diversifying a portfolio is having some stocks, some bonds, mutual funds, and then you can also have a piece in the alternative space."
As of Summer 2020, Rocket Dollar account holders have more than $150 million in total assets in RD accounts. The company's conversions are based on educating investors, providing superior service at a lower cost, and empowering investors with tools, including the account checkbook and debit card. And Rocket Dollar plans to follow that same model moving forward, but with an expanded scope.
Advertiser Disclosure
CardRates.com is a free online resource that offers valuable content and comparison services to users. To keep this resource 100% free, we receive compensation for referrals for many of the offers listed on the site. Along with key review factors, this compensation may impact how and where products appear across CardRates.com (including, for example, the order in which they appear). CardRates.com does not include the entire universe of available offers. Editorial opinions expressed on the site are strictly our own and are not provided, endorsed, or approved by advertisers.