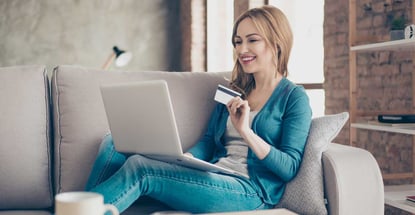 More than 14 million American adults don't have an active bank account. That means they have no place to deposit a paycheck, an account from which they can pay bills, or make necessary online purchases.
If you're in that group, and you also have a damaged credit history, things can get even tougher. Check cashing fees can eat away at a paycheck, and sending money orders to pay bills adds an unnecessary expense. If you're tired of these fees, a good prepaid debit card may be for you. In the article that follows, we'll present some of our top choices for prepaid debit cards for bad credit as well as several secured credit cards for bad credit.
Debit Cards | Secured Cards | FAQs
Best Prepaid Debit Cards for Bad Credit
Many people turn to prepaid debit cards as an alternative to a bank account. And although the number of unbanked Americans is at an all-time low, the number of prepaid debit cards in circulation continues to grow.
If you're struggling with a bad credit score, and think you may not qualify for a credit card or bank account, a prepaid debit card could be a much easier way to manage your money. That's because these cards run on major credit card networks, which allows you to use them wherever you would use a credit card.
But keep in mind that these cards will not help you repair your credit score. Since they work as a debit card product, they have no associated credit line and won't work to build a positive payment history.
If you're looking for more of a credit rebuilding product, check out the secured credit cards listed further down this page.
Cashback – Earn 1% cash back on up to $3,000 in debit card purchases each month
No. Fees. Period. That means you won't be charged an account fee on our Cashback Debit account.
Early Pay – Get your paycheck up to two days early with no charge
No Credit Impact - You can apply without affecting your credit score.
Fraud Protection - You're never responsible for unauthorized debit card purchases. If you suspect someone else has used your debit card without your permission, let us know.
Member FDIC
Fee-free overdraft protection
No minimum opening deposit and no minimum balance
Add cash into your account at Walmart stores nationwide
Cash access at over 60,000 no-fee ATMs nationwide
100% US-based customer service available 24/7
Your Chime Checking Account comes with a Chime Visa® debit card, no monthly fees or maintenance fees.
Avoid out-of-network ATM fees and access to 60,000+ fee-free ATMs¹ — more than the top 3 national banks combined!
Direct deposits arrive up to 2 days early.²
Disclosures: Chime is a financial technology company, not a bank. Banking services and debit card provided by The Bancorp Bank, N.A. or Stride Bank, N.A.; Members FDIC, pursuant to a license from Visa U.S.A. Inc. and may be used everywhere Visa debit cards are accepted.

¹

Out-of-network ATM withdrawal fees may apply except at MoneyPass ATMs in a 7-Eleven, or any Allpoint or Visa Plus Alliance ATM.
²Early access to direct deposit funds depends on the timing of the submission of the payment file from the payer. We generally make these funds available on the day the payment file is received, which may be up to 2 days earlier than the scheduled payment date.
Overdraft protection up to $200 with opt-in and eligible direct deposit*
No monthly fees with eligible direct deposit, otherwise $5 per month
Earn up to 7% cash back when you buy eGift Cards in the app
Get your pay up to 2 days early - Get your government benefits up to 4 days early.*
High-yield savings account, 4.50% APY paid quarterly on savings up to $5,000.*
| | | | | |
| --- | --- | --- | --- | --- |
| | | | | All Credit Types Considered |
Prepaid debit cards allow you to directly deposit paychecks and government benefit checks, pay bills, and make online purchases just like traditional bank accounts and credit cards do, but some include much higher fees.
Before you sign up for a card, be certain to read the fine print and fee schedule associated with each option. By choosing a card with fewer fees and charges, you can maximize your spending power and save more of your hard-earned money.
Best Secured Credit Cards for Bad Credit
Nothing in life is permanent — including a bad credit score. If credit card issuers won't currently look your way, the best way to improve your score without spending a lot of money is by adding a secured credit card to your wallet.
You can use these cards in many of the same ways you use a prepaid debit card, but a secured credit card can actually improve your credit score with responsible usage. The only caveat is that secured cards require a refundable security deposit to open an account.
But since the card has an associated credit line, your issuer will report your payment history to the three major credit reporting bureaus. Some consumers have improved their credit scores in as little as 30 days with a secured credit card, though the time it takes for you will depend on your payment history and current credit situation.
Much like prepaid debit cards, be sure to read the fine print and fee schedule of any card you apply for. Some secured credit cards include multiple fees that add to the cost of your credit line. But, if you're looking to improve your credit score without paying a credit repair service, the fees may be worth it.
Are There Any Free or No-Fee Prepaid Debit Cards?
Free is a tricky word because it usually comes with strings attached. The closest thing to a truly fee-free prepaid debit card is the BlueBird Card from American Express. The card has no monthly or annual fees, no transaction or purchase fees, no bill pay fees, and no initial card fee if you order online.
But since the card operates on the American Express credit network, you won't be able to use it in as many locations as you would a Visa or Mastercard.
Plus, some retail locations may charge you a fee for adding money to the card. While these fees and limitations may not make the card free, the American Express offering still ranks among the cheapest prepaid debit card options.
If you're looking for wider acceptance and more card flexibility, you can check out prepaid cards on the Visa and Mastercard networks. These are among the most accepted cards on the planet and will almost certainly work with any merchant, bill, or service provider you need to pay.
But that flexibility comes with a price.
The Brink's Prepaid Mastercard®, for example, charges a variable monthly fee, but provides a direct deposit feature that allows you to get your paycheck or government benefits check deposited up to two days faster than you would get them with a paper check.
The Pink Netspend® Visa® Prepaid Card also charges a variable monthly fee but has no late fees, no interest charges, and no minimum balances. Cardholders are also enrolled in the PayBack Rewards℠ program — a rare cash back opportunity in the prepaid space.
Some prepaid cards may charge fees based on how and when you load funds to the card, how much or how little you use the card to make purchases, or for other interactions — such as checking the prepaid card's balance.
Before you sign up for a card, be certain to read the fee schedule to make sure you understand any charges you may incur.
In short, free products are great, but they can also limit your ability to spend and tie up your money in an account that you can only use at a few locations. A low-fee card could open up many doors that were otherwise closed.
Which Major Banks Offer Prepaid Debit Cards?
Many people confuse banks with credit card networks. For example, Visa and Mastercard are credit card networks. Each company will allow a credit card's issuing bank to conduct transactions on their network — for a fee.
When you have a card with a Visa logo, for example, you aren't borrowing money from Visa when you use the credit line. Instead, the issuing bank fronts the money in your name and Visa conducts the transaction.
That's why many banks can offer their own credit and prepaid debit cards to account holders. But some banks offer prepaid debit cards to consumers who don't have accounts at the bank.
American Express, for instance, is both an issuing bank and credit network and offers prepaid cards to all consumers.
Wells Fargo also offers prepaid debit card options, but limits cardholders to direct deposit, bank account transfers, and in-branch deposits to load funds onto cards.
Since major banks make money by adding bank accounts, they often try to incentivize you to open an account if you want their prepaid card — but that kind of negates the purpose of having a prepaid card in your wallet.
These banks may also try to convince you to go with their secured credit card option instead because the associated fees and security deposit makes the product more lucrative for them.
Instead, independent banks, such as Netspend, and even Paypal, have revolutionized the prepaid debit card space by partnering with national chain retail and convenience stores to allow cardholders to purchase and reload cards easier and faster.
These businesses often add a charge for the transaction, though, so check with the retailer before heading there to add money to your card.
Which is the Best Reloadable Prepaid Card to Have?
This depends on your goals for the card.
Just about every card on the market will allow you to have your paycheck or government benefits check deposited directly into your account. Each card also links to a credit network that will allow you to make purchases, pay bills, and save funds for later.
But what separates the best cards from the pack are flexibility and fees. You can use cards that operate on the Visa or Mastercard network at almost every retail and online location that accepts credit cards. You may find fewer options with some issuers, including American Express.
Just expect to pay slightly higher fees for the convenience of the more popular network. If you plan to pay bills and make regular purchases at specific retailers, check with those businesses to determine which credit card networks they accept before signing up for a card.
Doing so could save you a lot of trouble.
If you want to improve your credit score over the long haul, you may be better served skipping the prepaid card and putting your money into a refundable deposit for a secured credit card instead. That's because secured credit cards act just like a traditional credit card — and the issuing bank will report your payment history to the three major credit reporting bureaus.
With on-time payments, you could see a nice boost to your credit score. On the other hand, late or defaulted payments could pummel your score rather quickly.
Can I Buy a Prepaid Debit Card with a Credit Card?
In most cases, the answer is no — but there are exceptions.
You can buy the physical prepaid debit card at many locations. Most grocery stores, gas stations, and convenience stores sell them. You can typically purchase a prepaid card using a credit card. But you will likely run into problems if you try to load money on it using your credit card.
Some retail locations still allow customers to purchase Visa or Mastercard reloadable debit cards using credit cards, but it's rare. That's because there's a growing trend where fraudsters use stolen credit card numbers to purchase prepaid debit cards — essentially transferring stolen money over to a non-traceable payment method.
When that happens, the retail location that allowed the transaction has to pay for the lost money. As you may expect, most businesses don't want to take that risk, so they no longer allow credit cards to reload prepaid debit cards.
But there are still a few retailers that do allow the transactions. Your best bet is to check with the store before attempting the purchase.
Your only other option to purchase a prepaid debit card with a credit card is to withdraw a cash advance from your credit card and use the funds to purchase the debit card. We highly advise against this method, though, because of the fees and instant interest charges that take place when you receive a cash advance.
And if your prepaid debit card charges fees for making deposits, you could find yourself paying cash advance and deposit fees, which would quickly deplete your balance before you even get access to the funds.
Prepaid Debit Cards Can Be Effective Budgeting Tools
Prepaid debit cards offer a level of convenience that few other cards can match. Obtaining a card won't require a credit check, and you won't have the temptation of available credit that often leads to overspending and debt accumulation.
These lessons not only help adults, but many parents use prepaid debit cards to teach their children fiscal responsibility while giving them access to a payment method they can use just about anywhere.
And as the prepaid debit card market becomes more popular for consumers who can't obtain a bank account, or don't want to deal with a bank, the growing competition works to lower card fees and increase cardholder benefits.
With some smart shopping, you could find yourself with a prepaid debit card that not only minimizes your costs but also offers cash back options that typically only exist on traditional credit cards.
While these cards won't help you repair or build your credit score, they can offer the flexibility you need when shopping and paying bills.
Advertiser Disclosure
CardRates.com is a free online resource that offers valuable content and comparison services to users. To keep this resource 100% free, we receive compensation for referrals for many of the offers listed on the site. Along with key review factors, this compensation may impact how and where products appear across CardRates.com (including, for example, the order in which they appear). CardRates.com does not include the entire universe of available offers. Editorial opinions expressed on the site are strictly our own and are not provided, endorsed, or approved by advertisers.