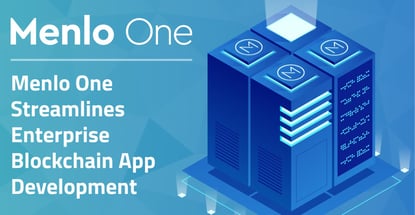 credit card news
Our experts and industry insiders blog the latest news, studies and current events from inside the credit card industry. Our articles follow strict editorial guidelines.
In a Nutshell: In countries with stable, fiat-centered economies, mainstream adoption of blockchain-based cryptocurrencies like Bitcoin seems far off. The problem for enterprises is that developing decentralized applications (dApps) to leverage blockchain's potential is difficult, and the results typically lack in performance and user experience. Menlo One was founded to address those concerns and alleviate enterprise pain points with creating dApps. Rather than start from scratch, businesses can leverage Menlo One's tools, service layers, and support to develop personalized dApps that are faster, easier to use, and more cost-effective.
Global financial services enterprises are exploring the blockchain's potential for decentralizing processes and boosting efficiency. Blockchain-based platforms could make borrowing money cheaper, provide more access to funding, and bring efficiency to supply chains and other business practices.
And they can accomplish those goals through decentralized applications (dApps), which reside on a blockchain where data is validated and shared across a secure network.
Those dApps hold the key to building the decentralized blockchain network of the future. But the process of developing dApps has long been difficult for enterprises. That's why Menlo One solves critical dApp development challenges by offering standardized tools and support services to make the process more cost-effective. It also leads to more user-friendly results.


Menlo One works for dApp developers as WordPress works for those looking to create a blog. Imagine a world where everyone had to start from scratch to build a website — without templates, plugins for common functions, or experts to consult when they need help. The web would still exist, but it would be a place where everyone was making the same mistakes and somehow expecting different results.
That's not an efficient way to build an enterprise. In the same way WordPress removes roadblocks for website owners, Menlo One minimizes repetition and guesswork for dApp developers.
"There are a lot of benefits to starting with a framework like ours," Menlo One Founder and CEO Matthew Nolan said. "The code is clean and organized, and we've thought through security, we've thought through performance. Working with Menlo will save you time."
Purpose-Built to Develop dApps Faster and Easier
Menlo One helps dApp developers lower the cost of construction while still obtaining results suitable for mainstream applications. For example, as a blockchain-agnostic solution, the platform caches data from multiple platforms that operate on the industry-leading ERC-20 (Ethereum) protocol. That results in faster system transactions and immediate user access to content — without compromising blockchain's inherent security.
But that's just one of the ways Menlo One makes the experience of using dApps more like a conventional cloud-based web app. Another is by including ready-made API tools for pre-permissioned transactions to simplify common tasks in the development process — saving developers time and money.
Through a pre-permissioned-transactions API, frequent actions — including commenting and liking — are allowed without the need to authorize every interaction. Menlo One embraces that type of practicality for ERC-20 dApps.
"When you use an off-the-shelf ERC-20 application, there's a lot more clicking to approve transactions," Nolan said. "We smooth out that experience to just require one click for a rather complex transaction."
Menlo One is also ideal for decentralized finance (DeFi) application development, where user experience is paramount and competitive pressure from the financial industry is intense. In the U.S. market, centralized banking and credit cards are cheap, and reliable and service access is broad. But in places like Asia and Latin America, cryptocurrency may improve on the centralized system. And who ends up serving those consumers is an open question.
"Our technology framework has been engineered basically for building these types of decentralized financial applications," Nolan said. "Whether it's the cryptocurrency marketplace or the infrastructure around decentralized blockchain-based loans, our framework makes interacting with those kinds of systems faster and easier."
Transact Among Integrated Layers with the Menlo ONE Token
As envisioned in Menlo One's whitepapers, its multilayered product platform consists of infrastructure and a toolset for dApp development.
The foundation of the product is the Menlo One Framework, built on Facebook's React.js Javascript library and using Ethereum to validate data shared using the InterPlanetary File System (IPFS). Data is cached and dApps delivered on Content Nodes hosted on large web providers, including Amazon Web Services.
The cornerstone of the system, Menlo One's ERC-20-compatible ONE token, rewards Menlo Content Node hosts for caching and serving blockchain data, offsets user transaction costs, and provides other rewards and incentives within the system. And an innovate proof-of-reputation validation mechanism weeds out bots and bad actors from participating by weighing how much a user stands to make from a monetizable event.
That integrated approach has attracted enterprise attention.
"We're working with several groups that are building projects that we see coming out in the next six to 12 months," Nolan said.
In financial services and elsewhere, the possibilities are far-reaching, Nolan told us.
"Centralized lending — that's going to be huge within the next 12 months," he said. "And the supply chain is something that people have been talking about for a long time. Also, applying the transparency and security guarantees of blockchain to online advertising will be big. We are working with a company that is using Menlo One to build an advertising system."
And innovation in building efficient ways to pay for money transfers across borders is also essential — especially in parts of Asia.
"In places like Vietnam, Thailand, and Hong Kong, transferring a dollar-pegged stablecoin like Dai is, in some cases, much easier than going from one actual currency to another," he said.
Relationship-Based Support Helps Enterprises Solve Challenges with dApps
For all of their importance, tools and integrations are just part of the dApp development puzzle for enterprises. Menlo One fills in the missing pieces with relationship-based support to help developers get up and running and start producing results.
Premium enterprise support from Menlo One helps developers get started with building dApps the right way, using best practices. Clients receive a guaranteed response to every support request within a business day, along with alerts as to security updates and bug fixes.
"We offer help the old-fashioned way — by forming relationships with the teams that are using our tools," Nolan said. "We find that's the best way to help them, and it's the best way for us to stay informed about what features are the most useful and what we need to work on."
On the horizon for Menlo One is a continued refinement of the platform and the arrival of some of the fruits of the team's partnerships, including a decentralized social forum app that will launch soon.
"It's a Reddit-style dApp where everything that's said is permanent, and nothing can be altered," Nolan said. "It's a cool thing to have everywhere, but it's especially relevant in places where censorship is a factor."
At its core, Menlo One helps developers to get more done and build products that are stronger, better, and more secure.
"What that means for the nontechnical person — the non-developer in finance — is that we're your secret weapon," Nolan said. "If you're interested in building something in blockchain, it makes a lot more sense to advise your dev team to start with Menlo One than to start from scratch."