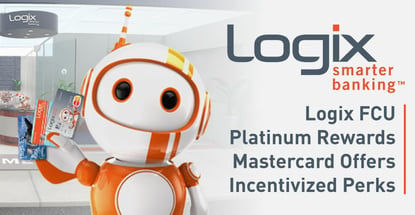 In a Nutshell: Logix Federal Credit Union was one of the first U.S. credit unions to offer rewards credit cards to its members. The credit union recently upgraded its Platinum Rewards Mastercard to include 1.5x points per dollar spent on any purchase with more rewards options at lowered redemption costs. Relationship Rewards members can earn up to 3x points per dollar spent with qualified combined balances on savings and loan accounts.
Experts often look at a company's ability to grow and adapt to changing times as a key measurement of its strength. We do the same when deciding which credit cards to name as our Editor's Choice.
That's because credit cards live in a constantly evolving landscape where rewards that are valuable one day may not be the next. A truly desirable card has to be easy to use, valuable to cardholders, and able to stand the test of time as new offerings enter the market.
Logix Federal Credit Union was one of the first to offer a rewards credit card — back when the business was known as Lockheed Federal Credit Union and open only to Lockheed Martin employees and family members.
But as the credit union evolved into Logix, it found its rewards card in need of a makeover. So, in June of 2018, the institution significantly upgraded the offering on its Platinum Rewards Mastercard.
The card now features a base 1.5 points per dollar spent in any category, with a wide range of easily accessible redemption options through the Mastercard Rewards Network.
"It's a straight $0.01 cost per point," said Diana Meyer, VP of Payments at Logix. "Before we made the change, there were varying amounts of points needed for different rewards. Everything is even across the board now."
Many cardholders called the changes a tremendous upgrade, giving it an overall 95% approval rating. One of the most appealing changes is the expansion of rewards redemption options, which Logix designed to meet the needs of its growing customer base.
"We offer a number of different redemption options that we didn't in the past," Meyer said. "Cash back is a popular option and goes straight into the member's savings account. We also offer gift cards, e-gift cards, Mastercard prepaid cards, merchandise, and travel."
Meyer noted that Logix' first priority when updating the card was to make the rewards richer and easier to achieve for cardholders. To meet that goal, the credit union lowered the points required for most redemption options and increased the number of points earned per purchase — which, prior to the update, was based on categorized spending.
Logix also allows all cardholders — whether they have a rewards credit card, debit card, or other Logix-branded cards — to choose between three card designs. One features a fighter jet, as a nod to its Lockheed roots. Another option features the institution's popular robot mascot, Robix.
Richer Rewards Means Better, Faster Redemptions
Meyer said that Logix spent considerable time researching the rewards card landscape before finalizing its own upgrade plans. The company found that the sector had changed greatly in the years since introducing its card.
"At the time the rewards card was developed, it was in line with the different types of rewards cards that were out there, excluding maybe airline and travel rewards cards," she said. "But the rewards space has changed quite a bit and become much richer since 2008. We brought the program back in line to be a little bit higher than what most consumer expectations are."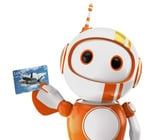 At its base, the card offers 1.5 points per dollar spent, with no cash advance fees and refunds on all foreign transaction fees. The card has a low variable rate that starts at 11.49% APR, based on creditworthiness, and tops out at a very competitive 17.99%.
The card also boasts a host of benefits available through the Mastercard network, including price protection, identity theft resolution, extended warranties, and many travel-related perks, such as trip cancellation insurance and auto rental coverage.
Cardholders can access their account through the Logix mobile banking app that alerts them whenever the card is used and makes it easier to check balances, statements, and make payments.
And, since points accrue on every dollar spent, cardholders earn rewards for every purchase without having to worry about rotating categories. The card also has no annual fee.
"This just makes everything simpler," Meyer said. "You don't have to worry about what categories or retailers you're spending your money with or if you're doing the right things to maximize your points."
Relationship Rewards can Yield up to 3X Points on Purchases
Member cardholders can supercharge their rewards earnings by as much as three points per dollar spent depending on the Logix Relationship Rewards program level they're in.
This incentivized, relationship-based points structure features three tiers — silver, gold, and platinum — and maximizes rewards based on the customer's combined balances on savings accounts, loans, or other bank products.

At its peak, platinum rewards members can earn 3x points per dollar spent on the Platinum Rewards Mastercard as well as loan interest rate reductions, ATM fee waivers, and other account fee privileges and protections.
"Platinum members have a combined balance of at least $100,000," Meyer said. "That's excluding brokerage accounts, but includes any savings or loan product."
Gold members earn 2x Platinum Rewards Points per dollar spent, as well as loan fee discounts and interest rate deductions on auto loans.
"The gold tier requires minimum balances of $35,000," Meyer said. "This includes savings balances and any type of loan — auto loan, mortgage, a HELOC, money market accounts, or anything like that."
Silver members, who have a minimum combined balance of $20,000, earn the standard 1.5 Platinum Rewards Points per dollar spent, but have access to several money-saving products, discounts, and fee reductions through the credit union.
The program is free and open to any Logix member with a checking or traditional money market account. Enrollment automatically kicks in when a member qualifies for a tier, and tier status updates monthly. Each member's qualifying combined account balance on the last business day of the month will determine his or her tier level for the following month.
Travel Perks Make This a Go-To Card When on the Move
Travel rewards continue to be one of the most popular perks for rewards credit cards — and Logix has its cardholders covered with several options for funding their next getaway using rewards points.
Platinum Rewards Mastercard cardholders can purchase airfare, hotel stays, car rentals, cruises, or other travel necessities through their membership portal.
"With travel, you can use a combination of points and cash, as well as paying the balance with a credit card," Meyer said. "We try to make it as easy as possible to earn what you want."
The card also comes standard with up to 31 days of auto rental coverage, trip cancellation insurance, a Mastercard Airport Concierge, and $200,000 in travel accident insurance.
"We added these benefits to make the card more desirable for folks to use while they're traveling," Meyer said.
And the card features everything travelers will need when purchasing from European stores that require Chip and PIN capabilities. While the U.S. doesn't currently require this feature, several popular travel destinations mandate a Chip and PIN card — which can quickly put a wrinkle in a vacation if a cardholder isn't prepared.
"It's easy to use, whether you're in the U.S. or traveling abroad," Meyer said. "We went with a Chip and PIN profile when EMV technology came to the U.S. That means you can use this card anywhere in the world, and it will meet that country's requirements."
The feature also helps boost security domestically, as many current EMV chip-enabled cards require only a signature to complete a purchase. With the addition of a PIN, members can rest assured their card data remains secure and can be changed quickly if the card number is ever compromised.
"With so many merchant breaches and breaches of payment systems, we can tout a higher level of security, and that really helps," Meyer said.
Advertiser Disclosure
CardRates.com is a free online resource that offers valuable content and comparison services to users. To keep this resource 100% free, we receive compensation for referrals for many of the offers listed on the site. Along with key review factors, this compensation may impact how and where products appear across CardRates.com (including, for example, the order in which they appear). CardRates.com does not include the entire universe of available offers. Editorial opinions expressed on the site are strictly our own and are not provided, endorsed, or approved by advertisers.