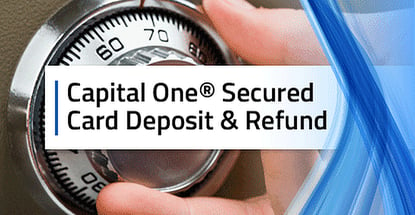 The Capital One secured card deposit and refund procedure is fairly straightforward if you know a few key things about the overall procedure, which we'll take a look at in this article.
A secured credit card requires applicants to put down a refundable deposit to open a line of credit. As with most secured cards, the size of your credit line will be equal to 100% of the amount you deposit.
The minimum required deposit to open a Capital One Platinum Secured Credit Card will actually vary with your credit risk.
1. The Initial Deposit Will Depend On Your Credit
Other than its lack of an annual fee, the Capital One Platinum Secured Credit Card stands out among secured cards for its variable minimum deposit requirement. While all new cardholders will receive the same $200 credit line for making the minimum deposit, the required minimum may be 25%, 50%, or 100% of that credit line.
In other words, the most qualified applicants will only need to put down $49 to receive an initial $200 credit line. Those who present a little more credit risk will be required to make a minimum deposit of $99, and those who present a more significant credit risk may be required to put down the full $200 for the $200 credit line.
No annual or hidden fees. See if you're approved in seconds
Building your credit? Using the Capital One Platinum Secured card responsibly could help
Put down a refundable security deposit starting at $49 to get a $200 initial credit line
You could earn back your security deposit as a statement credit when you use your card responsibly, like making payments on time
Be automatically considered for a higher credit line in as little as 6 months with no additional deposit needed
Enjoy peace of mind with $0 Fraud Liability so that you won't be responsible for unauthorized charges
Unfortunately, simply applying for the Capital One Platinum Secured Credit Card won't guarantee your approval — no matter what kind of deposit you can make. Your card application may be declined for a variety of reasons, including the lack of a checking or savings account or an unresolved (non-discharged) bankruptcy on your credit report.
Your income may also be the reason your application is turned down. Capital One requires applicants to have a monthly income that exceeds their rent or mortgage payment by at least $425. For example, if you make $2,000 a month, your rent or mortgage payment needs to be less than $1,575 a month to qualify for a Capital One Platinum Secured Credit Card.
Additionally, if you already have a relationship with Capital One, you'll need to be in good standing in those accounts. If you're over your credit line on another Capital One card or have had a Capital One card charged off in the last year, your application will be denied. You'll also be turned down if you already have two or more open credit card accounts with Capital One, or have applied for a Capital One card three or more times in the last 45 days.
2. You Can Add to Your Deposit Within 80 Days
If a $200 credit limit doesn't sound very appealing, good news: you can get a larger credit limit by making a larger deposit. The catch? You need to deposit any additional funds within 80 days of being approved for the card, but before you activate your card. Once your Capital One Platinum Secured Credit Card is activated, you won't be able to add to your deposit to increase your credit limit.
You can make partial payments but need to make sure you've made your full, required deposit within 80 days of being approved. Once we've received your required deposit, your card will be on its way. All deposits must be at least $20 and in whole dollar increments. — Capital One
You can add to your deposit to reach an initial credit limit of up to $1,000, and deposits can be made online through your Capital One account. Deposits must be made in at least $20 increments and must be made through an electronic funds transfer from a bank account. Cash, checks, or other money transfer methods will not be accepted.
Deciding how much of a deposit to make will require considering several factors. On the one hand, a larger credit limit will give you more wiggle room in regards to your credit utilization rate, which is the ratio of your credit card debt over your available credit. The more credit you have available, the higher the balance you can carry without negatively impacting your utilization rate and, thus, your credit score.
On the other hand, putting down a substantial deposit (i.e., much more than is required) for your Capital One Platinum Secured Credit Card may not be the absolute best use of the funds. Unlike some other secured credit cards, the deposit for your Capital One card won't earn any interest while it rests in the security account, so you may be better off waiting for natural credit limit increases to get to a higher limit.
If you make your first five monthly payments on time, you'll get access to a higher credit line with no additional deposit needed. You may also earn credit line increases based on your payment history and creditworthiness. — Capital One
And those credit limit increases should come, presuming you use your card responsibly. Capital One states that it will increase your limit automatically if you make your first five payments on time each month, and may provide additional credit limit increases over time.
3. A Refund Will Be Issued When You Close the Account
For many consumers, the most compelling reason to choose a secured credit card over an unsecured subprime credit card is the fact that, unlike unsecured card fees, the deposit for a secured credit card is completely refundable — including the Capital One Platinum Secured Credit Card. Once your credit has improved and you're ready to move on from your Capital One Platinum Secured Credit Card, you can close the account and your full deposit will be returned to you.
Alternatively, some Capital One Platinum Secured Credit Card users have reported their Capital One Platinum Secured Credit Card getting upgraded by Capital One to an unsecured credit card. Essentially, Capital One periodically reviews your credit progress over time. If the issuer feels as though your credit situation has improved to the point that your risk levels are now low enough for an unsecured product, it may automatically upgrade your card and refund your deposit.
But that may not always be the case. A goodly number of forum posts detail the struggles of some cardholders to obtain an upgrade, despite good credit scores and potentially years of on-time payments, so consider the potential difficulties if this is a determining factor for you.
Of course, since your deposit acts as surety for your account, if for any reason you default on your Capital One Platinum Secured Credit Card, your deposit will not be refunded. Instead, once your account has reached the 180-days past-due mark and is charged off, your deposit will be used to cover any outstanding balance and fees when your account is forcibly closed by the bank.
Plus, if you've accrued a larger debt than your deposit can cover (interest fees can grow past your credit limit if left unchecked), then you'll still be on the hook for the remaining amount.
Build Credit Safely with a Secured Card
Although how and what we use for collateral has evolved over the last few millennia, its use has been a consistent part of our financial systems. Collateral, down payments, and deposits all act as a way for lenders to reduce their financial risk, opening the door for them to lend to borrowers who may not otherwise be prime candidates for a loan or credit line.
Secured credit cards are one of the least-risky credit products for most lenders, making them an accessible way to build (or rebuild) credit for many consumers who may otherwise struggle to find affordable credit. By using your secured credit card responsibly, including ensuring you make at least the minimum required payment on time each month, you can increase your credit score, eventually becoming eligible for a quality unsecured product.
Advertiser Disclosure
CardRates.com is a free online resource that offers valuable content and comparison services to users. To keep this resource 100% free, we receive compensation for referrals for many of the offers listed on the site. Along with key review factors, this compensation may impact how and where products appear across CardRates.com (including, for example, the order in which they appear). CardRates.com does not include the entire universe of available offers. Editorial opinions expressed on the site are strictly our own and are not provided, endorsed, or approved by advertisers.